CHECK IT OUT: Food Truck Park at Capitol Commons, Pasig City
Manila's eating options have never been so varied.
Food Truck Park
Capitol Commons, Meralco Avenue corner Shaw Boulevard, Ortigas Center, Pasig City
Open from 4 p.m. to 10 p.m. (Tuesday to Thursday), 4 p.m. to 12 a.m. (Friday), and 12 p.m. to 9 p.m. (Saturday to Sunday); check their Facebook page for schedule updates.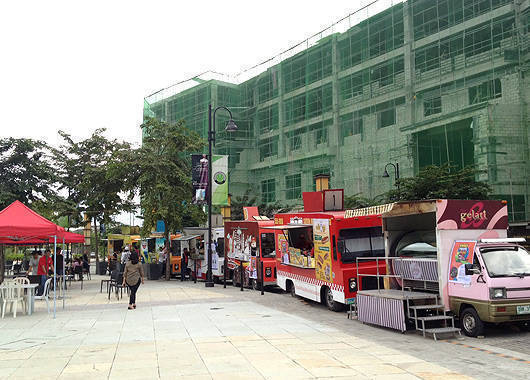 Rain or shine
(SPOT.ph) Food Truck Park looks like a bald spot against the construction-riddled site of Capitol Commons. An airy green oasis that glimpses the future of the Ortigas-headed development where condominiums, a mall, corporate buildings, and restaurants are currently in the works. There's a conscious effort to keep the draughty atmosphere with environmentally sustainable methods and low-rise structures and if scale models are to be believed, Capitol Commons is the crest in a wave of lifestyle hubs. But the beauty of this yet-to-be finished Ortigas development is left to the imagination; rather, it's the series of restaurants on wheels on the side of the road along the edge of the grassy field that has people coming despite the debris.
ADVERTISEMENT - CONTINUE READING BELOW
While service-on-the-go and street food aren't an entirely new concept, food trucks started to become an everyday occurence in the United States during the 2008 financial crisis when people looked for business opportunities without the painful cost of space and labor, and the competitive threat from established eateries. The idea of a mobile kitchen that can go where the people are isn't too hard to sell, especially where the economic situation isn't too friendly. Come 2012, eateries began wheeling in and around Manila, presenting a buffet of options from traditional comfort food to classy cuisine made accessible.
CONTINUE READING BELOW
Recommended Videos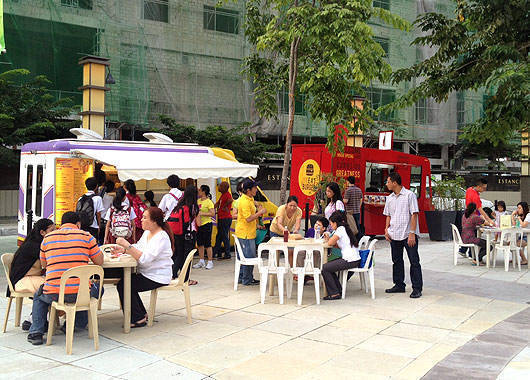 The schedule varies and trucks close when they run out of supplies so it's best not to come too late.
Capitol Commons' Food Truck Park efficiently brings together a fleet of food trucks with a breezy ambience for customers to bask in. Plastic chairs and tables as well as park benches are assembled on the sidewalk and diners can spread blankets on the grass to hold a picnic. A sprightly man in a wheelchair is under a tent, belting anything from old rock to pop tunes to ballads. There's an overall relaxed vibe as customers can sample 13 kitchens al fresco throughout the stretch of the street. We poked around to see which ones are worth sinking our teeth into.
ADVERTISEMENT - CONTINUE READING BELOW
1. Amazing Cones
Amazing Cones isn't a new concept. It has modest stalls and branches beside Robinsons Magnolia, at V-Mall, Greenhills, and even in Guangzhou, China, but we like that their food truck is introducing their signature savory hybrid to this side of Pasig. Amazing Cones uses a thick, waffle-like pastry to cup the pizza toppings. It's easy for them to scrimp on the filling and only add a dollop on top (which is our beef with most ice cream cones), but you can be sure to find goodies right until the tip.
Recommendations: Bolognese (P50), Bacon Mushroom Melt (P60), Taco Wacko (P50)
2. Mio Gelati
This gelateria knows how to stick out amid the line of trucks. Instead of a simple paint job, Mio Gelati has bright awnings and other frou-frou details that complete the sweet image we have of an ice cream parlor-except this one is on wheels. Mio Gelati has all the basic flavors down pat, but people come here for the spiked desserts. There are always 18 on display, but owner Celina Nolasco has over 50 flavors in her arsenal, which makes trips to her stall exciting because there's always something different.
Recommendations: Salted Caramel, Tequila Rose, Ferrero (P80 to P180)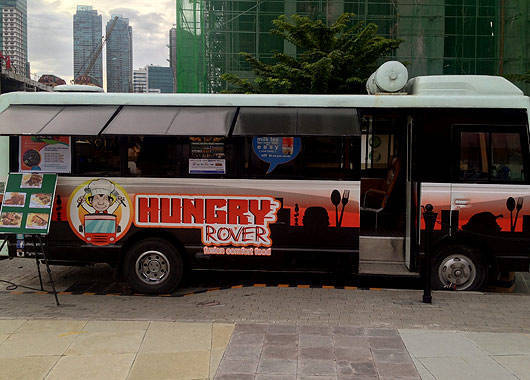 ADVERTISEMENT - CONTINUE READING BELOW
The very popular Hungry Rover
3. Hungry Rover
Hungry Rover knows the formula for quick service: they use the same proteins-US beef (turned into tapa and turkey-throughout their menu, but incorporate them into wraps, rice meals, and burgers to make them all appear different. The tapa is held together by mouthwatering strings of fat with a touch of tang underneath the savor, while the poultry is tender and smoky. It doesn't seem like much, especially with the tables outside, but we like how customers can actually enter the food truck where two small booths and a bar area are installed.
Recommendations: US Beef Tapa Classic (P125), US Beef Kofta Slider (P110)
4. Shawarma Bros.
The downside of a food truck, from a customer's perspective, is that since they can easily move locations, they're not always around. The downside with Shawarma Bros. is that everyone wants to taste their topnotch flavors so the truck is usually shuttling around Manila. The owners are generous enough to provide their loyal fans with their schedule on Facebook but still, when you see them at the Park, better take advantage of their presence. The cook on their meats is perfect, tender, and flavorful, and the biryani rice is just icing on the cake. The lamb is especially noteworthy: cooked right, it doesn't have that pungent smell. We can relish its rich, gamey aroma all night, but the flavors are too tempting not to eat.
Recommendations: Lamb Steak Plate (P200), Beef Shawarma Plate (P150)
ADVERTISEMENT - CONTINUE READING BELOW
5. Truck Bun
Kitchens-on-the-go? How about people-on-the-go? Truck Bun has a variety of sandwiches and wraps that take you around the world, with flavors inspired by Japanese, American, Filipino, and Southeast Asian cuisines. Each item is flavorful and packed with toppings, but they're also neat and very easily portable for people who are just coming through for a quick bite.
Recommendations: Kani Mango Sandwich (P165), Crispy Sisig Wrap (P155), Japadog (P175)
6. Big Bite Avenue
Who knew child star Carlo Aquino could produce such delicious burgers? Together with his girlfriend Kristine Nieto, Aquino launched this mobile burger heaven that already has people coming back. We love how they've infused Filipino flavors into otherwise American comfort food. Understanding the decadence of their giant sammies, Big Bite Avenue has also made a line of detox drinks available.
Recommendations: Longga-burger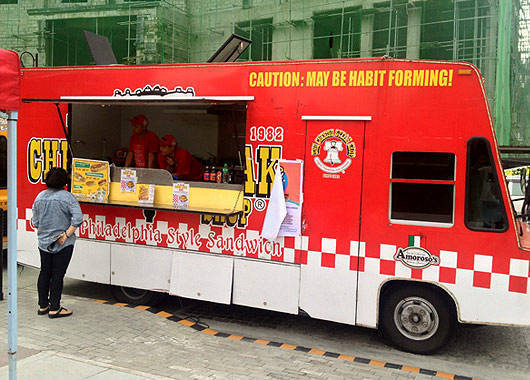 Food truck staple: The Cheesesteak Shop
7. The Cheesesteak Shop
One of the first ever establishments to have a food truck even before it was fashionable, The Cheesesteak Shop is always worth a visit. Their cheesesteaks are messy and delicious, just the way it should be. We love how you can add a bit of a flair to the traditional sandwich by choosing your own add-ons.
ADVERTISEMENT - CONTINUE READING BELOW
Recommendations: Philly Cheesesteak (P300 to P320)
If food trucks aren't your fancy or if the rain's getting the best of you, you might want to try the nearby restaurants around Capitol Commons. There's Santi's Delicatessen, Black Olive by Chef Carlo Miguel of Opus and Draft, as well as many others that are currently in the works.
The Food Truck Park will be available every Tuesday to Friday, opening at 4 p.m. at the Capitol Commons Park, Meralco Avenue corner Shaw Boulevard, Pasig City.
Share this story with your friends!
---
Help us make Spot.ph better!
Take the short survey
Load More Stories