New Restaurant Alert: BITE Contemporary Cuisine at Yakal Street, Makati City
We hear a lot of "twists" in restaurants, but Chef Jam Melchor actually does it with his contemporary fare.
BITE Contemporary Cuisine
Glory Building, 7427 Yakal Street, San Antonio, Makati City
Tel. No. 0917-830-9516
Open daily from 10 a.m. to 10 p.m.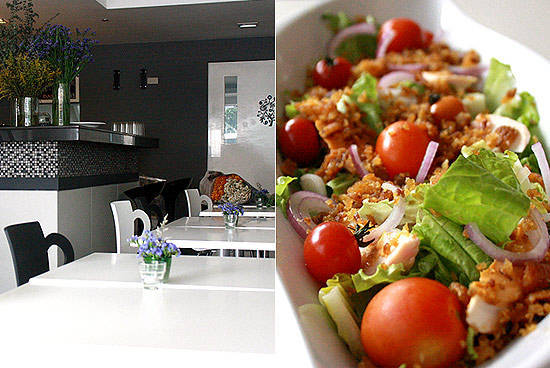 (SPOT.ph) If you came to BITE Contemporary Cuisine for a fuss-free meal, then there's a problem. Right off the bat, BITE gives their customers a crippling quandary: what to order? Chef Jam Melchor's clever reimagining of classic cuisine will have you infinitely intrigued and you'll end up ordering more than what your stomach can handle-just because one or two dishes won't be able to sate your curiosity.
ADVERTISEMENT - CONTINUE READING BELOW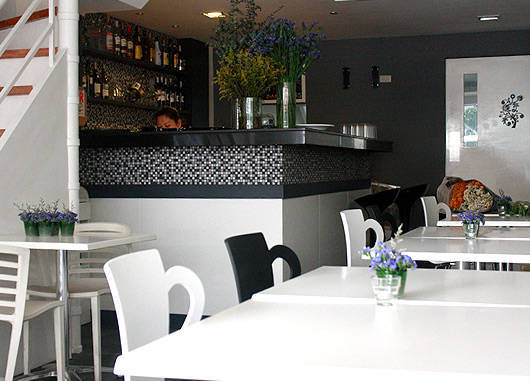 Take note of the cute chairs.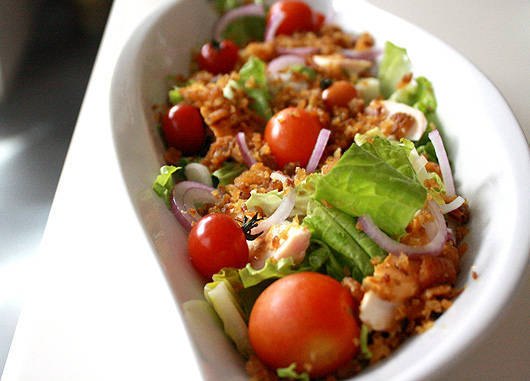 ADVERTISEMENT - CONTINUE READING BELOW
Pampanga Catfish, Romaine, Parmegiano, Mizuna Salad
The month-old, two-storey space on Yakal Street used to be Villa Cafe, a restaurant co-owned by Melchor. BITE, though, from its black and white color palette to the mug-shaped chairs to the corner deli, right down to the little male statue that holds umbrellas, is entirely his vision. "This is food that I like," he says, "sustainable, fresh, and healthy." That last point is debatable, though, especially after seeing the pair of giant, sinfully succulent logs he calls Roasted Marrow Bones (P298). Ingredients are locally sourced-beef from Kitayama, salt from Ritual's Bea Misa and Ministry of Mushroom's Marco Lobregat-but it's what Melchor does with them that makes this restaurant worth it.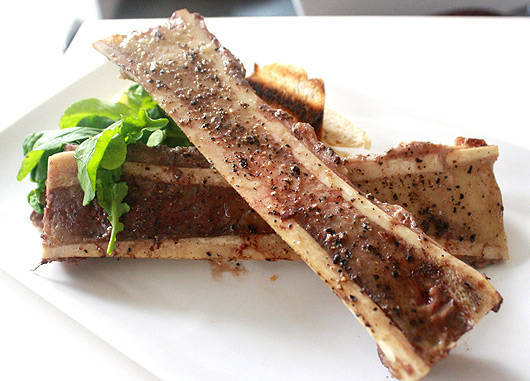 ADVERTISEMENT - CONTINUE READING BELOW
If sin could be food, this is it.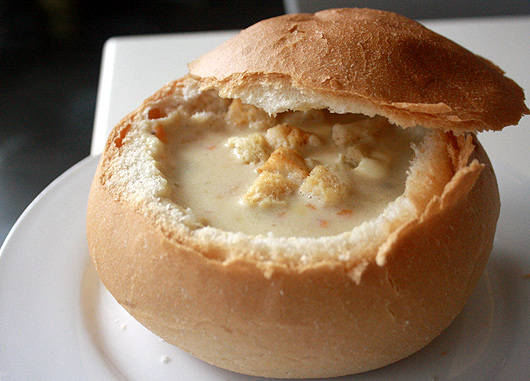 Kuhol Chowder
The menu is only a single page, front and back, though there are two separate sheets for bar chow and drinks. There are immediate standouts like Bacon Wrappled Apple Scallops (P250), Aklanon Oysters (P298/half dozen),  Crabmeat Risotto (P195), Catfish Salad (P195)-dishes that don't require too much imagination to understand. Look closer into the menu to get a measure of Melchor's quirky culinary personality. Kuhol or suso replace clams in chowder, putting an earthy finish instead of a slight brine to the soup, and serving it, as per tradition, in a bread bowl akin to a large, hollowed-out pandesal.
ADVERTISEMENT - CONTINUE READING BELOW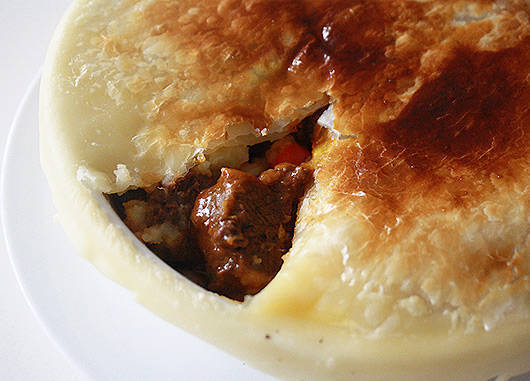 Just a little peek...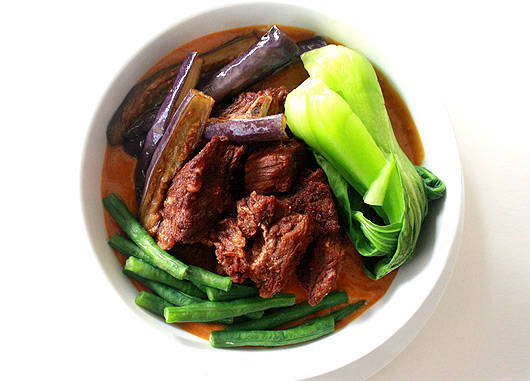 Tadyang Kare-kare
ADVERTISEMENT - CONTINUE READING BELOW
The Kaldereta (P350), meanwhile, is slow-cooked, topped with mashed potatoes, and baked inside crackling puff pastry. The chunks of beef are generous and fork-tender, large slices of bell peppers adding a bitter dimension to the dish's savoriness. Another favorite is the Crispy Tadyang Kare-kare (P295). The stew reaches only half the bowl, creating a mouthwatering sight of fresh bokchoy, eggplant, beans, and crispy browned pieces of tadyang. Melchor uses macadamia nuts to furnish his sauce, creating a milder nutty taste that highlights the salty rich beef.
Desserts are still in the experimental phase, confesses Melchor. But at this level, BITE is already a place that gastronauts will find satisfying. What more when cakes are available on the menu?
Recommended Videos
Load More Stories