Tampopo
New Promenade, Greenhills Shopping Complex, San Juan
Open daily from 10 a.m. to 10 p.m.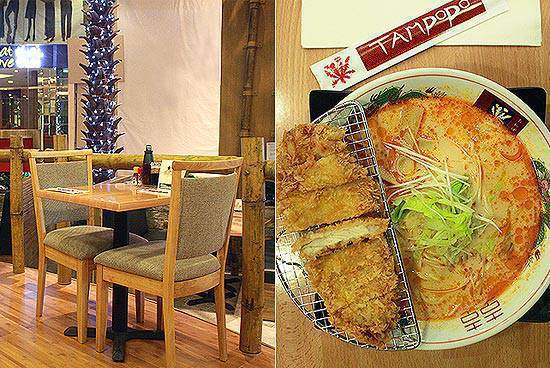 (SPOT.ph) Edson is one of those servers you can't shake off-in a good way, of course. He makes recommendations that start with a "For me..." and he gladly explains the difference between the round Kyushu noodles and the flat Hokkaido ones. He's at your table at lightning speed even before you've finished raising your arm and he's quick to offer extra saucers and chopsticks. This type of attention is what a new restaurant like Tampopo needs: a strict and thoughtful approach that befits the regulations of Japanese cuisine.
ADVERTISEMENT - CONTINUE READING BELOW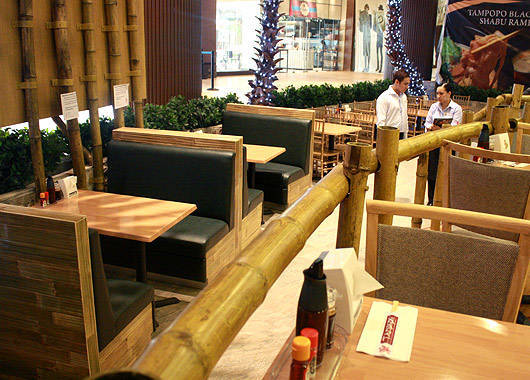 Tampopo is the first establishment you'll see upon entering New Promenade's back entrance.
Upon its debut in Manila, Tampopo doesn't bring with it the cultish following of Saboten, Butao, and Ippudo. The local branch, brought to the country by the Happy Lemon Group, is a mere third branch and the only one outside Singapore. Founded by Takaaji Takagi, Tampopo is family-operated and neighborhood style, and its positioning in Promenade's new wing in family-friendly Greenhills is a spot-on choice. "This is the first mall in the country with a 'depressed' food area like those in Singapore and Thailand. It's like eating in an island," says part-owner Chris Tiu. "It's also a lucky place for us," adds the athlete-businessman whose now very successful milk tea chain found its beginnings in the same mall.
ADVERTISEMENT - CONTINUE READING BELOW
Recommended Videos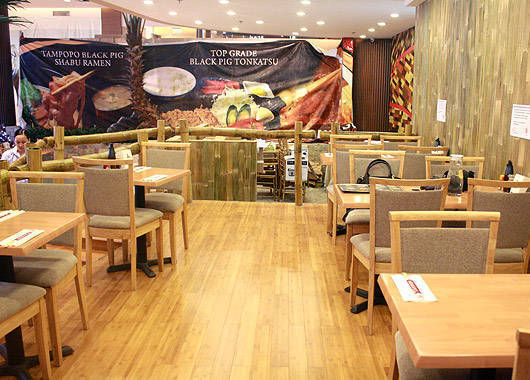 This area of the floor is recessed, giving it a cozy yet airy feel.
But concept, more than feng shui, may just be the winning formula to this wood-paneled, airy setting. Unlike most authentic Japanese restaurants that focus on one aspect of the cuisine, Tampopo does both katsu and ramen, two of this year's biggest culinary crazes. The mention of this unlikely pairing alone is enough motivation for most people. Takagi, says Tiu, is hands-on and, like most Japanese, prepares his food in a meticulous, artful fashion. The Berkshire pork, panko, and noodles are imported to meet his qualifications, and he's on hand for the first days of opening to keep everything in check.
ADVERTISEMENT - CONTINUE READING BELOW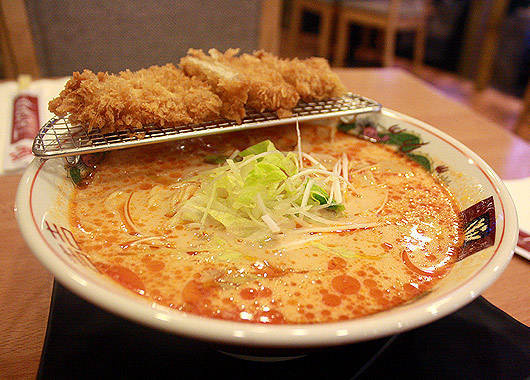 Black Pig Tonkatsu Ramen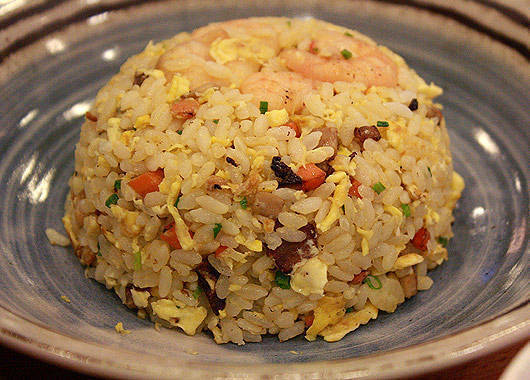 ADVERTISEMENT - CONTINUE READING BELOW
Japanese Fried Rice
"Tampopo in Singapore also serves sushi, but that's...different," says Tiu, who reveals it's difficult enough to keep up with the standards of two culinary traditions. The Tampopo Black Pig Tonkatsu Ramen (P520) gives you the best of both worlds: a slab of tender Berkshire on a rack atop milky ramen. The tonkatsu is on the thin side, but the size amplifies the crunch of the fresh panko breading. The Kyushu noodles are round, slender, springy, and the broth is pork-bone-based (tonkotsu) that's simmered for 48 hours to allow the meaty flavors to meld seamlessly together. Tampopo considerately allows customers to customize the heat level of the broth. Tiu's personal recommendation-his favorite-is the Deluxe Tampopo Black Pig Shabu Ramen (P420), which is similar to the aforementioned ramen, but with the extra luxury of Tasty Egg (similar to ajitama), charsiu (pork), and sweet corn.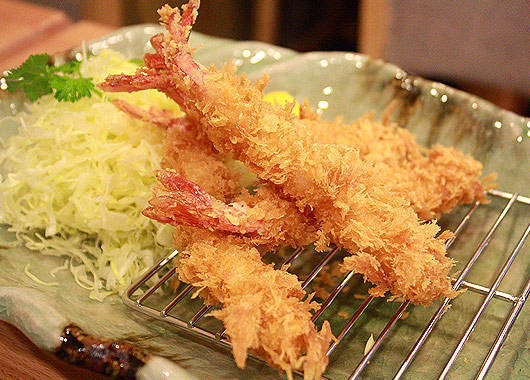 ADVERTISEMENT - CONTINUE READING BELOW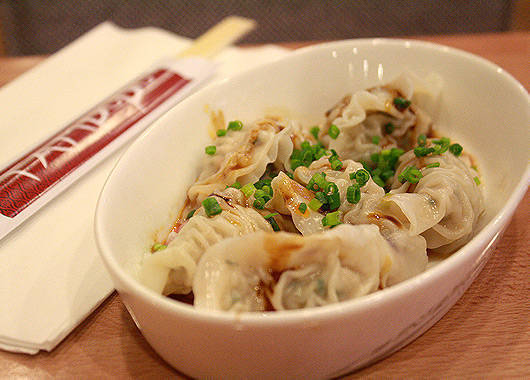 Sui Gyoza
Seafood options are still at the drawing board, but if the Prawn Katsu (P310 to P420) is an indication of what's to come, then our mouths are already watering. The prawns are mid-sized, but the ala carte puts together five of them on a plate. The crumb coat protects the shrimps from the oil, maintaining their natural buttery brine. It's more soft than al dente, but the tenderness pairs well with the crusty panko. A lighter dish is the Sui Gyoza (P150), six pieces of steamed dumplings flavored simply with chives.
ADVERTISEMENT - CONTINUE READING BELOW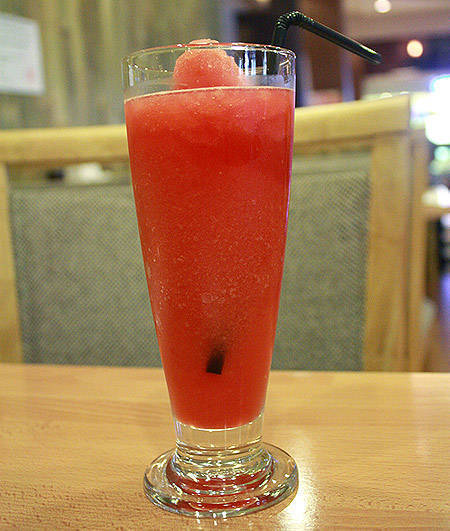 Desserts at Tampopo are from Red Mango (also owned by the Happy Lemon Group), so if you want a unique refresher, this Watermelon Slush should suffice.
It's been almost two years since katsu and ramen exploded in Manila's restaurant scene. No culinary trend has made quite a lasting impression, but Tampopo is here to give you both, all in one place.
ADVERTISEMENT - CONTINUE READING BELOW
Share this story with your friends!
---
Help us make Spot.ph better!
Take the short survey
Load More Stories