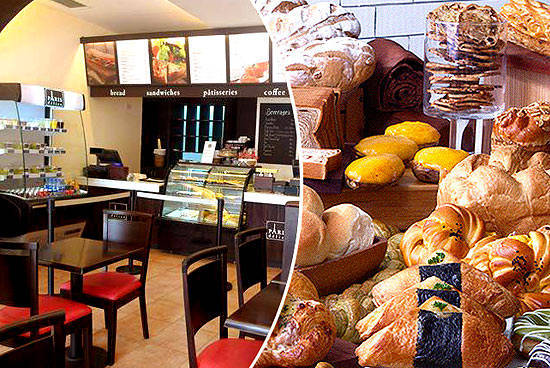 (SPOT.ph) Rice is a staple in the Pinoy diet. The late Doreen Fernandez once wrote: "It fuels our ordinary lives. Farmers, fishermen, and rural-urban families use it to break the fast, and then to bridge the day's hungers till evening. If we didn't have rice, our deepest comfort food, we would probably feel less Filipino."
The white simplicity of rice makes the colorful palette of Filipino flavors stand out even further. Eating lechon or chicken inasal is never complete without that cup of soft, full rice. But in the race for carb supremacy, bread's not too far off. We love rice just fine, but there are other things we love that aren't as good with rice as it is with a piece of beautifully toasted bread: jam, Nutella, liver pate, Nutella, peanut-butter, Nutella, Fluffernutter, cookie butter, Nutella.
Bread-good bread-is hard to make for those who aren't familiar with the techniques. We salute those who take the extra mile. We've listed the 10 best places for breads in and around Manila, just in case you need a break from grains...and you want to eat your Nutella with something other than a spoon.
ADVERTISEMENT - CONTINUE READING BELOW
The focus of this article is on bread not pastries; hotels were not included.
ALSO READ:
10 Best Brown Bread in Manila
Pinoy Bread: 10 Panaderia Classics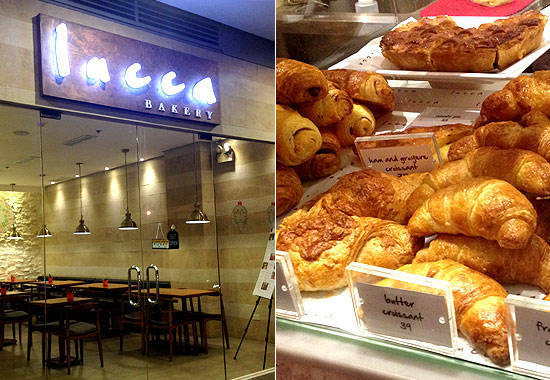 10. Lucca Bakery
G/F UP Town Center, Katipunan, Quezon City
This boulangerie impresses with a line of light eats and breakfast favorites. The day's fresh bakes and pastries can be seen through a glass display counter beside the register.  The selection is concise, but comprehensive, with viennoiserie, quick breads, and cake.  Meager seating and dim lighting keep the place intimate, which makes Lucca the perfect go-to when you're looking for peace and quiet in crowded UP Town Center.
ADVERTISEMENT - CONTINUE READING BELOW
Recommended Videos
Must-tries: Frankfurter Croissant (P55), Spinach Artichoke Pie (P65)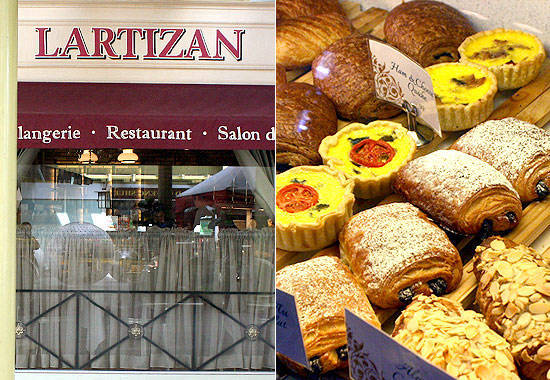 9. Lartizan
Serendra, Bonifacio Global City
This extremely intimate place is the posh older sister of The French Baker. The white façade seems closed off, but intrigue will kick in and you'll be entranced by the small window that gives you a preview of their bread selection. Instead of the usual rustic, Lartizan goes more for an upscale take-like a charming tea place, which it also offers behind the counters and shelves of bread.
ADVERTISEMENT - CONTINUE READING BELOW
Must-tries: Original Ciabatta (P125), Spinach and Feta Cheese Croissant (P125), Butter Croissants (P28)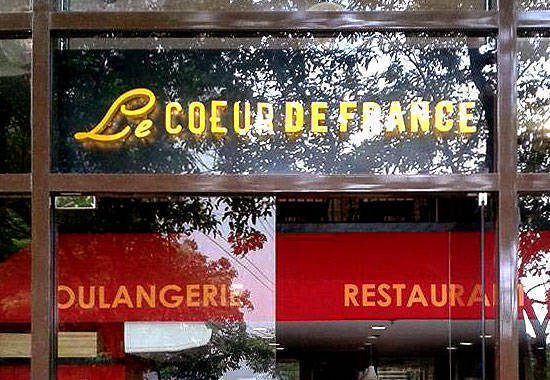 8. Le Coeur de France
Click here for a list of Le Coeur de France branches.
Whichever branch you go to, Le Coeur de France will always captivate your senses with the smell of freshly baked bread and mouthwatering rows of beautiful loaves. The place is café-styled so you can get light meals like salad and and soup just in case you're avoiding carbs. But when you decide to cheat on your diet, Le Coeur's brown breads are always a winner.
ADVERTISEMENT - CONTINUE READING BELOW
Must-tries: Baguettes, Pain de Mie, Chausson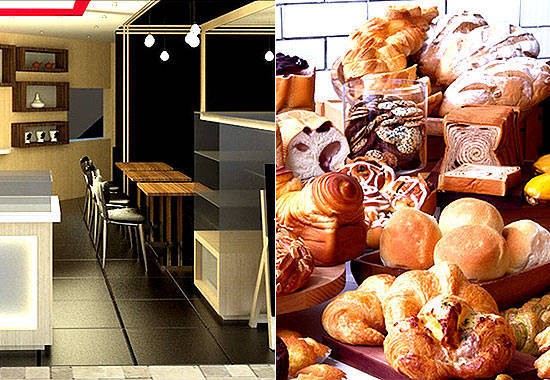 7. Jipan Cafe and Bakeshop
UG/L SM Megamall Building A, Mandaluyong City (633-5990)
Pilar Street,
 Barangay Addition Hills,
Mandaluyong City (718-3891)
2/F Glorietta 4, Makati City (728-9442)
This Japanese bakery carries a wide array of traditional breads and pastries-plus a whole line of interesting and delicious treats that are baked fresh, with a Japanese twist. Sometimes it's in the ingredients used (e.g. green tea chocolate-coated doughnuts which are said to be made from rice flour for that extra bite), and sometimes it's in the ingenious way the Japanese just like to mix things up and add a few more layers of flavor.
ADVERTISEMENT - CONTINUE READING BELOW
Must-tries: Sweet Potato Cake (P60 to P80), Queen Almond (P75), Almond Croissant (P65), Mini Bacon Maple Monkey Bread (P80)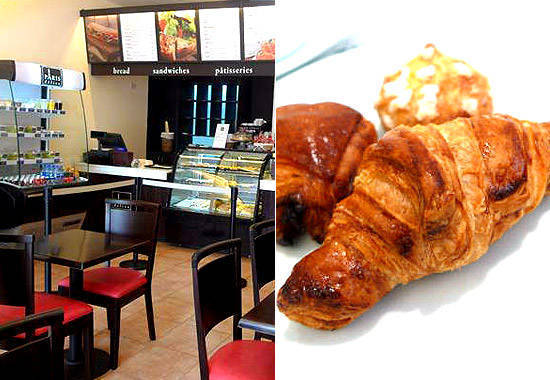 6. Paris Delice
1 Juno Street corner Makati Avenue, Makati City (798-0740)
This eye-catching bread portal makes you feel like you've just stepped into a quaint café in France. Not only does it bring French techniques to the Philippines, it sells breads and pastries flown in directly from Paris because according to part-owner Florian Coucke, the Philippine climate isn't conducive to making croissants and other ingredients aren't locally available. This is how Paris Delice maintains its authenticity.  How's that for commitment?
ADVERTISEMENT - CONTINUE READING BELOW
Must-tries: Chocolat Beignet (P85), Pain Au Chocolat (P60), Quiches (P105 to P115)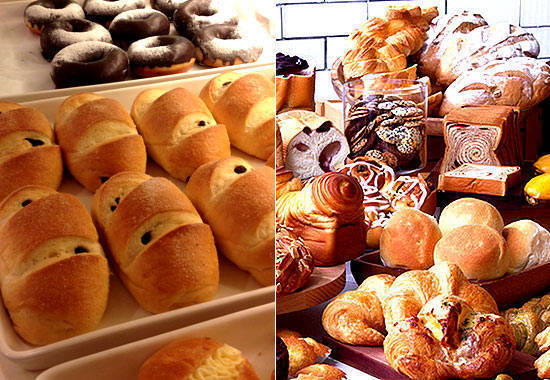 5. Bread Talk
Click here for a list of Bread Talk branches.
The secret of this award-winning Singaporean bakeshop is the bright lights and clean presentation that automatically draw attention-and lure customers to their delectable displays of golden bread. The open kitchen shows customers the process in making their fluffy trademark products and you're always assured that everything is freshly baked. Bread Talk also pays special attention to detail: Mr. Bean-inspired breads stuffed with mung beans, glistening layers of torte crowned with chocolate tuilles, and more. The most iconic Bread Talk item is their floss-topped soft breads.
ADVERTISEMENT - CONTINUE READING BELOW
Must-tries: Bread Talk Floss (P55), Walnut Braid (P51), Donuts (P41)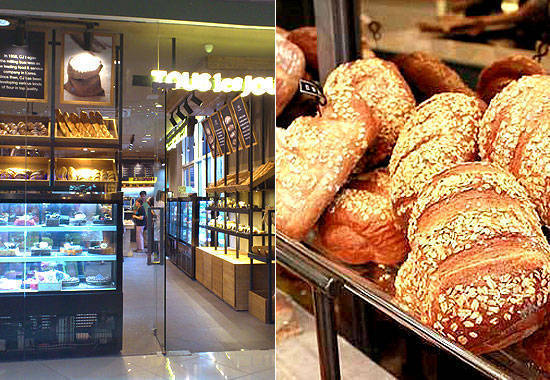 4. Tous Les Jours
Click here for a list of TLJ branches.
For those who've never visited this bakery, Tous Les Jours is associated with their iconic chocolate cake shaped like a teddy bear. We have to admit that this is a good qualifier for what this Korean franchise is capable of: delicious but beautiful ensembles of pastries. Try their bread, though: everything is soft, airy, and freshly baked. Asian flavors keep things even more interesting. Apart from the usual baguettes and whole wheat, Tous Les Jours has something called the Sweet Black Rice Pan Bread and Sweet Sticky Rice Bread. They even have a torus-shaped bread (that, interestingly enough, is not a croissant) bursting with delicious filling all around.
ADVERTISEMENT - CONTINUE READING BELOW
Must-tries: Danish (P58), Cream Cheese Walnut Bread (P128), Sweet Black Rice Bread with Sesame Cream Cheese (P48), Almond Croissant (P68)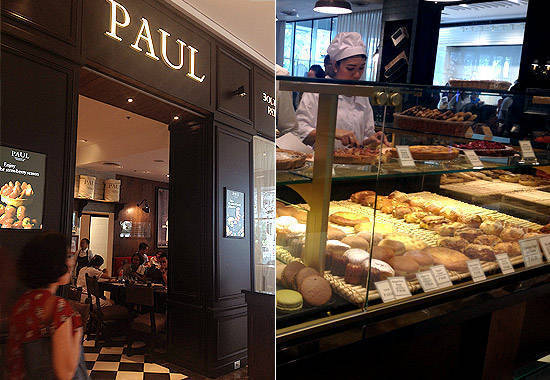 3. Paul Maison De Qualite Bakery
G/F SM Aura Premier,
McKinley Parkway corner 26th Street, Bonifacio Global City
Paul first played a "now you see it, now you don't" late last year when it opened its doors in SM Aura, only to close them a few days later-leaving everyone curious about what was going on behind those tarps with drool-inducing photos of dishes and pastries plastered all over them. Would the treats taste as good as they looked in giant pictures? Would Paul live up to the hype? Well, if the long lines at the take-out bakery counter and the waiting list at the café entrance are to serve as any indication, the answer to both questions is yes.
ADVERTISEMENT - CONTINUE READING BELOW
Must-tries: Éclair Aux Fraises (P170), Millefeuille Nature (P130), Pain Au Chocolate (P75)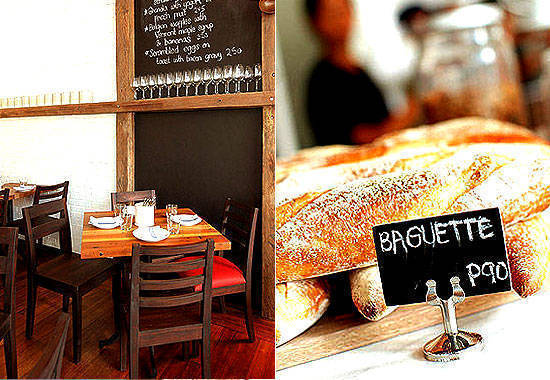 2. Wildflour Café + Bakery
4th Avenue corner 26th Street, Bonifacio Global City (856-7600)
G/F The Podium Mall, Mandaluyong City (571-8588)
Wildflour has cemented its status as a favorite foodie hub with tables filled all day, from brekkie to after dinner dessert time. Their elevated spin on cakes, pastries, and breads pretty much proves that they take the "bakery" part of their name super seriously. And while the Cronut is now pretty much present in practically every single bakeshop in the nation, Wildflour still carries the rep of not just having had them first, but of also having the best version of this now ubiquitous treat. (A word to the wise: Wildflour will only be serving their cronuts until the end of January-so get them before they're gone!)
ADVERTISEMENT - CONTINUE READING BELOW
Must-tries: Caramel Date Bran (P130), Pan a la Tomato with Chorizo (P120), Maple Bacon Apple Cronut (P150), Pistachio Kouign Aman Tart (P150)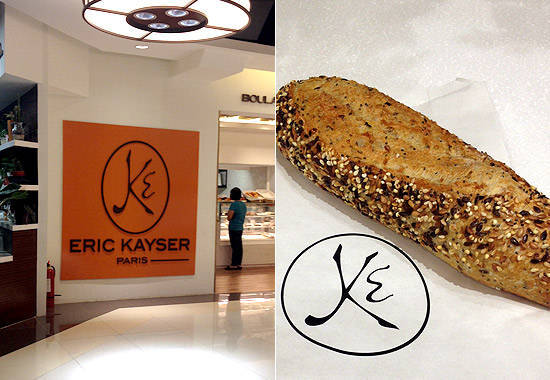 1. Eric Kayser
Marketplace by Rustan's, Power Plant Mall, Rockwell, Makati City
(Soon to open at New Promenade, Greenhills Shopping Center, San Juan)
Maison Kayser began in Paris in 1996 and impressed even the most hard-to-please Parisians with the eponymous baker's natural baking methods, customized fermentation equipment, and variety. Maison Kaiser is usually presented as a boulangerie, patisserie, and café. After opening over 80 branches around the world-the nearest being Hong Kong and Taiwan-it was only a matter of time before Eric Kayser made its reveal in the Philippines.
ADVERTISEMENT - CONTINUE READING BELOW
Kayser breads are baked on site daily with most branches having their own kitchen (except in New York where everything is baked in a commissary and delivered early). French chefs will also be at the helm of things.
The boulangerie is brought to Manila by Chris Tiu, Jackie Ang, and Kevin Gaisano. Though the premiere Marketplace by Rustan's branch only sells bread, Eric Kayser is already setting up a full-fledged café in the New Promenade Mall, Greenhills.
Must-tries: Almond Croissant (P100), Viennoise Red Delice White Chocolate with Cranberry Bits (P80), Monge Pain Aux Cereales (P80), Financiers (P110 to P125), Eclairs (P122 to P135), Five-grain Bread (P90)
Share this story with your friends!
---
Help us make Spot.ph better!
Take the short survey
Load More Stories