10 Eats for Chinese New Year (And Why They Bring Good Luck)
Food to get you lucky for the Year of the Wooden Horse!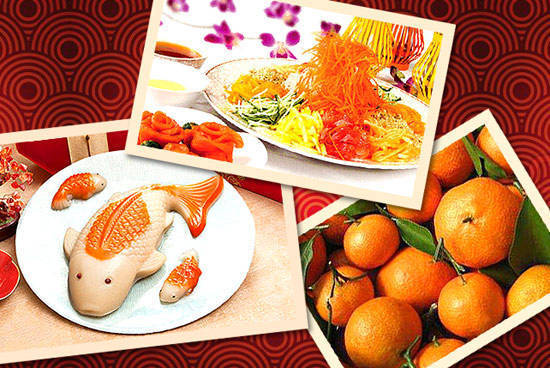 (SPOT.ph) Chinese New Year is just around the corner. We know you're probably already armed to the teeth with gourds, gongs, jade (a different shape for every situation), golden pineapples, and pa kua (bagwa), but a little more luck won't hurt. Eating the right food will guarantee an auspicious year. For the Chinese, there's special importance not just in what you eat, but how you eat it. You won't be seeing chopped chickens at your table.
But don't start chewing that wad of black hair (it's moss, really) just because you know it's lucky. Know what it means. Here's a basic but handy guide to what you'll see on your table during the Chinese New Year.
ALSO READ:
10 Auspicious Eats for the Chinese New Year
Welcome the Year of the Wooden Horse: Where to Celebrate Chinese New Year in Manila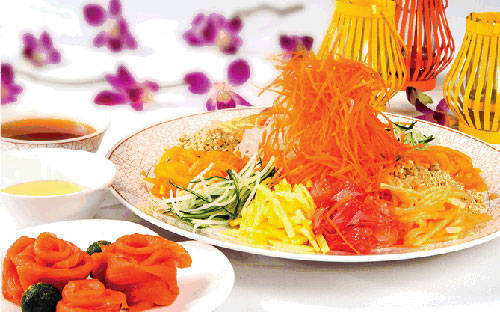 Yee Sang (var. Yu Sheng)
Yee sang is a raw fish salad with a myriad of ingredients, each with their own special meaning: fish (usually salmon) because the Chinese word for "fish" (yee) sounds similar to the word for wish and abundance, lime for luck, green radish for health, white radish for progress, fried wonton for wealth. Oil is added in a circular motion to multiply the effects of the auspice.
ADVERTISEMENT - CONTINUE READING BELOW
Diners stand in a circle. Together they shout "Happy New Year" or "Kung Hei Fat Choi" as they toss the salad by throwing the ingredients as high as they can with chopsticks. Amid the excitement and mess, remember to make a wish.
Eating yee sang is a Singaporean tradition. Because of its huge promises, it is only to be eaten during the Chinese New Year.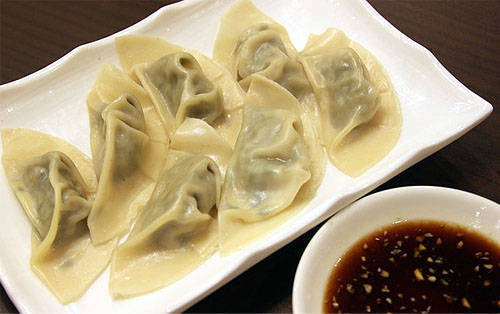 CONTINUE READING BELOW
Recommended Videos
Chinese Dumplings
This staple Chinese food also has special significance during Chinese New Year. The elongated shape is reminiscent of silver ingots. Ingots = money. In true Chinese tradition, a coin is concealed in one of the dim sum. The person who gets that dumpling, well, he or she will have a very auspicious year. Tell everyone to bite into the siomai carefully though. You wouldn't want to start the year missing a tooth.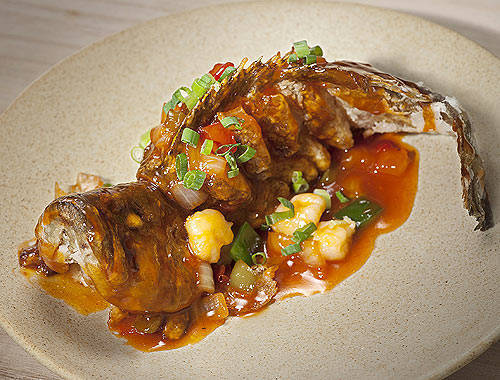 ADVERTISEMENT - CONTINUE READING BELOW
A Whole Fish
Fish is important in any Chinese celebration for the same reason that it's an essential ingredient in the yee sang. Anything that sounds like "abundance" will guarantee abundance! The fish should be served with the head and tail intact to warrant a great year from start to finish. No slips in between. Remember not to flip the fish. A boat might capsize.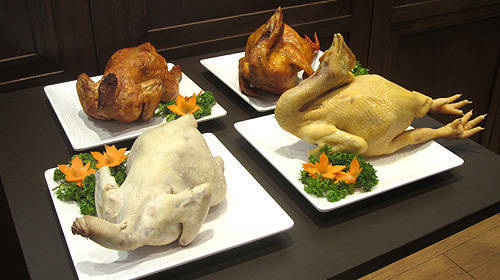 See the difference a head makes!
Whole Poultry (usually duck or chicken)
If your order of duck comes complete with a head, don't go all, "Off with their heads!" No one in the kitchen forgot to work the knife. Serving the poultry whole signifies just that-wholeness, completeness, family unity. Also, the Chinese don't believe in waste.
Duck, by the way, stands for fidelity and fertility while chicken represents prosperity.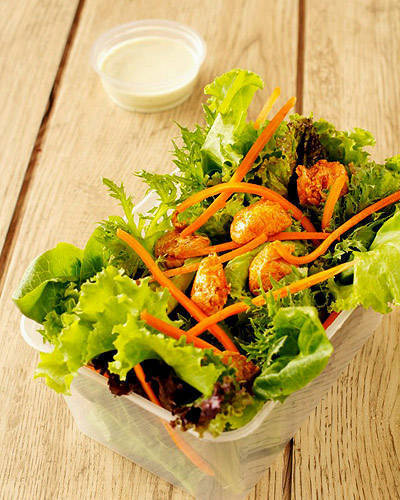 ADVERTISEMENT - CONTINUE READING BELOW
Leafy vegetables
Rid yourself of the bad vibes from the previous year by cleansing your body with leafy vegetables. Greens also deepen family ties. Other greens like Chinese broccoli and beans also entail longer life for parents.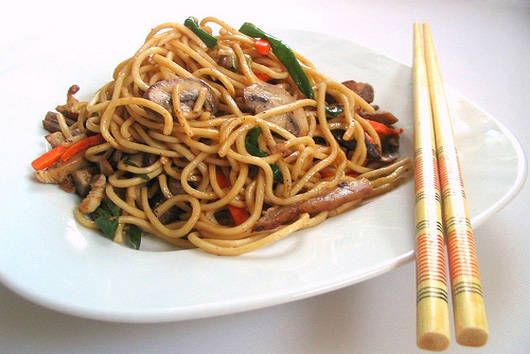 Long noodles
Slurp away and voila! Long life! Don't cut the noodles up when cooking and don't slice them when you're eating either. If you're trying to be smart by serving pasta instead of traditional rice or egg noodles, do away with the macaroni or penne. Go for spaghetti instead.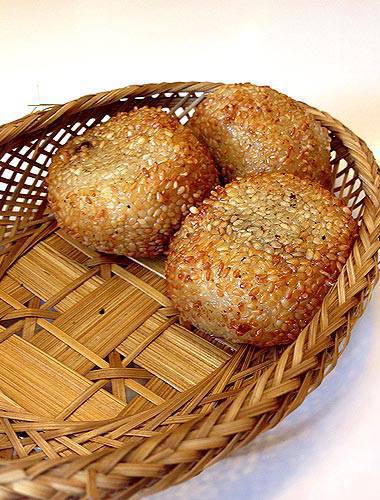 ADVERTISEMENT - CONTINUE READING BELOW
Seeds
Newly wed? Planning a family? Start the New Year with lots of seeds-whether it's atop bread, in a salad, or buchi. Seeds represent fertility and eating them promises lots of babies for you and your spouse.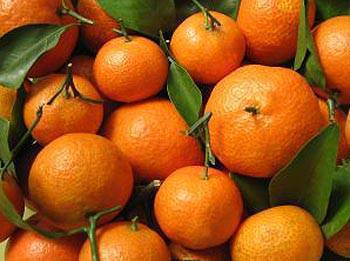 Tangerines and Oranges
Fruits are celebratory treats in Chinese culture-especially round ones and especially if you serve them in an even number (except four). Tangerines and oranges, however, are preferred. The Chinese word for tangerine is similar to the word for luck. "Orange" or cheng sounds similar to jin or "gold."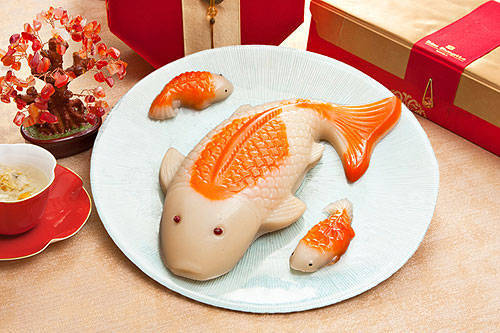 ADVERTISEMENT - CONTINUE READING BELOW
Double whammy: prosperity and abundance!
Tikoy (var. Nian Gao)
The most popular Chinese New Year snack has several meanings. The first (and most common) is that the sticky texture translates to attracting good fortune.  The sweetness allegedly guarantees good life while the layers depict a better year to come.
The technical interpretation for tikoy however, lies, like most Chinese symbols, in language. Nian gao (literally "sticky cake"), the Mandarin word for tikoy, is homonymous to the Chinese word for "year" (nian) and "tall/high" (gao). This lucky rice cake supposedly encourages the receiver to improve himself/herself for the year.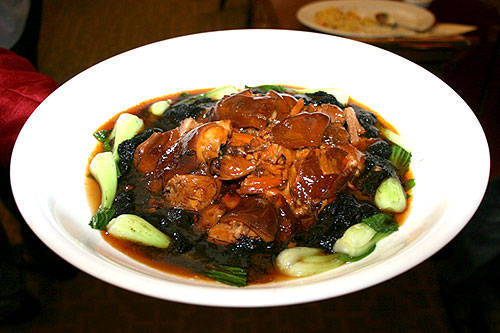 Favored Ingredients
Many other ingredients that signify good fortune or progress are usually adapted in a dish or put together (as in the yee sang) in one super dish as insurance for a good year ahead. You'll most likely see the following ingredients in Chinese dishes: eggs (fertility), yellow bean curd (fulfillment), bamboo shoots (fresh start), abalone (good fortune), pumpkin (luck for descendants-that's what we call thinking ahead!), mushrooms (opportunities), moss (wealth), arrowheads (benevolence), cashew nuts (money). Anything white is verboten as white is the color for the dead.
ADVERTISEMENT - CONTINUE READING BELOW
Share this story with your friends!
---
Help us make Spot.ph better!
Take the short survey
Load More Stories