New on the Menu: Nomama Artisanal Ramen's Lunch Set Specials
The ramen might have to take a backseat and make way for these.
Nomama Artisanal Ramen
G/F FSS Building II, 18 Scout Tuason corner Scout Castor Street, Quezon City
Tel. No. 0917-522-8272, 542-2588
R-1.1 and R-1.1A Capitol Commons, Meralco Avenue corner Shaw Boulevard, Ortigas Center, Pasig City
Tel. No. 542-2558
Open from 11:30 a.m. to 2 p.m. and 6 p.m. to 10 p.m. (Monday to Saturday); 12 p.m. to 3 p.m. and 6 p.m. to 9:30 p.m. (Sundays)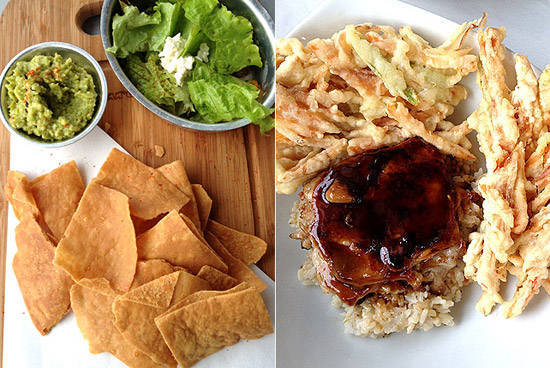 ADVERTISEMENT - CONTINUE READING BELOW
(SPOT.ph) As ramen joints continue to mushroom in the metro, Chef Him Uy de Baron of Nomama Artisanal Ramen is changing things up with a new set of rice bowls to surprise the noodle-exhausted palates of Manila diners. "The lunch sets are donburi-inspired but (they) borrow flavors from the Southeast Asian neighborhood," says the chef. "The sets were designed for a quick, value-for-money lunch for people on the go. Plus, it's part of our effort to show that we are not just about ramen."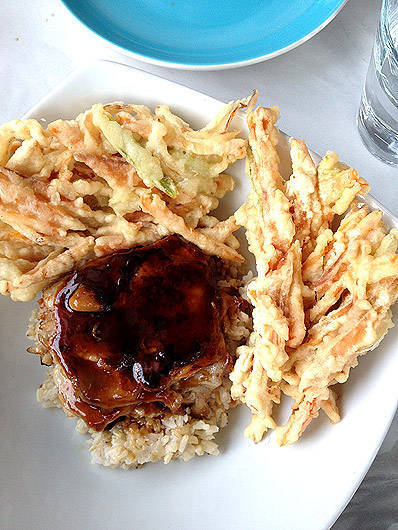 ADVERTISEMENT - CONTINUE READING BELOW
Chicken Teriyaki
There are four sets to choose from. There's the classic Chicken Teriyaki (P365) composed of two pieces of seared chicken fillets doused in a homemade teriyaki sauce. Carrot fritters on the side are presented like corals, which make the hearty dish even more mouthwatering. The sweet flavor Chef Him infused in the carrots would impress even kids.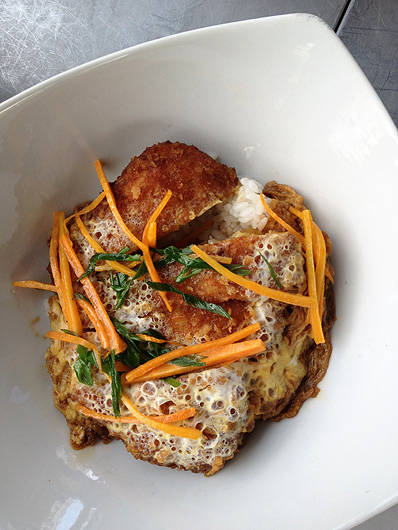 ADVERTISEMENT - CONTINUE READING BELOW
Katsudon
Another all-time favorite that makes it to this menu is the Katsudon (P320). A pork cutlet is marinated in buttermilk, coated, crumbed, then fried to a lovely golden brown before being topped with a thin layer of pillow-soft scrambled egg-organic, if that makes it better for you. The pork is tender, bathed in that same donburi sauce, and it's huge, fitting perfectly in the mouth of the bowl and covering nearly the entire surface of rice.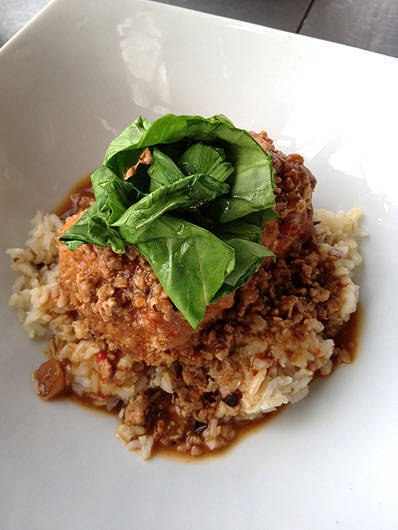 ADVERTISEMENT - CONTINUE READING BELOW
Tofu Steak
The Tofu Steak with Szechuan Pork (P330) is the light alternative. Two hefty chunks of silken tofu are lightly breaded then wok-fried. The surface is painted with a sauce seasoned with chopped red chili and ground pork. With each bite, try to include some of the slightly bitter baby bokchoy to really appreciate the balance in flavors that the chef carefully arranged for the dish.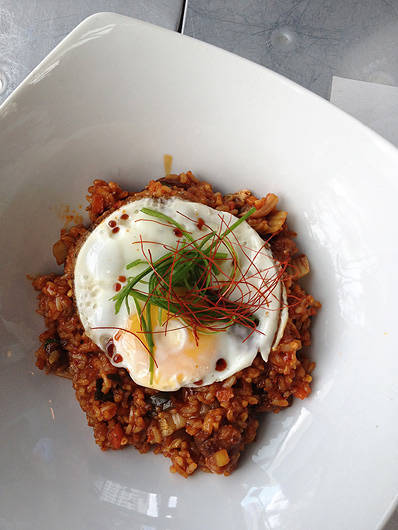 ADVERTISEMENT - CONTINUE READING BELOW
Kimchi Steak
Among the four, the Kimchi Steak Fried Rice (P350) packs the most punch. The heat will definitely knock out your taste buds. Cubes of Kitayama Wagyu are laid over ruby-red rice that's sticky from the bulgogi sauce and kimchi. The yolk from the fried egg gives it a silkier texture, while strands of chili add kick to that punch.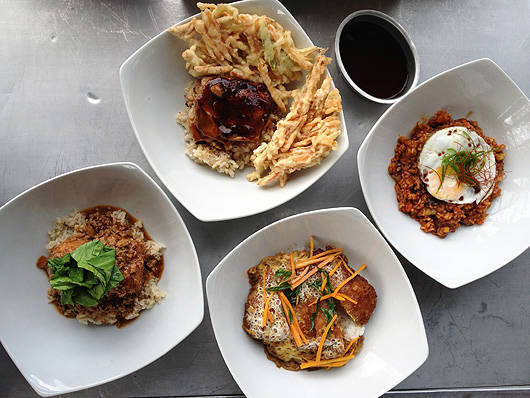 ADVERTISEMENT - CONTINUE READING BELOW
Four sets to choose from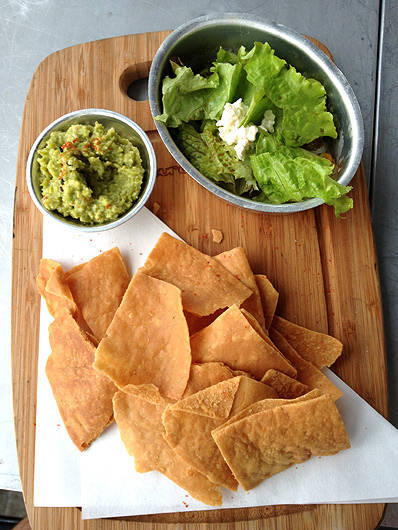 Sides!
The lunch sets, available from Monday to Friday, include edamame hummus with chips, Japanese salad, and lemongrass iced tea. Customers may choose either white Japanese or brown rice to go in their bowls. They also have the option of choosing between two chocolate treats to cap off their meal.
ADVERTISEMENT - CONTINUE READING BELOW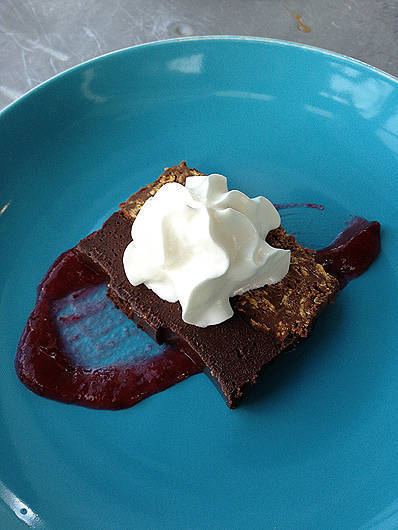 KitKat Bar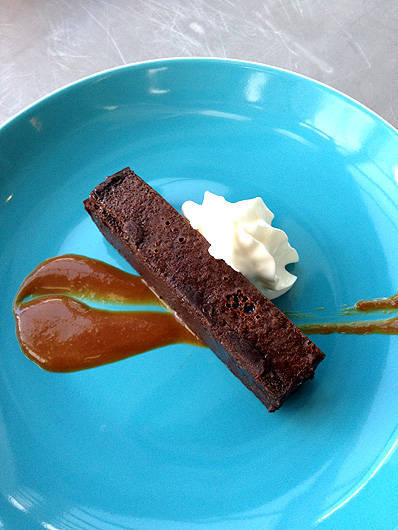 ADVERTISEMENT - CONTINUE READING BELOW
Chocolate cake
The flourless chocolate cake is a thin bar that deceptively carries a rich, fudgy flavor with a hint of coconut. The miso-infused moat of salted caramel around it lends a deeper flavor. Option No. 2 is the popular KitKat Bar, a peanut-butter and chocolate slice in two contrasting layers: the top is similar to a thick chocolate mousse while the bottom gives off much-needed crunch from the rice crispies. Everything is rounded off with tartness from the raspberry coulis smeared on the plate.
Ramen's not going away anytime soon, but Nomama's giving you options, just in case.
Recommended Videos
Load More Stories