New Restaurant Alert: Mrs. Graham's at Scout Rallos Street, Quezon City
Crazy flavors that are crazy good.
Mrs. Graham's Macaron Cafe
51C Scout Rallos Street, Quezon City
Tel. No. 0915-812-2662
Open from 11 a.m. to 11 p.m. (Tuesday to Sunday)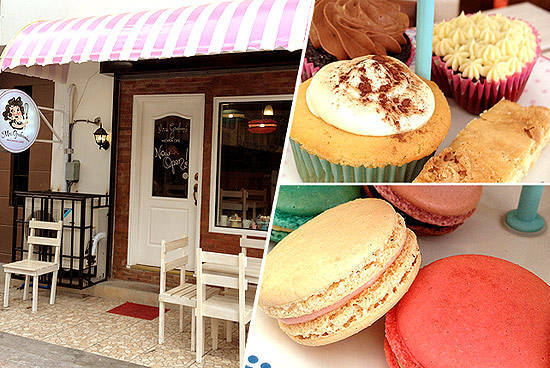 (SPOT.ph) The year 2013 was a sweet one. No, really. Cupcakes made a comeback. Red velvet refuses to leave. Hybrid pastries like Cronuts dominated the snack scene. But macarons (Read Top 10 Macarons) shouldn't be left out on the curb just yet. Mrs. Graham's, which nabbed a spot on our Best Food of 2013 list, makes this delicious cookie even more relevant with innovative flavors.
ADVERTISEMENT - CONTINUE READING BELOW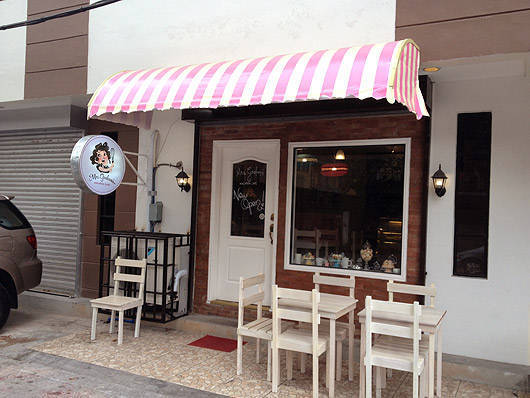 A quaint little cafe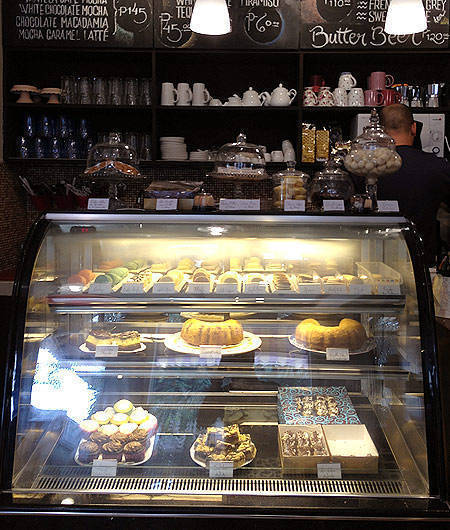 ADVERTISEMENT - CONTINUE READING BELOW
Desserts best appreciated with coffee
Everything happened quickly for the Grahams. Ana Graham started baking in the last quarter of 2012. "A café has always been a dream but it wasn't ever in my plan to set up one soon," she says. "I really love macarons but they're a bit expensive to buy so I experimented on how to make them. I researched for recipes online and watched videos. I'm self-taught." Orders from family swiftly turned to orders from friends which, in turn, turned into a business-online, bazaars, then finally her own shop before 2013 ended.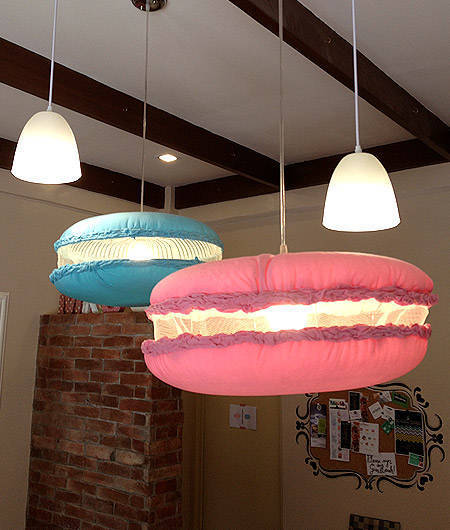 ADVERTISEMENT - CONTINUE READING BELOW
We wish these were real.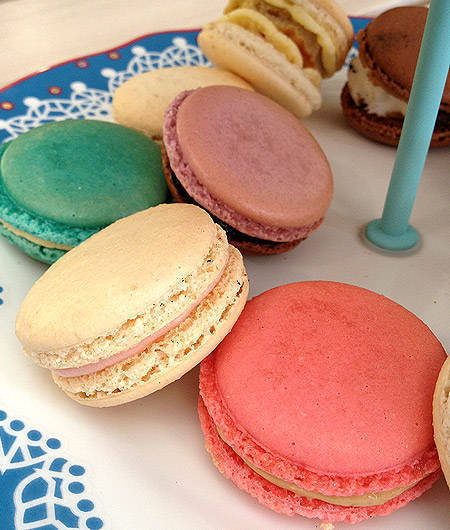 Basic flavors
"We started with our basic flavors-Cookie Dough, S'mores, Salted Caramel, Tequila Rose, and Bailey's, says Mrs. Graham. Yes, she said "basic." They didn't bother with vanilla and chocolate, and instead came up with a creative crew of more interesting flavors. "When we joined Best Food Forward (an annual food fair), we put up a new theme and came up with The Breakfast Club," which consisted of the White Coffee, French Toast with Peanut Buttercream, and the Pancake with Maple Buttercream.
ADVERTISEMENT - CONTINUE READING BELOW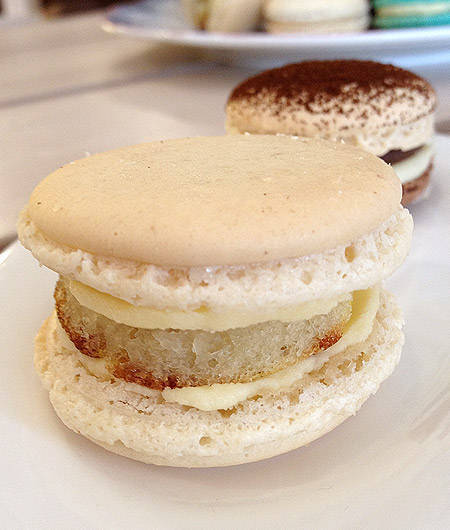 The Breakfast Club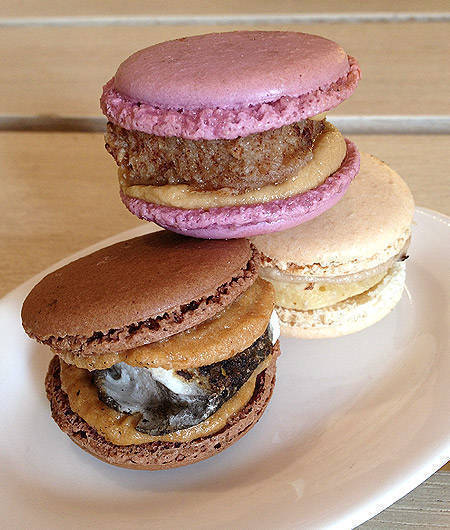 ADVERTISEMENT - CONTINUE READING BELOW
That purple macaron on top? That's the Peanut-butter and Jelly. That's the must-est-try.
The business was young and owning a shop was the last thing on her mind, but the opportunity for one presented itself anyway. "One time, I was dropping off my brother [at] school and I took a wrong turn and saw this place, which was for lease. I inquired just to have an idea. The rent was affordable and back then, my mom was also looking for a space for a music and crafts studio so if I split [the cost] with her, then I really could afford it. My husband crunched the numbers and it all worked out so we set it up and had our soft opening just last December 21."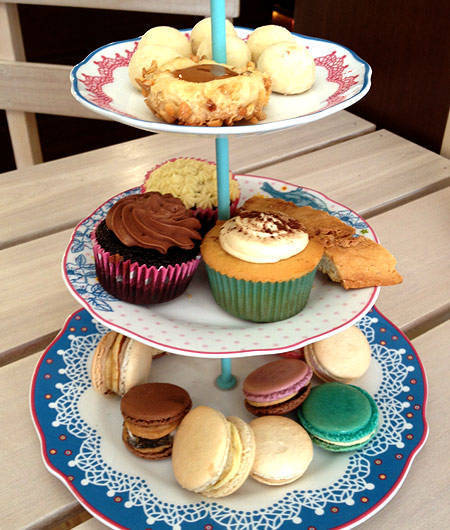 ADVERTISEMENT - CONTINUE READING BELOW
This tray is everything you need to be happy.
Mrs. Graham's Macaron Café not only carries 12 of her macaron flavors, but also pastries from other homebakers carefully curated by the couple. On offer are Mini Mudpies and Revel Bars by Sugar Stop; Tiramisu Cupcakes and Carrot Cake by Lindie's Zuckerhaus; Amaretto Cake and Fluffer Nutter (deep dish cookie) by For Goodness Cake!; Calamansi Muffins, Snooze Button cookies, White Choco Lemon Biscotti and Midnight Cookies by Shoogs, and Russian tea cookies and cupcakes made by Ana's mom. To match the sweet treats are a variety of coffees and TWG teas. They are currently developing a small savory section to add to their menu, but until then, customers can indulge in her bestselling macarons like the Tiramisu, Peanut Butter and Jelly, and the Christmas-inspired Bibingka with Salted Egg. For a group of three to four, a party tray consisting of their pastries of choice can also be enjoyed. And as for entertainment, board games are on hand to keep guests occupied.
ADVERTISEMENT - CONTINUE READING BELOW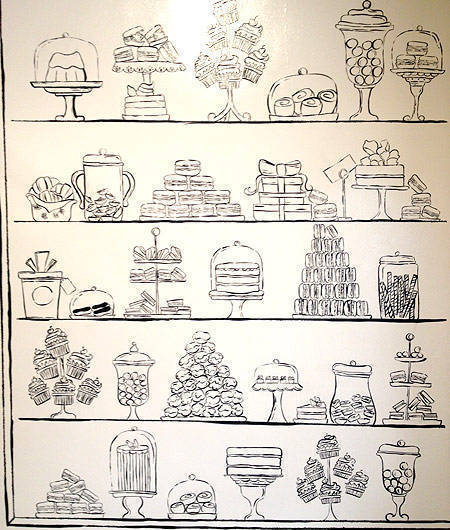 American author Ernestine Ulmer once said, "Life is uncertain. Eat dessert first." At least you'll be sure of a grand time with Mrs. Graham.
Recommended Videos
Load More Stories