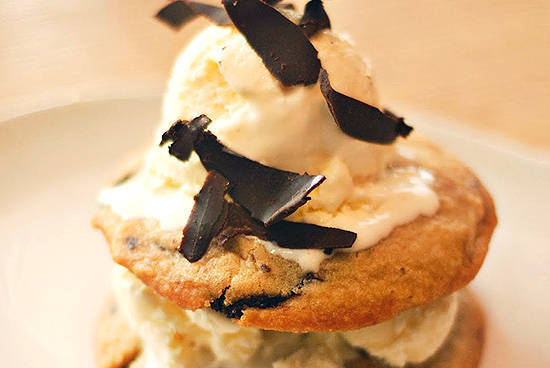 (SPOT.ph) There's nothing in an ice cream sandwich that you can't love. Ice cream, bread, cookies, all piled on top of each other to create a delicious deck of all-or most-of your favorite childhood treats. Understanding its current popularity in New York isn't rocket science. More of a snack than a dessert, an ice cream sandwich is a simple and neat package for something truly indulgent, sinful, and absolutely amazing.
We wish the trend would pick up in the Philippines, especially since the heat is back despite the weatherman's promise of a  cold February. Still, here are 10 ice cream sandwiches that we love snacking on.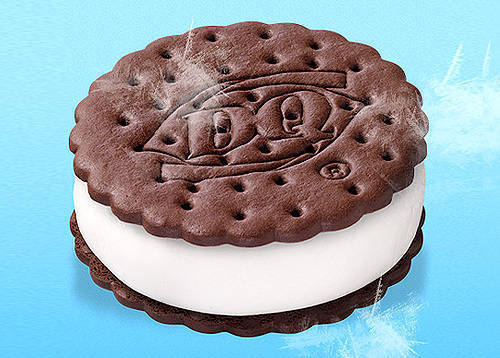 ADVERTISEMENT - CONTINUE READING BELOW
1. Dairy Queen
On offer: DQ Sandwich (P39)
Forever eclipsed by the Dilly Bar, the DQ Sandwich is an affordable option for your chilly sandwich needs. It's a glorious 190-calorie thick disc of vanilla ice cream positioned between crisp chocolate cookies. Yum! Think of it as a giant Oreo cookie!
Click here for a list of Dairy Queen branches.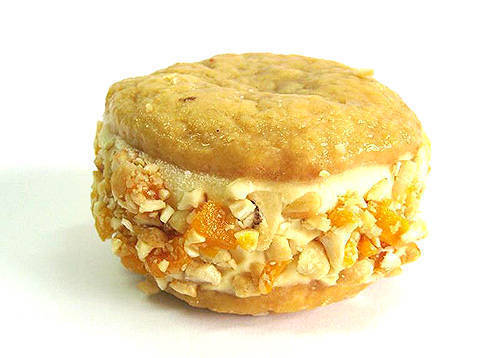 2. The Knuckle Sandwich Station
On offer: Little Red (P130), Brockton Mac Buster (P130), Joe Freezer (P130), Undisputed (P130)
In a place where every sandwich is possible, having ice cream sandwiches is imperative. The Knuckle Sandwich Station knocks you out with flavor and boxing puns (their ice cream floats are called "Float Like A Butterfly"). Under their Chilla in Manila category, they have variations of this cool treat: Little Red is cheese ice cream tucked between red velvet chocolate chip cookies; Brockton Mac Buster is a layer of white chocolate chip cookies with white chocolate ice cream and macadamia nuts rolled in white chocolate; Joe Freezer is a chocolate truffle decker with a fudge center; Undisputed is a butter and mango sans rival rendition.
The Knuckle Sandwich Station is at 308 Aguirre Street, BF Homes, Parañaque City. Visit their Facebook page for bazaar updates.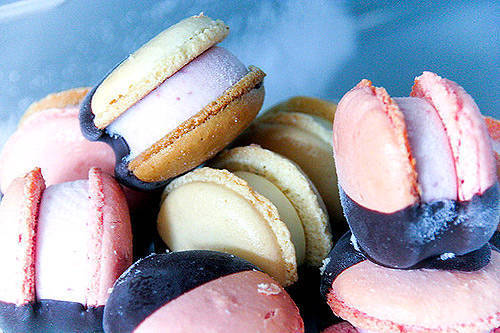 ADVERTISEMENT - CONTINUE READING BELOW
3. Bar Dolci
On offer: Dolcitas (P60) and Gelato Burgers (P120)
Bar Dolci's macarons stand out because of a soft, melt-in-you-mouth filling that resembles gelato. You can only imagine how rich and creamy their actual gelato-filled macarons, the Dolcitas, are. Another Bar Dolci specialty is their Gelato Burgers, a literal ice cream sandwich where their thicker-than-usual gelato replaces the usual peanut-butter and jelly in between a burger bun. The bun is heated so the ice cream in between melts into a creamy core that calls to mind those ice cream sandwiches from the street-albeit a little more adult.
Good news! For Valentine's Day, Bar Dolci is offering a buy-one-take-one promotion on their Gelato Burger.
Bar Dolci is at Burgos Circle, Bonifacio Global City.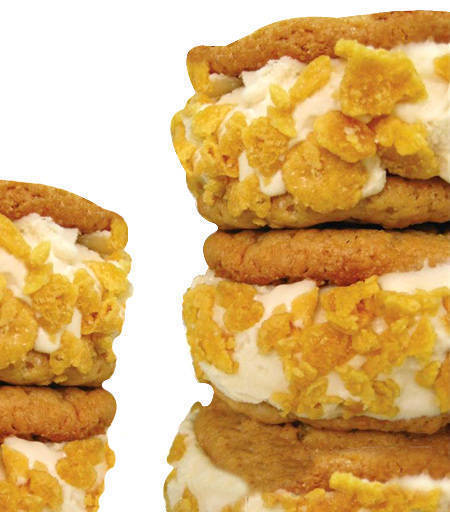 ADVERTISEMENT - CONTINUE READING BELOW
4. Sebastian's Ice Cream
On offer: Chilly Burgers (P130)
It's hard to keep track of Ian Carandang's ideas. Sometimes he innovates flavors, sometimes he revamps classics, sometimes he brings back old favorites. One of his iconic creations is the Chilly Burger: homemade cookies glued together by his artisan creations then rolled in crumbs or cocoa. The perennial Cookie Dough Duo and Red Velvet are flavors that won't let you down.
Recently, he's also come up with the Breakfast Burger, a smorgasbord of his famous Cornflake Milk ice cream between cornflake cookies, then smothered with toasted cornflakes.
Sebastian's has branches in Podium Mall, SM Mall of Asia; and Regis Center, Katipunan, Quezon City.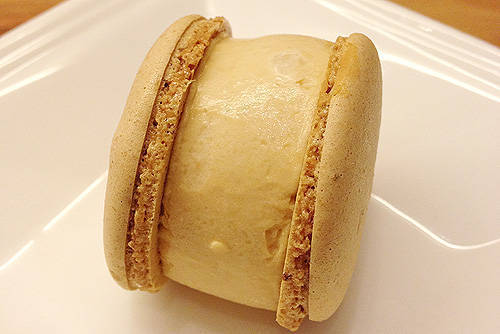 ADVERTISEMENT - CONTINUE READING BELOW
5. Chez Karine
On offer: Macaron Ice Cream (P70)
Pastry chef Karen Yang innovates her legendary macarons into a doubly trendy treat: a macaron ice cream sandwich. A thick puck of ice cream replaces the familiar buttercream, introducing a smooth, chilly surprise after that delicious airy cookie melts away. Flavors are salted caramel, vanilla, and dark chocolate.
Chez Karine has branches in Serendra, Bonifacio Global City and SM Mega Fashion Hall, Mandaluyong City.
Photo courtesy of The Pickiest Eater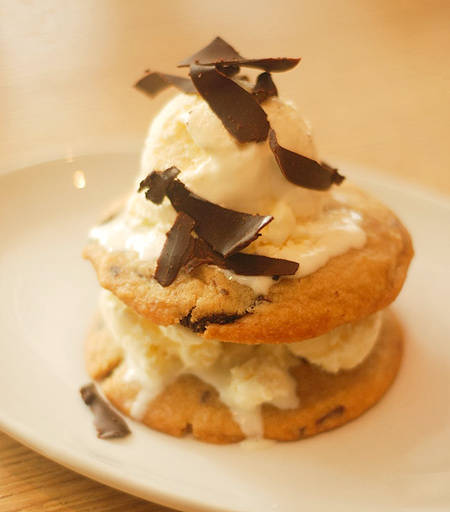 ADVERTISEMENT - CONTINUE READING BELOW
6. 'Cue Modern Barbecue
On offer: Chocolate Chip Cookie Sandwich (P295)
Their chocolate chip cookie cake has never failed to satisfy, but 'Cue has just made everyone's childhood fantasies come true with a new creation guaranteed to trigger the child in you. Homemade cookies combine with ice cream to make a deliciously sweet sandwich. Too. many. feels. We can only describe it as sublime happiness. The Chocolate Chip Ice Cream Sandwich is from their new Porch menu by Chef Enzo Lim of Maharlika and Jeepney in New York.
'Cue Modern Barbecue is at Bonifacio High Street Central, Bonifacio Global City.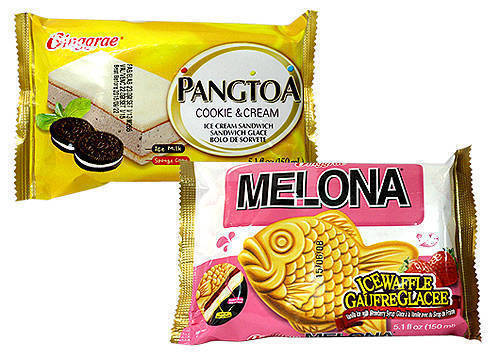 ADVERTISEMENT - CONTINUE READING BELOW
7. Nextrade Philippines Inc.
On offer: Binggrae products like Samanco Ice Waffle (P47), Melona Ice Waffle (P47), Pangtoa (P55)
Korean ice cream and popsicles used to be limited to Korean barbecue joints and convenience stores, but Nextrade gave this popular brand a wider reach and finding some in your trusty grocery store is now pretty common. Those yummy fish-shaped wafers that come in red bean (Samanco) and fruit (Melona) flavors invaded social media feeds two years ago and though they're no longer under the cyber-spotlight as often, they've become a regular must-try after bibimbap. If these wafer fish seem a little fishy to you, there's the decadent Pangtoa where a chiffon cake sandwiches cookies and cream ice cream.
Available in Korean restaurants, convenience stores, and major grocery stores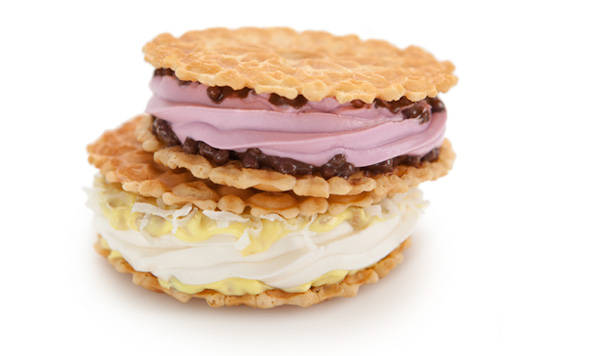 ADVERTISEMENT - CONTINUE READING BELOW
8. Pinkberry
On offer: Waffle Cookie Sandwiches (P115/one; P200/two)
Pinkberry packages their mouthwatering waffle sandwiches as to-go items on their menu. The CD-sized frozen treats come in three flavors: Pomegranate Chocolate, Chocolate Hazelnut, and Lemon Coconut. The mix in textures in the filling gives this decker variety that makes each bite even more interesting. The waffle, surprisingly, holds up agains the coldness of the yogurt. It's a neat little snack when you're on the run.
Pinkberry is at Greenbelt 5, Makati City.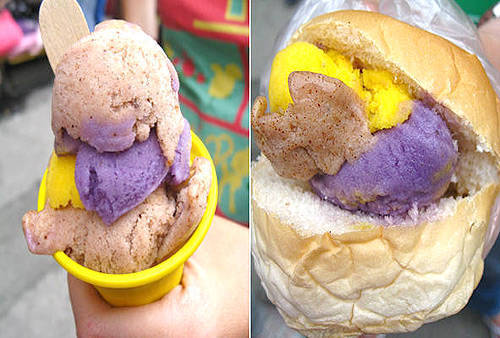 ADVERTISEMENT - CONTINUE READING BELOW
9. Dirty Ice Cream Sandwich
On offer: Ice cream pandesal sandwich (P5 to P10)
This Pinoy street classic is a little fickle. Sometimes, Mamang Sorbetero is there, sometimes he's not. There aren't a lot of these traditional cart-wheeling dirty ice cream vendors (we see those blue Magnolia or Selecta carts more often), but you can usually find one or two in the Manila area or U.P. Diliman. You can have your dirty ice cream in three ways: in a cup, on a cone, or sandwiched between pandesal or sliced bread.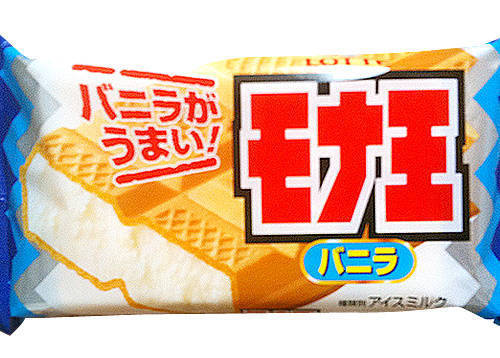 ADVERTISEMENT - CONTINUE READING BELOW
10. Konbini
On offer: Lotte Ice Cream Sandwich (P150)
Like everything else in this Japanese convenience store, this Lotte Ice Cream Sandwich is on the pricey side, but some would argue that it's worth every centavo. Lotte Ice Cream is reminiscent of Magnolia's defunct ice cream sandwich. The wafer is segmented a la a chocolate bar so breaking it off to share is made much easier-especially when the ice cream inside is still firm. The wafer also holds up nicely even when it starts to melt.
Konbini is at 57 Connecticut Street, Northeast Greenhills, San Juan.
Share this story with your friends!
---
Help us make Spot.ph better!
Take the short survey
More Videos You Can Watch
Load More Stories