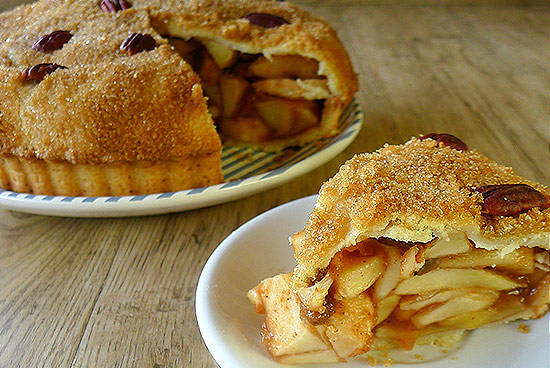 (SPOT.ph) Everything about the apple pie starts with a good crust. Flaky, moist, and flavorful, the ideal crust should be unyielding enough to hold the weight of the filling, but still be thin enough to serve only as a canvas for the apples. Much can be said about a neat presentation, but the comfort of the apple pie lies in the messy, perfectly flaky pastry that cups the beautifully seasoned apples.
If it's true that the inside counts for more, then choosing the apples for the filling becomes especially important. The apples have to be fresh, with enough of a crunch, and with equal amounts of tart and sweetness to even out the heady cinnamon. A buttery top crust traps those delicious flavors inside, making them even more distinct when you take your first bite.
Apple pies are classic American, but that doesn't mean we don't have good or rather, great ones here. In Manila, you can have your pie and eat it, too. Here are the 10 best interpretations of this classic pastry.
ADVERTISEMENT - CONTINUE READING BELOW
READ MORE: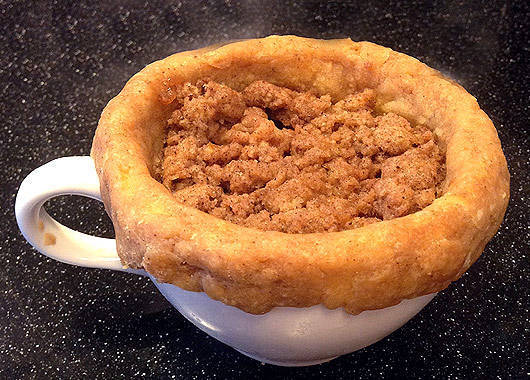 10. Luna Café Apple Singkamas Pie Cup (P155 for a pie cup)
Owner Lino Cayetano says the pies were inspired by his grandmother, a homebaker of American descent. Luna's Chef Mich Vivo combines Pinoy and American influences in the coffee-cup pastry. The freshness of singkamas shares the spotlight with the apples, but this "fusion" is a successful reinterpretation of a classic. Have it a la mode if you miss that touch of sweetness, or just to have it the way apples pies should be had. This apple pie is best eaten warm, with Luna's signature coffees.
ADVERTISEMENT - CONTINUE READING BELOW
Recommended Videos
Luna Specialty Coffee is at Units 3&4, G/F NAC Tower, 32nd Street, Bonifacio Global City; Tel. No. 403-3449 and 0915-309-4347.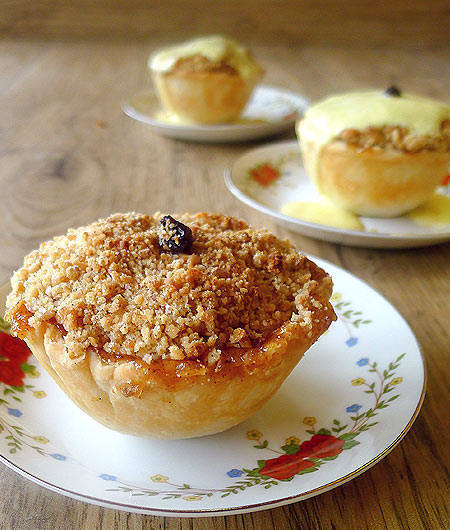 9. Simply Pie's Mini Apple Raisin Pies with Vanilla Custard Sauce (P675/box of nine mini pies)
Gail Ang bases her raisin-infused mini pies on a classic French apple pie recipe. Instead of square chunks, her apples are finely chopped and lightly glazed with cinnamon syrup. Raisins work the tart component. The flavors are on the mild side in contrast to the buttery crust, but then the heavenly vanilla-bean-flavored custard sauces more than makes up for the subtlety.
ADVERTISEMENT - CONTINUE READING BELOW
The pies may also be ordered sans raisins. Just tell Ang and she be happy to accommodate.
For orders, call 341-2238, 0922-882-2194 (a three-day lead time is required). Pick-up is at 9C Victoria Avenue, New Manila Quezon City. Simply Pie is also at the Salcedo Market every Saturday, 7 a.m. to 2 p.m.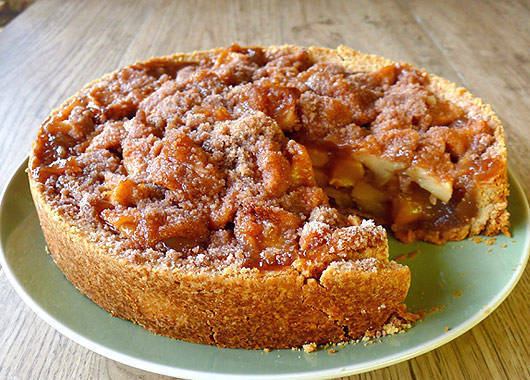 ADVERTISEMENT - CONTINUE READING BELOW
8. Gustare Kitchen's French Apple Pie (P1,000/nine-inch)
This French apple pie is guaranteed fresh—so fresh that you need to inform them a day in advance just so they can time things properly. Fans of Sugarhouse's apple pie will quickly warm up to Gustare Kitchen's. Ginny Roces de Guzman, former owner of Sugarhouse, goes for boldness in this new version. Big and daring, it's a filled pie with no top crust, exposing the huge chunks of cinnamon-sugar-sweetened apples. Clearly, there's no need for modesty when you have flavors this bold.
Gustare Kitchen is at W Building, North Bonifacio Triangle, Bonifacio Global City; Tel. No. 403-0345.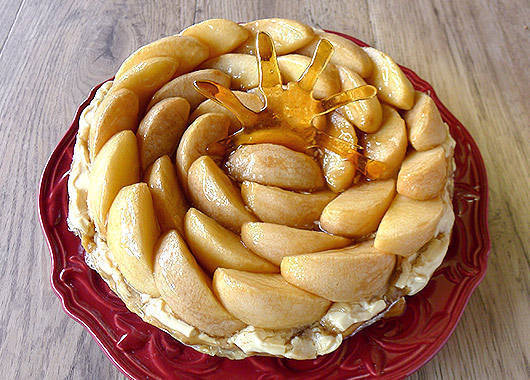 ADVERTISEMENT - CONTINUE READING BELOW
7. Karen's Kitchen Duchess Apple Pie (P1,050/nine-inch)
Karen's Kitchen describes their apple pie as "a macaroon crust, salted butter caramel, silky cream, baked apples. Sure to make you feel regal." There is no streusel topping or flaky pie crust as is the usual for traditional or French apple pie. The crust of this Duchess is extremely thin, leaving the emphasis on the heavy helping of slightly spiced apple wedges and creamy custard. An extra thrill is that burst of salty-sweetness from the drizzle of salted caramel syrup.
Karen's Kitchen is at Petron Dasmariñas Village, Makati City; Tel. 555-0555, 555-0111.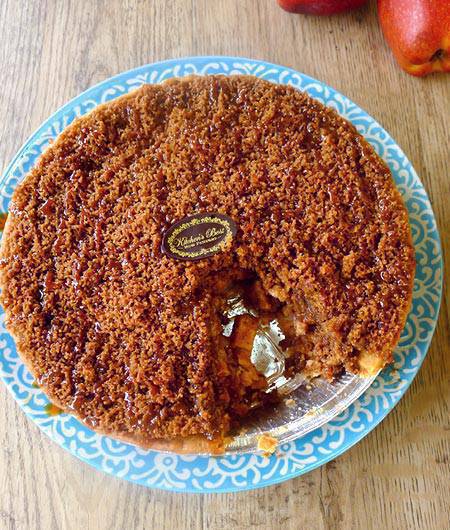 ADVERTISEMENT - CONTINUE READING BELOW
6. Kitchen's Best Apple Crumble Pie (P160/petite' P950/nine-inch)
The best way to have this apple pie is to either eat it fresh or to keep it unrefrigerated and enjoy the next day. It'll taste just as good. Smaller than the rest of the other entries on this list, Kitchen's Best pie looks more like a tart. What it lacks in size though, it makes up in taste. This apple pie comes with a nicely flavored crust, delicious thin apples with a right level of sweetness and spice in its filling, and a light crumbly topping. It also comes with butterscotch sauce that adds a nice caramel flavor when drizzled over the pastry.
Kitchen's Best is at G/F McKinley Park Residences, Bonifacio Global City; Tel. No. 478-4870.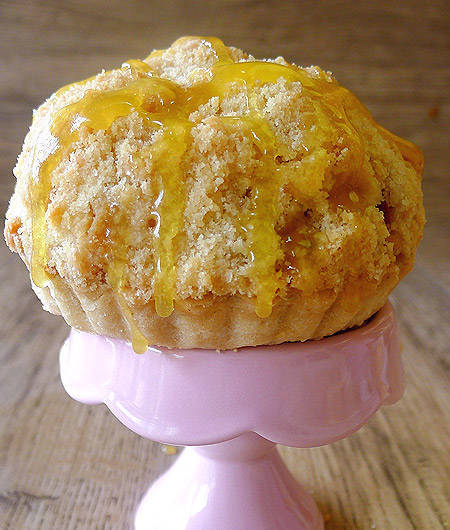 ADVERTISEMENT - CONTINUE READING BELOW
5. Marmalade Kitchen's Apple Pie (P165/petite; P650/mini; P1,100/large)
The mini is enough for anyone to enjoy as it packs so much for its size. The generous savory and crumbly streusel topping the pie is a flirtatious crown and your mouth will water at the mere sight of it. Each bite, with a profile reminiscent of parmesan and polvoron, melts in your mouth. But the butterscotch sauce that comes with it is an unnecessary accessory (that's how potent the spices are). Maybe a scoop of vanilla ice cream, instead?
Marmalade Kitchen is at Forum South Global, Bonifacio Global City; Tel. No.: 0917-837-0959. Whole pies must be ordered two days in advance.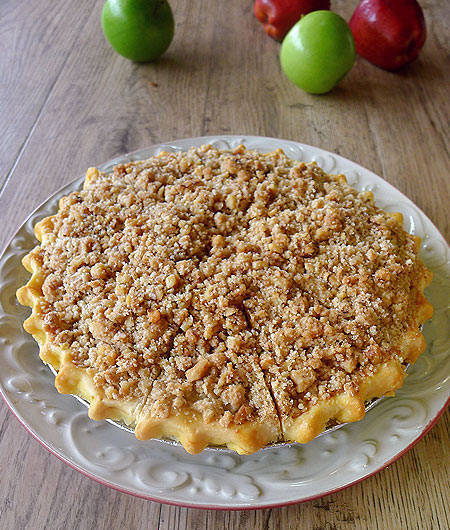 ADVERTISEMENT - CONTINUE READING BELOW
4. The Clubhouse Apple Pie (P120/slice-plus P30 for a la mode; P1,080/nine-inch)
The Clubhouse understands the basics of making good apple pie-part-tender, part-crumbly. The apples are flavorful and the streusel nut topping is crunchy and buttery at the same time. The apple filling is on the softer side, but nothing can be faulted in the delicate application of spices that emphasizes the balance of sweet and tart. Have it a la mode with the vanilla ice cream melting over the warm pie like an extra sauce. Or, you can skip the ice cream and have the server sprinkle grated cheese on top for a slightly salty, slightly savory dessert experience.
The Clubhouse is at UG/F Robinsons Magnolia, Quezon City; Tel. No. 442-5571. Whole pies must be ordered two to three days in advance.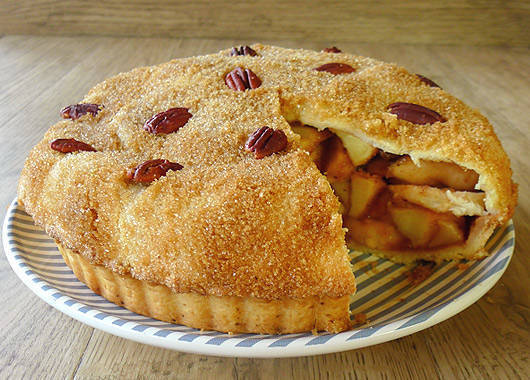 ADVERTISEMENT - CONTINUE READING BELOW
3. Angel's Kitchen Rustic Apple Pie (P238/slice; P1,450/10-inch)
The Rustic Apple Pie is no stranger to lists. The former SPOT.ph top-finisher has attracted a cult following from foodies, apple pie fans, and simply anyone who enjoys a good snack. A flavorful crust holds together a generous amount of chunky and firm apples enhanced by a unique blend of spices and dotted by raisins. The filling is different from traditional apple pies, which might take some getting used to for those who are accustomed to the usual cinnamon. It stands out, however, because of its unique sugar-cinnamon and whole pecan nut topping, which not only makes it picture-pretty but also adds a lovely and flavorful texture.
Angel's Kitchen is at Connecticut Street, Greenhills, San Juan; Tel. No. 721-8822 or 744-1018. Whole pie orders must be ordered 24 hours in advance.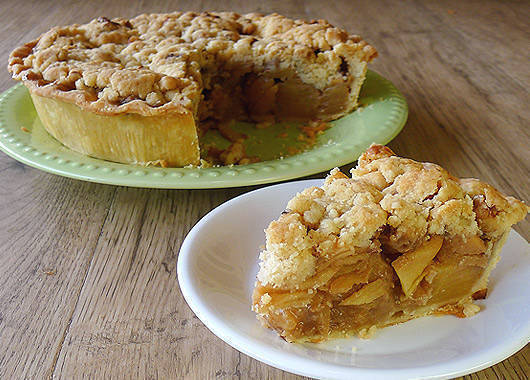 ADVERTISEMENT - CONTINUE READING BELOW
2. Catherine's Yummy Apple Pie (P695/nine-inch)
This apple pie can win a beauty contest with its marvelous height and perfectly shaped edges that hint at an extra stable crust. Cutting into it is easy and results in perfect triangles, all revealing a filling of 12 thin but firm layers of apples, slightly spiced and sweetened. The crust is simple in terms of flavor, which may have been a conscious decision to put all emphasis on the filling and topping. The walnut streusel crumble topping adds a nice play of crunchy texture to the pie. The box comes with reheating instructions and the folks behind Catherine's suggest having it warm. But that's only for those who are fussy. It's still great straight from the chiller.
Catherine's Cakes & Pies is at Hillsborough Alabang Village, Muntinlupa City; Tel. No. 659-2591, 0917-840-9598; e-mail catherines@hotmail.ph. Free delivery within Alabang, P45 for other locations.
ADVERTISEMENT - CONTINUE READING BELOW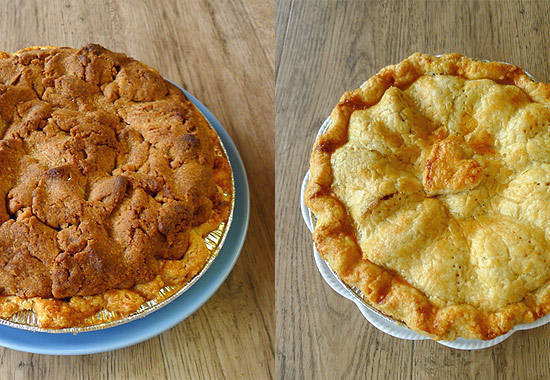 1. Pie Zar's Traditional Apple Pie (P800/nine-inch; P900/sugar-free) and French Apple Pie (P750/nine-inch)
Deciding between the Traditional Apple Pie with the flaky crust and the French variant with a buttery crunchy topping is a paralyzing experience akin to a mother choosing a favorite child. The former placed third on SPOT.ph's 2011 list, while the latter is a favorite of chef and food columnist Sandy Daza. Czarina Serrano's pies are baked fresh on the day of they're ordered. The pies look rustic and after one bite, you'll appreciate this handmade quality even more. Still warm in the box, the taste is just as good as the delicious smell of stewed, cinnamon-spiced apples lets on-if not better. The Traditional Apple Pie has a flaky golden crust that covers chunky tart-apple pieces sloshed with cinnamon-spiced thickened syrup. Lemon undertones spell the difference from other traditional pies. The French Apple Pie's sweet buttery topping, on the other hand, made for a nice contrast to the sweeter-tasting filling it came with.
ADVERTISEMENT - CONTINUE READING BELOW
The best desserts are those that evoke sweet memories and feelings and the apple pies from Pie Zar's really hit home.
For orders, contact Pie Zar by Czarina Serrano at 0917-541-1167 (24-hour lead time is required). Pick-up point is at Filinvest 1, near Commonwealth Avenue, Quezon City or in Ken Afford Restaurant, Katipunan Avenue, Quezon City. Free delivery for orders of at least three pies, otherwise a P150 delivery charge applies.
READ MORE:
Share this story with your friends!
---
Help us make Spot.ph better!
Take the short survey
Load More Stories