New Restaurant Alert: Katsu Sora at Promenade, San Juan
This is the only katsu place to serve Iberico pork.
Katsu Sora
2/F Promenade, Greenhills Shopping Center, San Juan
Tel. No. 0915-874-1990, 925-1411
Open daily from 11 a.m. to 11 p.m.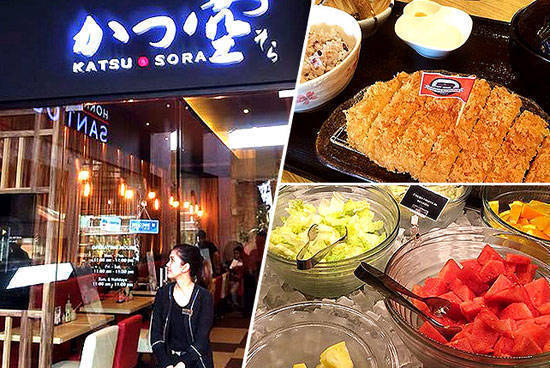 (SPOT.ph) If the ham is any indication, then the Iberico katsu at Katsu Sora is something new to look forward to in katsu-crazed Manila. The new Japanese joint is under the Ramen Santouka group, splitting space with the popular ramen hub and sharing a perennially crowded waiting station.  Sora, which means "sky," is Katsu Sora's promise to take diners to katsu heaven.
ADVERTISEMENT - CONTINUE READING BELOW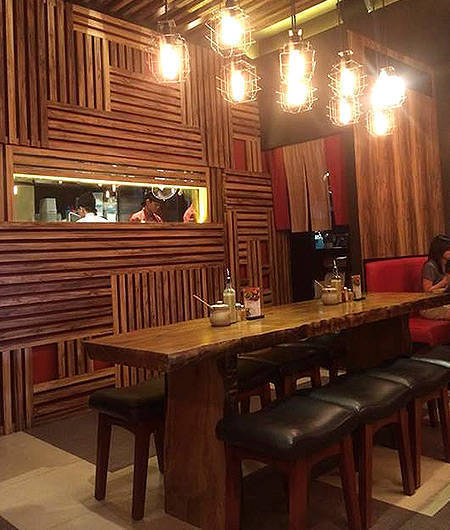 The L-shaped space is cramped, but we're digging the wood-panel detail.
There are four variations of pork available: the now-standard Kurobuta (British Berkshire) raised in Japan; Shimofuri, from pigs hailing from Spain that feature deeper marbling hence more moisture and flavor; Sakura, Canada-raised pigs that are leaner; and the Iberico (Pata Negra), from free-range, acorn-fed pigs in Spain that flaunt a savory-sweet-almost nutty-flavor.
ADVERTISEMENT - CONTINUE READING BELOW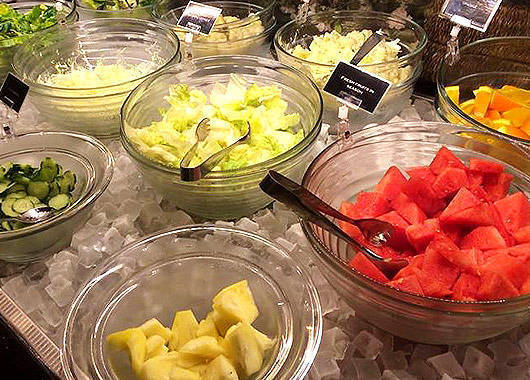 A very varied salad bar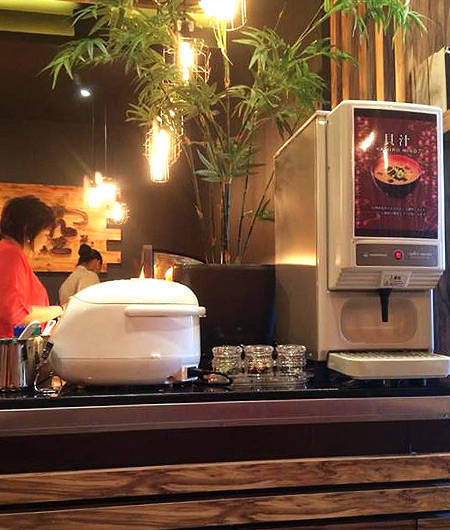 ADVERTISEMENT - CONTINUE READING BELOW
A specialized rice cooker and the miso soup vending machine
Unlimited cabbage and rice comes in the form of a salad bar where customers may enjoy broccoli, lettuce, corn, carrots, pickles, potato salad, and fresh fruits when shredded cabbage becomes a bit humdrum. Different rice cookers hold Japanese rice, fried rice, and 15-grain Japanese rice while a vending machine churns out warm miso soup. The buffet is tempting, but you'll need the tummy space for what lies ahead.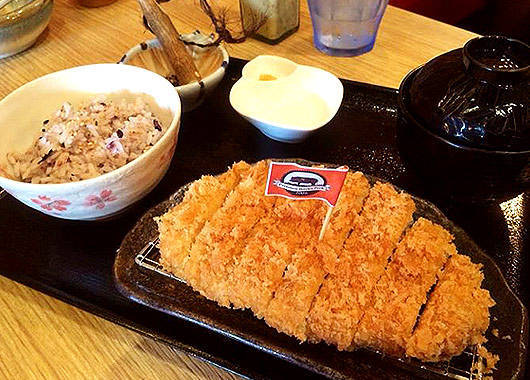 ADVERTISEMENT - CONTINUE READING BELOW
Iberico Katsu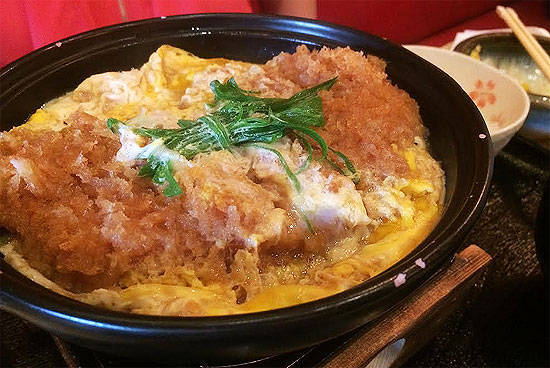 Iberico Katsudon
The Iberico Tonkatsu Set (P655) appears like most: a 120-gram golden brown slab of pork that you can tell is crispy before touching it. There's a visible layer of binder between the panko and meat that fortunately doesn't compromise the flavor and texture. The crispiness is one you can only get from a light coat, but enough to lock in natural juiciness and taste brought out by the nutty sesame-infused sauce.  The Iberico, as with the other kinds of pork, is also featured in a katsudon dish (P660). Katsu Sora's is served over a flame with a rich egg and rice on the side, allowing customers to put as little or as much sauce as they'd like-a consideration that's rather thoughtful.
ADVERTISEMENT - CONTINUE READING BELOW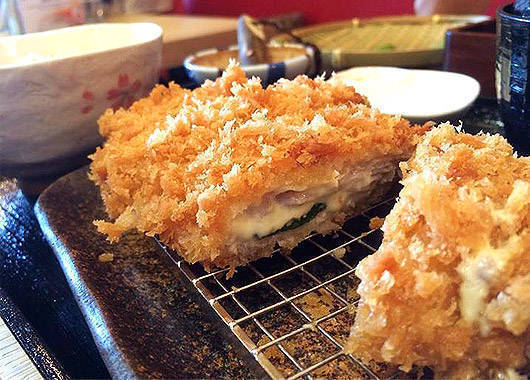 Cheese and Ohba Mille Feuille
You'd think that the culinary possibilities with katsu would've been exhausted by now, but Katsu Sora's take on a pork mille feuille is an interesting case. Instead of a sweet napoleon, Katsu Sora highlights the Sakura pork. The plain Mille Feuille Set (P325) layers thin pieces of pork to create a more undemanding texture. Think of the Cheese and Ohba Mille Feuille (P365) as a pork cordon bleu: basil leaves and melted cheese are sandwiched between the Sakura to amplify its flavor, adding a minty dimension as well as a gentle creaminess. So tender are the layers of pork that a piece can break apart between the chopsticks if you're not too careful.
ADVERTISEMENT - CONTINUE READING BELOW
Between the generous serving portions and the unlimited miso and rice, a trip to Katsu Sora will send you more to dreamland than heaven. But the line between them is pretty thin, anyway.
Recommended Videos
Load More Stories