SPOT.ph Directory: Juicing in Manila
Cleanse your body's stress away with these 10 juicing options.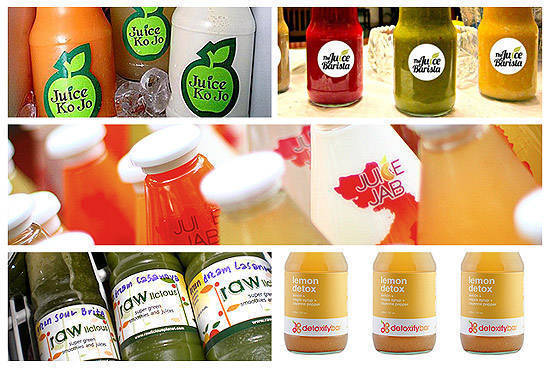 (SPOT.ph) The fact of the matter is juicing is not a permanent solution to weight problems. It'll help you trim a few inches and lose a couple of pounds, but that's just an aftereffect to the greater purpose of cleansing your body. It's like your twice-a-year dental cleaning. It doesn't give you license to stop brushing your teeth.
ADVERTISEMENT - CONTINUE READING BELOW
CONTINUE READING BELOW
Recommended Videos
Read our report on juicing here.
There are a few simple rules to juicing: eat light before the cleanse to ease your stomach into it. Eat light after to ease your way back to your regular diet. Only light exercise is allowed. No caffeine, no junk food, no solids. There is one other silent rule: keep your hunger in check and don't slap anybody.
Get your almost-bikini-body ready because we're giving you the lowdown on Manila's top juicing spots.
ALSO READ:
Top 10 Salads to Try in Manila
Top 10 Caesar Salad
SPOT.ph's Guide to Healthy Eating Options in Manila

ADVERTISEMENT - CONTINUE READING BELOW
Spruce Cold Pressed Juices
Tel. No. 0917-897-2108
E-mail: contact@drinkspruce.com
www.drinkspruce.com; Facebook page
Spruce gives you the option to replace your usual refreshment into something much healthier. Their Norwalk cold-pressed beverages taste almost like actual juice-the kind you have for breakfast or in a cafe. Each flavor bears a promise of weight loss, energy, digestion, health, and more.
Dosage: Cleanse kits are available on request.
Delivery: Delivery is available for a minimum of six bottles per order (P1,500 + delivery charge). Pick-up points are in Plaza Cafe, Paseo de Roxas Street, Makati City and Commune, Salcedo Village, Makati City. Solo 350ml bottles cost P250. Click here for a list of resellers.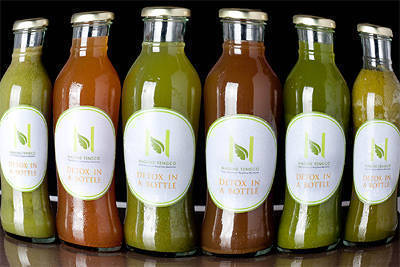 ADVERTISEMENT - CONTINUE READING BELOW
Detox in a Bottle by Nadine Tengco
Tel. No 0917-584-1719
E-mail: ihealthnetwork@gmail.com
www.detoxinabottle.com
U.S.-certified fitness nutritionist Nadine Tengco specifically designed this program as a quick weight-loss scheme for her celebrity clients, as well as a means for their bodies to recuperate from lifestyle stress. Detox in A Bottle is described as a cleansing kit, and it comes complete with six bottles of juice, a cleansing soup, a digestive enzyme tablet, and five grams of ground fiber per day.
Dosage: There are two programs on offer: one on weight loss (P2,500) and one to cleanse (P2,200), both may be taken in one- to three-day plans. Light exercise is recommended. Tengco recommends customers follow the plan and drink the bottles in a specific order.
Shelf life: Best consumed within 36 hours-chilled-after delivery
Delivery: Everyday, drinks must be pre-ordered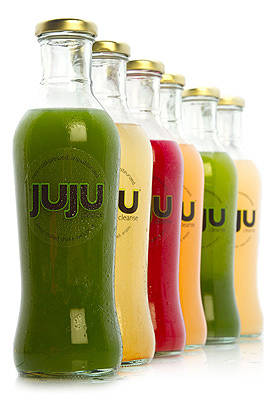 ADVERTISEMENT - CONTINUE READING BELOW
Juju Cleanse
Tel. No. 0917-576-3012
E-mail: info@juju.com.ph
www.jujucleanse.com
One of the first to introduce juicing in Manila, Juju Cleanse comes from the husband-and-wife team David and Kat Azanza, who also own salad bar Juju Eats. Kat's parents founded The Farm at San Benito, a health and wellness resort. Juju allows customers to reboot their bodies whether as a tune-up after years of carelessness or just to recover from a day's heavy binge. The intensity of Juju's cleanses are ingredient- and duration-based. The cleanses lean heavily on vegetables, with their most intense program being nearly 100% green for the whole duration.
Patty Laurel is a longtime advocate of Juju Cleanse, even before juicing became big in the country.
Dosage: No matter the intensity, the prices are the same. Each kit consists of six 500-ml bottles of juice tailor-fit for your lifestyle along with cooler bag, ice pack, and delivery to selected areas. For one day, it's P2,500; three days P7,100; and five days P11,700. Discounts apply to returning customers and group orders. Juju Solos, juices in 250ml bottles, are at P200.
ADVERTISEMENT - CONTINUE READING BELOW
Shelf life: Juju juices can retain freshness, with minimal nutrient loss for up to three days, provided they are well refrigerated.
Delivery: Delivery is everyday between 2 to 5 p.m. There are pick-up locations around Metro Manila. Juju Cleanse also delivers nationwide. Orders must be made two business days in advance.

ADVERTISEMENT - CONTINUE READING BELOW
Juice Jab
Tel. No. 0917-838-7355
E-mail: info@juicejab.ph
www.juicejab.com
Apart from their roundish bottles, Juice Jab sets itself apart from its juicing process: "a special grind and press method made possible by using one of the industry's best triturator-hydraulic press juicer." The slow press gently, slowly, and completely extracts the natural vitamins, minerals, and enzymes in the fruits and vegetables. According to their website, the process also provides minimum mixing of air with the juices that results in very low oxidation and decomposition-hence, the bottles can be kept for a longer period.
Laureen Uy, Cristine Reyes, and Bianca King have tried Juice Jab.
Dosage: Juice Jab has three cleansing programs: Jabs, which are three-day cleanses of varying intensities (P1,700 to P4,700); Jolts, which are supplementary bottles taken with meals for two days (P1,100); and Single Jabs, which are sold by the bottle (P160 to P260).
Shelf life: The juices may be consumed up to until three days after pick-up, but that still depends on storage, i.e., refrigeration. Nutrients are more active fresh.
ADVERTISEMENT - CONTINUE READING BELOW
Delivery: Juice Jab is sold in Beyond Yoga, Quezon City; orders must be made two days in advance and payment one day before. Delivery is available in Makati, (South) Quezon City, Pasig, Parañaque, Bonifacio Global City, San Juan, Muntinlupa, and Mandaluyong from 2 p.m. to 6 p.m. They also have a list of pick-up points.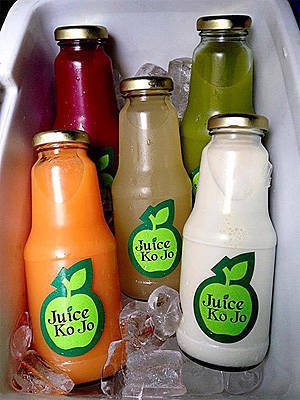 ADVERTISEMENT - CONTINUE READING BELOW
Juice Ko Jo
Tel. No. 0922-863-4968 
Facebook Page
This Instagram-operated juicing company boasts of organic, unpasteurized, freshly cold-pressed juices. The products are homemade and the flavors palatable to those unaccustomed to the wonders of vegetables. Apart from their fruit- and vegetable-based juices, Jojilyn Mercado also has a set of drinks with chia seeds because you can never be too healthy.
Pen Medina and Zanjoe Marudo have been photographed drinking Juice Ko Jo.
Dosage: Juice Ko Jo sells her juices by the bottle, but they also offer one-day kits (P1,200) consisting of five flavors in 330ml bottles and two bags of Yogi tea. Three-day kits cost P3,000.
Delivery: Juice Ko Jo delivers daily.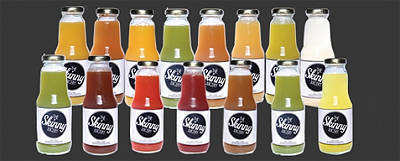 ADVERTISEMENT - CONTINUE READING BELOW
The Skinny Juicery
New Alabang Heights Village, Manila
Tel. No. 0917-320-5329
E-mail: theskinnyjuiceryph@yahoo.com
www.theskinnyjuicery.com
Out of all the juices available out there, The Skinny Juicery probably has the most social media mileage, always appearing on celebrity Instagram pages. TSJ has available programs for noobs to expert cleansers. Their green juices, all cold-pressed, are sweetened by agave nectar-which is what they recommend you add should you want a more honeyed flavor to your drinks. Apart from the vegetable-based drinks, they also have "Hello, Skinnies" spiked with cacao and vanilla which serve as a bit of a snack, as well as Roots, which are primarily made with kale and beets.
According to TSJ, you won't starve during your detox. Instead, your mind clears up better because the blood being pumped to help digestion goes straight to the heart.
Anne Curtis, Yeng Constantino, and Divine Lee have tried TSJ.
Dosage: TSJ offers five programs. There's the gateway one-day Nurture Skinny (P1,700); the two-day Super Skinny (P3,000); the vegetable-based, three-day Detox Pro; the Roots-heavy five-day Power Skinny (P7,200); and the intense seven-day calorie cleanse Strong and Sexy (P10,000). TSJ assigns six bottles for each day, with tea in the morning.
ADVERTISEMENT - CONTINUE READING BELOW
Shelf life: 24 to 36 hours after delivery. Juices are delivered in ice bags, and should not be exposed in room temperature (or higher) for more than eight hours.
Delivery: Orders should be made two days before cleanse date (payments should be deposited by then). A minimum of six bottles is required. Bottles are delivered daily. There are also pick-up points around Manila.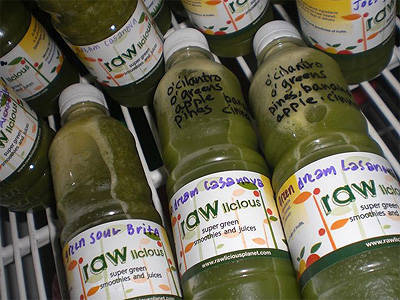 ADVERTISEMENT - CONTINUE READING BELOW
Rawlicious
57 East Capitol Drive, Kapitolyo, Pasig City
Tel. No. 0917-830-1RAW (729); 576-5885
E-mail: rawliciousplanet@yahoo.com
www.rawliciousplanet.com
Rawlicious has a mission bigger than purging your digestive tract. Their ultimate goal is caring for the environment and promoting organic methods. Their smoothies are 100% raw, made with all organic herbs, greens, vegetables, and non-sweet fruits. For added sweetness, some flavors have unprocessed honey (used sparingly) or ripened fruit.
Rawlicious patrons are Drew Arellano and TJ Manotoc.
Dosage: A liter a day (P215/in store; P220/delivery) is recommended, but they also offer it in 500ml bottles (P115/in store; P120/delivery). Detox programs are available for consultation. The menu changes every week.
Shelf life: May last up to three days refrigerated, but nutrients are more potent fresh.
Delivery: Only every Tuesday and Friday.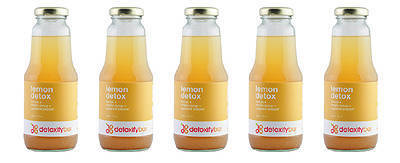 ADVERTISEMENT - CONTINUE READING BELOW
Detoxify Bar
Techno Plaza 2, Eastwood, Quezon City
Tel. No. 942-7105
E-mail: info@detoxifybar.com
www.detoxifybar.com
Those hesitant to try juicing-or at least hesitant to the flavor of greenery-might want to try the sweeter options at Detoxify; their main ingredients are ginger, beet, cucumber, spinach, broccoli, mooring, celery, and carrots. Detoxify Bar is a speedy option to rid your body of the toxins that accumulate from the fast-paced city lifestyle. They offer five flavors, with a sixth tailor-made for your needs. Detoxify Bar certainly goes best with healthy meals.
Celebrities spotted with Detoxify Bar drinks are Vice Ganda, Regine Tolentino, Aubrey Miles, and Troy Montero.
Dosage: Detoxify Bar suggests five bottles per day, with the flavor depending on the day's activities. For example, Red Vegan is a better option pre-workout. Two cups of tea are also recommended. Price by the bottle is P220, but they also have a Detox Package (P1,350).
Shelf life: Best consumed within 24 hours after delivery.
ADVERTISEMENT - CONTINUE READING BELOW
Delivery: Only the first 100 orders for the day are entertained for delivery. The detox package includes five bottles and two bags of organic tea in a thermal bag. Juices are delivered late in the afternoon ready to be consumed the next day. Extra P100 is required for deliveries within Quezon City; P150 for areas outside Quezon City.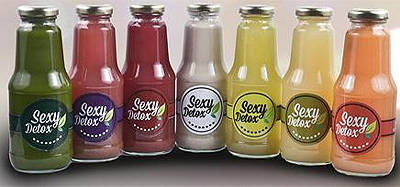 ADVERTISEMENT - CONTINUE READING BELOW
Sexy Detox
Tel. No. 0917-899-2865 
E-mail: sexydetox@gmail.com
www.sexydetox.wix.com/juice
Sexy Detox defines their program as a liquid diet complete with a healthy amount of nutrients to promote cleansing and weight loss. Their bottles are prepared with fresh fruit and vegetables to ensure the highest quantity of vitamins, minerals, and other nutrients. They don't have a specific program per se, but they have two kinds of "blends": Regular (flavors like Sexy Lemon, Citrus Sunshine, Hulk Green, Grape Jolt, and Fast Red) and Premium Blend (flavors like Kiwi Magic, Almond Delight, Strawberry Detox, Cocoa Surprise, and Pink Dragon).
Celebrities spotted with Sexy Detox bottles are Sam YG, Empress Schuck, Mocha Uson, and Ramon Bautista.
Dosage: Sexy Detox is sold by the bottle. Flavors under the Regular Blend cost P188 while Premium Blends cost P218.
Delivery: Pick-up at Blue Ridge, Katipunan or Salcedo Village, Makati is recommended. Delivery fees depend on location.
ADVERTISEMENT - CONTINUE READING BELOW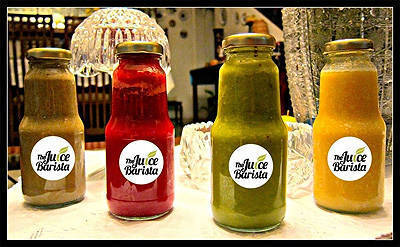 Juice Barista
Tel. No. 0917-795-8995 (Maika), 0917-800-8825 (Jarah)
Email: maikaperez@thejuicebarista.com; jarahseguis@thejuicebarista.com 
www.thejuicebarista.com
Juice Barista was founded by two friends en route to a healthier lifestyle. Like every other juicing company on this list, they use only raw fruits and vegetables, but like true baristas, they're much more daring with their combinations, flaunting flavors such as Gourd of Luis (ampalaya, water spinach, spinach, kangkong, moringa, apple, cucumber, and dalandan) and Sunset Belly Blaster (tomato, apple, carrot, celery, and turmeric). They offer organic smoothies as well. They have one called Sexier Than Chocolate (carob, saba, lettuce, spinach, and nutmeg) which actually sounds pretty delightful.
ADVERTISEMENT - CONTINUE READING BELOW
Dosage: Bottles are sold by size-250ml (P168), 350ml (P268), 500ml (P368), but detox kits are available upon request.
Delivery: Pick-up points are at Ortigas and Quezon City. Delivery is valid for orders worth at least P800.
ALSO READ:
Top 10 Salads to Try in Manila
Top 10 Caesar Salad
SPOT.ph's Guide to Healthy Eating Options in Manila
Are you sure you want to delete this list?

Load More Stories