Franks Craft Beers
Resorts World Manila, Newport Boulevard, Pasay City
Open daily from 10 a.m. to 4 a.m.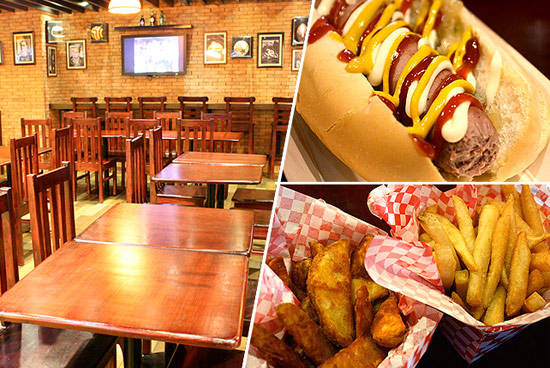 (SPOT.ph) Gaming and hotdogs? It's not the most conventional combination, especially with the kind of gaming one finds in Resorts World Manila, but this sports bar is already becoming a destination as prized as the casino itself.
ADVERTISEMENT - CONTINUE READING BELOW
Franks is no ordinary hotdog stand, although that's how everything began. A roving hotdog vendor would offer casino guests a quick meal that didn't require them to leave their comfortable positions at the baccarat table. Stock would run out too quickly that RW eventually had to add a few more stalls to accommodate the surprising demand for a simple snack. The idea to have a sleek, short order hotdog joint was born and after just two months, Frank's opened.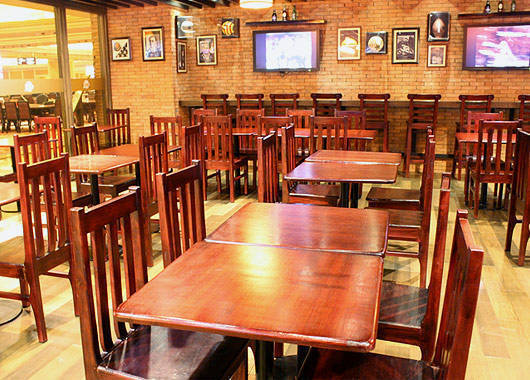 A cozy pub vibe
Frank's is a play on frankfurters, which is another name for sausage. Around the dimly lit, pub-type abode are photos of famous Franks all over the world: Frank Sinatra, Frank Zappa, and Peter Boyle who played the titular character in Young Frankenstein and Frank Barone in Everybody Loves Raymond. Reruns of vintage sports commercials fill the few TV screens, but that's okay. This isn't that type of sports bar. The seats are few and far in between; the lure of bright whirring lights of slot machines rarely inspires customers to stay for a leisurely chat.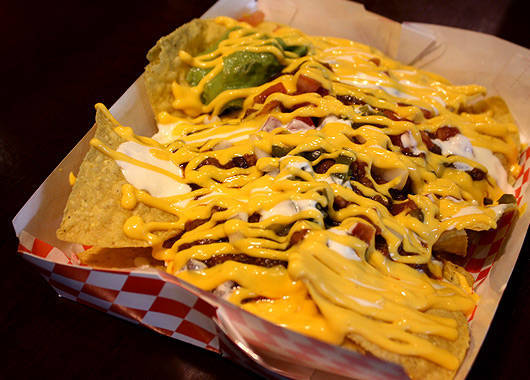 ADVERTISEMENT - CONTINUE READING BELOW
Nachos are P158. Sibley wanted to imitate baseball-stadium feel.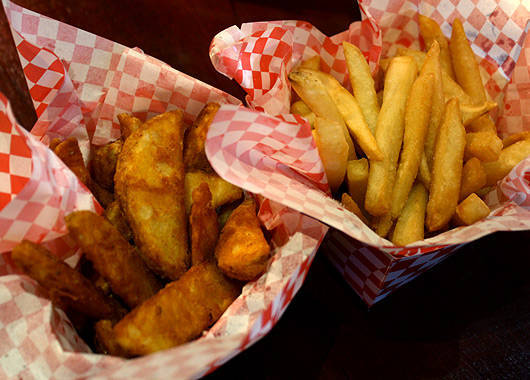 Potato Wedges (P98) and Fries (P78)
The bigger space brought about a bigger culinary ambition, and the sausages went from hot to haute. From using a supermarket brand, RW developed their own hotdog recipes: Classic, Chicken Pork Adobo, Braised Beef, and Chicken Inasal. Chef Camille Samson says that while there's a prominent Filipino influence in the flavors, they are also introducing a more worldly cuisine. The bestselling Chicken Pork Adobo (P148), which is a throwback to Prosperity Court's special Chicken Pork Adobo pizza, comes with two sauces-one adobo broth with vinegar and soy sauce, and the other a cream base with savory bitter tones of fried garlic. Alternating swirls of curry and wasabi mayo embellish Southeast Asian flair onto the Chicken Inasal (P128), a light sausage of pure chicken with a juicy, milky quality to it.
ADVERTISEMENT - CONTINUE READING BELOW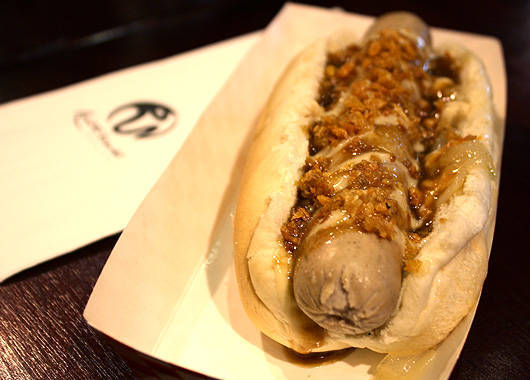 Chicken Pork Adobo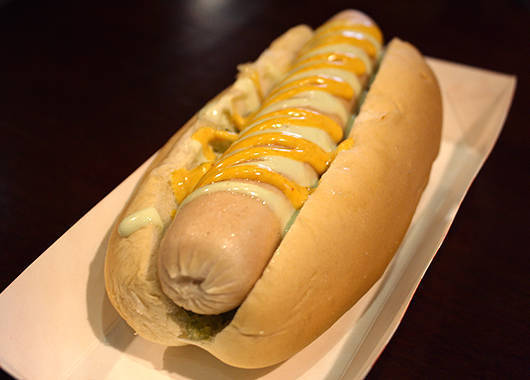 ADVERTISEMENT - CONTINUE READING BELOW
Chicken Inasal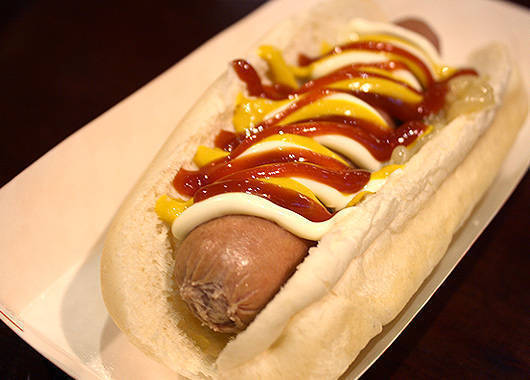 Classic Frank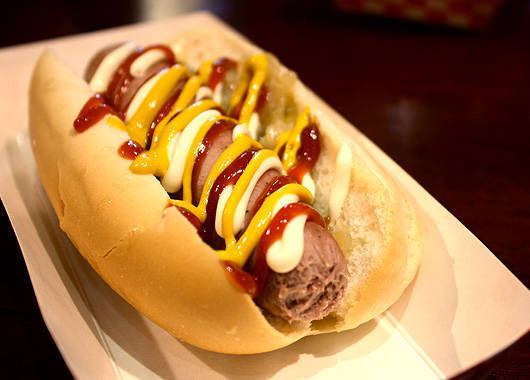 ADVERTISEMENT - CONTINUE READING BELOW
Braised Beef
A traditional blend of mayo, mustard, and ketchup is enough to bring out the meatiness of the Classic (P128) and Braised Beef (P148).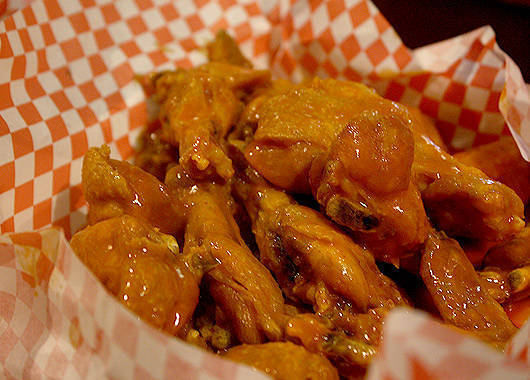 Eighteen pieces is P458.
When your luck runs out at the casino, you might find a bit of kindness in Frank's buffalo wings. Six pieces for P188 won't require luck to enjoy. The wings are free of batter, with nothing obstructing the deep flavor of fried chicken and that tangy-spicy coat. Dab on the cool bleu cheese dressing to temper the fieriness of the sticky sauce.
ADVERTISEMENT - CONTINUE READING BELOW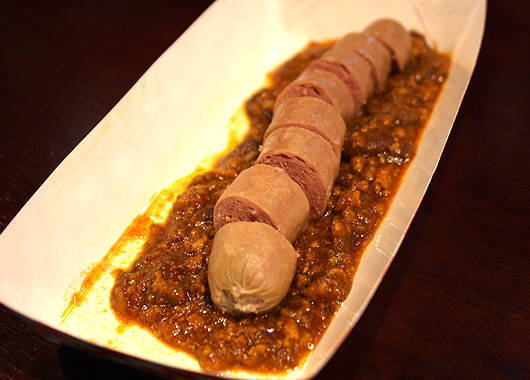 German Franks Con Carne
The German Franks Con Carne (P118), meanwhile, is generosity slathered all over a Classic Frank. The recipe is by chef-turned-hotel chief operating officer W. Scott Sibley. Chipotle adds a smoky heat that lingers at the back of your throat and develops as you enjoy each spoonful. Ground meat and beans are beautifully proportioned and the right amount of herbs (a special dried mix of cumin, coriander, chili powder, dried oregano, sweet paprika )made in-house brings out those precise layers of flavors. They don't serve it in a bowl, which is just as well. Out of all the items on the chalkboard menu, a bowl of Mr. Sibley's chili  may be the only one that can actually get you to stay and savor your food-if you don't inhale it in the first place.  Enjoy it with a glass of draft beer (P240). Frank's has a lineup of Hoegaarden, Blue Moon Plato, Leffe Blonde, Amstele, among others.
ADVERTISEMENT - CONTINUE READING BELOW
There is only one logistical problem to this ingenious haute dog display, which Mr. Sidley pointed out. There's no direct entrance from the mall, which means customers have to go through the rigid casino security. Too bad you have to be at least 21 years old. Some things are much too good for children.
Resorts World Manila members may use their card points to pay for their orders, with an added discount.
Photos by Sasha Lim Uy
Share this story with your friends!
---
Help us make Spot.ph better!
Take the short survey
More Videos You Can Watch
Load More Stories