New Restaurant Alert: The Girl + The Bull at Aguirre Avenue, Parañaque
This place mixes art and food, and it's one of the reasons why Aguirre is becoming a major dining destination.
The Girl + The Bull
346 Aguirre Avenue, BF Homes, Parañaque City
Tel. No. 0905-572-2556
Open from 12 p.m. to 3 p.m. and 6 p.m. to 9 p.m. (Thursday, Friday, Monday; extends to 11 p.m. on weekends)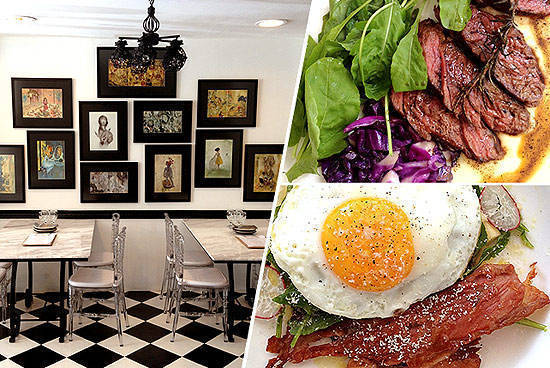 (SPOT.ph) The Girl and the Bull. It sounds like a movie about Spanish corridas. Or maybe it's some hardcore indie rock band. It's neither, but it is something that makes people sit up and pay attention.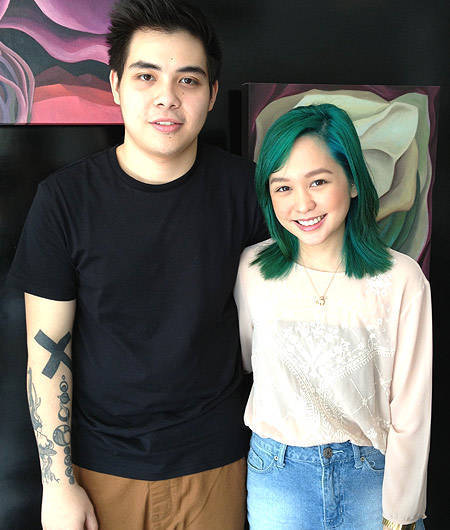 ADVERTISEMENT - CONTINUE READING BELOW
The Bull and The Girl
The young couple behind the name is art enthusiasts Thea de Rivera, 22, and Gab Bustos, 21. They opened the small restaurant in bustling BF Homes, Parañaque, in November 2013. Thea (The Girl) was then fresh out of college. Gab (The Bull) didn't finish school at all. "He's very impulsive," she says about her boyfriend. "He dropped out of school thrice because he thought he knew what he wanted in life." It's an assertion that Gab agrees with. He adds: "I'm bull-headed. That's the best way to describe my personality. I'm the type that if I know I can do something, I'd do it. Just go ahead and charge. But the girl is there to guide me on where to charge." The story of The Girl + The Bull is a reflection of their successful partnership.
CONTINUE READING BELOW
Recommended Videos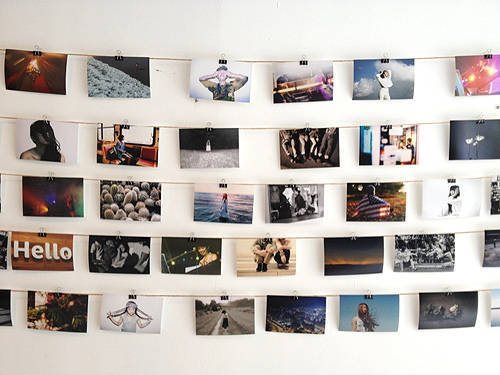 Assortment of photos adorning the wall
The space reflects the balance between them: amid the general black and white hues, animal sketches, and animal skulls are pretty details of wine bottle flower vases and paintings of pink flowers. There's a personal tone to the décor as well, from portraits by Gab's cousins, his own artworks, and Thea's framed paintings to a whole wall bearing photos from photographer friends.
ADVERTISEMENT - CONTINUE READING BELOW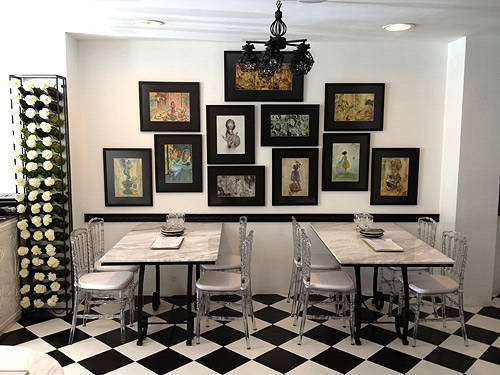 Balance of details gives the restaurant character
"Ever since I was a kid, I knew I wanted to be an artist," he says. "I've always been into drawing and painting. I got into music and photography. A lot of things in the field of art, but I didn't expect that my medium would eventually be food." Gab eventually realized that everything he could do with painting, he could achieve with food. "A painting has line, tone, texture, and color, and it's the same with food. I found my love. This is it for me."
The menu is modest-only 10 savory dishes-but habit-forming. Take the case of the bestselling Buttermilk Fried Chicken (P410), which already has people pledging allegiance. The crisp and flavorful chicken is served with homemade brioche French toast and a balsamic maple syrup. It's such a showstopping dish that it's only available on Fridays and Saturdays.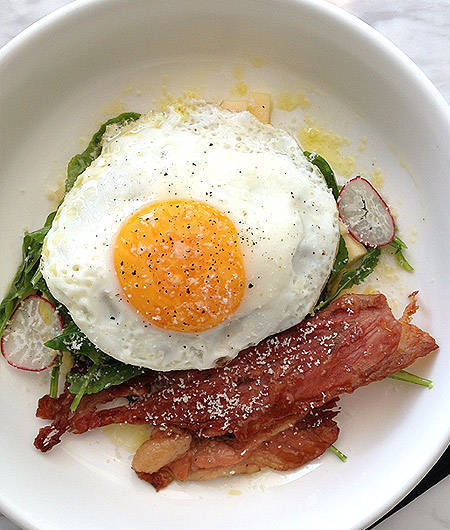 ADVERTISEMENT - CONTINUE READING BELOW
Wild Arugula Salad
A sunny side-up egg blankets the Wild Arugula Salad (P265), concealing a generous amount of apple chunks and thinly sliced radishes lying on a bed of peppery arugula. The truffle vinaigrette is toned down to let the rest of the elements shine, while the thick yolk from the lightly cooked egg adds moisture and richness, with the strips of roasted bacon to give it a salty and meaty bite.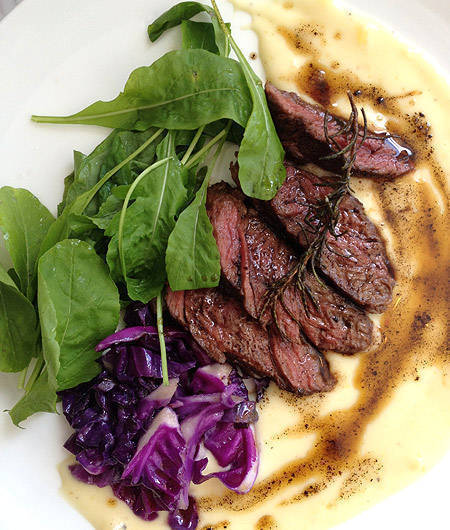 Hanging Tender
The Hanging Tender (P495) doesn't fail to satisfy. Butter-basted strips of steak embellish a pool of melt-in-your-mouth potato mash, with maple red cabbage pepping up the dish with a sweet earthiness. The Blackened Snapper (P395) is a sneaky surprise. A charred crust starts you off with a bitter taste, but then it reveals a punch of flavors from Gab's dry mix of cumin, black pepper, paprika, sugar, and more. The fish is moist and flaky, the sweet potato mash is light but with more texture than its potato counterpart, while beurre blanc lends a tangy and rich taste.
ADVERTISEMENT - CONTINUE READING BELOW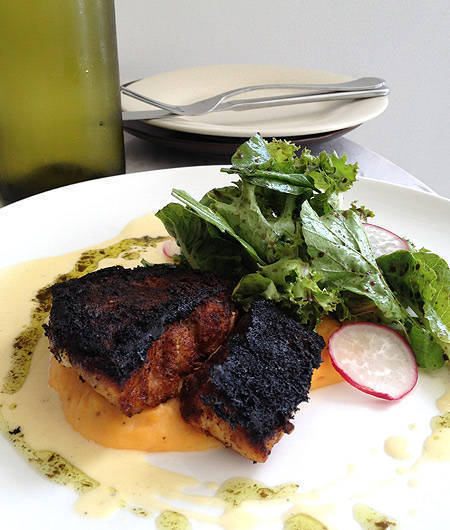 Blackened Snapper
"The Twix bar is my favorite chocolate bar and I wanted to do my own and show the different layers," says the self-taught cook. The restaurant's signature candy bar, called Faux Twix (P160), has a thick shortbread base topped with fudgy caramel and chocolate. It's liberally sprinkled with sea salt, which balances out the sweetness and also highlights it further. The shop also carries a line of cocktails, most of which are bourbon-based since Gab fancies whiskey. The Old Fashioned, which has become an instant favorite, is stirred with maple syrup instead of the usual simple syrup, giving it a still familiar but oddly more interesting character.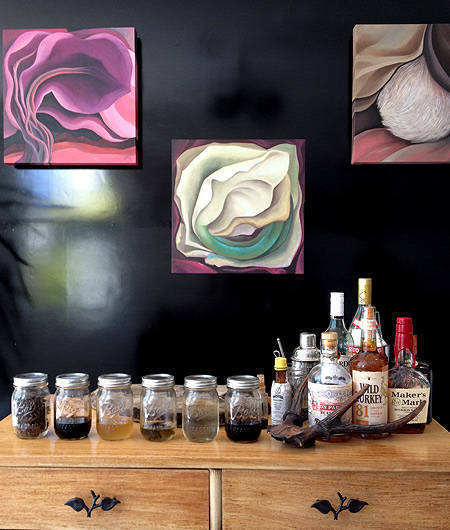 ADVERTISEMENT - CONTINUE READING BELOW
Mason jars add a touch of rusticity to the modern-art space.
Despite the modest menu to the matter-of-fact owners, it's easy to see the overflowing wealth of personality and promise in this must-visit Aguirre haunt. The Girl + The Bull is a neighborhood bistro that boasts intricacy on the plate and off. After all, nothing beats art that you can eat and savor.
Share this story with your friends!
---
Help us make Spot.ph better!
Take the short survey
Load More Stories