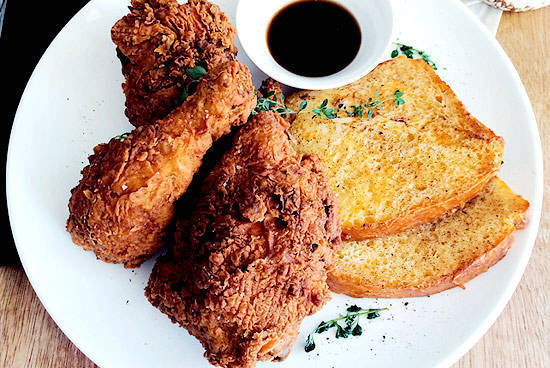 (SPOT.ph) Filipinos love chicken, which is pretty obvious from the copious amounts of chicken available in restaurants: Pinoy-style pan-fried chicken, Chinese-style chicken smothered in Asian-inspired glazes, or good ol' roasted chicken. But fried chicken? Nothing screams comfort food louder than the crisp crackle of its golden-fried skin.  It's familiar, it's comfortable, and we know it won't steer us wrong-when done right. Southern-style fried chicken is only the latest chicken trend to hit Manila. While this dish has been around forever, it's only recently that restaurants around Metro Manila are stepping up their fried chicken game (some even going as far as brining it for longer than 12 hours) and food lovers couldn't be happier.
Heavy in flavor, but worth the calories: here are the top 10 Southern-style fried chicken dishes in Manila.
ALSO READ:
Top 10 Hainanese Chicken Rice in Manila
Top 10 Pinoy-style Fried Chicken
Top 10 Chicken Burgers
Top 10 Chicken Inasal
ADVERTISEMENT - CONTINUE READING BELOW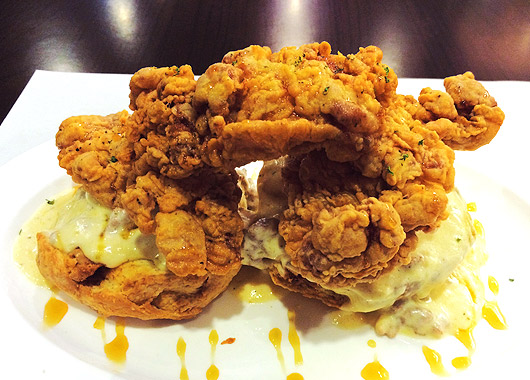 10. Dulcelin Gourmet's Buttermilk Fried Chicken (P285)
Best known for their delicious melt-in-your-mouth mango torte and gourmet dishes, Dulcelin finally has their own branch in UP Town Center. Their buttermilk fried chicken is a newcomer on their menu. Revel in a full plate of boneless chicken thighs marinated in buttermilk, fried until crisp, then served with two huge buttery biscuits smothered in gravy. While the fried skin is a little too floury, the meat is exceptionally tender, thanks to the buttermilk marinade, and a slight hint of honey makes the boneless fried chicken fun to munch on.
Dulcelin Gourmet is at UP Town Center, Katipunan Avenue, Quezon City (955-2306).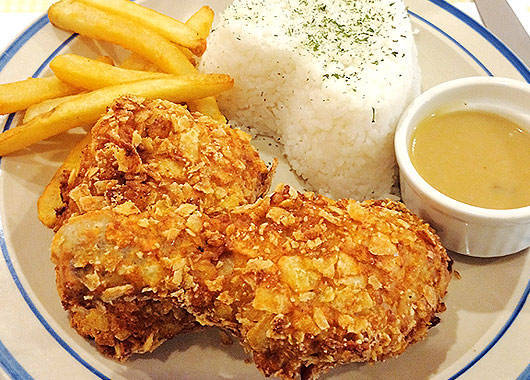 9. Stacy's Potato Chip Fried Chicken (P180)
At Stacy's, the fried chicken skin is the true star of the show. Using potato chips as breading adds extra crunch, unbelievable texture, and makes every bite incredibly interesting. The cooking is slightly overdone, but the skin really makes up for it and you'll be tempted to eat it sans meat. There's magic in drowning the skin in buttery gravy goodness.
ADVERTISEMENT - CONTINUE READING BELOW
Stacy's is at Rizal Drive, Bonifacio Global City (0926-675-2571) and G/F Capitol Greenstreat Commercial Center, 1 Capitol Hills Drive, Old Balara, Quezon City (952-6843).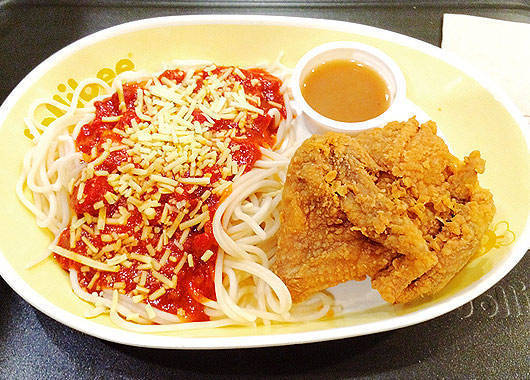 8. Jollibee's Chicken Joy (P69/solo with rice to P429/eight-piece bucket)
Who doesn't love Jollibee's legendary Chicken Joy? A Pinoy fast food staple, it's always something everyone craves. Best paired with Jollibee's addicting Pinoy-style spaghetti, the Chicken Joy, underneath that crackling skin, is juicy, packed with flavor, and it leaves you feeling pretty darn joyful every single time. This is one fast-food favorite that definitely lives up to its moniker.
ADVERTISEMENT - CONTINUE READING BELOW
For a list of all branches, visit www.jollibee.com.ph.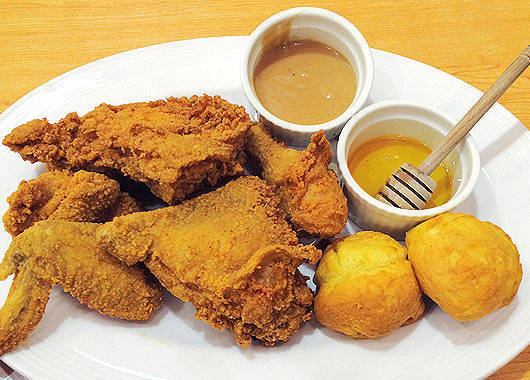 7. Racks' Southern Fried Chicken (P370/Half Chicken, P640/Whole Chicken)
Who knew that a ribs joint could make exceptional Southern-style fried chicken, too? Order half a chicken or go all out with a whole chicken, drizzle some honey over the succulent meat and crisp, peppery-flavored skin, and get ready for a sweet kick to an incredibly savory meal.
ADVERTISEMENT - CONTINUE READING BELOW
For a list of all branches, visit www.racks.ph.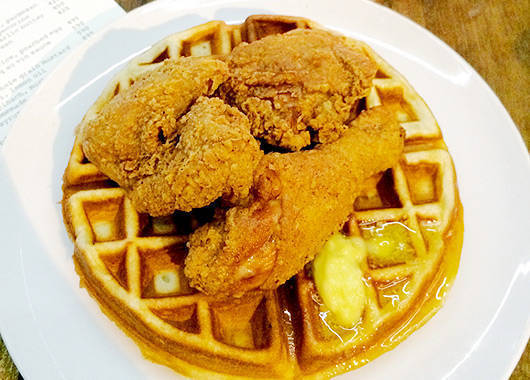 6. Wildflour's Fried Chicken and Waffles (P690)
Known as one of Manila's go-to brunch spots, Wildflour completely delivers with their fried chicken and waffles dish. You'll know it's worth the 20-minute wait once you bite into that lipsmacking drumstick. Smother your beautifully seasoned chicken in Vermont maple syrup, eat it on top of the buttery waffles, and you'll want this for breakfast every day. But heads up-this Southern favorite is available only at Wildflour's BGC branch.
ADVERTISEMENT - CONTINUE READING BELOW
Wildflour is at G/F Net Lima Building, 4th Avenue corner 26th Street, Bonifacio Global City (856-7600)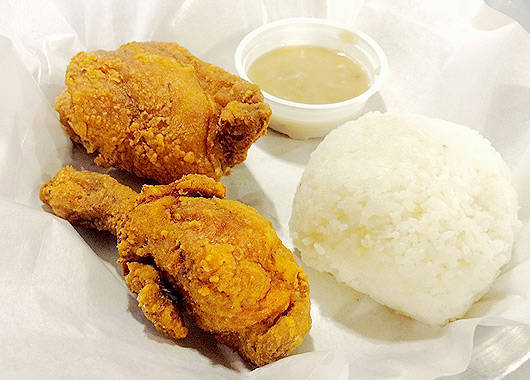 5. Army Navy's Fearless Fried Chicken (P175)
When you're famous for your burritos, it's hard for anything else on the menu to compete, but this courageous chicken accepts the challenge anyway. Army Navy's Fearless Fried Chicken is one of those comfort food favorites you wouldn't mind going back to over and over again. Its peppery, spicy skin is spectacular and the meat is juicy enough, making gravy the last thing on your mind! But don't miss out on that either. The smoking hot chicken doesn't need it, but that shouldn't stop you from pouring the creamy, pepper-speckled sauce over your rice.
ADVERTISEMENT - CONTINUE READING BELOW
For a list of all branches, visit www.armynavyburgerburrito.com.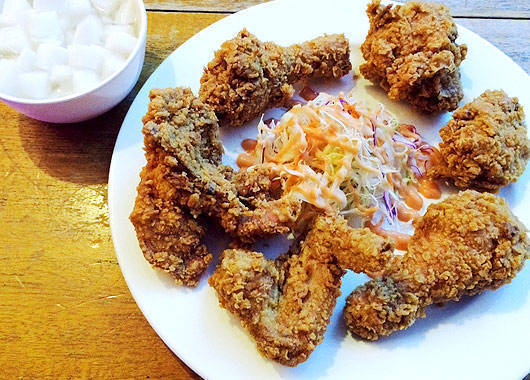 4. BBQ Chicken and Beer's Original Chicken (P275/six pieces)
Don't write off this Korean drinking spot just yet-it's seriously got some of the best-tasting fried chicken in town. Marinated overnight with a super secret formula of 30 kinds of seasoning, the chicken is tender and juicy beyond belief. Flavor is definitely there, and you won't even be looking for any other type of condiment. Try eating the chicken with the pickled radishes too-the slight tartness adds even more depth. Another great discovery: BBQ Chicken's original fried chicken pairs really well with San Miguel Super Dry beer.
ADVERTISEMENT - CONTINUE READING BELOW
For a list of all branches, visit www.bbqchickenphilippines.com.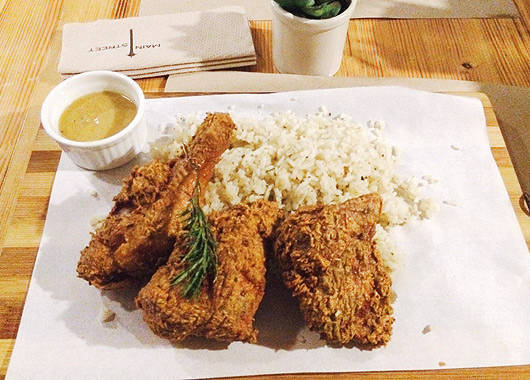 3. Main Street's Buttermilk Fried Chicken (P260)
This spot serves buttermilk fried chicken so amazingly well that you'd think chicken was a popular Canadian dish (that's what Main Street primarily serves). Main Street's buttermilk fried chicken comes with fragrant herbed rice and buttery garlic cream sauce, catering to our indisputable love of rice and garlic. Its crackly, herb-infused skin will make you want to stop and close your eyes after every bite. It's that ridiculously good and for that price tag, it's worth coming back to over and over again.
ADVERTISEMENT - CONTINUE READING BELOW
Main Street is at Tuscany, Upper McKinley Road, McKinley Hill (0917-815-8187).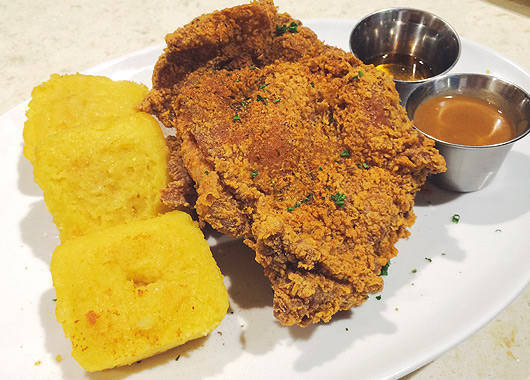 2. Kettle's Buttermilk Fried Chicken (P519)
Kettle's buttermilk fried chicken with honey-glazed cornbread, country gravy, and Cajun honey is their main attraction, and for good reason. It's enormous, marinated in buttermilk for 24 hours, deboned, and out-of-this-world delicious. The meat is extremely tenderized, the skin is delightfully crunchy, and you catch hints of Cajun spices and pepper in between bites. It's the perfect dish to share with at least three other people, so everyone can get in on the fried chicken fun!
ADVERTISEMENT - CONTINUE READING BELOW
Kettle is at 5/F East Wing, Shangri-La Plaza, Mandaluyong City (654-7077).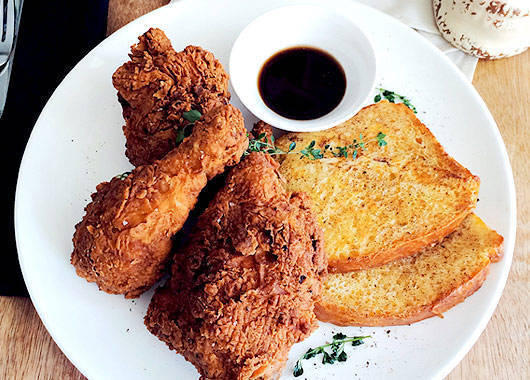 1. The Girl + The Bull's Buttermilk Fried Chicken (P410)
Quirky, fun, and worth the drive down South, The Girl + The Bull whips up the tastiest Southern-style fried chicken in Metro Manila. Marinated in buttermilk for at least 12 hours and served only on Fridays and Saturdays, you'll want to make sure you score that restaurant reservation. Watch the glistening juices ooze out as you cut through the chicken, and savor the crisp, tasty skin. The game changer is their balsamic maple syrup-an interesting mix of slightly sweet and pleasantly acidic-perfect for slathering on your chicken. Don't forget to sop up whatever's left on the plate with the Brioche French toast! Their fried chicken alone-and that combination of balsamic maple syrup with the meat-will have everyone smitten. Suddenly the drive down South doesn't seem so bad.
ADVERTISEMENT - CONTINUE READING BELOW
The Girl + The Bull is at 346 Aguirre Avenue, BF Homes, Paranaque City (0905-572-2556).
Also read:
Top 10 Hainanese Chicken Rice in Manila
Top 10 Pinoy-style Fried Chicken
Top 10 Chicken Burgers
Top 10 Chicken Inasal
Share this story with your friends!
---
Help us make Spot.ph better!
Take the short survey
More Videos You Can Watch
Load More Stories