Five Minutes with Chefs Yannick Van Aeken and Louise Bannon of Noma
These chefs from the Michelin-star restaurant in Denmark are making their way around the world.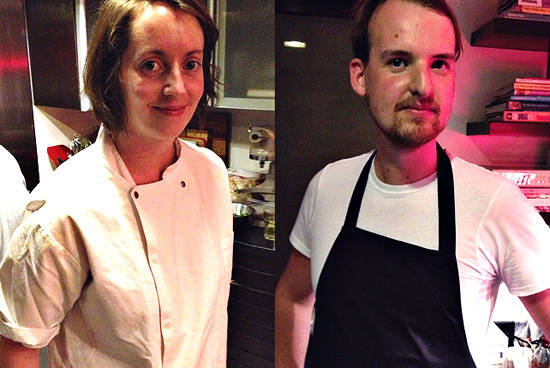 (SPOT.ph) Yannick Van Aeken and Louise Bannon used to work as sous chef and pastry chef respectively at Noma, Denmark, once top-ranked in the world. It's a line on their resumes that only few chefs share, but though being associated with the legendary Rene Redzepi is a source of pride, they have skills that distinguish them from their experiences at the Copenhagen eatery. "It's good to be from there but at the same time it's hard to get away from it," said Yannick.
The young chef couple was recently in Manila to acquaint themselves with local produce, collaborate with homegrown chefs, and get to know the country. The visit is also part of a pop-up tour which began back in Ireland and Belgium and brought them here, so they could share their personal culinary philosophy.
Welcome to the Philippines. How do you find the country so far?
Louise: I'm enjoying it. It's my first time in Asia. I'm from Ireland. We've been here for 10 days. We went to Coron in Palawan and the islands are amazing. It's really great to be in this kind of climate. We wanted to see what the Philippines is like and we've always wanted to come over.
Yannick: The first two days we were in Manila, we just met up with some people and saw the markets of Manila. We went to Makati and Fort and all those places. In one of our evenings out, we were (on) the highway, our taxi ran out of gas so we had to push it to the gas station.
ADVERTISEMENT - CONTINUE READING BELOW
We went to Palawan to see some of the small villages where they were building a school and doing fishing boat programs. We were also meeting with someone who teaches small communities how to provide for themselves and grow their own vegetables. On the way to Coron, our boat engine fell out so we had to drive in the middle of the night in a boat with no lights. Everyone had to put out their phones looking for other boats and see if we can get hitched. Then we went to Bacolod. A lot of new restaurants there and old places. We had too much to eat in three days. And then back to Manila.
CONTINUE READING BELOW
Recommended Videos
Is there anything that has struck or surprised you in your travels?
L: The markets are amazing. There are so many fish. The mangoes are incredible. I've never tasted a fruit like this. To find mangoes in Ireland is very hard. The coconuts are fresh and come straight from the trees so it's really amazing. Filipinos are very friendly and hospitable. They make a big deal [about] food. When we go and visit someone, there's always so much food. It's a feast.
Y: The sigarilyas. It's really nice. It's different with a bitterness and juicy texture to it as well.
How about the food scene? How does it compare to your other pop-ups?
L: We did a few in Ireland and Belgium. One in Switzerland, in the Swiss Alps. It was high up and very amazing. It was already going into the summertime. And there were a lot of wild strawberries and wild herbs. We always go where the products have the best flavor. In every country we go to, we look for what's best and local. And use the best produce.
ADVERTISEMENT - CONTINUE READING BELOW
We went to Wooden Spoon. Nice food and we got to share a lot of plates. Also, to Sarsa. That's also every nice. The cuisine here is very different from where I lived in Copenhagen or Ireland or Belgium. There's a lot of rice and meat. The food is heavier. You can have one dish and that's enough for the meal. Nordic cuisine is lighter and we get more courses in smaller portions. We also use a lot of vegetables.
Y: In all the places we ate in, there was a lot of rice, chicken, pork and sugar. And then when I walked through the markets, you see all these beautiful fruits and vegetables and I wonder what people do with all those.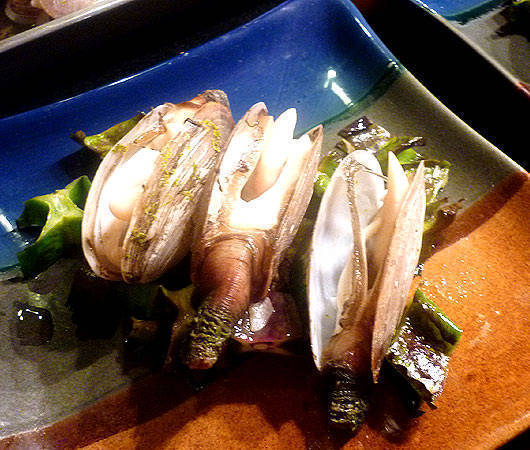 Angel Wing Clams with Sigarilyas, Kalamansi, Coconut Vinegar, and Pickled Shallots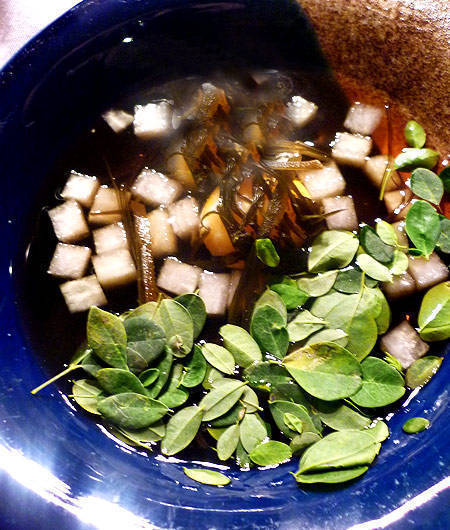 ADVERTISEMENT - CONTINUE READING BELOW
Malunggay, daikon, and 62-degree egg yolk in a broth made with local kelp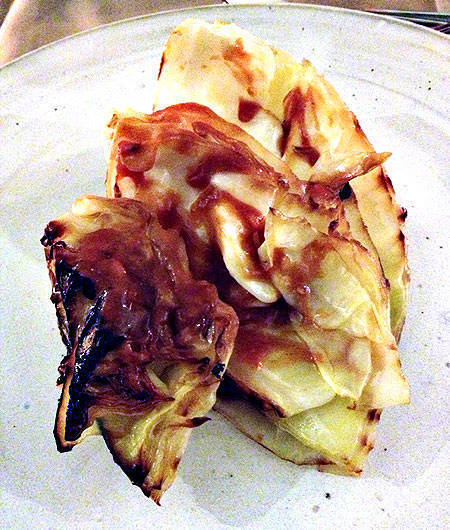 Grilled cabbage head with sauce made with tomato sauce and dried fish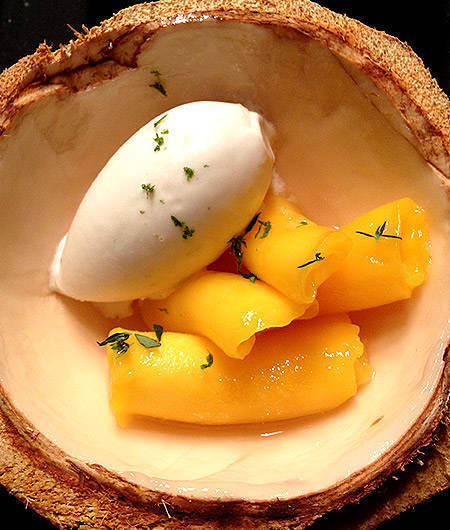 Sliced ripe mangoes, coconut water, and fresh thyme with homemade ice cream made of coconut milk and calamansi
At the end of their trip, it was the pair's turn to surprise local chefs and food writers. Yannick and Louise reminded the local food scene of the beauty of local produce via a seven-course dinner organized by chefs Robby Goco (CYMA, etc) and Glen Ramaekers, and Aleth Ocampo (Aleth's Kitchen).
ADVERTISEMENT - CONTINUE READING BELOW
The degustation displayed Yannick and Louise's culinary ideology: they treated each ingredient with finesse and respect, playing with their natural flavors by intensifying and complementing their potential with the other items on the plate. One such example is the plump organic mussels, off the shell and laid out on a pool of smooth, roasted pumpkin puree that's thinned out by a flavorful pork. Crunchy lato and chicharon top the dish with a salty finish. It's an uncomplicated dish that allows the individual components to shine on their own-by melding with the rest.
Whenever Noma is mentioned, expectation follows suit. But Yannick and Louise don't allow that to faze them. They cook what pleases them and are not out to represent anyone but themselves.
Share this story with your friends!
---
Help us make Spot.ph better!
Take the short survey
Load More Stories