10 Most Well-Known Cakes in Manila
Must-try cakes and the famous bakers behind them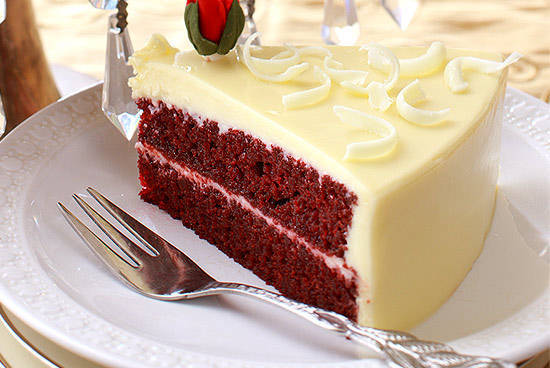 (SPOT.ph) Icons. We've seen them in the worlds of business, music, fashion, but it's an entirely different thing when you're talking about dessert. In the Philippines, mention Strawberry Shortcake and Baby Yulo's three-layered cake, the image of that smooth white frosting flecked with fresh strawberries, immediately comes to mind. Then there's caramel cake (Estrel's, obviously), mango torte (Tony Cuerva's), frozen brazo de mercedes (Dimpy Camara's), and chocolate cake (Ms. Polly's, without a doubt). These are household names, gloriously unchallenged in their specialties.
But there are 10 more that leave a memorable taste in our mouths, 10 utterly delicious cakes that have become legends in their own right.
This list is unranked.
ALSO READ:
Top 10 Chocolate Cakes
Top 10 Carrot Cakes
Top 10 Mango Cakes
Top 10 Red Velvet Cupcakes
Top 10 Sansrival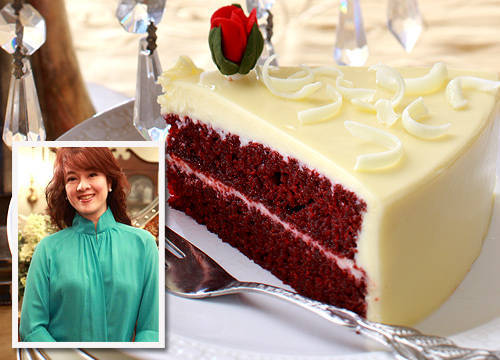 1. Red Velvet Cake (P800/eight-inch) from Karen's Kitchen
SPOT.ph's No. 1 red velvet cupcake will obviously have an amazing cake version. Karen Young first came across the flavor when her friend Sarah took her to Sprinkles, a cupcake shop in Newport Beach. "I liked it so much that I bought a box of the store-brand cake mix which I promptly made when I came back to Manila." After finishing the box, her cravings forced her to concoct something similar. It took five tries before she finally got the "the synergy of sweet, tart, and salty."
ADVERTISEMENT - CONTINUE READING BELOW
About the baker: Karen Young was her sister's self-assigned kitchen assistant when they were younger. That eventually led her to making baked goods of her own, first for family and friends, then in 2004, for customers under the brand name Karen's Kitchen.
For orders, contact 0917-karens1 (Petron Dasmariñas corner EDSA, Makati City) or 0917key4you (210 Zodiac St., Palm Village, Makati City).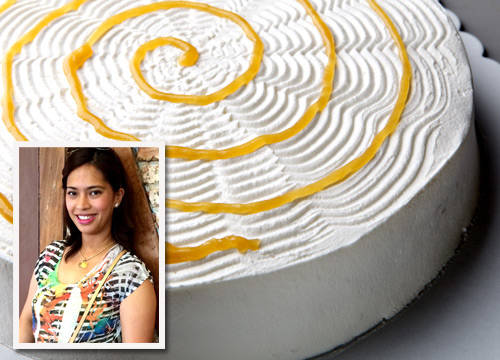 CONTINUE READING BELOW
Recommended Videos
2. Dulce de Leche Cheesecake (P995/nine-inch) from Forget Me Not Specialty Cakes
When Pixie opened Forget Me Not in 2000, her most popular confection was the Brazo de Remedios, from a recipe which she inherited from her mom. The now infamous Dulce de Leche Cheesecake came a year after, but it immediately made a name for itself. "I came across that flavor in the States. My mom and I ate it almost everyday. We were so addicted that I decided to develop a recipe similar to it." It took Pixie about four tries to come up with the one we all know and love-a baked cheesecake with dulce de leche on a crisp cookie-crumb crust.
ADVERTISEMENT - CONTINUE READING BELOW
About the baker: Pixie Rodrigo Sevilla remembers being 12 years old when she was forced by her mom to enroll in a baking class one summer. That paved the way to her illustrious credentials in the industry, including TV show appearances and an international pastry award.
For orders, contact 723-2776 (New Manila, Quezon City). Delivery is available.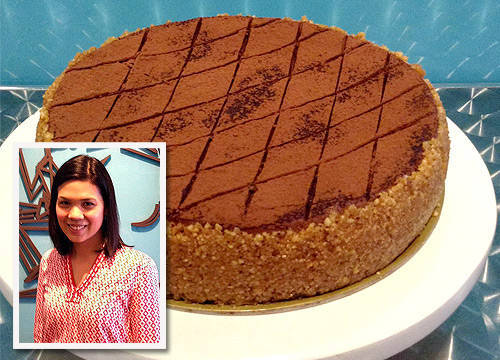 3. Nono's Chocolate Oblivion (P1,150/nine-inch) from Classic Confections
It took Baba Ibazeta three attempts to perfect this cake, but it took about three seconds to come up with a name. "I brought home a sample for my family to try and my dad really liked it. He asked me what I would call it and I jokingly said, 'Nono.' A few days after, I overheard him telling someone that I named a cake after him. There was no turning back!" Nono's Chocolate Oblivion, which nagged a place in SPOT.ph's Top 10 Chocolate Cakes, is composed of two layers of light chocolate cake filled with whipped chocolate cream, then finished off with walnut praline bits and cocoa powder.
ADVERTISEMENT - CONTINUE READING BELOW
About the baker: Baba Ibazeta has always had a sweet tooth. This prompted her to attend Sylvia Reynoso-Gala's summer classes when she was seven,  the California Culinary Academy after college, then Masse's Pastries in Berkeley for professional work. In 2000, she started the commissary for Classic Confections which became a celebrated pastry shop seven years later.
For orders, contact 729-9243 (2/F Greenbelt 5, Makati City) or 661-9267 (3 Brixton Street, Kapitolyo, Pasig City).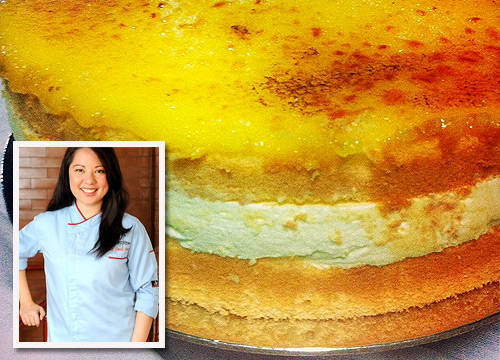 4. Crème Brulee Cake (P880/nine-inch) from The Pastry Cart
Specialty cakes these days cost close to or more than P1,000. Not Camille's, though. At such a reasonable price, you're rewarded with a really delicious, soft, indulgent, but not overly sweet cake. There's magic in the two decks of chiffon cake that sandwich a thick layer of light cream. The crown of caramelized custard makes for a dessert experience that wipes out memories of the meal you just had. According to her, there's one particular "prominent family" that orders a round every week. Why shouldn't they? Camille Ocampo's Crème Brulee Cake  ranked No. 1 on SPOT.ph's Top 10 Mango Cakes list.
ADVERTISEMENT - CONTINUE READING BELOW
About the baker: At age 20, Camille Ocampo didn't even know how to cook rice, but she knew she loved eating and making desserts. She started baking cakes using boxed mixes, later enrolling in classes by Heny Sison. After working in a couple of restaurants, she started The Pastry Cart, her own home-based pastry business.
For orders, contact 0916-745-7729 (Valle Verde, Pasig). Orders must be placed a day in advance.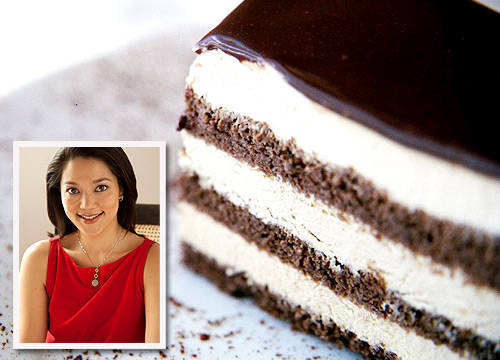 5. Mocchamisu (P1,375/8x12-inch) from Goodies N' Sweets
"It was Father's Day a couple of years ago and I wanted to make a cake that had chocolate and coffee liquor," recalls Aileen Anastacio. "I had an idea of copying tiramisu but changing the components. Instead of a vanilla sponge, I made it chocolate, then instead of mascarpone cream, I made it mocha." She added Irish cream to the coffee liquor for more kick then put a ganache on top instead of the regular cocoa powder to make it richer." This formula was immediately successful and continues to this day.
ADVERTISEMENT - CONTINUE READING BELOW
About the baker: Aileen Anastacio pursued her love for baking by enrolling in a 16-month course at the California Culinary Academy. Most of her secrets and know-how though came from her time in La Nouvelle Patisserie at Union Street, San Francisco. She returned to Manila soon after and opened Goodies N' Sweets in 1986.
For orders, contact 0922-875-7517 (Unit 105, G/F San Antonio Plaza, Makati City).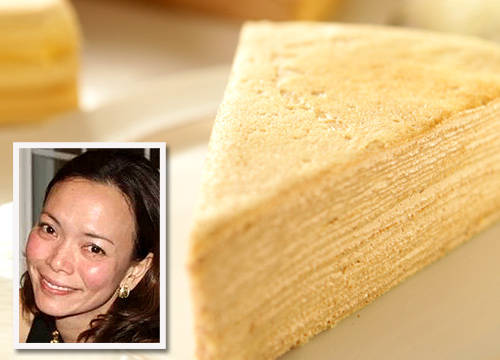 6. Gateau de Crepes (P1,300, P1,500 for chestnut/12-inch) by Mara dela Rama-Poblete of Dessert du Jour
"I first tried the cake at a famous patisserie in New York. I thought to myself, 'Why not try to recreate the gateau in Manila?'" Mara dela Rama-Poblete made hundreds of crepes to perfect this cake. The final product is a 12-inch-wide structure of 20 paper-thin French crepes filled with luscious vanilla crème. She started selling it in 2007, the same year she began her dessert brand. Soon, her crepe cakes sold like pancakes. She's since launched low-sugar vanilla, Nutella, chocolate, pistachio, and chestnut varieties.
ADVERTISEMENT - CONTINUE READING BELOW
About the baker: When Mara dela Rama-Poblete was a kid, her mom forced her to bake something every day during the summer for allowance money. Later, she no longer needed an incentive for baking. She learned from Maur Aquino Lichauco, Heny Sison, and studied at the French Culinary Institute in New York.
For orders, contact 405-2580 (Ecology Village, Makati City). Orders must be placed a day in advance.
7. Nuts About You (P810/10-inch) from Fleur de Lys Patisserie
This pie is loaded with roasted macadamias draped in luscious caramel fudge. The pastry itself is so light and buttery that you'd be nuts if you didn't go crazy over a slice. See what we did there? Nuts About You is one of Fleur de Lys Patisserie's maiden offerings. It's been there since 2001 as a consistent bestseller. In fact, variations have been made in its honor: one with chocolate and another that's sugar-free. The original, however, is unparalleled.
ADVERTISEMENT - CONTINUE READING BELOW
About the baker: Jackie Ang-Po's foray into baking was fueled by Chef Dorothy Ferreria, whom she describes as one of the nicest teachers she's ever had, and her chef professors at the California Culinary Academy. It eventually led to a well-decorated career, including a roster of cooking shows, international pastry awards, and, at age 26, her own café.
For orders, contact 372-0631, 0922-8FLEUR8 (305 Tomas Morato Avenue, Quezon City). Delivery is available.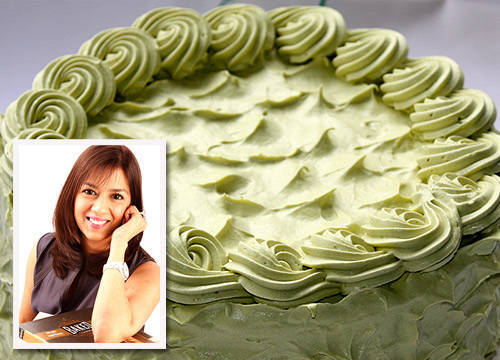 8. Green Tea Belgian White Chocolate Torte (P1,550/nine-inch) from Homemade by Roshan
This two-year-old cake is the youngest on this list-and the most playful one. It flaunts a fun pairing of earthy green tea with rich white chocolate. "It is a wonderful combination as the matcha tempers the sweetness of the white chocolate. Much to my surprise, it has become one of my more popular cakes," says Roshan Samtani, whose cakes and cookies have their own cult following. The cake is made up of walnut-dotted meringue and choco layers enrobed in a matcha frosting.
ADVERTISEMENT - CONTINUE READING BELOW
About the baker: Roshan Samtani declared the kitchen as her playground of choice at age eight. Though having no formal culinary training, she took short courses from Heny Sison and Joey Prats. Her great inspiration is her mom, who whipped up delicious desserts when she was growing up. Roshan opened her own line of sweet treats in 1993.
For orders, contact 631-7786 (Makati and Ortigas pick-up points). Orders must be placed at least a day in advance.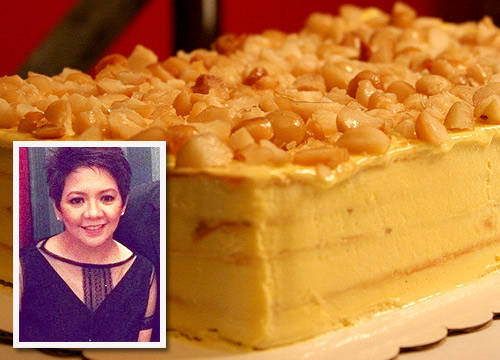 9. Macadamia Sansrival (P1,000/7x11-inch) by Gay Vazquez of From The Kitchen of Gay Vazquez
There's a simple and long history behind this cake. Gely Dayrit, a baker based in Cagayan de Oro, known for her Kasuy Sansrival, handed down the family recipe to Gay Vazquez. Tita Gely was her mother-in-law's sister. Gay kept adjusting the recipe to how she wanted it to taste, a process that took years. "Back then, I had lots of macadamia (nuts) given to me by a friend. My husband suggested to do a sansrival version using it." It became an instant hit. Rather than extending her line, Gay opted to concentrate on one item. She's known as the Sansrival Lady, a title she has rightfully earned.
ADVERTISEMENT - CONTINUE READING BELOW
About the baker: Gay Vazquez grew up playing with baking pans while watching her mother sample new cake recipes. She started giving her a hand before eventually making pastries of her own, including brownies, which became popular among her officemates. She also made pies, but it was her sansrival that eventually won people's hearts and appetites.
For orders, contact 631-0125, 477-9737, 0917-301-0615 (Valle Verde, Pasig City).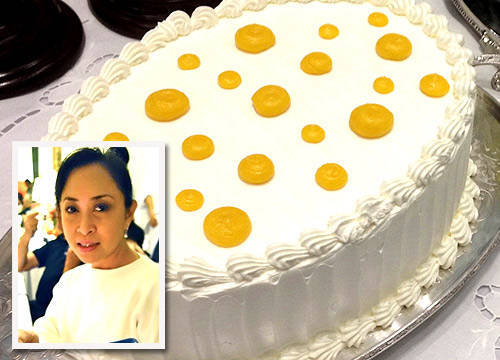 Heny Sison photo by Jin Perez
10. Lemon Torte (P1,700/10-inch) by Heny Sison of the Heny Sison Desserterie
When one of her clients requested a meringue-based lemon cake, Heny Sison had no clue that she would end up with something legendary. It has all the elements she herself would want and look for in a cake. The crunch from roasted walnuts, the smoothness of the cream, a lemon curd filling that's tangy and not too sweet. It's plain perfect and has become a staple in many gatherings and parties. It's a cake that, like its baker, is unlike any other.
ADVERTISEMENT - CONTINUE READING BELOW
About the baker: Heny Sison trained in various schools across the US, including the Culinary Institute of America, but she credits her mom to be the best teacher she's ever had. Now, she's the one doing teaching in her own school. The Heny Sison Culinary School has been in operation for more than 25 years.
For orders, contact 726-5316, 412-7792 (11th Jamboree corner Scout Rallos Street, Quezon City).
ALSO READ:
Top 10 Chocolate Cakes
Top 10 Carrot Cakes
Top 10 Mango Cakes
Top 10 Red Velvet Cupcakes
Top 10 Sansrival
Share this story with your friends!
---
Help us make Spot.ph better!
Take the short survey
Load More Stories