Top 10 Gyoza in Manila
We listed the 10 best potstickers to sink your teeth into.
(SPOT.ph) When it comes to Japanese food, it seems that all everyone in Manila can talk about lately is ramen or katsu. They're good, filling, reasonably priced, but those aren't enough reasons to ignore other items on the menu. Take, for example, the gyoza. It's usually relegated to being an appetizer, a side dish, or a topping, but it takes a lot to make this seemingly simple pork dumpling flavorful. Yes, gyozas can be more than mere distraction from the wait of your main course. We set out to find the best. Here are the top 10 gyoza in Metro Manila.
ALSO READ:
Top 10 Ramen (2013 Edition)
Top 10 Tonkatsu
Top 10 Siomai Under P100 (2013 Edition)
Top 10 Hakao
Top 10 Xiao Long Bao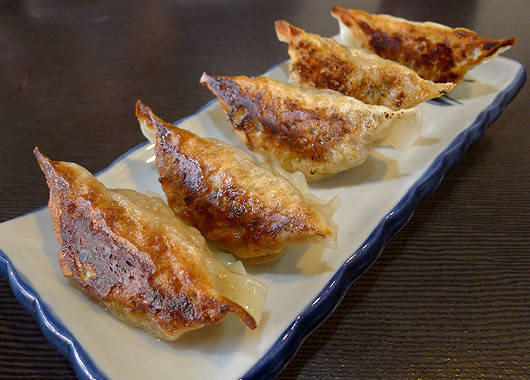 10. D' Little Gyoza House (P150)
This restaurant is tucked away in an industrial neighborhood in San Francisco del Monte, Quezon City, and it promises authentic gyoza along with an extensive menu. Call it the little gyoza place that could-it delivers on its promise of good dumplings, thanks to its delicious blend of pork, ginger, and spring onions. The underside of the gyoza is a bit burnt, but fortunately, that doesn't dominate the overall taste. Instead, it gives the dumplings a nice toasty crunch.
ADVERTISEMENT - CONTINUE READING BELOW
D' Little Gyoza House is at 9 Miller Street, Del Monte, Quezon City.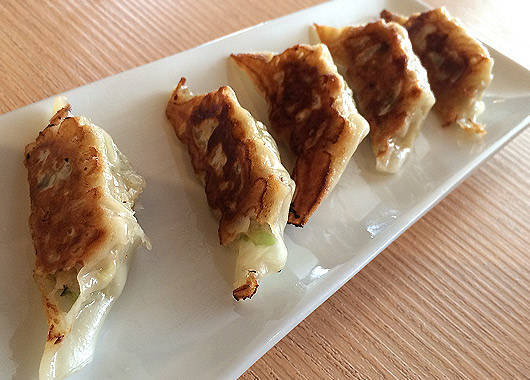 CONTINUE READING BELOW
Recommended Videos
Photo by Sasha Lim Uy
9. Ramen Daisho (P110)
Ramen Daisho's gyoza recipe came from Japanese Master Chef Funatsu Yasuhiko. The five roundish pieces on the plate all wear the same luminous wrapper that shows off the chives, pork, and cabbage inside. There's a noticeably unusual softness in the wrapper. Yasuhiko adopts the same silky ones used to wrap mochi that melt away to bow out for the savory filling.
Ramen Daisho is at Unit 2, Sunshine Square, Liberty Center, 312 Shaw Boulevard, Pasig City.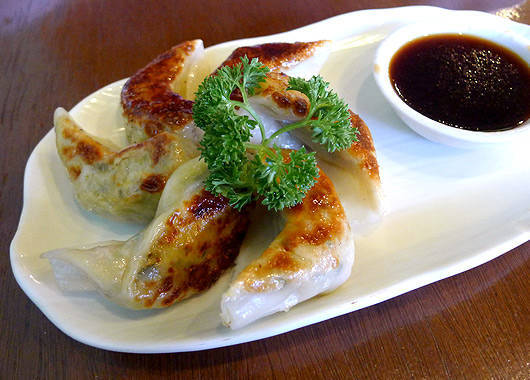 ADVERTISEMENT - CONTINUE READING BELOW
8. Yuujin (P150)
Take a close whiff of the gyoza and there's a bold aroma from the ginger and herbs that will make you salivate. But the ginger and chives aren't the only highlight of this potsticker. The pork itself has a decidedly tasty, smoky flavor. We're not judging beauty pageants here, but there's a mouthwatering bonus for the creative layout.
Yuujin is at 221 Wilson Street, Greenhills, San Juan.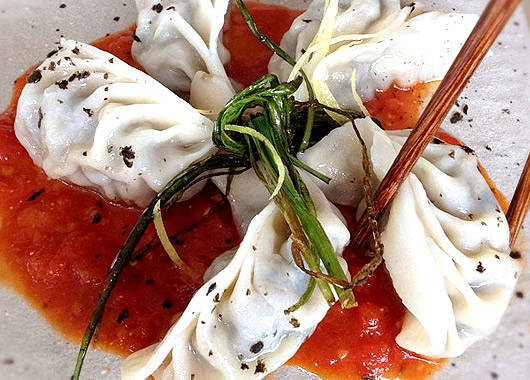 Photo by Sasha Lim Uy
7. Geisha (P285)
Speaking of beauty pageants, this spiraling plate of potstickers would hands down win that crown. Geisha uses Kurobuta (Berkshire) pork to highlight their gyoza, which at once gives this dumpling an amazing character, from the beautiful marbling and pinkish hue to the juiciness and deeper savor. There's barely any sear on the side, but the tomato-based paste on the bottom adds an extra dimension. It's not convention, but set tradition aside and notice that the comprehensive flavors are dynamite.
ADVERTISEMENT - CONTINUE READING BELOW
Geisha is at Bonifacio High Street Central, Bonifacio Global City.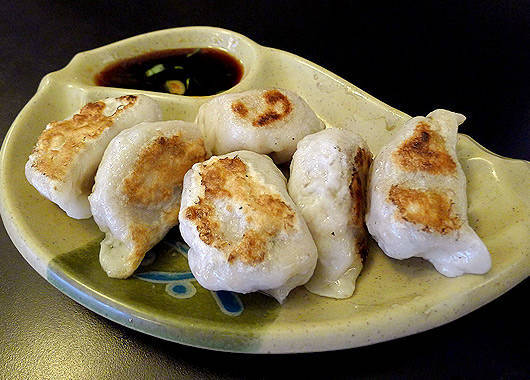 6. The New Kamameshi House (P193)
No. 6 is by far the meatiest gyoza on this list-as if the chefs were so kind that they wanted to stuff in as much meat as they could. The shape is rounder than the usual elongated dumpling, making it a bit more slippery and difficult to handle with chopsticks. Once you have it under control, however, prepare for a thick chunk of flavorful pork with a scrumptiously distinct hint of ginger.
The New Kamameshi House has branches at Zobel Roxas Avenue, Makati City; and Elliptical Road, East Avenue, Quezon City.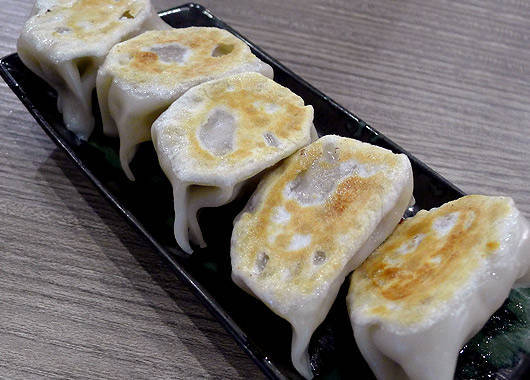 ADVERTISEMENT - CONTINUE READING BELOW
5. Mitsuyado Sei-men (P180)
Expect a juicy mouthful of pork from these fairly small dumplings. The gyoza is seared instead of fried, so it doesn't have the slightly charred underside typical of most gyoza. The "alternative" technique gives it an interesting twist and the thin but sturdy wrapper allows the earthy flavor of the filling to shine. It's very light so it's not too difficult to give it that popcorn-treatment-it's that addictive.
Mitsuyado Sei Men is at 22 Jupiter Street, Makati City.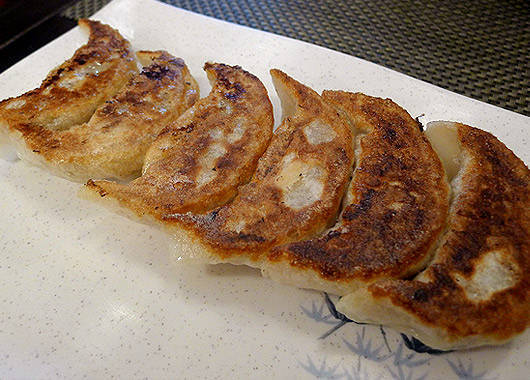 4. Isshin Japanese Restaurant (P169)
Well-cooked through and through, this gyoza is served piping hot-just the way dumplings should be. Try managing the temperature with the sauce, but if you can handle the temperature, just appreciate the delicious balance of pork and herbs. Isshin's gyoza has a nicely browned and crisp outer layer that adds a good toasted tone to that salty, scrumptious profile. It's stuffed to the corners with a generous amount of succulent filling that seems intent on bursting. Like it's excited to make diners happy with its full-bodied flavors.
ADVERTISEMENT - CONTINUE READING BELOW
Isshin Japanese Restaurant is at 1024 Arnaiz Avenue, Makati City.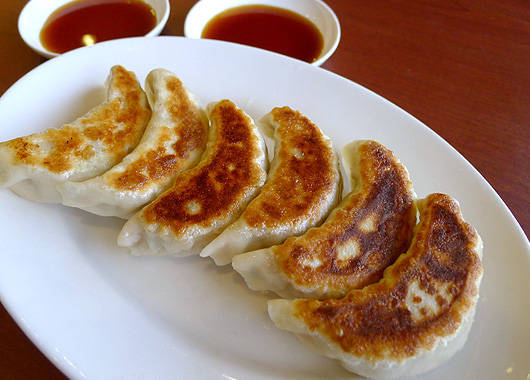 3. Shinjuku Ramen House (P270)
Shinjuku's gyoza developed its own reverent following through the years-and if consistency is a measure, then this Japanese favorite should rank high on any Top 10. Getting the large order with six pieces of gyoza makes this one of the priciest entries on the list, but there's no buyer's remorse for quality. Shinjuku's version is the largest out of all of them. The filling has the velvety feel of fresh pork with just enough bite for texture. Leeks and ginger really elevate the flavor to something absolutely mouthwatering while cabbage gives it a delightful crunch.
Shinjuku Ramen House has branches at Hercules Street corner Makati Avenue, Makati City; 2277 Chino Roces Avenue, Makati City; Katipunan Extension, Quezon City.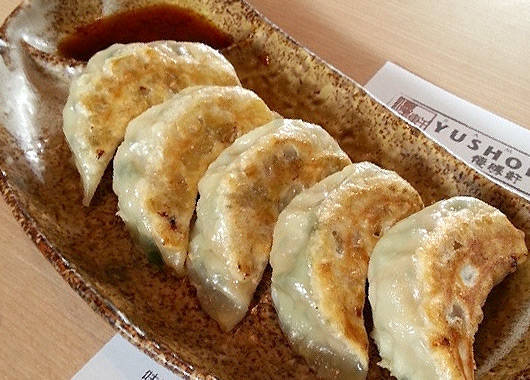 ADVERTISEMENT - CONTINUE READING BELOW
Photo by Micah Lee
2. Ramen Yushoken (P150)
Ramen Yushoken makes their gyozas fresh in-house, including the wrapper. The fried side is a gorgeous golden brown, even all over, giving each bite a nice crisp as you go through the elongated little dumpling. The steamed side, on the other hand, is soft, plush, with that wrapper flaunting an almost creamy consistency. That's freshness for you. Bite into the gyoza, and juices from the pork will come sputtering out. It feels like eating xiao long bao actually, with that "broth" delightfully introducing a lipsmacking peppery saltiness. The succulence of the dumpling is so on point that you'll forget to add the sauce on the side.
Ramen Yushoken is at Molito Lifestyle Center, Muntinlupa City.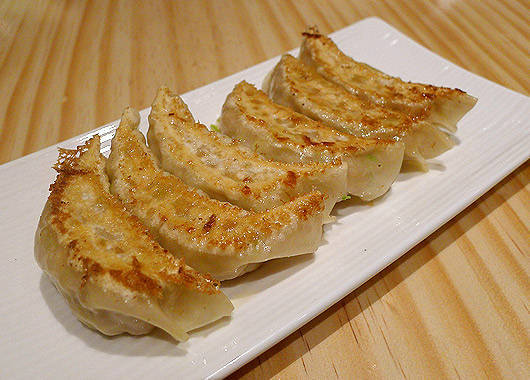 1. Osaka Ohsho (P175)
Established in 1969, Osaka Ohsho boldly claims that it serves the "World's No. 1 Gyoza." It's a proclamation that they don't let you forget easily. It's on everything, from the chopsticks packet to the wall. This, of course, may only be claimed by those who've tried all the potstickers in the world, but we can happily say that it is the best in Manila. The Original Gyoza is delicately made and lightly grilled; the right amount of filling makes it fairly lightweight and gives it a streamlined crescent shape. Three cuts of pork create a deeper sense of savoriness emphasized by the combination of cabbage, ginger, and garlic. The fact that it's not packed to the brim also allows for extra tenderness. Osaka Ohsho boasts other flavors like Nori and Cheese, but it's the simplicity of the Original that you'll come back for.
ADVERTISEMENT - CONTINUE READING BELOW
Osaka Ohsho is at SM Mega Fashion Hall, Mandaluyong City.
ALSO READ:
Top 10 Ramen (2013 Edition)
Top 10 Tonkatsu
Top 10 Siomai Under P100 (2013 Edition)
Top 10 Hakao
Top 10 Xiao Long Bao
Share this story with your friends!
---
Help us make Spot.ph better!
Take the short survey
Load More Stories