SPOT.ph Exclusive: Prepare for Magnum Manila, opening on April 8
Do you want your own signature ice cream bar?
READ: SPOT.ph Exclusive: A sneak peek into a soon-to-open sweet spot at SM Aura Premier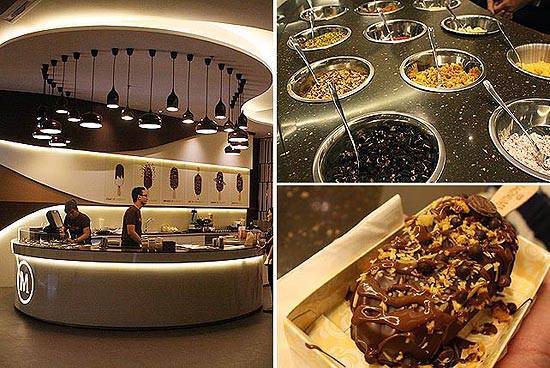 (SPOT.ph) If you weren't able to guess from our subtle hints and photos, Magnum Manila is underway and set to open to the public on April 8 at SM Aura's Sky Park (fifth floor).
ADVERTISEMENT - CONTINUE READING BELOW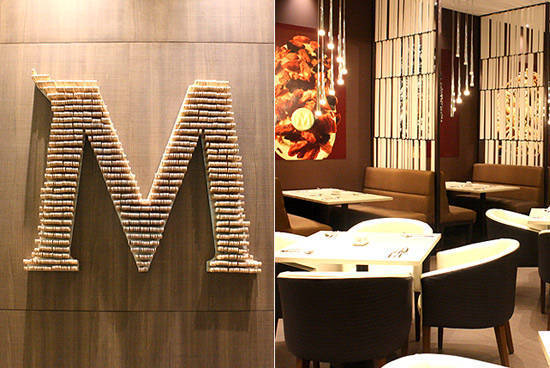 Visit our Sneak Peek story for a more intricate look at the interiors.
The wide space didn't scrimp on their resources, gathering an illustrious team of design and culinary experts to turn Magnum's upscale and luxurious effect into a full-fledged restaurant. Architect Ed Calma took inspiration from Belgian chocolate for the interiors, creating a delicious palette of brown and gold, including a special decal featuring the brand's signature M insignia. Meanwhile, his cousin, Carlo Calma, created the intricate installations made with Magnum popsicle sticks.
ADVERTISEMENT - CONTINUE READING BELOW
As for the food, Chef Him Uy de Baron developed a line of savory snacks to entertain fun-loving Filipinos who like hanging out and conversing as award-winning pastry chef Mikko Aspiras took charge of crafting ready-made Magnum desserts, including delicious sundaes and signature combinations. Some of his mouthwatering creations include the Crown Jewel (P560), which is a large "sundae" comprised of three Magnum bars covered in milk, dark, and Belgian chocolate with fresh fruit, waffles, and a drizzle of chocolate. There's the Magnum Apple Pie (P290), a slice of apple pie crowned with a caramel-coated Magnum; Red Velvet (P290), red velvet cake paired with a dark-and-white covered Magnum; and the Pink Friday (P290), a strawberry cheesecake over crushed speculoos and nerds, then topped with a pink-chocolate-covered Magnum.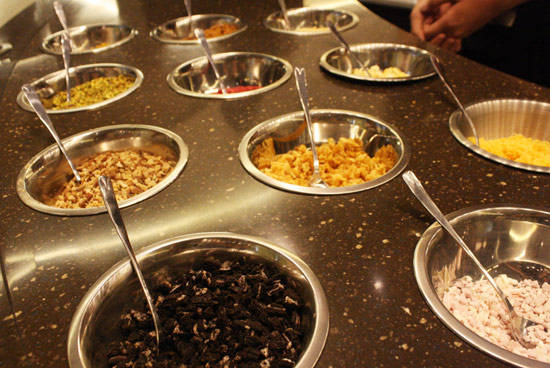 ADVERTISEMENT - CONTINUE READING BELOW
Fulfilling their philosophy of an experiential, gastronomic experience, the highlight of Magnum Manila is the make-your-own Magnum bar. Step 1: Choose three toppings. The bar has 18 toppings to choose from, with a range that includes childhood delights (pop rocks, Nerds) to more adult options (freeze-dried raspberries and chili). SPOT.ph recommends the grated queso de bola, which sounds strange, but works so well against the sweetness of the chocolate. Step 2: Choose your ice cream base. Vanilla or chocolate?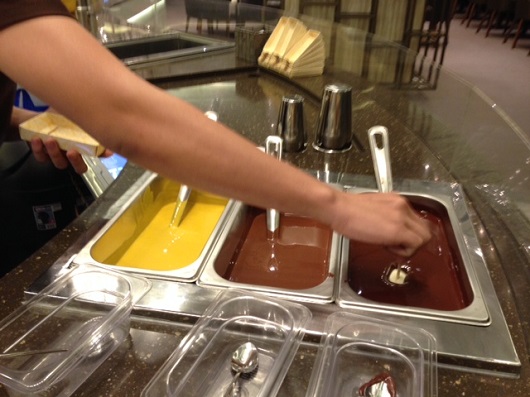 ADVERTISEMENT - CONTINUE READING BELOW
Step 3: Your ice cream base gets dipped in white, milk, or dark chocolate (we chose dark)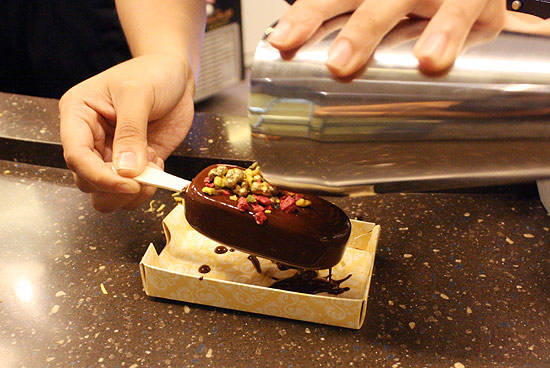 Step 4: After a good shake in a cocktail shaker, your toppings are sprinkled on your Magnum bar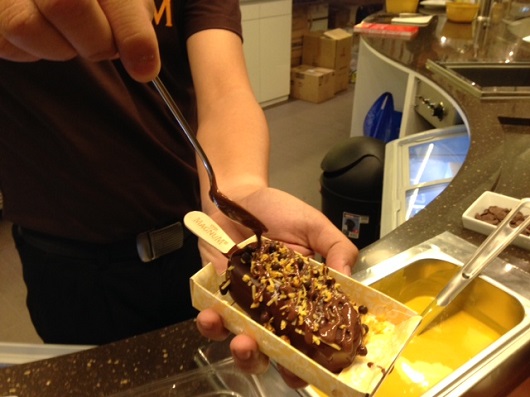 ADVERTISEMENT - CONTINUE READING BELOW
Step 5: Another shot of white, milk, or dark chocolate, this time drizzled over the ice cream bar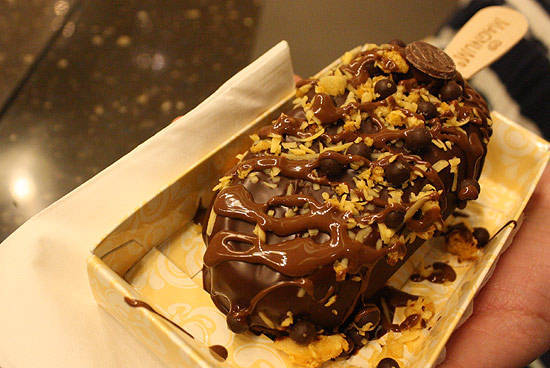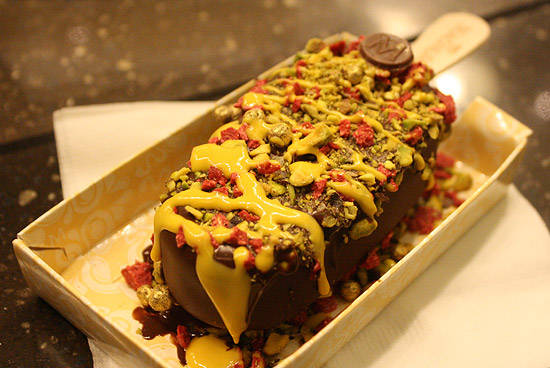 ADVERTISEMENT - CONTINUE READING BELOW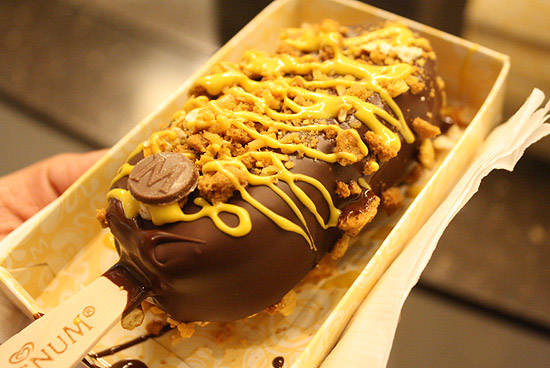 The final touch: a little disc with an "M"
The DIY bar is intelligently installed near the entrance so it's perfect for a grab-and-go sweet fix, priced at P100 each.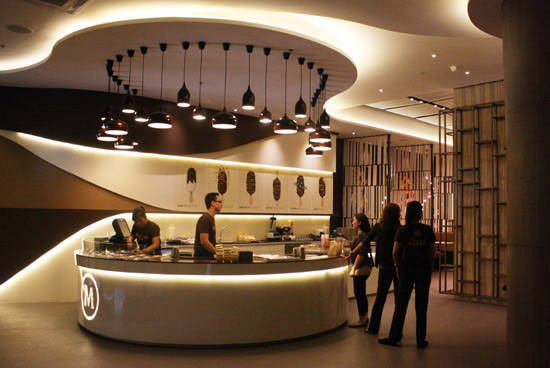 ADVERTISEMENT - CONTINUE READING BELOW
According to brand assistant Andrea Huang, there are 230,000 combinations with the available choices on the make-your-own bar. Magnum servers are also generous with their opinions and advice so be as playful as you can with your combinations.
In keeping with Magnum Pleasure Store's "pop-up" tradition, Magnum Manila in SM Aura will be only be open for approximately 500 days starting on April 8.
READ: SPOT.ph Exclusive: A sneak peek into a soon-to-open sweet spot at SM Aura Premier
Recommended Videos
Load More Stories