Five Minutes with Chef David Thompson of Nahm
The award-winning chef of Asia's Best Restaurant of 2014 on the potential of the Philippine restaurant industry.
(SPOT.ph) Chef and restaurateur David Thompson sure knows a lot about Thai food. He wrote two comprehensive books about it-Thai Food and Thai Street Food-on top of owning a number of Thai restaurants across the globe, one of which is Nahm in Bangkok, which was declared by San Pellegrino as Asia's Best Restaurant of 2014. He was recently in the Philippines to speak at a forum about crafting world-class restaurants where he gave advice on how to make Filino cuisine more visible on the global culinary map.
"Up until recently there were very few Thai restaurants," he explains. "When people ate Thai food, they ate it in the marketplace, on the streets, or at home. Even now, despite the renaissance of restaurants that's occurring in Bangkok, there's still that slight prejudice about eating Thai food in a restaurant." According to Thompson, Thai restaurants would craft a menu for guests who are usually not Thai that become a pastiche of a very deep and wide-ranging repertoire. A menu that has been tailor-made to please the guests guarantees money, but runs the chance of jeopardizing the cuisine's integrity. There's a need for balance, a need to provide more than what's cliché.
Food journalist and regional chair for the World's 50 Best Restaurants Leisa Taylor, who was also at the forum, described Filipino cuisine's potential and flaws. "What's served in the restaurants is different from what's served in very local places. I'd like to see some chefs have the guts to serve the food the way it is supposed to be served. The talent and energy are here. The country is amazing and you are very capable people. I've lived all over Asia and you are far more capable people." Cookbook author and active Pinoy food ambassador Amy Besa agrees: "Our food is good but the one main reason why it is not out there is because people don't really know it. We ourselves don't know how to articulate and showcase it. It is a very complicated food because it is a complex culture shaped by history."
ADVERTISEMENT - CONTINUE READING BELOW
Post-forum, Chef David had more to say. We pick the mind of this master chef and learned about his history with Thai cuisine.
It's your first time in the Philippines.
David Thompson: It is and that's why I don't know much about it. I regret it's my first time and I'm ashamed to say that. Everything here so far has been charming that I'm forced to come back. I must come back.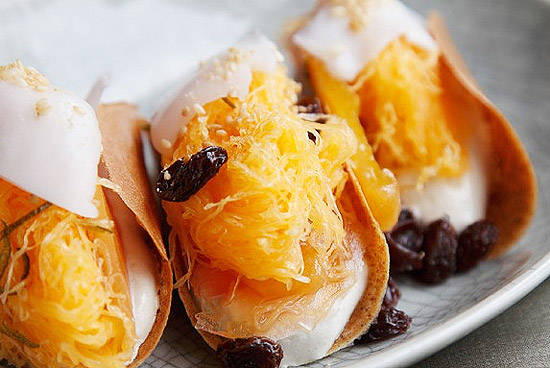 CONTINUE READING BELOW
Recommended Videos
Nahm serves Thai dishes made from traditional recipes handed down through generations

Do you still remember your first encounter with Thai food?
[In] 1979 and I hated it. I didn't like it at all. I had it in Sydney where I [am] from. I had fish cakes, which was rubbery, as they always are. It was a nice agreeable food but not great at all. It wasn't until I was in Bangkok that I started to realize that there was much more to the cuisine than I initially thought. It has dimension and depth of flavor, a heritage that stretches back hundreds of years, has regal food, country food, city food, regional food. It had all the formats of a great cuisine.
ADVERTISEMENT - CONTINUE READING BELOW
Things changed when I met this old woman who cooked with the most extraordinary skill. The dish that she cooked for me first was Gaeng Som Pla, which is a sour orange curry with a deep-fried freshwater fish. Though it looked ugly, it tasted absolutely delicious. It was soured with tamarind leaves, tamarind water, and lots of chilies. It was just memorable.
What is it about the cuisine that drew you in?
I'm still in love with Thai food. It's almost like a marriage where sometimes I get annoyed or bored with it, or eat something else and be unfaithful to it, but I always go back to it. To me, it's the most exciting of foods because it is a combination of flavors, textures, and seasonings that are rather extreme. It doesn't hold back. It's colorful and I find it fascinating to cook because there is such a broad repertoire that I still don't completely understand.
In your own honest opinion, what do you think stunts the growth of Filipino cuisine?
I have no idea. I think one person said that a big problem is that Bangkok is a place where people transit through, whereas the Philippines is one flight too far away. If you go to the Philippines, that's where you stay. So there are less people coming through, therefore there's less awareness of it. Maybe.
Do you think social media is necessary for the industry?
It's unavoidable now. I have issues with it because sometimes it is good and sometimes it can be bloody irritating. I think it's a new and lawless beast that I think has very good points because it does allow people to be able to voice their own opinions, but it can also be a vehicle where vendettas are expressed.
ADVERTISEMENT - CONTINUE READING BELOW
In the forum, it was mentioned that the country needs a more visible and credible critic. Just how important is it to have one for the industry to progress?
In the restaurant industry, you need your cooks, waiters, your restaurateurs, and your supplies and good quality ingredients. You need good critics as well. I don't necessarily mean kind critics, but honest critics and critics with integrity and who know what they're talking about. In Bangkok, we don't have that. There might be two or three but they are more on the side of being too polite and they don't wish to offend, which overrides honesty sometimes in Thailand and in many countries in Southeast Asia. The unwillingness to offend. You'd never find that in Britain.
Do that politeness and unwillingness to offend work for or against the Asians?
Well, in a social situation and as a community, it works for them, but I guess when you're talking about expression in cooking where you need to be rather egotistical in order to be able to insist things done your own way, it can often hamper that expression.
As someone who has revolutionized Thai cuisine, how can we do the same for our local cuisine?
From what I understand, the best food here is eaten at home as it was in Thailand. So you need to find somebody who can make that transition from the domestic kitchen into a professional one. And that's hard.
Food photos from www.theworlds50best.com.
Share this story with your friends!
---
Help us make Spot.ph better!
Take the short survey
Load More Stories