New Restaurant Alert: Cucina at Marco Polo, Ortigas
It's a simple buffet that impresses with flavors not size.
Cucina
24/F Marco Polo Ortigas Manila, Sapphire Street corner Meralco Avenue, Pasig City
Tel. No. 720-7777 local 6622 
Open daily from 6:30 a.m. to 10 a.m.; 11:30 a.m. to 2 p.m.; and 6:30 p.m. to 11 p.m.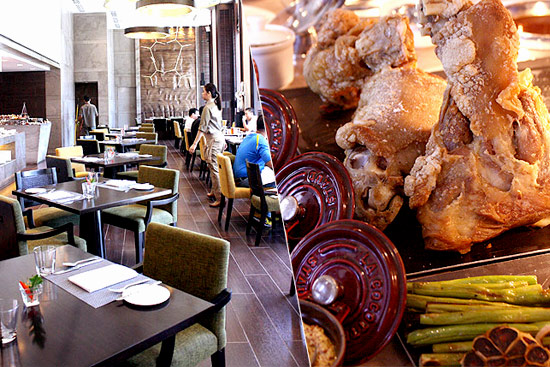 (SPOT.ph) The newly opened Marco Polo Ortigas Manila at the corner of Sapphire Street and Meralco Avenue will be a prestigious 5-star, 45-storey high-rise. It won't be done in a month, but if the streamlined architecture, high ceilings, natural lighting, and exquisite Jinggoy Buensuceso sculptures are enough of an indication, Marco Polo Manila is definitely on the right track.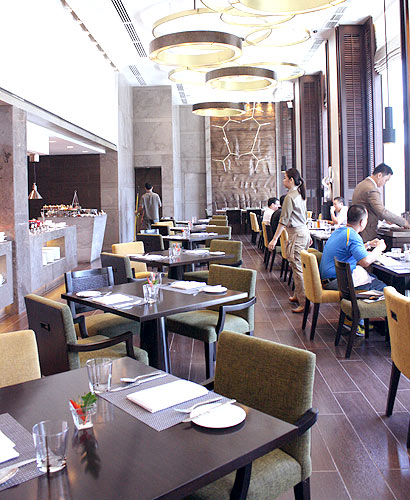 ADVERTISEMENT - CONTINUE READING BELOW
Simple, small, and not at all overwhelming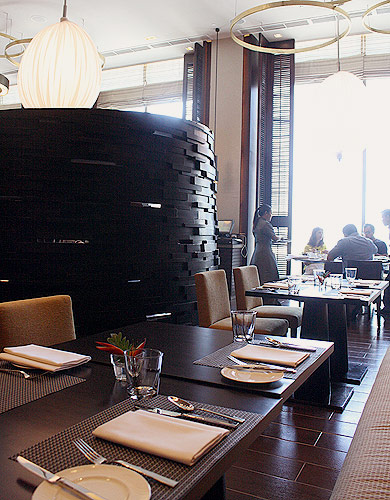 CONTINUE READING BELOW
Recommended Videos
You can see the natural light coming through and illuminating the cheese and cold cuts area.
Then there's Cucina, the hotel's signature buffet, already full service and bustling. The entire lineup is one S-shaped trip with a comprehensive but curated selection that includes Salad, Japanese, Chinese, Italian, British, Filipino, Indian, Carving, and Dessert. There's a separate table for cakes and pastries and another semi-enclosed section for cheese and cold cuts.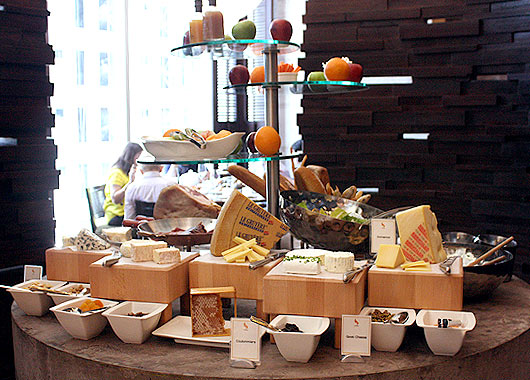 ADVERTISEMENT - CONTINUE READING BELOW
The day in hams and cheeses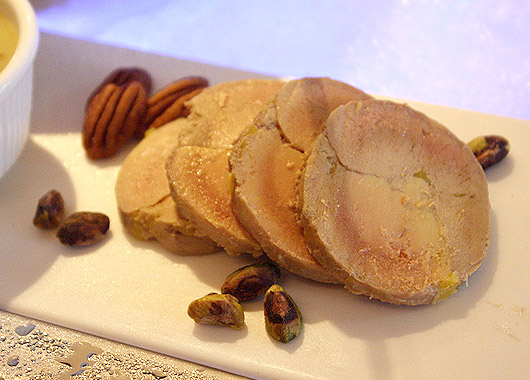 Slices of duck liver
The point is to offer a variety of tastes, not to overwhelm, says Francis de Leon, director of communications for Marco Polo Manila. The food, except for the discs of duck liver that make for the creamiest spread on bread, leans more toward "home style," but done really well. Instead of chafing trays, dishes are artfully laid out in colorful pots and cast-iron skillets to mimic that fresh-from-the-kitchen feel.
According to de Leon, the chef aims to highlight a different cuisine every day and the dishes will vary, making each trip to Cucina a different kind of eating adventure every time.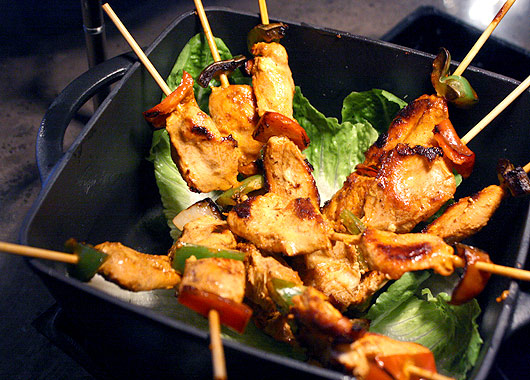 ADVERTISEMENT - CONTINUE READING BELOW
Chicken skewers to represent Indian cuisine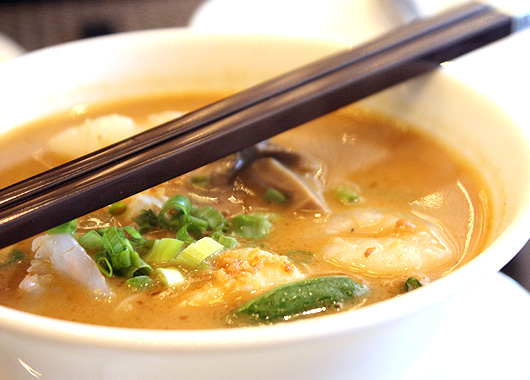 One of the Chinese noodle soups
Whatever day you come, though, the Chinese station should be a default pit stop. It's a preview of Marco Polo's yet-to-open Lung Hin Chinese restaurant. In typical Cantonese fashion, soups are rich in flavor, noodles delightfully springy, dim sum absolutely addictive. Executive Chef Benjamin Roy Rendell is British and he plays up a good roster of this underrepresented cuisine as well. The Cottage Pie (or Shepherd's Pie) has mouthwatering layers of ground meat and mashed potatoes, Fish and Chips flaunt a crisp, peppery batter, and the Quiche Lorraine is impeccably creamy and savory. Classic British comfort food.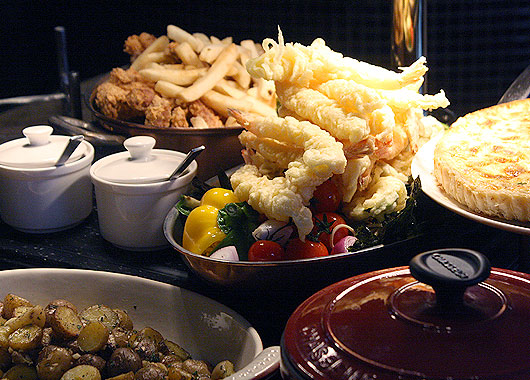 ADVERTISEMENT - CONTINUE READING BELOW
The English Station-and tempura.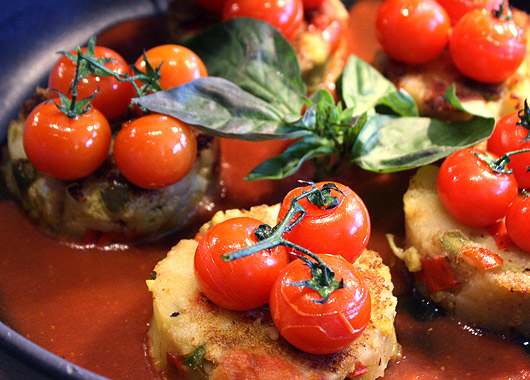 Cherry tomatoes make the bubble and squeak look extra fancy.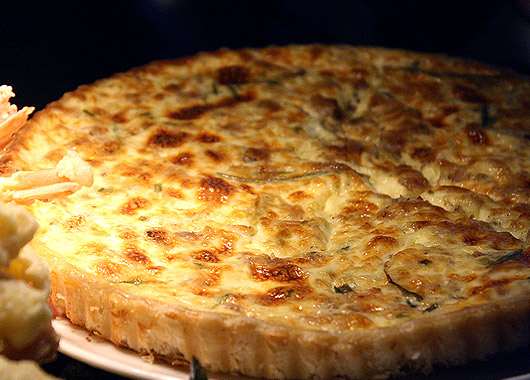 House Specialty: Quiche Lorraine
No matter what your cuisine preferences are, the lechon kawali would be hard to pass up. It's in the carving station next to the boulder of prime rib and the server slices through golden skin, crispy and juicy exactly when you walk by, sending whatever goal you were set on eating straight into oblivion-unless maybe you were heading for the prime rib in the first place. The medium-rare roast beef is a gorgeous warm pink, glistening in its own juices like a shiny edifice.
ADVERTISEMENT - CONTINUE READING BELOW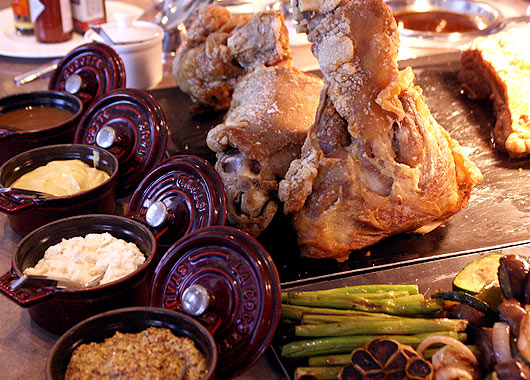 Crispy Pata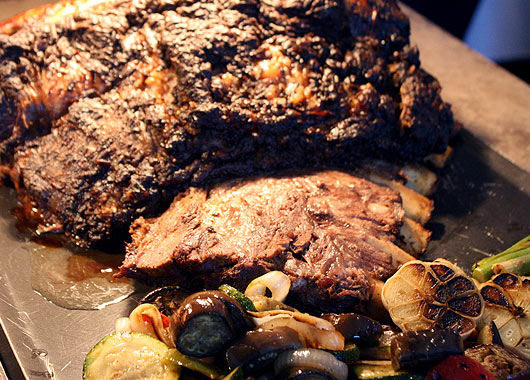 Roast Beef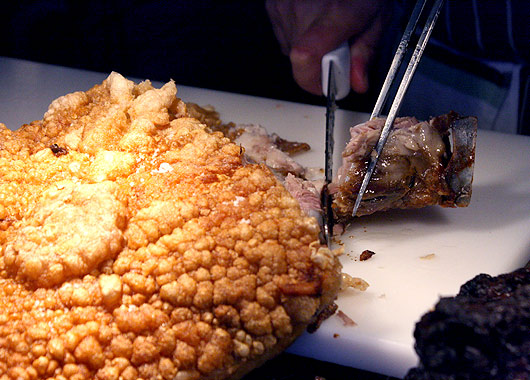 ADVERTISEMENT - CONTINUE READING BELOW
Lechon Kawali
The ice cream takes a backseat to the table of glistening cakes and tarts, but that's just layout. Be hypnotized by the small smorgasbord of the day's frozen treats. Each rich flavor is handmade fresh every day. There's one with vanilla generously churned with nuts and chocolate coins, one spoonful already a huge burst of cool creaminess with hints of crunch.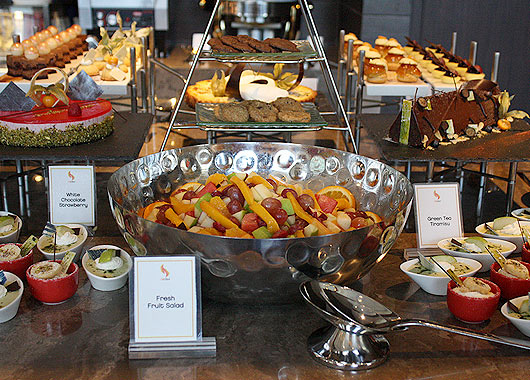 Table of desserts!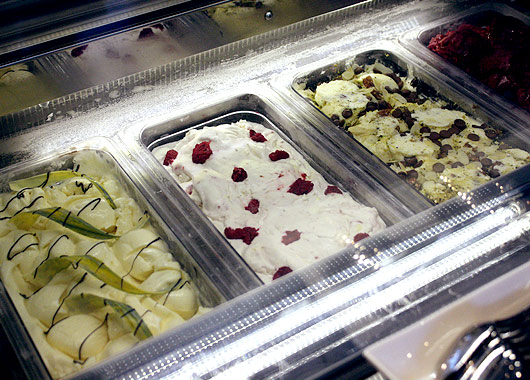 ADVERTISEMENT - CONTINUE READING BELOW
Today's ice cream flavors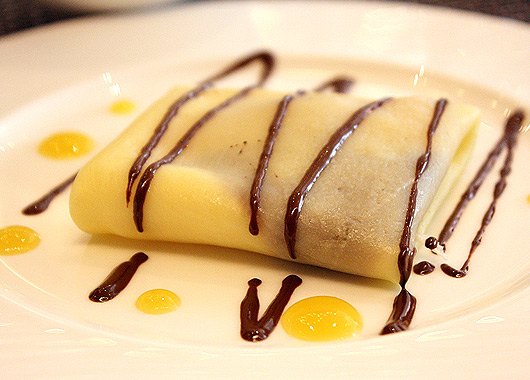 Freshly made crepes
For a place that promotes a more home-cooked style, Cucina features elaborate details in their interiors. Buensuceso commissioned a piece that stretches to cover one wall like an industrial Grand Canyon. Chandeliers are large golden rings dangling in interlocked patterns from the ceiling. Still, it's not too hard to feel at home with their kind of simple but outstanding flavors.

Cucina is priced P1,355.20 (breakfast, Monday to Sunday); P1,972.20 (brunch, Sunday); P1,601.60 (lunch, Monday to Saturday); P1,934.24 (dinner, Sunday to Thursday); P2,180.64 (dinner, Friday to Saturday). Kids six and below eat free while children between seven and 12 years old pay half price.
Share this story with your friends!
---
Help us make Spot.ph better!
Take the short survey
Load More Stories