New Restaurant Alert: Peppermill at Katipunan Avenue, Quezon City
Fan of R.E.D. Garlic? Chef Vince Rodriguez revives its bestsellers and more in his latest project.
Peppermill Restaurant and Mixology Bar
205 Place One Building, Katipunan Avenue, Quezon City
Tel. No. 961-7129
Open daily from 11 a a.m. to 10 p.m.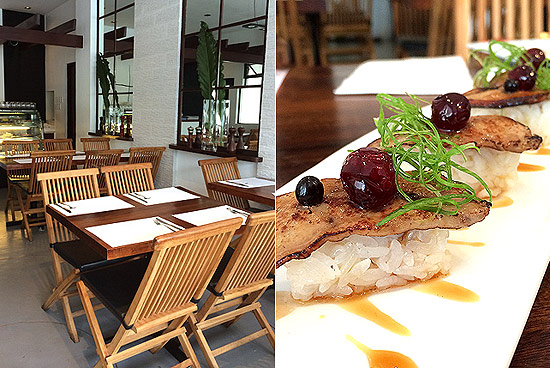 (SPOT.ph) It was an idea ready made. Vince Rodriguez had the experience (he was chef of the now-defunct R.E.D. Garlic). He had the recipes (he has a booming catering company). When the short-lived Café 205 on Katipunan Extension gave him their space, the pieces of the puzzle suddenly fit. It was only a matter of changing hands and changing signs-one that said Peppermill-and in one week, he was back in business.
ADVERTISEMENT - CONTINUE READING BELOW
CONTINUE READING BELOW
Recommended Videos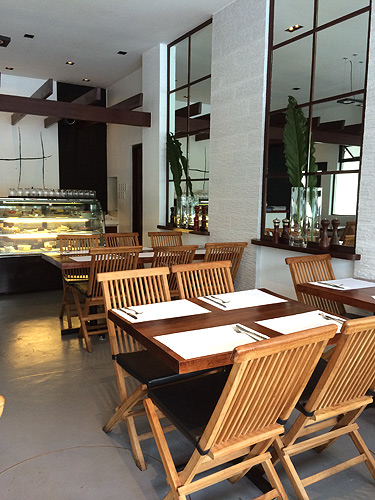 It was just a matter of bringing his food in and changing the sign.
He reuses the old café's blueprint and furniture, choosing instead to let his food speak the difference. Vince's catering background leaves him with no limits when it comes to cooking and Peppermill has a wide arrangement of options separated into proteins (beef, pork, chicken) and origin (Filipino, Japanese, Indonesian) in a chart-like layout to make it less overwhelming.
ADVERTISEMENT - CONTINUE READING BELOW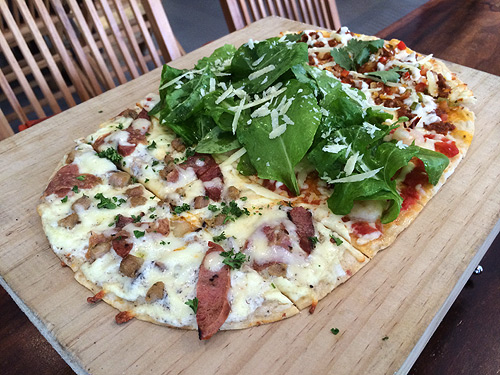 Trio Pizza (P565). It's so thin, we wanted to roll it a la panizza.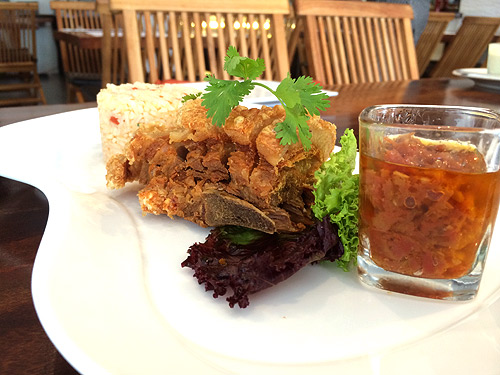 ADVERTISEMENT - CONTINUE READING BELOW
Ilocos Bagnet
Truth be told, the Ilocos Bagnet (P375) looks lank at first-a golden slab humbly sliced into six pieces. But you'll be eating it from the skin (relishing that addictive resounding crunch) to the last bit of tender, savory meat around the bone, lathered with tangy homemade tomato bagoong. It's the kind of indulgence that's best appreciated in moderation.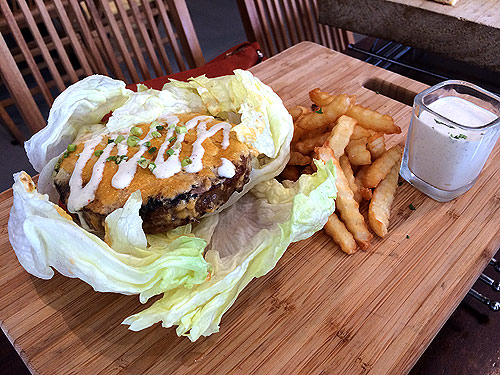 ADVERTISEMENT - CONTINUE READING BELOW
Protein Burger
A more playful take on the usual is the Protein Burger (P465): a large 285-gram disc of pure U.S. Angus beef over onions and tomato, and encased in a tulip of iceberg lettuce. It falls nothing short on flavor, but the jabañero cream layers in a more exciting depth-which proves effective even for the side of simply salted fries.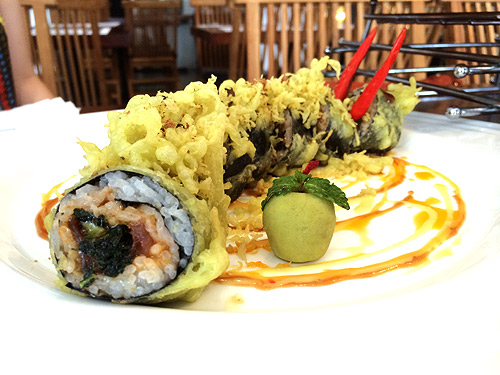 ADVERTISEMENT - CONTINUE READING BELOW
Devil Roll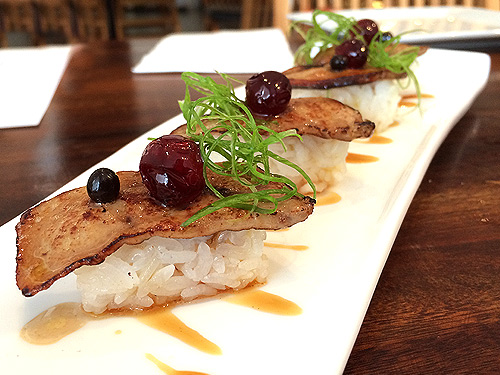 Foie Gras Nigiri
Vince's innovation extends to his sushi. He mischievously attaches two finger chilies like horns in the Devil Roll (P395); on the side, wasabi shaped like a tiny apple. The roll has the impeccable contrast of spicy tuna and cool cucumber, but sly tones of wasabi in the tempura coat will catch you off guard. The Foie Gras Nigiri (P755) is a rich mouthful: creamy, as far as sushi goes, with sweet cranberries balancing the extravagance of liver.
ADVERTISEMENT - CONTINUE READING BELOW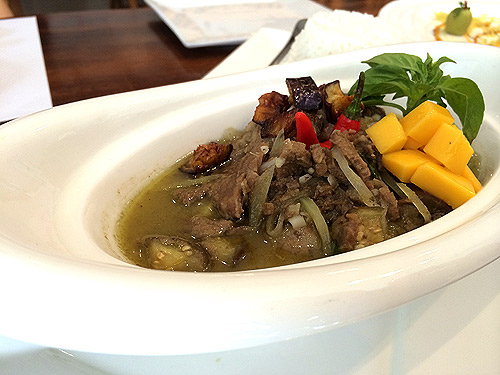 The Phuket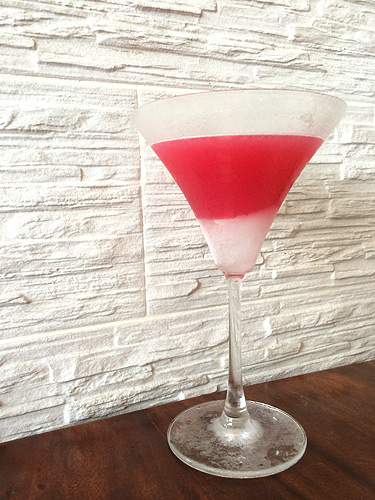 ADVERTISEMENT - CONTINUE READING BELOW
One of Chef Vince's Special Mixes
Southeast Asian flavors feature prominently on the menu. The Phuket (P325) is an immense stew of sliced beef, coconut, and eggplant. The green curry flaunts a ticklish heat that becomes more flagrant with every forkful. The steamed rice, which seems a little too plain at first, becomes a spoonful of refuge from that deliciously fiery sauce.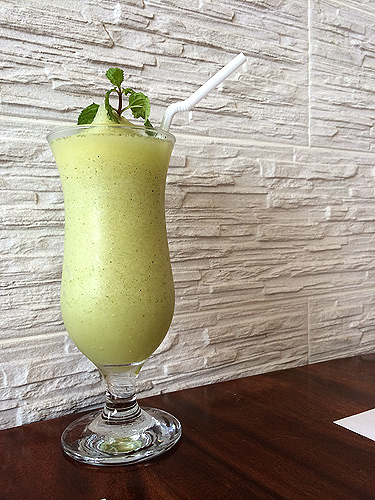 ADVERTISEMENT - CONTINUE READING BELOW
Mocktail: Lychee Mojito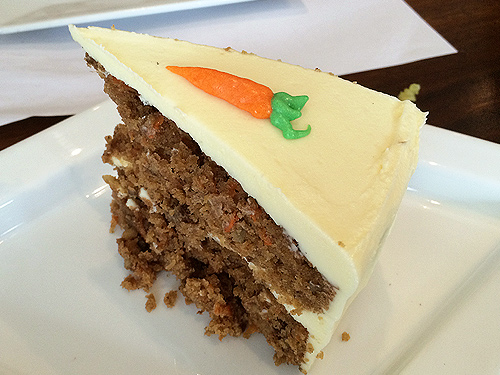 Carrot Cake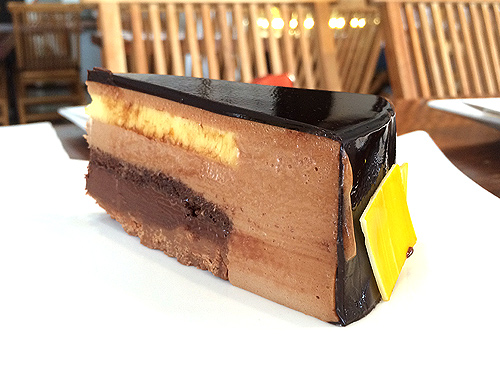 ADVERTISEMENT - CONTINUE READING BELOW
Entremet
Vince says baking isn't his thing, preferring to create the recipe and having someone else do the measurements. But his entremet (P215/slice) shows otherwise. It's a structural, gustatory masterpiece with a thick chocolate mousse core on a crusty chocolate platform and an armor of chocolate gelee. Like Peppermill, they're just a bunch of perfect components that were meant to be put together.
Load More Stories