New Restaurant Alert: Main Street at Tuscany Estates, McKinley Hill
Canadian cuisine ultimately means comfort cuisine.
Main Street Restaurant
Tuscany Estates, McKinley Hill, Bonifacio Global City
Tel. No. 0915-718-2591
Open from 11 a.m. to 2 a.m. (Monday to Saturday) and 11 a.m. to 8 p.m. (Sunday)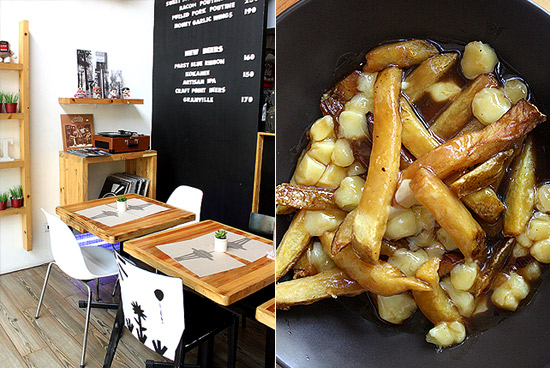 (SPOT.ph) A restaurant like Main Street comes with no expectations. Which Main Street? What cuisine? The black and white arrangement which puts a gramophone, a mountain bike, Domo, and Mr. Crabs in the same place gives you a sense of its owners' impishness, but it doesn't tell much by way of its gastronomy.
ADVERTISEMENT - CONTINUE READING BELOW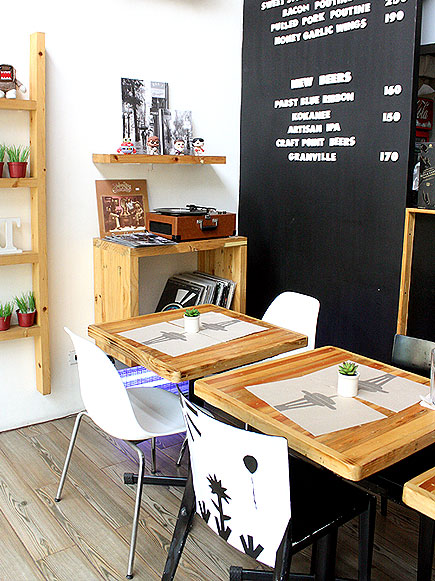 See that chalkboard menu? Those letters are magnets. Main Street releases specials every now and then.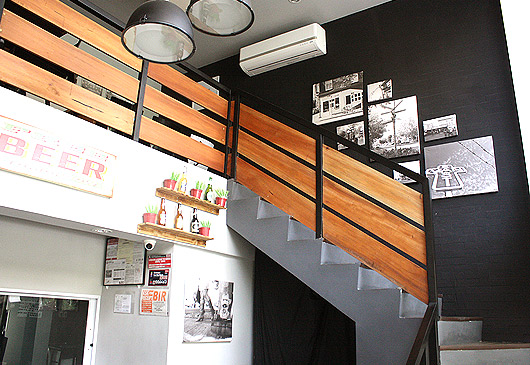 ADVERTISEMENT - CONTINUE READING BELOW
Photographs of Seattle and Vancouver adorn the walls.
Main Street specializes in Canadian cuisine with a bit of Seattle, says part-owner and chef Adam Tan. (Suddenly you'll realize that the logo is the silhouette of the Seattle Space Needle.) Canadian food, he describes, is a melting pot. "It's mostly influenced by the people in the area," he adds. "In Vancouver, there are European, American, and Italian influences. Asian techniques are being used too."
To put it simply, the dishes at Main Street are the kind that doesn't require too much to enjoy. Comfort is the qualifier, and the short menu doesn't make ordering difficult. In fact, when Main Street opened in August 2013, it offered only six items, with Tan slowly introducing more as they settled in.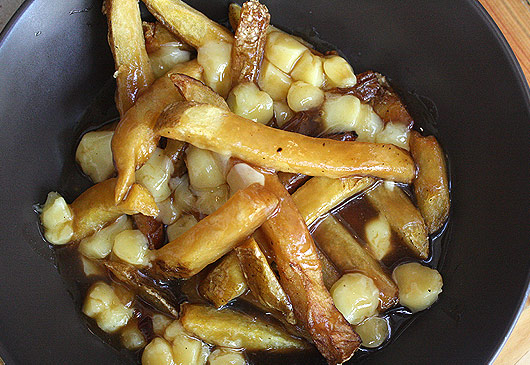 ADVERTISEMENT - CONTINUE READING BELOW
Poutine
If ever there was a definitive Canadian dish though, it would be the Poutine Fries (P145). The thick-cut skin-on strips, crisp on the outside with a soft potato core, swimming in sticky beef gravy. Remember those times you'd dip fast-food fries in your fried chicken's gravy, wishing there was a dish that put them together? This is that dream come true. The smidgens of light mozzarella curd only make things better.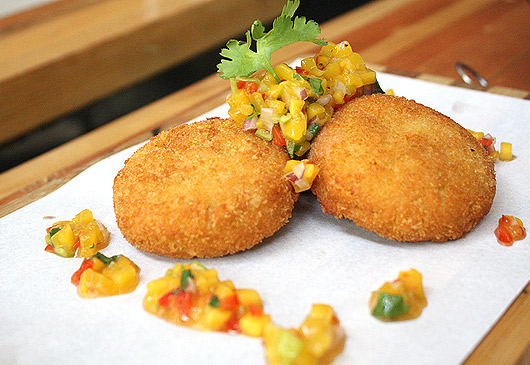 ADVERTISEMENT - CONTINUE READING BELOW
Tan's favorite: Crab Cakes
The Crab Cakes (P220), which were part of the original menu, helped Main Street create the loyal clientele they have now. This is where those Asian techniques come in. A light herb seasoning brings out a buttery brine in crab that's wrapped in the loud crunchiness of the panko coat. The mango salsa perks up the dish with bursts of sweet tanginess.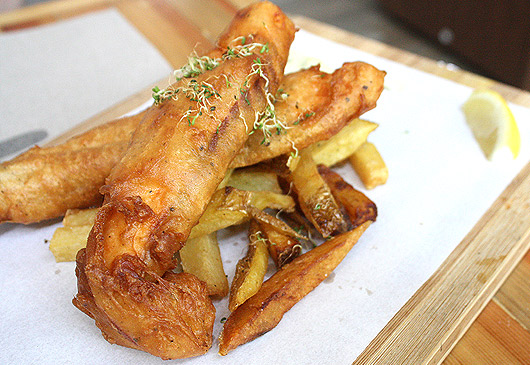 ADVERTISEMENT - CONTINUE READING BELOW
Salmon Fish and Chips
Main Street has two varieties of fish and chips, but the Salmon (P350) is the must-try. The mild earthiness of the fish plays well against the chunky tartar sauce. Fried chicken, which is not standard Canadian cuisine, wasn't supposed to be on the menu, but the landlord requested it. Two weeks before opening day, Tan ate nothing but chicken to perfect his recipe-a "sacrifice" that paid off. The Buttermilk Fried Chicken (P260), which ranked No. 3 on SPOT.ph's Southern-style Fried Chicken Top 10, comes in three pieces with a crackly, rosemary-infused skin covering the tender meat, and served with garlic cream sauce.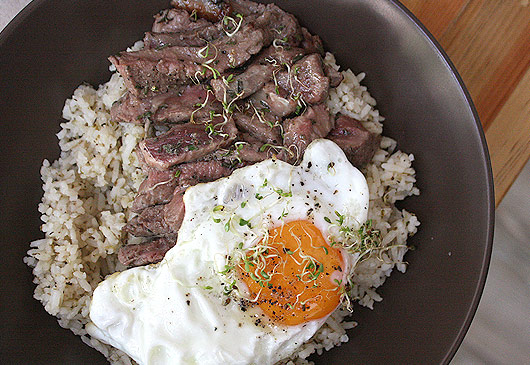 ADVERTISEMENT - CONTINUE READING BELOW
Steak on Rice
Comfort food should never come with a high price, which is why Tan uses the more affordable Kitayama for his Steak on Rice (P360). Rosemary gives the ribbons of medium-rare flank a sharp, herbaceous profile that calls to mind steak with chimichurri sauce. The bed of rice flaunts more herbs and the soft runny center of the egg serves like a creamy sauce.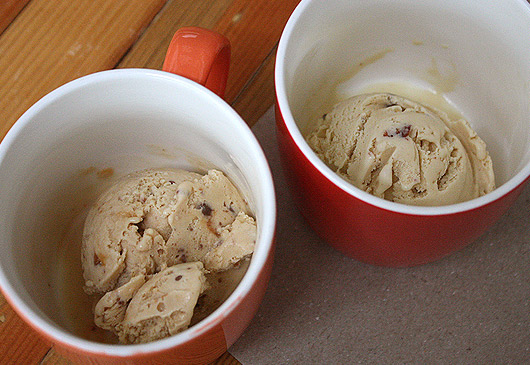 ADVERTISEMENT - CONTINUE READING BELOW
Ice Cream!
As for dessert, Main Street takes handcrafted ice cream a little too seriously. One of Main Street's partners, Jonathan Co, made the desserts using only a small hand-held ice-cream maker. His ice creams have a thicker consistency, with a homemade appeal. The S'mores and Cookies and Cream are delightfully grainy-like crushed cookies were mixed with the ice cream; the Butterbeer vaunts rich shades of caramel, the Maple Bacon is smoky with visible chunks of bacon; and the Malted Milk is wonderfully light. The ice cream costs P95 for two scoops. Co eventually had to buy a more industrial machine to keep up with the demand.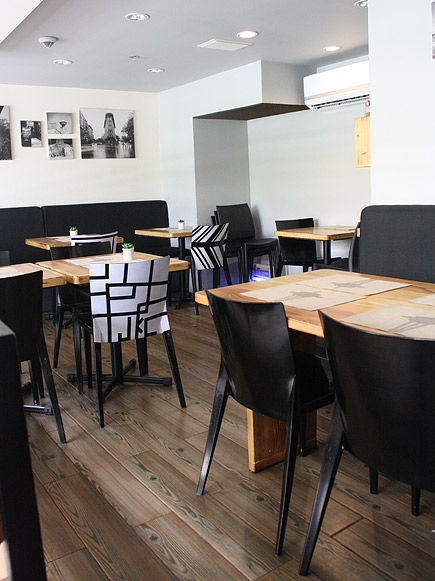 ADVERTISEMENT - CONTINUE READING BELOW
Notice the Space Needle logo on the placemats.
A trip to Main Street is a pleasant surprise. The dishes are simple-predictable, even-but beautifully seasoned. It's the type of restaurant you come back to, not because a second trip will help you understand the overwhelming menu, but because it's habit-forming in their dependability.  This isn't something you'll automatically expect from a place called Main Street, but then again, the best things come when you least expect them.
CONTINUE READING BELOW
Recommended Videos
Share this story with your friends!
---
Help us make Spot.ph better!
Take the short survey
Load More Stories