CHECK IT OUT: Chef Creations by Claude Tayag at 7-Eleven
Restaurant-quality food, coming soon to a convenience store near you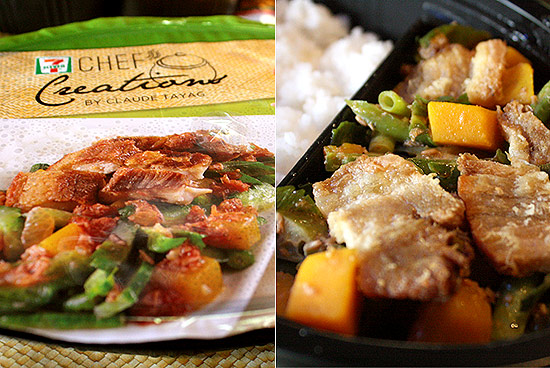 (SPOT.ph) Bale Dutung, made locally famous by its passionate and personal delivery of Kapampangan cuisine and made world-renowned by Anthony Bourdain, always stood for good, home-cooked food. Bale dutung itself means "house of wood," and it is, in fact, the home of married owners Claude and Mary Ann Tayag who regularly put on a spectacular show with their gastronomy and hospitality.
ADVERTISEMENT - CONTINUE READING BELOW
CONTINUE READING BELOW
Recommended Videos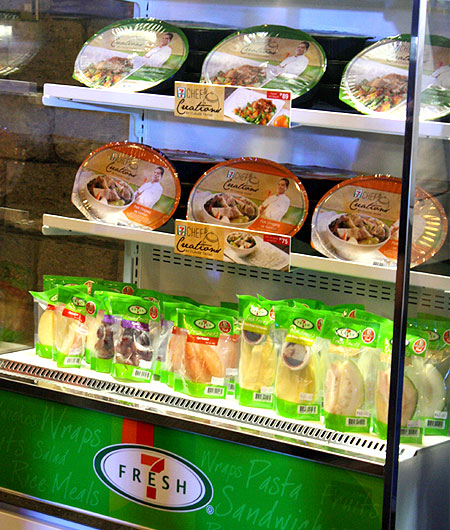 The meals are prepared fresh daily in 7-Eleven commissaries.
But Chef Claude has found a new way to extend his home to yours-or wherever you are, actually. 7-Eleven partnered with the chef to create a new line of delicious, restaurant-quality eats for their prepared food section. Filipino food, being the convenience-store chain's bestselling product, was the obvious choice to start their Chef Creations campaign. "This allows everyone to experience very good Filipino food," says Jose Victor Paterno, CEO of Philippine Seven Corporation. With local cordiality in mind, all the dishes fall under the P100 price range.
ADVERTISEMENT - CONTINUE READING BELOW
For 7-Eleven, the chef, whose work with lechon is widely acclaimed, cooked pork three ways: Pulled Pork with Adobo Dip (P95), Pork Sinigang sa Kamias (P75), and a double-whammy of Pakbet and Bagnet (P89). Chef Claude designed the dishes to have no leftovers-no bones or skins-to make eating much more convenient. From his shortlist of 16 items, the three were chosen for their flavors and ability to keep. Lechon, unfortunately, wasn't part of the plan, though some more flavors will be launched in the coming months.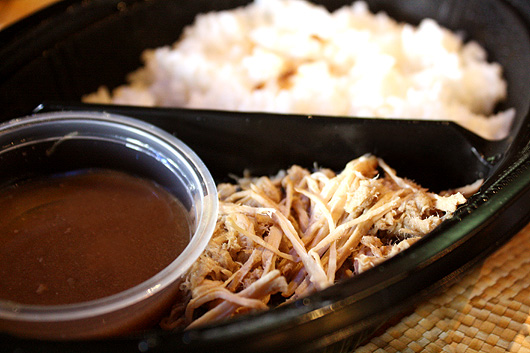 ADVERTISEMENT - CONTINUE READING BELOW
Pulled Pork Adobo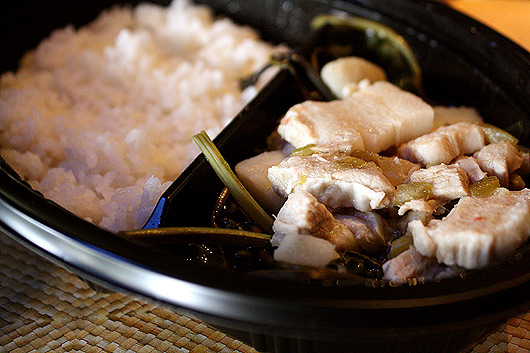 Pork Sinigang sa Kamias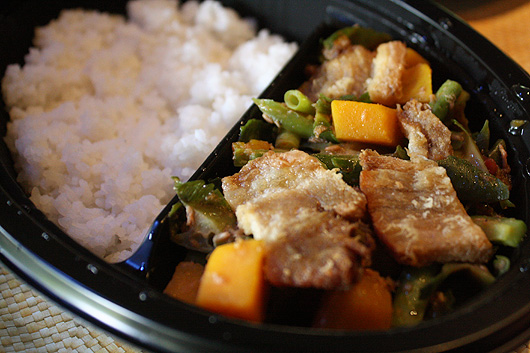 ADVERTISEMENT - CONTINUE READING BELOW
Pakbet-Bagnet
For his adobo, the leaner pork belly is used as a canvas for his tangy and savory adobo sauce. Since some people prefer their stew dry, the sauce is thoughtfully served on the side. The Bale Dutung chef doesn't use artificial flavors or mixes. Fresh kamias gives his pork sinigang a whisper of a tang. There's a generous amount of pork belly (with enough laces of fat to maintain tenderness) and the kang kong is impressively crunchy. Underneath, there's more than enough of the sour broth. Funny enough, the bagnet-pakbet may actually be the healthiest. Underneath the top layer of crispy lechon kawali are the wing beans and squash sautéed in bagoong, garlic, onion, and tomato.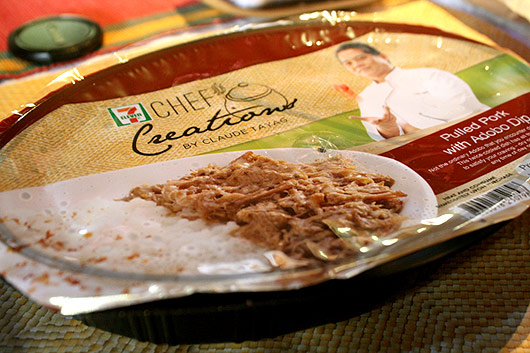 ADVERTISEMENT - CONTINUE READING BELOW
While the meals may come in a plastic tray, you'll soon get a piece of Chef Claude's home-cooked charms at your nearby 7-Eleven. But for his lechon, you'll have to drive all the way to Pampanga.
Chef Creations by Claude Tayag will be available at all 7-Eleven stores starting May 7.
Load More Stories