(SPOT.ph) First created in 1964 by the owner of Anchor Bar (known as the place that serves "the best wings in the world") in Buffalo, New York, this treat has since gone global. It's even been immortalized in pop culture as the source of pop star Jessica Simpson's everlasting confusion. (She thought they were made from real buffalos!)
Authentic Buffalo wings are made with lots of butter and a nice balance of flavors with a distinct, non-overpowering tangy taste brought about by one of its key ingredients-vinegar. One more thing: the wings are traditionally chopped into two parts, with one piece that's chunky and the other with the wing tip.
SPOT.ph presents this year's picks for the best Buffalo wings in town. Tip: these are best eaten with bare hands, of course.
All SPOT.ph Top 10 lists are researched, paid for, tested, and selected by the writers and editors. They are discreetly conducted without any notice made to the restaurants or their owners.
ADVERTISEMENT - CONTINUE READING BELOW
ALSO READ:
Top 10 Buffalo Wings in Manila (2011)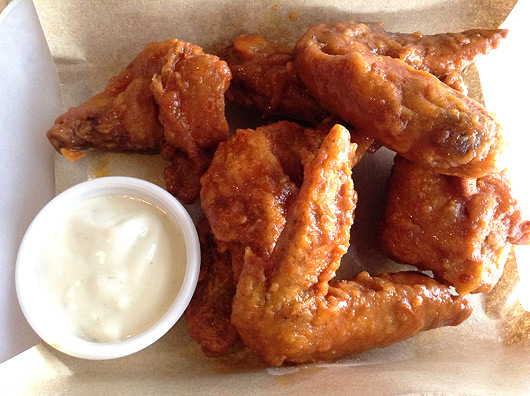 10. Buffalo Wild Wings (P165/six pieces) from Backyard Burgers
Just as there are General Patronage movies, these tender and flavorful pieces have the slightest hint of heat that would entertain anybody's taste buds. What stands out is its salty-tangy marinade, which coats the wings' crispy exterior and complements the succulent meat. Their flavor gets amped up when you dip them into the blue cheese dip.
Backyard Burgers is at 52 Sgt Esguerra Street, South Triangle, Quezon City (384-4140).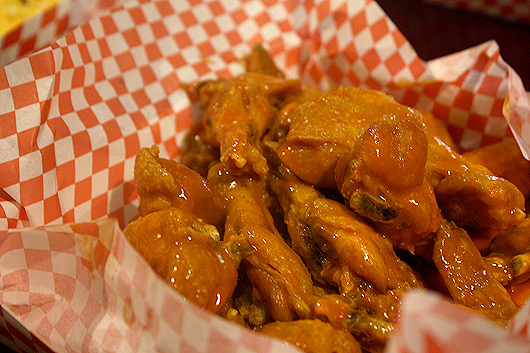 9. Frank's Buffalo Wings (P188/six pieces; P548/18 pieces) from Franks Craft Beers
And from General Patronage to Rated, er, 21. Franks Craft Beers is situated inside Resorts World Manila's casino, and though none of its culinary offerings-mostly hotdogs-are in any way debaucher, you still have to flash your ID to enter. The wings aren't coated in batter, so there's nothing between the hot love affair of chicken and hot sauce. What you get is a passionately fiery set of wings doused in a sauce with equal amounts of heat and tanginess. Eating is a messy affair, but licking your fingers for those last dregs of sauce is part of the fun. If only the place were more accessible...
ADVERTISEMENT - CONTINUE READING BELOW
Franks Craft Beers is at Resorts World Manila, Newport Boulevard, Pasay City.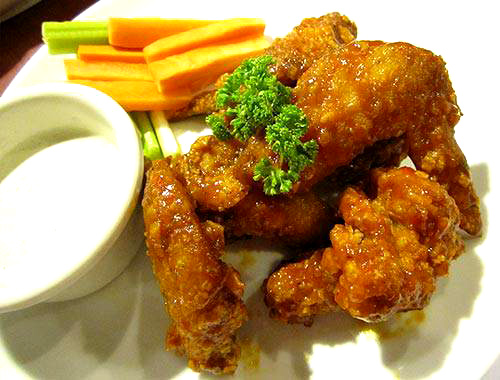 8. Craft Wings (P195/six pieces; P375/12 pieces) from The Craft Rock & Grill
With skin that's fried to a crisp, these wings come in three spice levels: Mild, Medium, and Atomic. If you prefer less heat, go for the mildly spiced wings, which offer a good enough kick that blends nicely with wings' subtly tangy taste. Craft's wings-which come in Garlic Parmesan, Honey BBQ, Hawaiian, Sesame, and Classic flavors-have daring enough flavors to do without the blue cheese dip.
ADVERTISEMENT - CONTINUE READING BELOW
Craft Rock & Grill is at The Fort Strip, Bonifacio Global City (846-1715).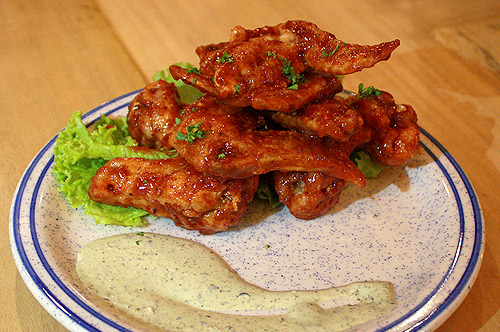 7. Strawberry Buffalo Wings (P235) from Melting Pot Kitchen and Bar
Chef Francis Lim paints fresh strawberry chili jam and homemade dried chili oil over large cuts of wings. The combination isn't so much about being a marriage than it is about a secret puppy love-you know, those boys who bully girls they really like. Underneath the eye-popping bold heat is a shy sweetness that peeks through.
ADVERTISEMENT - CONTINUE READING BELOW
Melting Pot is at 103 J. Abad Santos Street, Little Baguio, San Juan (624-1009, 0917-550-1191).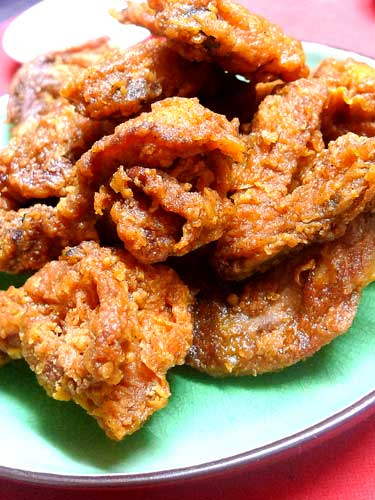 6. Original Buffalo Wings (P147/three pieces; P243/five pieces; P705/15 pieces; P1,092/24 pieces) from Flaming Wings
These crispy, tasty, and juicy medium-sized wings have enough zing to fly them to New York. That is, you can tell a lot of effort has been made for these yummy pieces to stay true to their Buffalo origins. The perfectly fried skin-on wings at this joint have ample heat and that slight, pleasant hint of vinegar flavor in authentic wing recipes.
ADVERTISEMENT - CONTINUE READING BELOW
Flaming Wings has branches at 318 Katipunan Avenue, Loyola Heights, Quezon City (929-6900); White Plains Avenue, Quezon City; Archer's Nook Dorm, Taft Avenue, Manila (524-7429); 302 Aguirre Avenue, BF Homes, Parañaque City.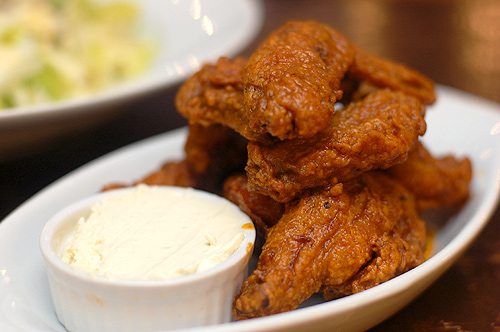 5. Buffalo Wings (P185/six pieces; P310/12 pieces; P455/18 pieces) from Bugsy's
The skin on these wings is fried to a crisp and slathered with Bugsy's "secret Buffalo sauce." During your first few bites, you'll wonder why there's just a hint of heat in the soft and moist meat and barely any tang. That works just fine. Wings aren't meant to be consumed individually, and Bugsy's designs the flavors to build up as you work your way through the plate. Crunch isn't a requirement in Buffalo wings, but it gives the necessary texture that will make you want to keep digging. Ask for more blue cheese dip to really bring out those flavors.
ADVERTISEMENT - CONTINUE READING BELOW
Bugsy's Bar and Bistro has branches at Unit 1 Paseo Park View Tower, San Agustin corner Sedeño Street, Salcedo Village, Makati City (501-5203); Forbeswood Building, Forbeswood Road, Bonifacio Global City (552-1723); Unit C City Golf Plaza, 105 Dona Julia Vargas Avenue, Ugong, Pasig City (489-4985); Westgate Center, Alabang-Zapote Road, Alabang, Muntinlupa City.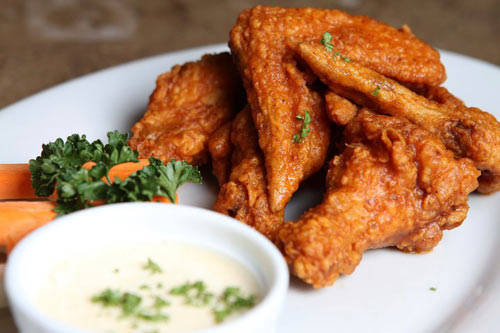 ADVERTISEMENT - CONTINUE READING BELOW
4. Buffalo Wings (P265/six pieces; P655/18 pieces; P1,395/42 pieces) from Dillinger's 1903 Steak and Brew
These wings have a perfectly balanced taste: not too tangy and with just the right amount of spice (it can coax out the spicy-food lover in anyone). The flavors have seeped through so much that you might suddenly find yourself gnawing at the chicken bone after you've devoured the meat. Though the blue cheese dip that comes with each order is good, feel free to skip it. The wings pack enough flavor without it.
Dillinger's 1903 Steak and Brew is at 3/F Greenbelt 3, Ayala Center, Makati City (621-6790).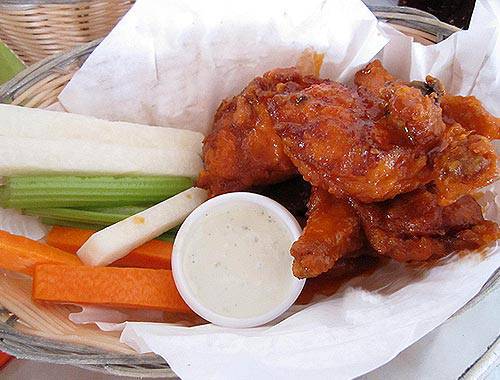 ADVERTISEMENT - CONTINUE READING BELOW
3. Buffalo Chicken Wings (P265/six pieces; P465/12 pieces) from Charlie's Grind and Grill
Don't be intimidated by the huge servings. These wings pack a classic Buffalo flavor that just might have you polishing off the entire basket all by yourself. You get to pick the heat level of your wings: Sweet, Hot, or Nuclear. Whatever serving size you get, they're all drenched in a tangy sauce. You can't miss the vinegar, which is complemented by a savory-spicy note. Each bite is just an explosion of all those components coming together in harmony.The chunky blue cheese dip gives these wings an added kick, so don't hesitate to dip those babies in.
Charlie's Grind and Grill has branches at 16 East Kapitolyo Drive, Kapitolyo, Pasig City (501-0137); Ronac Building, Madison Street, Greenhills, San Juan (477-5021).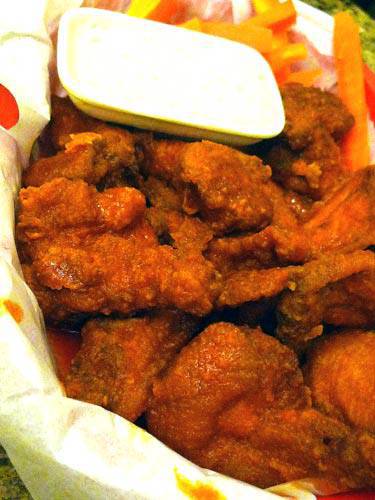 ADVERTISEMENT - CONTINUE READING BELOW
2. Classic Buffalo Wings (P200/six pieces; P350/12 pieces) from Wingman
With a name like Wingman, it's only right to have high expectations. Simple and straightforward, their classic hot wings have a faultless symmetry of spice and tanginess. The wings, which are fried to a crisp, are crunchy on the outside, with the delicious heat clinging on the batter like a second skin. Inside, it's juicy and piping hot. It's up to you to choose a sauce that suits your heat-seeking goal: Medium, Hot, Apocalyptic, or Pinaka! You won't need to look for anything else-except maybe its sidekick, the blue cheese dip, for which you have to pay an extra P30.
Wingman is at Suite B, The Collective, 7274 Malugay Street, San Antonio Village, Makati City (407-4975).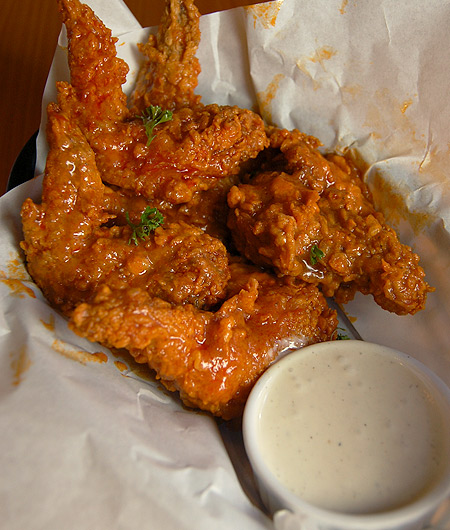 ADVERTISEMENT - CONTINUE READING BELOW
1. Wings (P173/six pieces; P320/12 pieces) from Frankie's New York Buffalo Wings
With a name that announces its specialty so boldly, Frankie's doesn't disappoint with its bestsellers. (Heck, it better not disappoint...ever!) Salty, spicy, tangy, and with just the barest hint of sweetness, these wings have crispy skin that belies the tender meat beneath it.  As for the heat level, it's spicy enough to keep things interesting. They taste so good that you don't mind the semi-long wait for your order or the fact that you have to pay an extra P25 for your dip of choice. Some wings are worth a little bit of suffering.
Frankie's New York Buffalo Wings is at City Golf Plaza, Dona Julia Vargas Avenue, Ugong, Pasig City (687-1250).
Share this story with your friends!
---
Help us make Spot.ph better!
Take the short survey
More Videos You Can Watch
Load More Stories