(SPOT.ph) Just like fashion, restaurants ride on trends to keep themselves relevant. On certain seasons, one kind of dish or item would be king: milk tea, frozen yogurt, cupcakes, Cronuts (and all spelling variations thereof). Other times, kitchens would be busy highlighting one ingredient or flavor on their menus: sriracha, bacon, Choc-nut, red velvet, green tea, speculoos. Don't forget that before third-wave coffee, breakfast was the biggest theme since eating first became popular.
One overlooked trend, however, is in the interiors. Well, actually, the interiors. Red, being the color that scientifically stimulates appetite, is a usual element, but look back at the restaurants that opened in the last three years or so. Notice a common denominator? Or, denominators? Apart from serving food and charging a bill, here are 10 usual sights in your standard Manila restaurant.
ALSO READ:
Feast Your Eyes: 10 of the Most Beautiful Restaurants in Manila
10 Unique Restaurants in Manila
ADVERTISEMENT - CONTINUE READING BELOW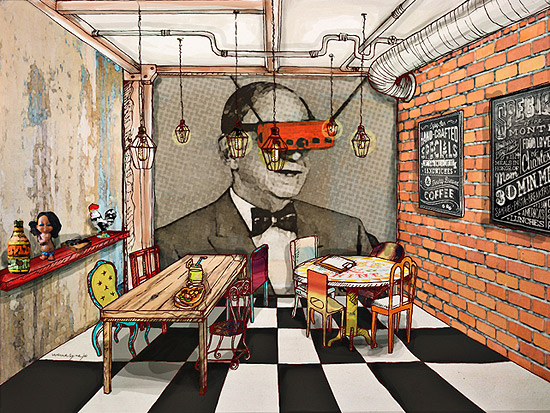 Does this look like a restaurant you've eaten at lately? Design by Warren Espejo
1. Chalkboard
It gives chefs license to change up the menu without the wastage of printing something temporary-all while adding rustic charm.
Seen at: Pino and Pipino, Nolita, L.E.S. Bagels, Franks Craft Beers, Sunshine Kitchen use it as menus. Publiko features funny maxims on their chalkboards, while Stockton Place uses them for signage and menu. Main Street, on the other hand, uses it as inspiration. Their blackboard has white magnetic letters instead of chalk.
ADVERTISEMENT - CONTINUE READING BELOW
Recommended Videos
2. Mismatched elements
Whether they were saving on materials or they were going for quirk, mismatched is in!
Seen at: Las Flores, Chef Tatung, Burgers & Brewskies, Isabelo, and Big Bad Wolf have different chairs. The Clubhouse's walls change from black and white to floral, Grace Park's plates aren't uniform, and Vanilla Cupcake Bakery pushes for patchwork and quilts.
3. Industrial
Metal details? Exposed, unfinished elements? Lots of grey? An industrial theme hits modern, casual, and cool with one stone.
Seen at: Nomama Artisanal Ramen, Grace Park, Wrong Ramen, CAV, Spatzle, and Melting Pot flaunt that bare, unpolished wood-and-concrete look. Brasserie Girolle and Recovery Food have fun with greyscale, Nolita doesn't bother with a ceiling and enjoys the decorative appeal of the exhaust. Other restaurants, like Gaucho and Las Flores, go for industrial-inspired lights.
4. Cage lights
Lights in a cage. They can be big and birdcage-like or dainty pendant lights trapped in metal grills.
ADVERTISEMENT - CONTINUE READING BELOW
Seen at: Early Bird Breakfast Club, P.H.A.T. Pho, Starbucks, Katsu Café, Pi Pies and Breakfast, Toby's Estate have adorable cage-inspired illuminants. Simply Thai and Wee Nam Kee have lights instead of birds in cages, while Las Flores and Grace Park have chandeliers where strips of wrought iron wrap themselves around bulbs.
5. Murals
They're conversation pieces that instantly set the mood of the restaurant. And they're just really pretty.
Seen at: Pino and Pipino opt for a doodle-esque wall, Bag O' Shrimps creates an illusion of a bookshelf, VYNE takes inspiration from graffiti, and Brotzeit details beer history in black and white. Each branch of Early Bird Breakfast Club features a different kind of whimsy on their walls.
6. Black and white floors (Bonus points if it's checkered)
A little snazzy, a little retro, a little New York, a little cutesy-why aren't more restaurants installing black and white floors?
ADVERTISEMENT - CONTINUE READING BELOW
Seen at: Stockton Place, CIBO Rockwell, Sandwicheese!, Mamou, Gaucho are going all chessboard.
7. Clipboard Menus
Print the menu at home, clip it, and voila! You can have your menu with a few bookstore items. It saves on printing and design costs too.
Seen at: Earth Kitchen, LoLa Café, Green Pastures, Kettle, and Burger Project are all rocking the clipboard. Grace Park does it differently, using torn-off corrugated cardboard as the back.
8. Chopping board or wooden planks as serving dishes
The wooden aspect immediately adds a country charm. Then there's the home-cooked, fresh-off-the-kitchen feel of serving it on a chopping board.
Seen at: Early Bird Breakfast Club, Long Bar, 'Cue Modern Barbecue, Mamou, Grace Park, Vask, and Bistecca serve things from appetizers to desserts on wood.
9. Mason jars
Even containers can add to the aesthetic of your restaurant. Thank Pinterest for the latest mason jar craze.
Seen at-who isn't doing this? Off the top of our head, there's Madeca, LoLa Café, Spatzle, Craft Coffee Revolution, The Farm Organics, Smokin' Pig. Check out our story on Food in Jars.
ADVERTISEMENT - CONTINUE READING BELOW
10. Kitsch
Domo in a New York-inspired restaurant? Random dolls on shelves? Kitsch is a way for owners to introduce their own personality. Usually, it's something that looks like it doesn't belong there, but looks cute anyway.
Seen at: LoLa Café (spoon and fork cabinet handles), Main Street (a vintage bicycle, action figures, and a turntable), Wrong Ramen (battery-inspired salt and pepper shakers)
BONUS:
11. Pipes
It's not as commonplace as the other elements, but we're seeing more and more of these invading restaurant design du jour.
Seen at: Bag O' Shrimp, Project Pie, Shine Bakery + Café
ALSO READ:
Feast Your Eyes: 10 of the Most Beautiful Restaurants in Manila
10 Unique Restaurants in Manila
Your guide to thriving in
this
strange new world.
Share this story with your friends!
---
Help us make Spot.ph better!
Take the short survey
Load More Stories