Top 10 Egg Tarts in Manila
Oh yes, there are more than 10 in this city.
(SPOT.ph) Egg tarts are curious little things. Are they miniature egg pies or are they leche flans in a crust? Are they dim sum or are they dessert? Seeing as they've been written under both sections of the menu, we can safely say that they go both ways.
When the Portuguese colonized Macau, they introduced the locals to a delicious treat called pastel de nata. The current egg tart, which traveled across the sea to Hong Kong and then all over the world, is a derivation of that cinnamon-laced pastry cup. Though usually eclipsed by the likes of mango sago, buchi, and almond lychee jelly, egg tarts are traditionally allotted menu space in Chinese restaurants.
Expand your egg tart database. We list the 10 best establishments in Manila that strike the right proportions of smooth custard, on-point sweetness, and a fresh and flaky crust.
All SPOT.ph Top 10 lists are researched, paid for, tested, and selected by the writers and editors. They are discreetly conducted without any notice made to the restaurants or their owners.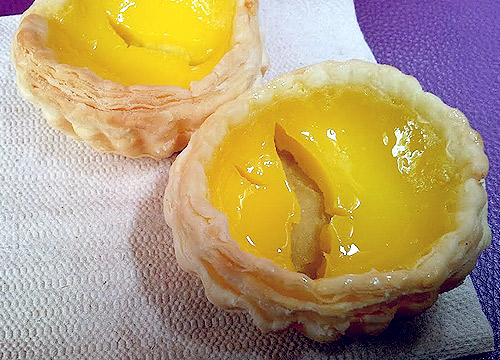 ADVERTISEMENT - CONTINUE READING BELOW
10. Kowloon House's Custard Pie (P55/two pieces)
In terms of meeting the requirements, Kowloon House goes for the bare minimum. The crust is flaky with enough of a crunch, and the soft custard filling would appease any sweet tooth. The flavors and technique are a little thin, but with branches all over the metro, it's a passable option to curb your egg tart cravings.
Click here for a list of Kowloon House branches.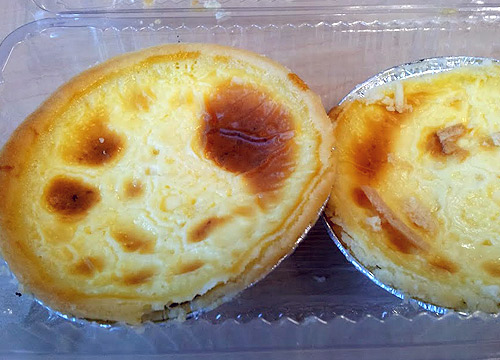 CONTINUE READING BELOW
Recommended Videos
9. Formosa Bakery's Egg Tart (P65/two pieces)
Formosa's egg tart is in a pale yellow shade with a slightly torched custard that makes it resemble scrambled eggs. It's not at all sweet. Instead, the delicate flavor of egg radiates through the mildly flavored custard, and the lank, crumbly crust really does nothing more than hold the solidified cream together. It's really an egg-flavored tart.
Formosa Bakery is at 777 Ongpin Street, Binondo, Manila; Sto. Domingo, Quezon City; and Banawe, Quezon City.
ADVERTISEMENT - CONTINUE READING BELOW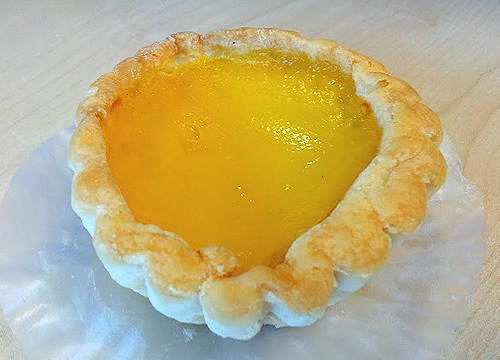 8. Wai Ying's Egg Tart (P65/two pieces)
The focus of an egg tart is usually the scene-stealing yellow cooked cream at the center, elevated by the platform of bread. Not Wai Ying's though. Wai Ying puts the emphasis on the crust. It's a scalloped creation with a buttery, biscuit-like flavor that presents a much bolder contrast to the mildly sweet custard. It's a different yet scrumptious take on the popular delicacy.
Wai Ying is at Benavidez Street, Sta. Cruz, Manila.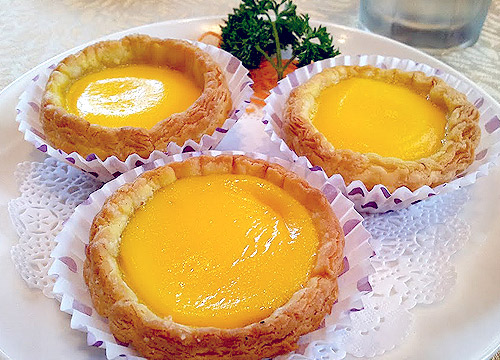 ADVERTISEMENT - CONTINUE READING BELOW
7. Baked Mini Egg Tart (P160/three pieces) from Crystal Jade Dining In
Crystal Jade's egg tarts are so tiny that the number of pieces suddenly becomes a problem. You can just pop an entire piece in your mouth and, well, you're done. To make up for the size issue, these minis pack a lot of flavor with every teeny cup. Its shiny yellow, yolk-like filling has the pervading flavor of egg blending with the sweetness of custard. Served hot, these flaky treats are soft and savory, making you eager to grab the next piece before you're done. Then that serving size issue comes up again.
Crystal Jade Dining In is at Bonifacio High Street Central, 30th Street corner 7th Avenue, Bonifacio Global City.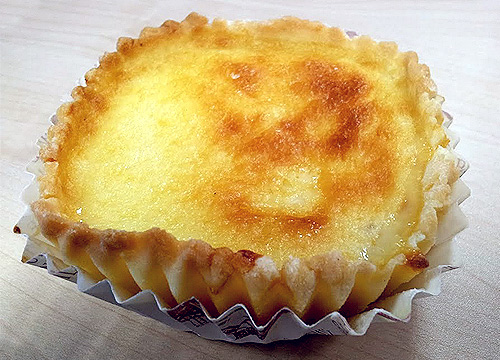 6. Egg Tart (P30/large, P10/small) from Amo Hopia & Bakery
The distinct characteristic of Amo's egg tart is neither its unusual square shape nor its mamon-like appearance. This eggy pastry has a very thin, very doughy crust. The outer shell is sweet and powdery, which reminds you of another Chinatown favorite-hopia. That familiar flavor, coupled with the creamy custard, provides a much welcome, one-of-a-kind twist on the usual egg tart.
ADVERTISEMENT - CONTINUE READING BELOW
Amo Hopia & Bakery is at Binondo, Manila.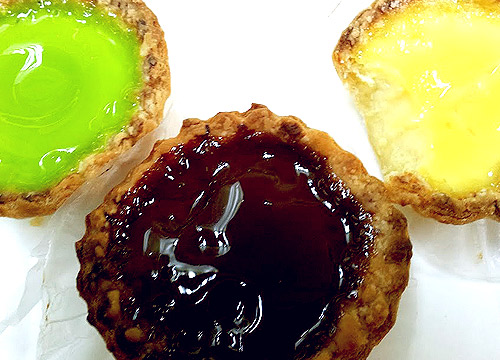 5. Spring by Ha Yuan's Egg Tart (P35 or P100/three pieces)
The Award for Most Original goes to Spring by Ha Yuan. The quaint Chinese restaurant goes the extra mile by offering pandan and coffee flavors aside from the standard custard. Each variant is delicious in its own right-the pandan has a lovely sweet-nutty flavor that calls to mind a classic frozen dessert, while the coffee has a potent bittersweet taste. The classic custard is still the favored winner, though. It's luscious and velvety, with a flavor similar to Bavarian cream. These creative additions may not be what people expect from the classic dish, but they're enticing all the same.
Spring by Ha Yuan has branches at G/F BSA Mansion, Benavidez Street,  Legaspi Village, Makati City; and The Venice Piazza, Upper McKinley Road, Bonifacio Global City.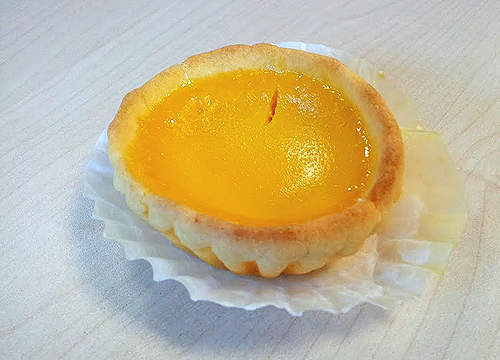 ADVERTISEMENT - CONTINUE READING BELOW
4. Wan Chai Tea House's Egg Tart (P70/two pieces)
Wan Chai's soft and thin crust plays a minor role in this pastry, giving the floor entirely to the decadent yellow custard in the middle. It's creamy without being runny, and enticingly cool to the taste buds. A bite offers you pure, unadulterated egg filling, with the perfect amount of sweetness and egg flavor required of this treat.
Click here for a list of Wan Chai branches.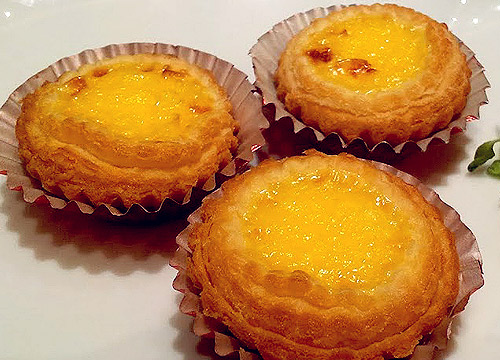 3. Red Lantern's Oven-baked Egg Tartlets (P180/three pieces)
Served on a hot plate garnished with kiwi, strawberry, and microgreens, Red Lantern's egg tartlets win the award for prettiest presentation. These photogenic custards are cooked to a golden-brown finish, which makes for the flakiest thick crust and an almost bruléed filling. Best of all, the downy custard, which is firm enough to have shape and texture, has a deliciously toothsome taste that shines through despite the thickness of the crust.
ADVERTISEMENT - CONTINUE READING BELOW
Red Lantern is at G/F Solaire Resort and Casino, Solaire Boulevard, Reclamation Area, Entertainment City, Pasay City.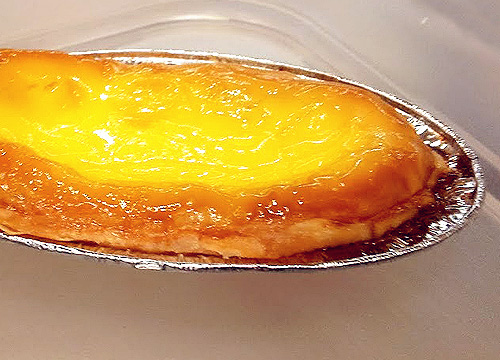 2. Bread Talk Egg Tart (P26)
Don't be discouraged by this oval tart's larger-than-average size; these are probably the fluffiest on this list. With layers of thin, papery puff pastry that give off a crisp, airy bite (like a very light otap actually), Bread Talk's egg tarts start off crunchy. As you make your way through your pint-sized pie, your palate will be treated to a heavenly smooth filling. The sunny yellow custard has a palpable sweetness that tastes delicious but feels guilt-free.
Click here for a list of Bread Talk branches.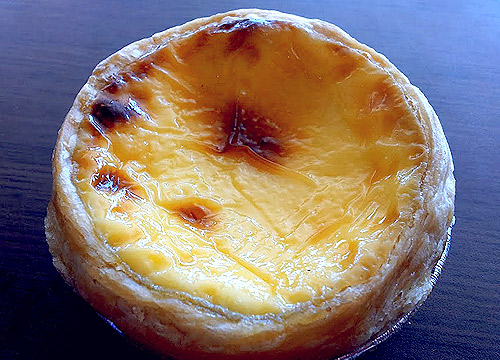 ADVERTISEMENT - CONTINUE READING BELOW
1. Lord Stow's Bakery Egg Tart (P42)
Is it just so good that the term egg tart has become synonymous with this Macau brand? But it's a reputation that's well-deserved. Their bestselling egg tarts taste like no other. It has a distinctly milky flavor that is neither too sweet nor too bland. The crust-to-filling ratio is perfectly balanced, with the former's firm and flaky texture contrasting nicely with the soft and wiggly custard inside. Lord Stow's is really in a league of their own.
Click here for a list of Lord Stow's branches.
Share this story with your friends!
---
Help us make Spot.ph better!
Take the short survey
Load More Stories