Manila's 10 Best Mixologists and What They're Drinking Now
These bartenders are shaking-not stirring-up the social scene.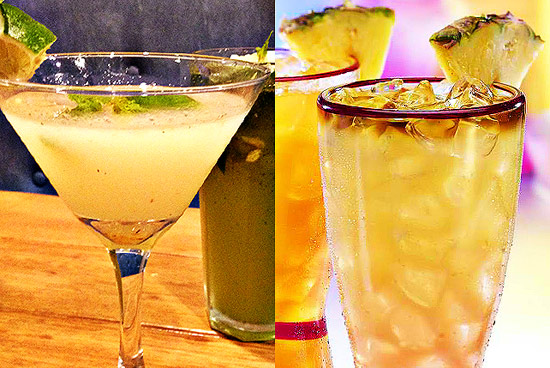 (SPOT.ph) The more fastidious palate has lately grown to develop an entirely different kind of thirst in Manila. Dishes like coq au vin and boquerones brought to us by the rapidly expanding dining scene call for more than soda and orange juice. Cruising beside the whole coffee trend are the sudden invasion of speakeasies, the addition of signature cocktails in restaurants, and the hype given to imported craft beers, single malts, and gin tonics. The demand for a better beverage resulted in a growing crop of mixologists who, like chefs with their dishes, make intoxicating magic from a vast range of ingredients. Here are 10 such bartenders whose skills at making drinks and blending the perfect cocktails have us in high spirits.
This list is not ranked.
ALSO READ:
10 Most Well-known Cakes in Manila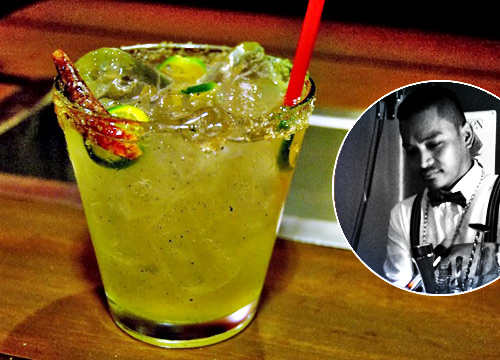 Larry Guevara
After spending eight years in a seminary, Larry shifted gears from priest to bartender upon realizing that there were more "spirits behind the bar"-his joking words, not ours. From having his initial professional training at TGI Friday's Malate to eventually winning in the Monin Mixology Bartending Series at the World Food Expo, he's truly found his calling in this industry. He currently serves as a consultant and principal bartender for The Bottleshop at the Global Beer Exchange in Magallanes, and has two other projects in the pipeline.
ADVERTISEMENT - CONTINUE READING BELOW
Signature Drink: "Aside from my winning cocktail the Royal Mojave, I'm really proud to be the first bartender to create a drink with bitter gourd (ampalaya). My signature Fierce Pinay has become one of the bestsellers at The Bottleshop."
Current Favorite Ingredient: "Plenty but I really love elderflower-be it a liqueur, purée, or syrup-and ruby red grapefruit."
Best Drink He's Had: "Matusalem Rum and Coke with a squeeze of fresh lime juice. It's simple, smooth and refreshing."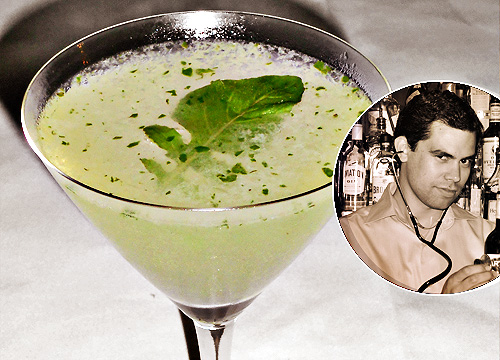 CONTINUE READING BELOW
Recommended Videos
Lee Watson
Lee has always been good with numbers. In fact, had he continued treading down his intended career path, he would be crunching numbers as a financial analyst on Wall Street now. However, he took a detour and ended up in Le Cordon Bleu where he gravitated more toward drinks than food. He moved to Manila in the summer of 2012 to set up the beverage program in Solaire, but his talent naturally attracted more clients including Antonio's, Wildflour Bakery + Café, and the Discovery group.
ADVERTISEMENT - CONTINUE READING BELOW
Signature Drink: "Right now, it would have to be the Arugula Lemon Drop. It's not necessarily my favorite cocktail among the ones I've created recently, but Chef Tonyboy Escalante likes it and he always recommends it to his friends. It's become the most popular cocktail at Antonio's Lanai Lounge in Tagaytay."
Current Favorite Ingredient: "I've been drinking a lot of single malt recently, so it would probably be a peaty Islay Scotch. Most people think it's sacrilegious to make a cocktail with single malt. Others think it's simply too expensive. But I love Islay Scotches and I love making cocktails with them."
Best Drink He's Had: "If I had to pick one, it would have to be the martini I had at the rooftop bar of the Hotel Buca di Bacco in Positano, Amalfi Coast, Italy. I always order my martinis with a lemon twist, never olives, and some of the best lemons in the world can be found on the Italian coast."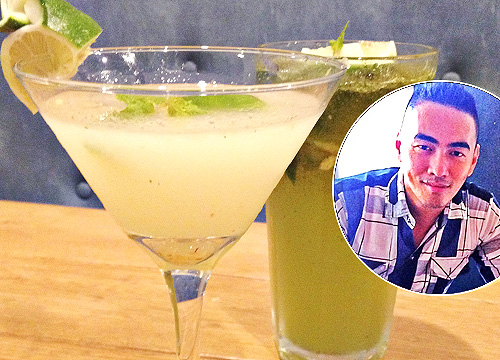 ADVERTISEMENT - CONTINUE READING BELOW
Kalel Demetrio
He started out as a server in SumoSam, but his penchant for playing around with garnishes and herbs eventually landed him the position of bartender for the restaurant chain in 2007. When CYMA in Greenbelt opened with a full bar six years ago, he applied and impressed with his concoctions. Being in a Greek restaurant allowed him to play with ouzo, which has a sharp aftertaste that gets amplified when incorporated with fruits and liquors. Kalel also took on the challenge of making the drinks for Green Pastures from scratch, including lambanog, his own orange liqueur, and a lemongrass-cello. There's no way of telling what his creativity would have him making next.
Signature Drinks: "Mojitouzo and the Manille Lychee Ouzo. I process mint leaves with organic honey for my mojito. I've always wanted a calamansi liqueur so I love Manille."
Current Favorite Ingredient: "Sagada oranges and pineapple from Ormoc. The oranges are organically grown and the tannin of the skin is very good. With regard to the pineapples, the yield might not be much but the sweetness level is very high. I use it in my elixirs."
Best Drink He's Had: "I'm an occasional drinker. I'd have to go with the non-alcoholic kind, the pandan and lemongrass iced tea from Taal hits the spot. It is sweetened with brown sugar."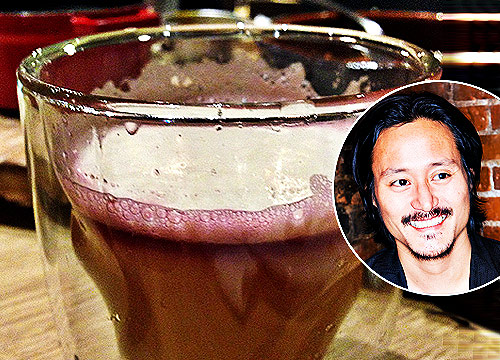 ADVERTISEMENT - CONTINUE READING BELOW
Enzo Lim
It was a natural progression for Enzo to be in the food and beverage industry. From someone who's worked the floor as a server, bartending seemed to be next step-in the States at least. "The dynamic changes when you're at the bar. It's like a different kind of show," he says. Enzo watched a friend mix drinks at a neighborhood bar, and it inspired him to try it out. Soon after, he was mixing drinks in New York. Enzo, if you already didn't know, is the restaurateur behind NY restaurants Maharlika and Jeepney. In September 2013, he flew to Manila, got in touch with the owners of 'Cue Modern Barbecue, and, he came up with original mixes for the restaurant and served them in a monthlong series. Look forward to more collaborations between Enzo and the Moment Group.
Signature Drink: "I have three-Maharlika's Pacquiao Punch, 'Cue's Bonifacio Sour, and Don Papa's Papa Bastardo. Bonifacio Sour is what people can try locally at 'Cue: it has Buffalo Trace Bourbon, lemon, calamansi, egg white, and red wine float."
Current Favorite Ingredient: "Teas. At home, my folks gave me a lot of teas that they don't drink."
Best Drink He's Had: "Probably an Old Fashioned or Sazerac at anywhere they do it well."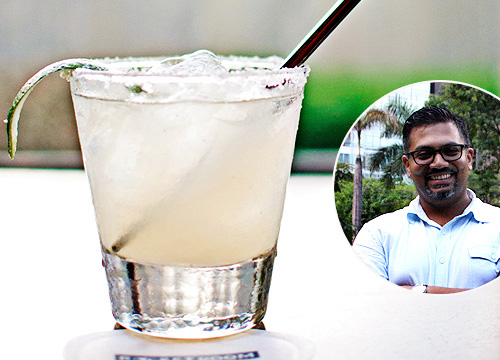 ADVERTISEMENT - CONTINUE READING BELOW
Cyril Addison
Cyril's interest in beverages began after his 21st birthday-when he reached the legal age. "I wanted to drink more for enjoyment and to really understand the effort that people put into making these spirits, beers, and wines," he says. To gain more ground on the basics, he studied and earned a certification from the Wine and Spirits Education Trust London in Philadelphia in 2004. Nowadays, he does more that mix brews. He keeps things running smoothly as Director of Operations for the Raintree Group of Restaurants (M Café, Stella, Rocket Room, Grand Chelsea Café, and Costa Pacifica, to name a few). "I try to stick to classics and then add my twist to it based on the concept of the place where it will be served. I am a strong believer in keeping things simple and making the ingredients and the spirit itself shine."
Signature Drink: "I am proud of all the drinks I make. I have a special attachment to them. However, our Rocket Fuel in Rocket Room is what most people associate me with. It was actually the idea of my boss. He wanted me to make a drink that infused spice into it."
Current Favorite Ingredient: "Currently, I am in the search for great vermouths. Wine-makers have been making vermouths that are not meant for sale and the culture is really starting to pick up. I love a good vermouth on the rocks and how it enhances the cocktail."
Best Drink He's Had: "A perfectly made Gin Martini is my favorite. Anyone that can make good martinis is a strong bartender. It's simple, yet a complicated process of enhancing the spirit. My wife and I love gin and I make martinis at home for her."
ADVERTISEMENT - CONTINUE READING BELOW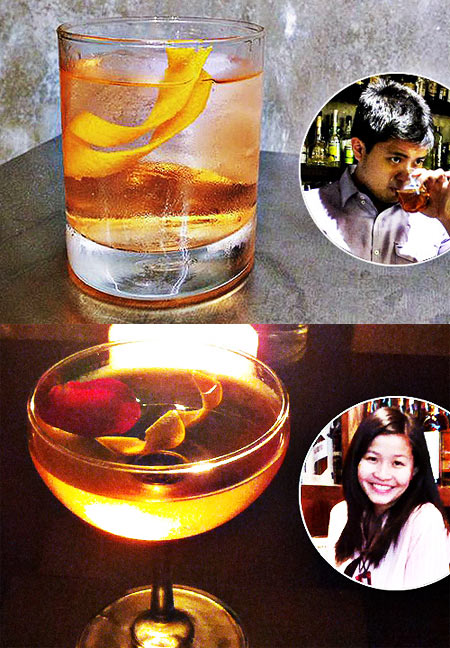 Jericson Co and Tiffany Yu
The young and dynamic duo has been luring crowds to The Curator and the EDSA Beverage Design Group because of drinks that Tiffany describes as "viscerally satisfying." Although they're relatively new, their talent and respect for the craft have already cemented their place in the industry. Their edge? Creativity. "After watching an excellent play called Red about the painter Mark Rothko, I made a drink that would resemble what he thought of society and his paintings," Jeco recalls. "That drink is still one of my favorite cocktails that I've ever done."
Signature Drink: "So far, I'm surprised with how well the Rothko's been received. I initially thought it's a way too serious cocktail-gin infused with cardamom, Cocchi Americano, more gin and three kinds of bitters," says Jeco.
"The Tryst. This is a gin-based drink coupled with a fortified dry wine, a vanilla-infused liqueur, and just a pinch of rose sugar syrup to give it a lady's touch. I'm proud of this particular drink because it's sweet, yet deceivingly boozy at the same time," says Tiff.
ADVERTISEMENT - CONTINUE READING BELOW
Current Favorite Ingredient: "Ice...that question is like asking which kid is my favorite. So yeah...ice." -Jeco.
"I am a creature of habit so I tend to be loyal to ingredients that create a flavor profile I like... and those are bitters." -Tiff.
Best Drink They've Had: "It's a butterscotch-sarsaparilla sour from Wilson and Wilson in San Francisco. It's one of those drinks where you beat yourself up by just saying, 'I wish I thought of that.'" -Jeco
"I guess a best drink would also have to correlate with an experience that I hold dear-and that would be at a bar in Vancouver called La Abbatoir. There, I had a simple and classic drink called the Old Fashioned and that essentially set the tone for my style and taste in appreciating cocktails." -Tiff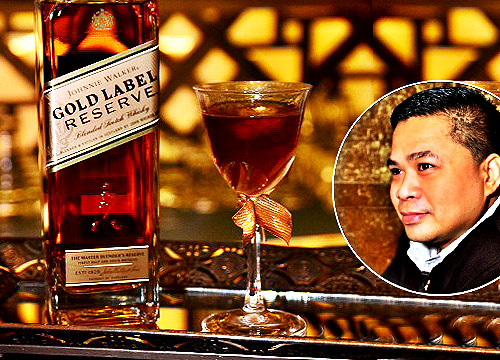 Jerry Miranda
Jerry took a liking to bartending when he worked as a waiter in Tavern on the Square in 2000. He would often stop to observe and study the ingredients and how much of each went into the Greenbelt 3 restaurant's drinks. That's when he realized that crafting drinks was a passion. He started mixing his own when he worked as a bar supervisor at Club Womb, Japan's third-largest dance club. Months later, he returned to Manila and was allowed to concoct his own beverages as head bartender of Club Ascend. In less than a year, he moved to Members Only Club and Privé Luxury Club where he is currently making more cocktail magic.
ADVERTISEMENT - CONTINUE READING BELOW
Signature Drink: "This was my entry for the Diageo Reserve World Class 2014 and it won. I call it the Golden Sherry, a combination of Johnnie Walker Gold Label Reserve, Harveys Bristol Cream Sherry, vanilla spiced syrup, and Bitter Truth Chocolate Bitter with a smoking technique. I rinsed the glass with Rose Fairy Tea and smoked it with a dripping sound."
Current Favorite Ingredient: "I love to play with spices, specially vanilla and cloves. The character and flavor profile are distinct and it's not hard to incorporate with other ingredients. I also love using bitters in my cocktails. Just drop one in your cocktail and there's already a lot of flavor."
Best Drink He's Had: "I am a whisky drinker and whisky has its own distinct flavor. I love to make flaming cocktails or cocktails using a flaming technique. I crafted a drink called Osmanthus Blazer, which uses a Blue Blazer technique, popularized by Jerry Thomas. It is the best drink I've ever had."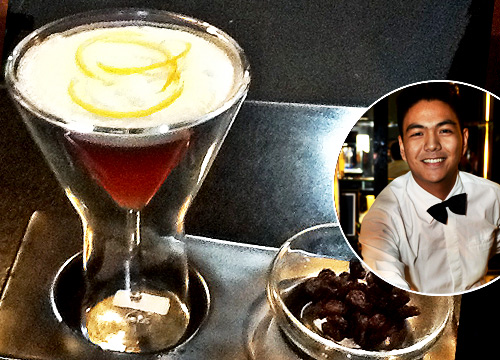 ADVERTISEMENT - CONTINUE READING BELOW
Sam Alcantra
Daydreams come true too, you know.  "When the college professor in my Bar Management class was discussing the life of being a bartender, I imagined myself to be one of them and I thought that I would enjoy being one since it is in my nature to serve." Sam pursued this dream, attended seminars and bar tours, even competed at the Diageo World Class Competition twice, to be where he is at now, enjoying life as a legit bartender, currently stationed at Prohibition. "Meeting new friends, receiving tips, learning new experiences every day. Every time I make or mix a drink for someone, it makes my heart grow fonder."
Signature Drink: "I am most proud of my entry at the Diageo World Class 2014 called Single and Bitter, which was a single malt whisky-based cocktail with a homemade salted caramel sauce and basil-grapefruit marmalade, a dash of grapefruit bitters, a dash of sweet soy sauce, and Pedro Ximenez sherry. You can actually taste the complexity of the drinks, first the sweetness then the bitterness and lastly the sweet finish of the whisky."
Current Favorite Ingredients: "Ginger and lemongrass because I like the kick of spice that comes from them, their beautiful aroma, and the complex flavor they give drinks. They complement my favorite whisky."
Best Drink He's Had: "So far, the best drink I've ever had in my life is the Whisky Sour. Every time I visit a bar, I order that drink. It gives my whisky a beautiful balance of citrusy flavor from the lemon and sweetness from the sugar."
ADVERTISEMENT - CONTINUE READING BELOW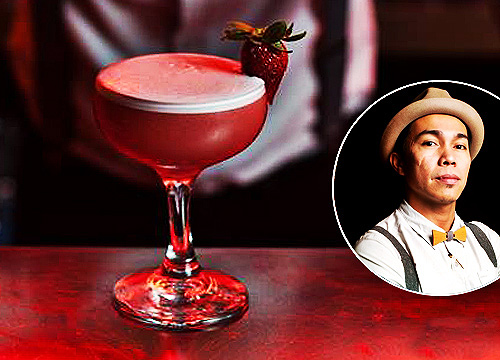 Dondz Bolante
After his fifth motorcycle accident in 2008, Edison, or Dondz, realized it was time to move on and find a new hobby. He switched from the adrenaline of the sport to providing the rush himself by mixing drinks. After perfecting his craft by attending a number of training seminars, he was able to build himself up and attract clients like URBN Bar and Kitchen, Relik Tapas Bar, and Amber Ultra Lounge with his formidable talent. Now, you can see him manning the bar at Finders Keepers where he gets to showcase his skills without the risk of losing his limbs. "I love what I'm doing and I can't live without the bar."

Signature Drink: "Old Fashioned with a twist. It's a combination of rum, bourbon whisky, Angustura Bitters, and coffee beans. It tastes like spicy chocolate."
Current Favorite Ingredients: "Figs, hibiscus, passionfruit, elderflower, salted caramel, coffee beans, fresh basil, mixed berries, and egg."
ADVERTISEMENT - CONTINUE READING BELOW
Best Drink He Has Had: "Corpse Reviver No. 2 because it comes with absinthe, gin, and a balance of flavors. You can taste the sourness, sweetness, and aroma of absinthe."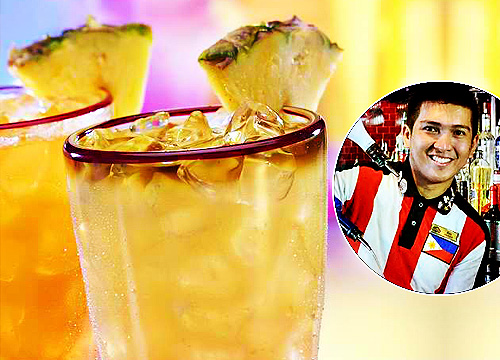 Gen Rev Bacasno
Before Gen Rev started working for TGI Friday's and racking up bartending awards here and abroad (the most recent being second runner-up honors at the 23rd annual World Bartender Championship), he was just a college student excited to attend a bar seminar at TGI Friday's in Malate. "I was totally amazed and stunned by the personalities of the bartenders during that time. I also wanted to be the cool guy who gets paid making drinks, talking to guests, playing with people, and enjoying every minute of my work." To be competent and confident with the craft, he attended seminars locally and even overseas. These trips also gave him inspiration and introduced him to more potential ingredients. "I choose ingredients that are not often used. I don't drink my mistake if ever I commit one. I learn from them."
ADVERTISEMENT - CONTINUE READING BELOW
Signature Drink: "The Ultimate Mango Maitai. It's a rare drink but is a must-try for everyone. Remember, we have the best mangoes in the world."
Current Favorite Ingredient: "I'm currently using a lot of tea bags and teas."
Best Drink He's Had: "One of the best drinks I've ever had is the Ultimate Mudslide of TGI Friday's. It's a perfect combination of vodka, Kahlua, and Bailey's Irish Cream. They are blended together with three scoops of vanilla ice cream and the glass is swirled with chocolate syrup. It's like having a kick of alcohol while having dessert."
ALSO READ:
Share this story with your friends!
---
Help us make Spot.ph better!
Take the short survey
Load More Stories