CHECK IT OUT: Brasas at SM Jazz, Makati
This Latin American hub has salsa nights at their new branch in Makati.
Brasas
SM Jazz, Jupiter Street corner Nicanor Garcia, Makati City
Open from 10 a.m. to 10 p.m. (Saturday to Thursday), 10 a.m. to 2 a.m. (Friday)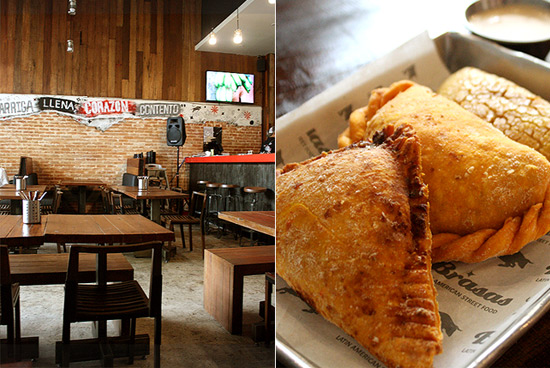 (SPOT.ph) A little thrill always goes down our spines when we watch Chef Nathaly Montoya in action. She's a thin-almost narrow-Colombian woman with shoulders looking as though they're permanently slouched from her days looking after the grill. Her slight frame and expression don't give much away except for the furrow of determination between her eyebrows.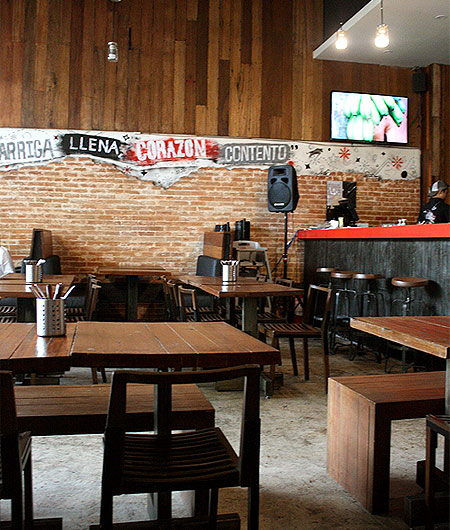 ADVERTISEMENT - CONTINUE READING BELOW
Familiar street vibe?
Chef Nathaly is the common denominator between the canteen-style branches of Podium, SM North EDSA, and SM Aura to the full sit-down affairs of Evia and SM Jazz. With her bottomless trove of recipes, she makes a trip to any Brasas a different adventure every time, making sure customers have something new to look forward, but assuring them that they could still fall back onto old favorites like the Puerco Asado or the Carne Asada.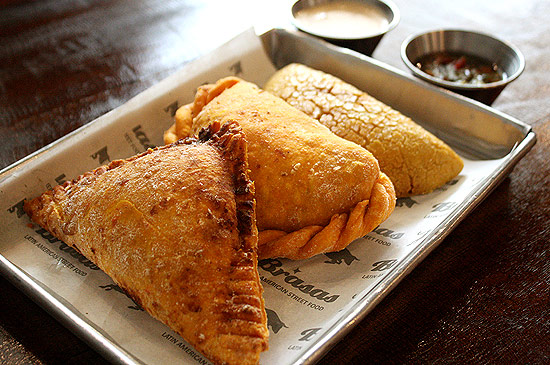 CONTINUE READING BELOW
Recommended Videos
Empanadas Latinas
The Empanadas Latinas (P190 to P360) is a passport to Latin America. It features a trio of deep-fried turnovers from Colombia, Argentina, and Chile. The half-moon-shaped empanada from Colombia has a crackly shell that is deliciously firm and crisp; a filling of potatoes with flecks of beef brisket creates a similar profile to the samosa. Mashed lengua invades the thicker crust of the Argentinian. The beef tongue is saucy but only enough to provide succulence, making each bite a neat venture. The Chilean is a salty triangle with traces of chorizo. Chipotle and pickled vegetable sauces highlight the flavors further.
ADVERTISEMENT - CONTINUE READING BELOW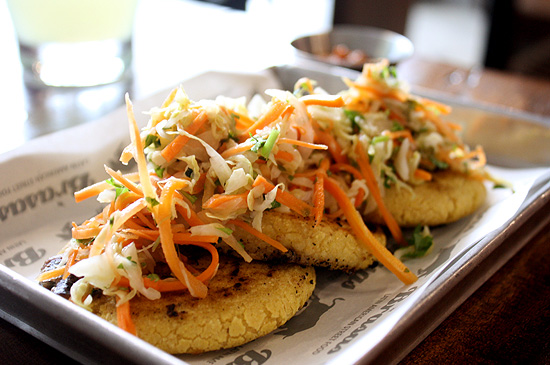 Puspas
The Puspas (P250) are tricky little things. Discs of corn bread topped with coleslaw challenge the popularity of the Arepas and Patacones, but take a closer look because unlike the lighter promises of the latter two, these are actual heavyweights. The soft bread is stuffed with beef brisket, beans, and Monterey Jack. The pickled curtido (fermented cabbage and carrots) brightens up the heavy flavors.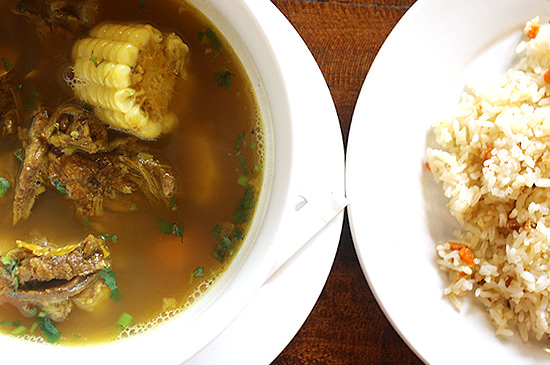 ADVERTISEMENT - CONTINUE READING BELOW
Caldo de Costillas
The Caldo de Costillas (P370) is the dish that takes Chef Nathaly back home. It's a festive, comforting soup that's somehow a cross between nilaga and bulalo. Back in Colombia, Chef Nathaly relates that they'd cook it during street parties in a big bonfire. Strips of beef brisket are slow-cooked to guarantee tenderness while carrots and potatoes give it more character. The soup itself is a pleasantly mild brew with subtle hints of garlic and onion. Though traditionally cooked with the soup, the same saucer of pickled cilantro, spring onion, and carrots from the empanadas is served on the side to blend in some zest with the savory broth.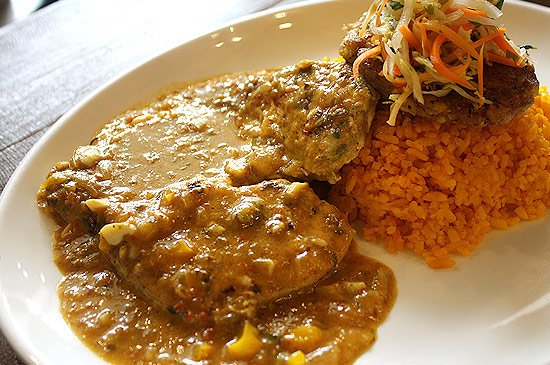 Pescado con Coco
Freshness is highlighted in the Pescado con Coco (P450). The day's fresh catch is seared then generously painted with a rich, aromatic coconut sofrito sauce. Mofongo, or mashed plantains speckled with pork, embellishes the Spanish rice with a thicker flavor.
ADVERTISEMENT - CONTINUE READING BELOW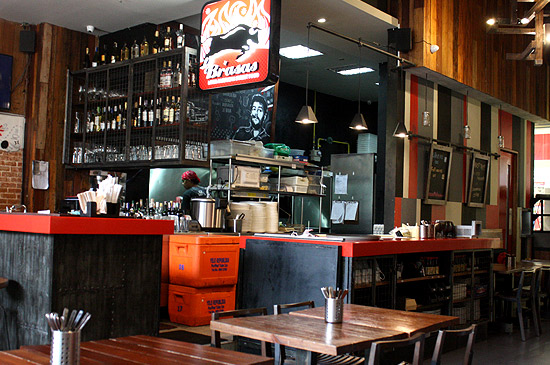 Make way for salsa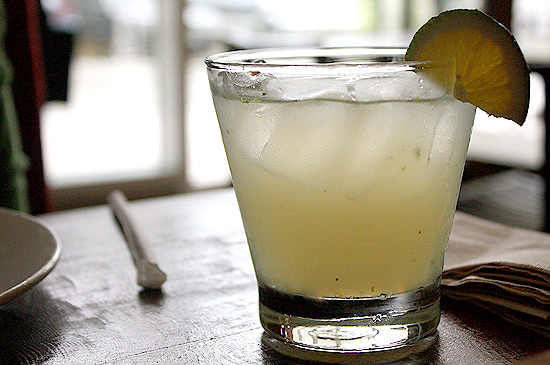 Salsa Juice: Mojito
The SM Jazz branch, co-owned by the Agassi brothers, is the largest Brasas yet. The familiar street vibe is recreated, but they've found another way to make use of the room: Salsa Nights Fridays. If you find yourself lacking the courage to sway and gyrate, this Brasas has you covered-with its brand-new cocktail menu.
ADVERTISEMENT - CONTINUE READING BELOW
ALSO READ:
CHECK IT OUT: Brasas at The Podium, Mandaluyong City
New Restaurant Alert: Brasas at SM North EDSA
Share this story with your friends!
---
Help us make Spot.ph better!
Take the short survey
Load More Stories