Where to Get Mind-blowing Pinoy Kakanin
This may be the best kakanin SPOT.ph food expert Angelo Comsti ever had.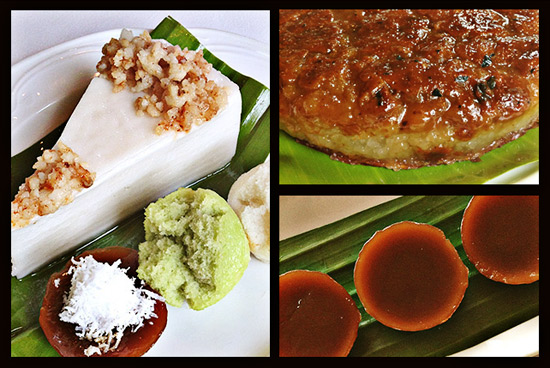 (SPOT.ph) Bulacan is a province sprawling with lush fields full of rice. What to do when you have too much of a good thing? Make the most out of it. It happens to produce some of the best kakanin in the country.
Chef Jessie Sincioco hails from Angat, Bulacan, and she understands her rice cakes well. I've known her quite some time now. She has a meek demeanor that belies an intension passion for cooking-though her three successful restaurants should have been enough of a hint. But more than that, it was her sapin-sapin that changed the way I appreciate kakanin. After sampling her repertoire of native desserts, I can personally make a bold (but justly deserved) claim that she makes the best kakanin.
ADVERTISEMENT - CONTINUE READING BELOW
CONTINUE READING BELOW
Recommended Videos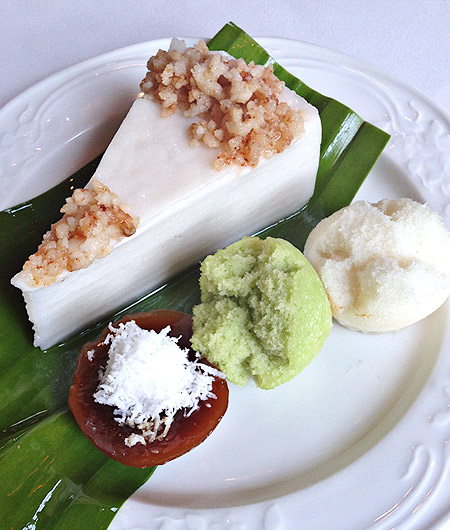 A delicious assortment
"I grew up cooking suman and eating it with something sweet like minatamis na kundol or sago with buko and langka," she says, trying to recall the early days of her own kakanin infatuation. "My grandmother and my mom, Carmen, also make really delicious biko and bibingka with lots of latik on top. I also remember enjoying their puto lansong. It's similar to biko, only it's purple because purple rice is used. It was so smooth since the rice loses its grainy texture from being milled." Her mom is known in their area for her filling snacks, and though an opportunity to make profit presented itself, she generously gave her delightful rice treats for free upon request.
ADVERTISEMENT - CONTINUE READING BELOW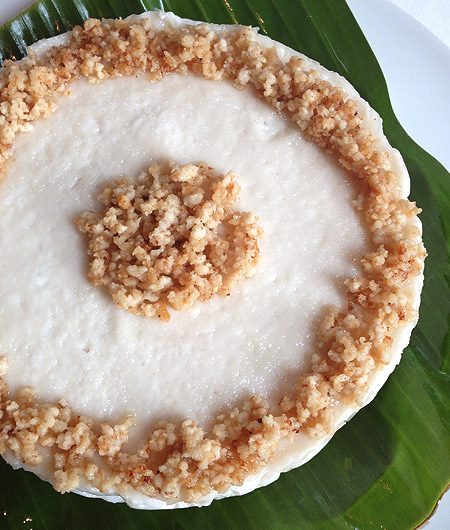 A latik crown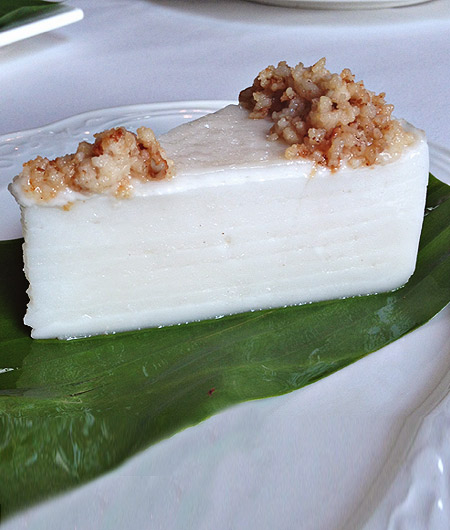 ADVERTISEMENT - CONTINUE READING BELOW
Notice the layers?
Nowadays, it's Jessie's turn to churn out their heirloom rice recipes from the kitchen and deliver them into her restaurants. When served, her sapin-sapin (P1,000/eight-inch) presents itself as a thing of beauty. It's nothing like the typical multi-hued spectacle. Hers is in a pristine white shade, artfully topped with a thin layer of steamed latik, adorned generously with more latik curds. The eight layers of coconut are perfectly visible with one glance. You might not be able to help your mouth from watering as the knife glides through the heavenly cake effortlessly. Of her creations, this is what Chef Jessie loves indulging on since it's easy and light on the palate. It's not difficult to comprehend her favor for this particular kakanin. It's the kind of dessert you won't ever tire of eating.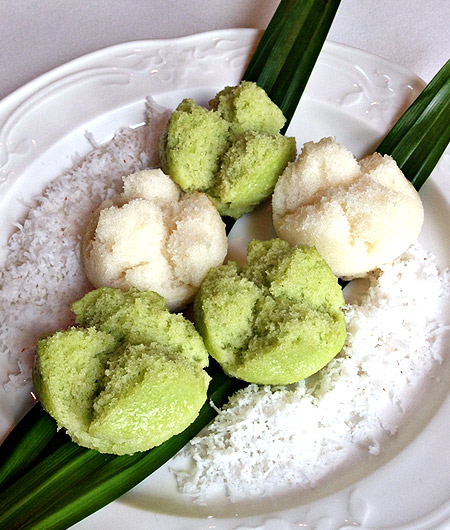 ADVERTISEMENT - CONTINUE READING BELOW
Pillowy puto
Like the sapin-sapin, her bibingka comes in six and eight-inch rounds. It's a substantial number crowned with deep-flavored latik.  Her pillowy puto (P10 each) has two variants-traditional and pandan. They're bite-sized pieces that you can pop in you the mouth and binge on endlessly like candy.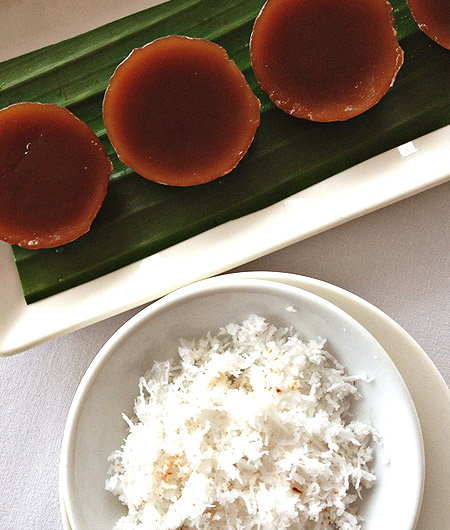 Kutsinta
The dark orange-tinted kutsinta (P10 each) is just as small. Though it's a tad heavier than the puto, it is manages to remain just as addictive. I can easily finish a dozen in one sitting.
ADVERTISEMENT - CONTINUE READING BELOW
Chef Jessie also makes two kinds of suman-suman sa latik which is wide, purple, and flat, folded with bukayo-like coconut; and the suman sa bigas, which is bare bones in flavor and presentation.
I have always loved our native delicacies. Growing up, I'd be delighted over a pasalubong of biko and sapin-sapin. I never knew I could love them more until my taste buds were blown away by Chef Jessie's versions.
For orders, contact any of the following restaurants below. A lead time of three days is recommended, and a minimum of a dozen pieces of puto or kutsinta is required.
Chef Jessie Rockwell Club
G/F Amorsolo Square, Amorsolo Drive, Rockwell Center, Makati City
Tel. No. 890-6543, 890-7630
Top of the Citi by Chef Jessie
34th/ F Citibank Tower, 8741 Paseo de Roxas, Makati City
Tel. No. 750-5810 to 11
100 Revolving
33rd/F MDC Building, C5 corner Eastwood Drive, Libis, Quezon City
Tel. No. 962-5654, 962-1016
ADVERTISEMENT - CONTINUE READING BELOW
Angelo Comsti contributes for Yummy, Men's Health Philippines, and Esquire Philippines in addition to other publications. He studied at Le Cordon Bleu Australia. Recently, his bestselling From Our Table to Yours, a collection of generations-old heirloom recipes from some of the country's best cooks and chefs, won the Gourmand Best in the World Award for Best Authors and Chefs Outside Europe. He is currently working on a sequel. Follow Angelo on Instagram (@fooddudeph) to catch more of his food discoveries.
Are you sure you want to delete this list?

Load More Stories