10 Delicious Finds From the Asian Eats Food Festival
Asian cuisine is full of variety and flavor, and this festival was packed with both.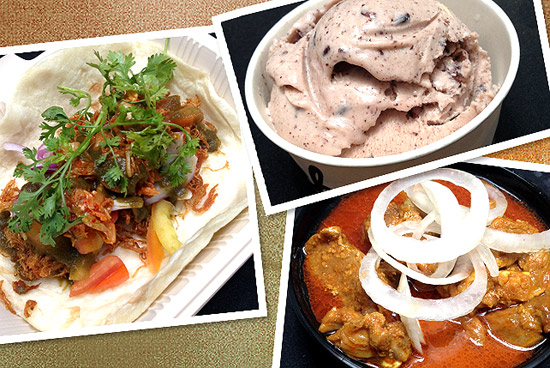 (SPOT.ph) The Podium mall in Ortigas transformed into a busy Asian market over the weekend as it played host to the annual Asian Eats Food Festival. Popular restaurants in and around Metro Manila brought over the best that this continent (and a bit more) has to offer with one feast that included traditional eats from India, Turkey, Indonesia, as well as playful versions of classics. Like any veritable Asian market, the place was teeming with action, chatter, and exciting smells.
These 10 are of our picks from the recently concluded food fair. While not all dishes will find permanent places on menus, you might want to drop by their respective establishments for a taste of what they have to offer.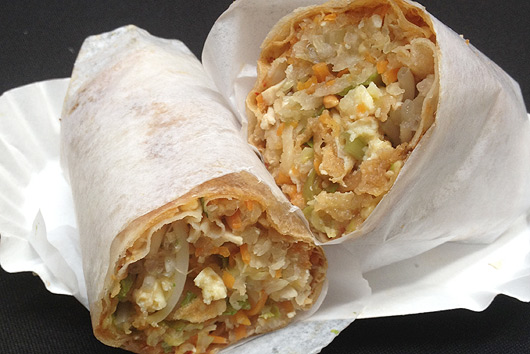 Spring by Ha Yuan's Lah! Lah! Land Popiah (P105)
This Singaporean-style shrimp and veggie roll has a sweet and spicy kick courtesy of the sambal chili and kecap manis (a kind of sweet soy sauce). Stuffed to bursting and soft to the bite, with every ingredient adding to the lovely myriad of fresh flavors and texture, the fancy-named popiah has secured itself as a definite Asian-food must-try.
ADVERTISEMENT - CONTINUE READING BELOW
Spring by Ha Yuan has branches at 108 Benavidez Street, Legazpi Village, Makati City, and SM Jazz, Metropolitan Avenue, Bel-Air, Makati City.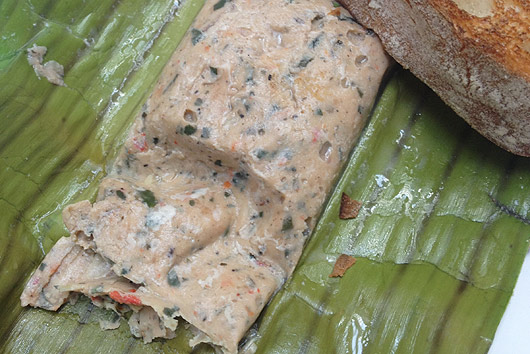 CONTINUE READING BELOW
Recommended Videos
Your Local's Otak-Otak with Ciabatta (P190)
The savory cake is made of salmon and spices steamed in a banana leaf and finished as a bed of pink mousse. It's spicy and flavored with herbs, a perfect match to the simple grilled bread served on the side.
Your Local is at Universal LMS Building, 106 Esteban Street, Legazpi Village, Makati City.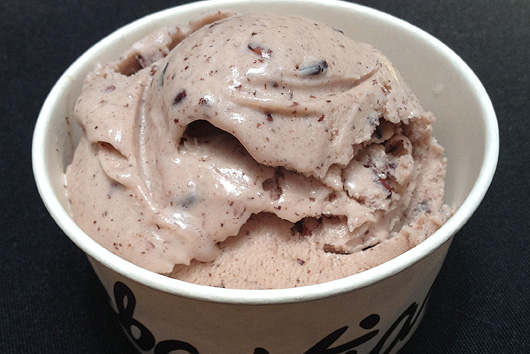 ADVERTISEMENT - CONTINUE READING BELOW
Sebastian's Pirurutong Ice Cream (P120)
It's a hard choice between the Bukong Tostado sorbet and the Green Mango sorbet with Nam Prik (a spicy sauce similar to bagoong), but a third, rather sleeper contender edges out the other two. It's the purple-hued Pirurutong ice cream. The frozen treat has a flavor and mouthfeel akin to red mung beans, but it is actually composed of native rice. Somehow, Ian Carandang's ingenuity doesn't surprise us.
Sebastian's has branches at The Podium Mall, Mandaluyong City; SM Mall of Asia, Pasay City; and Regis Center, Katipunan, Quezon City.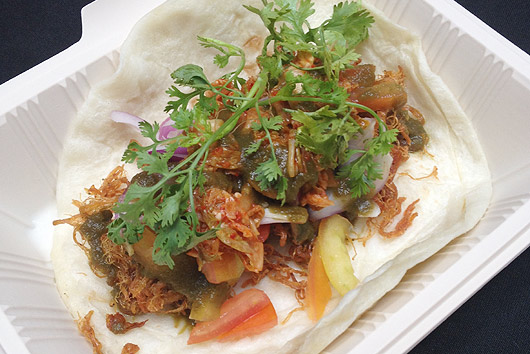 Bale Dutung's Lechon Taco (P150)
If there's one thing Bale Dutung's Chef Claude Tayag is a master at, it's lechon. This is far from your usual taco, first, because the roast pork automatically converts the Mexican fare into something distinctly Asian. Lightly toasted flatbread is topped with lechon floss, tomatoes, onions, homemade kimchi, and fresh cilantro. It's then doused with an original oriental sauce that has lemony undertones from the Thai basil and pairs well with the subtle saltiness of the lechon.
ADVERTISEMENT - CONTINUE READING BELOW
Bale Dutung is at Paul Avenue, Pampanga City. It also has stalls in select weekend markets.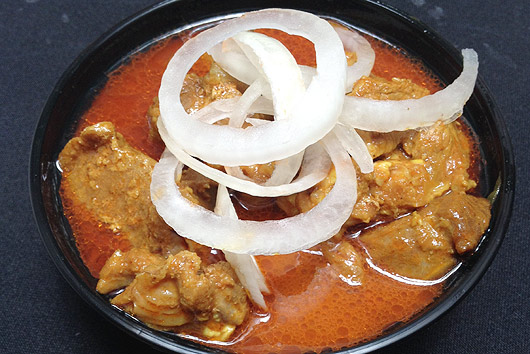 Maharajas Kababs' Mutton Masala
It was hard to resist the amorous advances of the roasted lamb displayed on the table and try something more exciting like the Mutton Masala. Tender pieces of fatty meat swim in a soupy vat of spices. The mutton is just as delicious as the sauce, which makes it hard not to enjoy with steamed rice.
Maharajas Kababs offers authentic Indian gourmet cuisine. For inquiries and orders, contact them at 0917-817-6217 or 217-4576.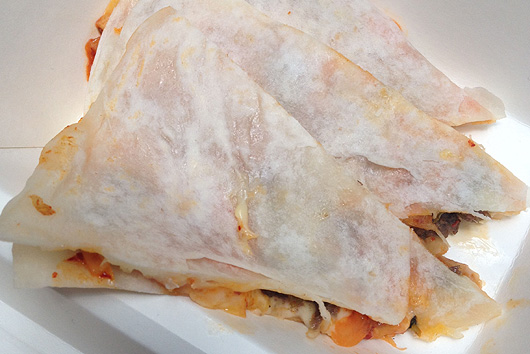 ADVERTISEMENT - CONTINUE READING BELOW
Bi Won's Kimchi Beef Bulgogi Quesadilla (P185)
Perhaps inspired by Roy Choi's food truck, this dish deliciously fuses the flavors of Mexico and Korea. Four kinds of cheeses-two types of cheddar and two types of mozzarella-bulgogi beef, and homemade kimchi are sandwiched in between flour tortillas, then lightly toasted until the cheeses gloriously ooze out. It seems like a light snack, but it is actually filling.
Bi Won Korean Restaurant is at Aguirre Avenue, Paranaque City.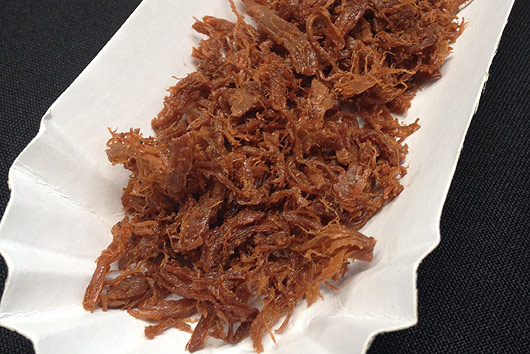 Insalan sa Dalan's Chicken Adobo Flakes (P95)
It's the stuff lazy mornings are made of: chicken adobo shredded then crisp-fried until it's copper. It's tempting to snack on, but you'll want it with fried rice and a sunny side-up egg. They also have Chorizo Pudpud, which comes in close contention to the appeal of the adobo flakes.
Insalan sa Dalan offers authentic Ilonggo cuisine. For inquiries and orders, contact them at 687-1295.
ADVERTISEMENT - CONTINUE READING BELOW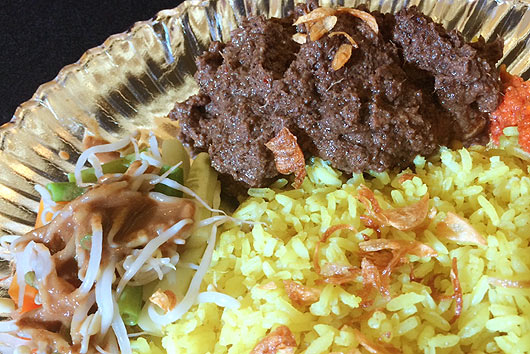 Rita's Kitchen's Beef Rendang with Saffron Rice and Gado-Gado (P250)
It was one of two stalls teeming with so much food on the table that choosing just one (or two) became too difficult. In the end though, this Indonesian classic, which you could tell had been given much care and time to produce, won people's hearts. The strong aroma and deep taste of the dish are patiently coaxed out. The golden saffron rice piles on another layer of wonderful flavor to the already spicy dish.
Rita's Kitchen offers authentic Indonesian gourmet cuisine. For inquiries and orders, contact them at 0917-534-3540 or ritabiniblue@yahoo.com.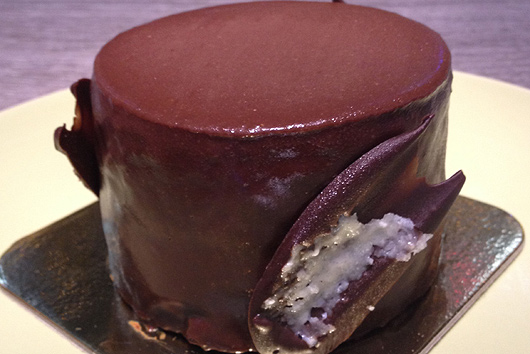 ADVERTISEMENT - CONTINUE READING BELOW
Pink Wasabi's Reggiano Chocolate Cake (P230/three-inch)
The inspired combination of salt and chocolate is showcased in this classically elegant dessert. Encased in a glossy ganache and separated by a thin layer of the same glaze are two layers of soft dark chocolate cake with a richness that has been elevated with the addition of subtly salty Parmesan cheese.
Pink Wasabi offers decadent cakes and pastries and signature kashi makis. For inquiries and orders, contact them at 0947-865-8634 or mypinkwasabi@gmail.com.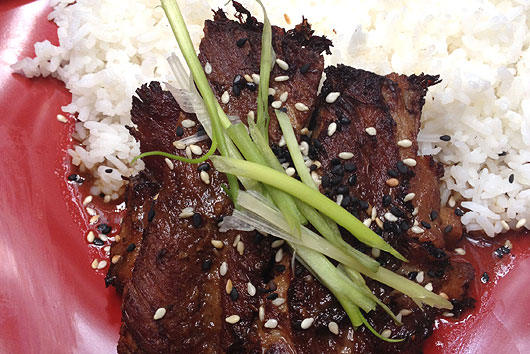 P.H.A.T. Pho's Tender Pork Ribs (P190)
Among the food fair's stellar standouts was this fall-off-the-bone tender pork ribs coated by a sweet and spicy chili caramel sauce. Light prodding with a fork and the meat slips off with no effort. Better yet, use your hands and gnaw every bit of the flavorsome pork then complement it with a spoonful of rice...but not before dousing it in the stew-like sauce.
P.H.A.T. Pho is at Serendra, Bonifacio Global City.
ADVERTISEMENT - CONTINUE READING BELOW
Share this story with your friends!
---
Help us make Spot.ph better!
Take the short survey
Load More Stories