New on the Menu: Rizal at The Goose Station
Rob Pengson reads us Rizal's story in a creative and delicious way.
The Goose Station
W Tower, 1117 39th Street, Bonifacio Global City
Contact: 556-9068, 0917-854-6673
Open from 6 p.m. to 9:30 p.m. (Monday to Saturday)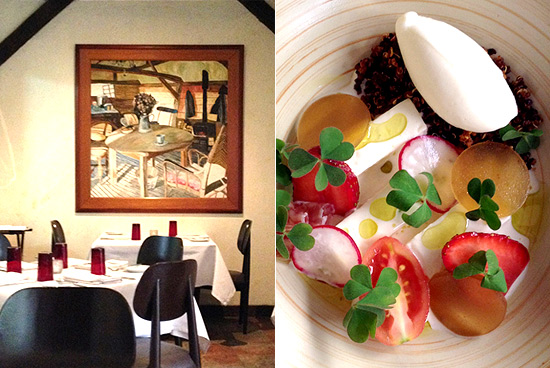 (SPOT.ph) For years, Chef Rob Pengson wanted his cooking to mean more than just putting something on the table and satisfying physiological necessity. "I wanted it to have more purpose," he says, "The delightful feeling it gave me was very fleeting. I felt empty again all of a sudden."
ADVERTISEMENT - CONTINUE READING BELOW
He needed time to think and regroup. That moment presented itself when his wife, Chef Sunshine Pengson, was in labor for 14 hours with their first son, Santiago. "I thought about what was happening in the rest of the world. All the people I respected. Thomas Keller, Charlie Trotter, Ferran Adria, they pretty much made their own cuisine based on their heritage," he recalls. When The Goose Station opened, it focused on doing French continental; Chef Rob was cooking someone else's food.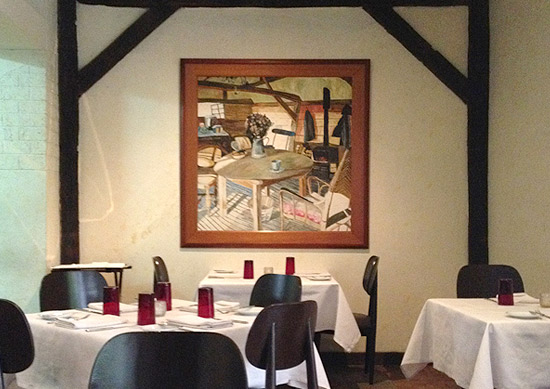 ADVERTISEMENT - CONTINUE READING BELOW
He then felt motivated to play with homegrown flavors. He emulated the work of Adria and employed the concept of Noma, but it didn't work. "I felt so disheartened. Then I thought, what if it's not just about entertaining and nourishment anymore? What if it was culturally significant and involved so much more than just food?" He went back to the drawing board to find a formula that put together local ingredients, techniques, emotion, culture, and heritage. The sum total was the Rizal Menu.
Chef Rob actually started this particular degustation menu more than two years ago, but he let it go after a few months to focus on a string of other restaurants. It was his pet project and he didn't want to put it in the hands of other chefs just yet. Three weeks ago, he revived it with an almost entirely new repertoire, retaining only two dishes.
ADVERTISEMENT - CONTINUE READING BELOW
Chef Rob brushed up on history, read books; he also chatted with the late great Nora Daza and brainstormed with Ginny Gonzalez of Gustare for ideas. "The moment I started researching on culture and heritage, emotions came, and those became the root of my dishes," he says. "Quotes from Rizal and the culture during Manila's golden age brought a chain of emotions that prompted me to [come up with these] dishes." Chef Rob felt a renewed love for the country, and so he culled his ingredients and beautifully narrated pieces of history on eight inspired plates.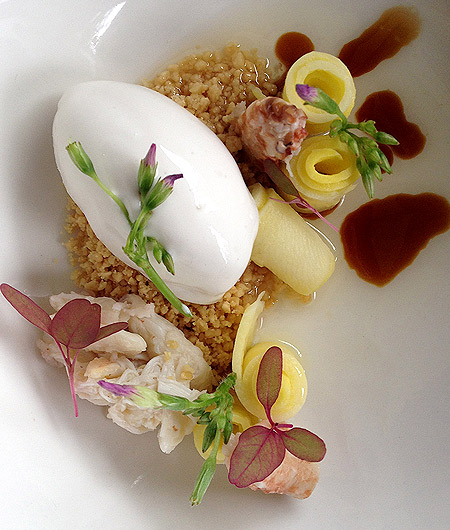 ADVERTISEMENT - CONTINUE READING BELOW
Crab Mango Coconut
His starter, the Crab Mango Coconut is as light as it looks. Rob starts on a clean slate. Fermented mango strips are rolled and made to stand amid a landscape of crumbled cashew nuts, organic carb meat, coconut sorbet, woody notes from the sorrel, and a shallow pool of coconut oil tainted with a mixture of coconut sap and fish sauce. Different notes with varying sweetness, saltiness, and sourness come together to tease you.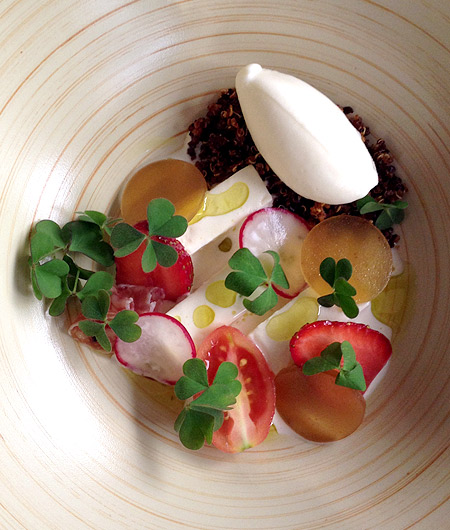 ADVERTISEMENT - CONTINUE READING BELOW
Quesong Puti Salad
The Quesong Puti Salad depicts the arrival of the Spanish. A soft harmony of Laguna carabao's milk cheese, yogurt, and macerated Baguio strawberries are interrupted by bold discs of jamon Serrano gel and puffed quinoa spiced with black pepper, agitating a supposedly pleasant marriage of local ingredients with a sudden dominance.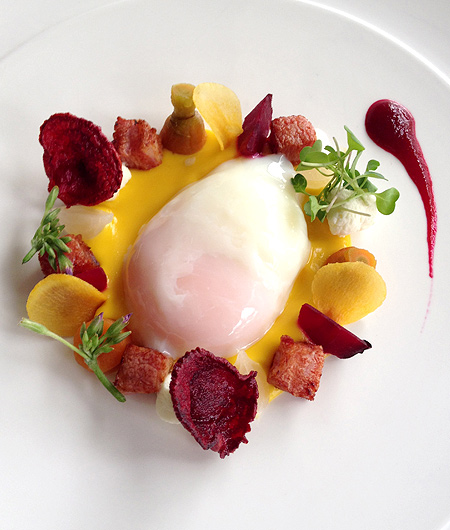 ADVERTISEMENT - CONTINUE READING BELOW
Organic Farm Egg
The third course is as colorful and exquisite as the dish that came before it. It illustrates the state of Rizal when he traveled to Singapore-delicate and hopeful. An organic farm egg sits in a puddle of smoked sweet potato hollandaise, and surrounded by a range of textures such as baby atchara pickles, cubes of goat cheese from Davao, crisp root chips, micro greens, and cured pork belly. A swipe of pickled beet puree completes the picture. If you think about it, it's just egg, yet it delivers and satisfies as much as the heartier fare in the degustation.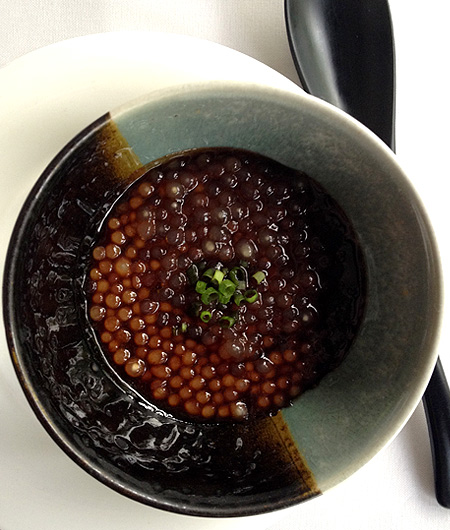 ADVERTISEMENT - CONTINUE READING BELOW
Foie Gras Taho
Things start to get heavy halfway as guests enter the darker days of our national hero. The Foie Gras Taho portrays Rizal being called Japanese, American, anything but Filipino while in Spain. Rob takes this feeling of inadequacy and interprets it with this popular street food. Rich and smooth foie gras mousse becomes the base for this unique taho, then topped with tapioca, chopped chives, and Pedro Ximenez sherry. The flavors delightfully match and are appropriately subtle, easing you into the meatier and powerful courses of Australian beef, suckling pig, and Wagyu striploin.
The Goose Station's Rizal menu is a course through history translated into ingenious cuisine. It's food that does more than feed. It nourishes in so many aspects. Chef Rob Pengson seems to have gotten the formula right this time around.
The Rizal Menu is priced at P3,500.
CONTINUE READING BELOW
Recommended Videos
Share this story with your friends!
---
Help us make Spot.ph better!
Take the short survey
Load More Stories