Kitchen 56 by Earth Kitchen
56 Jupiter Street, Bel-Air, Makati City
Contact: 856-4144, 856-4162 local 101
Open daily from 10 a.m. to 10 p.m.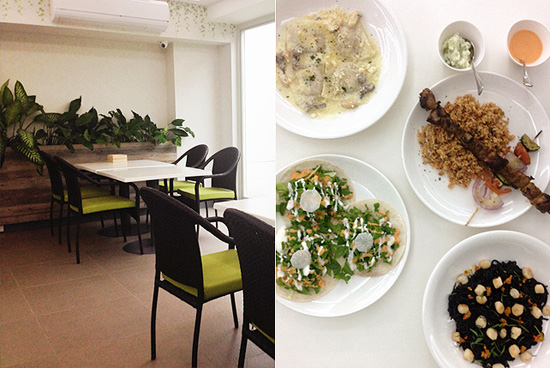 (SPOT.ph) It's the Earth Kitchen of the South. Kitchen 56, run by Chefs JR Trani and David Hizon, the same culinary team behind the original concept, doesn't stray much from the tradition of local, organic, and sustainable ingredients sourced from Got Heart Foundation's partner farming communities. In fact, the restaurant offers many of the dishes that has made Earth Kitchen a Quezon City destination.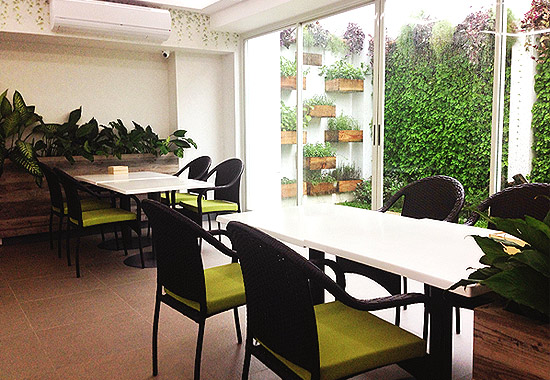 ADVERTISEMENT - CONTINUE READING BELOW
Kitchen 56's interiors are stark white, giving it a cafeteria-like sterility which contrasts against the herbs that hang in the vertical garden at the back of the space. The interiors are still undergoing transformation, and is set to change once the restaurant moves from soft opening to regular operations.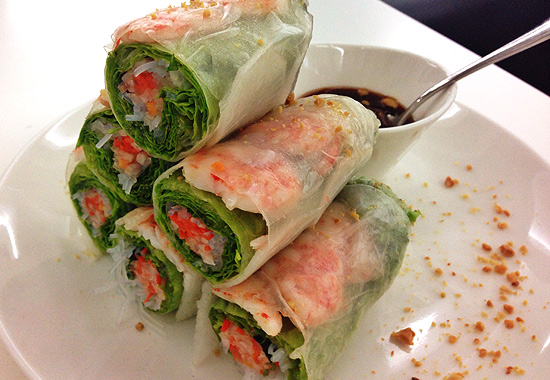 The Shrimp Spring Roll (P325), served with lime hoisin sauce, is Kitchen 56's version of a spring roll and a salad. "It has more greens than a bowl of salad," Chef David says. "It has a lot of greens but you don't notice." The rolls are indeed packed with vegetables, with radish adding crunch to the lettuce and carrots, that make the dish more filling than it looks.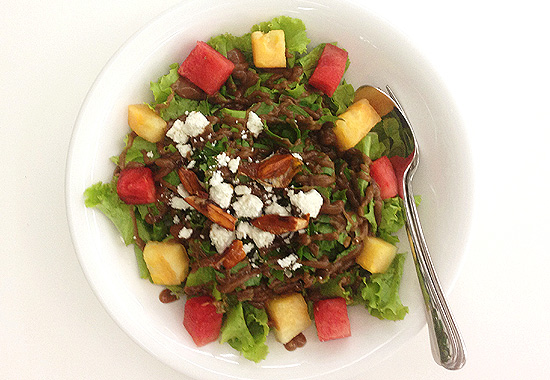 ADVERTISEMENT - CONTINUE READING BELOW
Recommended Videos
The Watermelon and Rocket Salad (P290), one of the vegetarian dishes on the menu, is a take on a bestselling salad from Chef David's family catering business. It's a bit heavy for a salad, but refreshing nonetheless.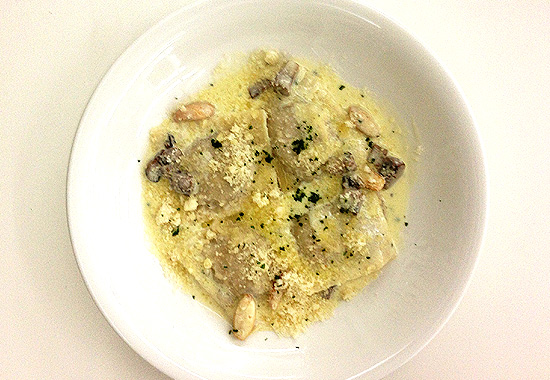 The Mushroom Ravioli (P800), another vegetarian dish, was inspired by Chef David's mom's mushroom soup. The pasta contains shiitake, button, and milky mushrooms and kesong puti, topped with a light cream sauce and pili nuts. It's rich and filling, with the nuts adding texture to the umami-filled pasta. This is the kind of dish that tastes good whether it's fresh from the kitchen or stored to enjoy the next day.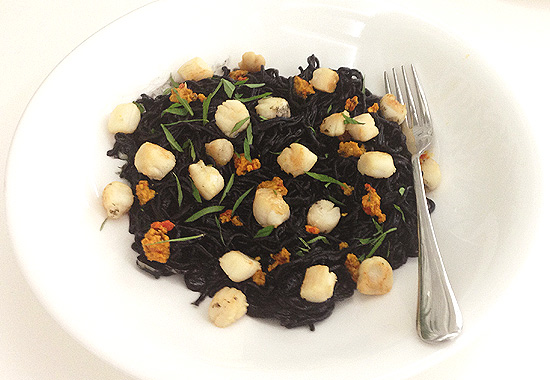 ADVERTISEMENT - CONTINUE READING BELOW
One of Chef David's favorite dishes is the Scallops and Aligue (P460) in squid-ink pasta flavored with anise liqueur. "I like squid ink pasta and we decided that it would go well with scallops. This was Chef JR's idea," Chef David says. The pasta is rich and sweetish, in the way that squid ink can be. The scallops are tiny but pack a lot of flavor. The aligue is on the light side, which is perfectly understandable because a little more could be too much of a good thing.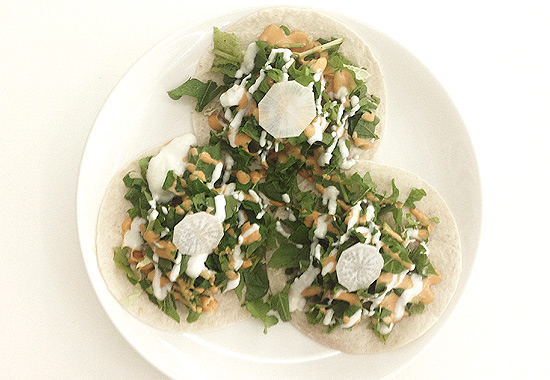 The Beef Bulgogi Soft Tacos (P280), composed of boneless beef ribs, kimchi rice, salad greens, and seaweed, is inspired by LA Chef Roy Choi's Korean-Mexican fare. Each order contains three pieces-three precious pieces that you will refuse to share with your friends.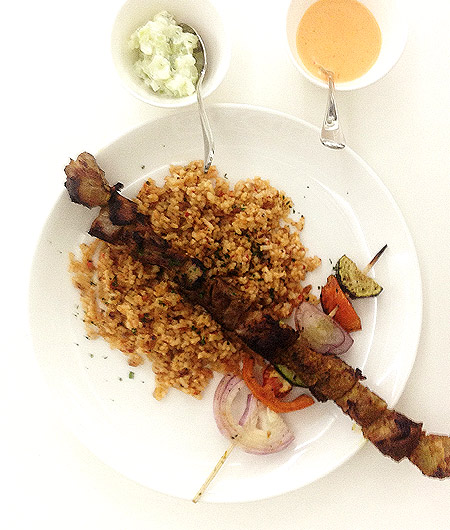 ADVERTISEMENT - CONTINUE READING BELOW
Chef David is proud of the Beef Kebab (P395), which uses sous vide rib fingers (a deeply marbled cut usually reserved for stewing) to produce a kebab that is tender and flavorful. Served with tzatziki (Greek yogurt sauce), mixed greens, grilled vegetables, and a choice of either organic Ifugao rice or three flour tortillas, the dish is both exotic and comforting.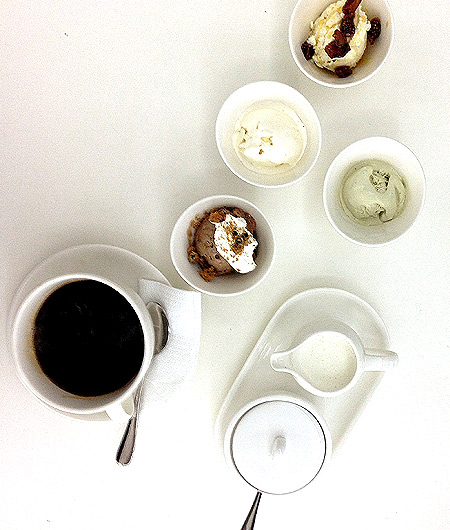 Roster of desserts
Kitchen 56 makes most of its ingredients, like pasta, in-house, and ice cream is no exception. They have different flavors available by scoop (P110). Two must-tries are matcha (green tea) and pastillas flavors. The matcha is subtly flavored, with a slightly grainy texture that comes from green tea powder. A personal favorite is the pastillas flavor, which any milk lover will enjoy. The ice cream tastes exactly like the delicacy it is named after, with a deep, milky flavor and a creamy base.
Diners interested in more elaborate concoctions can try the Goat's Cheese Frozen Cheesecake (P270) or the Tablea (P200). The former is goat's cheese ice cream with honey, dried figs, and cashew nuts-a decadent dessert. The latter is homemade tablea ice cream topped with whipped cream and chocolate chip cookie crumble, an oldie but goodie.
ADVERTISEMENT - CONTINUE READING BELOW
Earth Kitchen fans from the south need not traverse northward to get their fix, not with Kitchen 56's intercontinental organic goodness just a stone's throw away.
Share this story with your friends!
---
Help us make Spot.ph better!
Take the short survey
Load More Stories