(SPOT.ph) In the 10 minutes it will take you to read this article, we want you to forget about your heart. Forget your arteries. Forget about free-flowing unless it's margaritas on a hot summer night. Forget about your health for a minute-or 10.
There's been recent buzz in social media over the deep-fried tequilas in the United States (God bless America!), which are really just cake slices soaked in alcohol and thrown into searing-hot oil. On this side of the world, a wings joint has been frying Coca-Cola-infused batter and serving it in a sundae for ages. Deep-frying already sinful food is an art in the culinary world: one that teeters between genius and gimmick. No matter what the stakes are on your wellness though, admit that you're intrigued. There's just something fascinating about delectable things meeting oil in a very hot pan.
There are old hacks like tempura, katsu, mozzarella sticks, French fries, and onion rings, but we've listed 10 of the most wonderful things that dove into a bubbling pool of gold since Xerxes decided he wanted to be God-King.
ADVERTISEMENT - CONTINUE READING BELOW
Be still, your hearts.
This list is not ranked.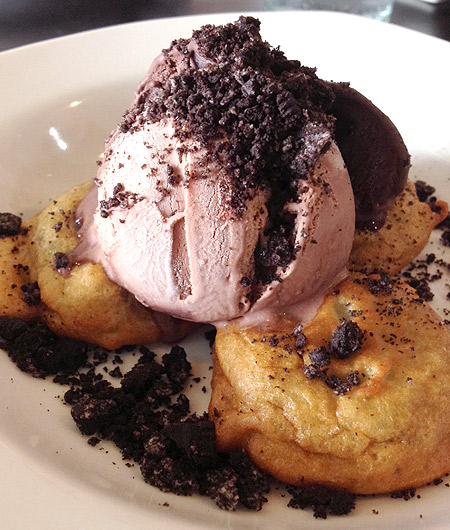 1. Deep-fried Oreos (P95) from Chubby Chicken
This hole-in-the-wall is a sampling of a county fair. Chubby Chicken actually coats Twinkies in batter, fries them (it's a cake within a cake, get it?), and serves them with ice cream, but the Chubby Twinkies (P115) are available only when the kitchen gets a supply of these spongy Hostess treats. A more reliable dessert is the plate of deep-fried Oreos. Wrapping Oreos in flour and taking them for a dip in oil isn't a novel idea, but Chubby Chicken uses the same batter as in a beignet. The resulting gold coat is lighter, crisper, and less receptive to oil. Served with chocolate ice cream, it's just wonderful.
ADVERTISEMENT - CONTINUE READING BELOW
Recommended Videos
Chubby Chicken is at Xavierville Residences, Esteban Abada corner Alvero Street, Quezon City.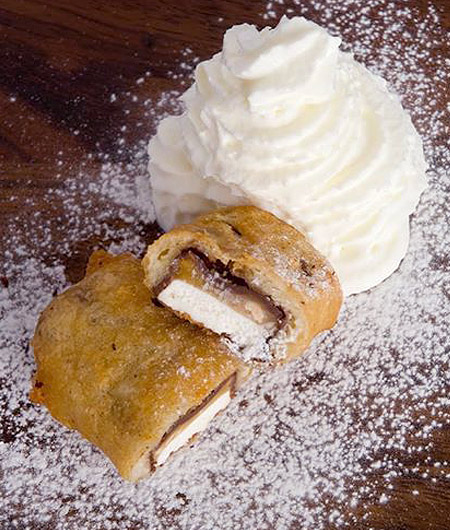 2. Deep-fried Fudge Bar (P60) from Chuck's Grub Fish & Chips
Chuck's Grub is already known for their excellent handle on fried fish. Their special beer batter served as a jumping off point to many possibilities: cobbler, dory, halibut, snapper...and fudge bars? You read that right. Chewy Cloud 9 bars are dunked in that delicious beer-spiked concoction and fried crispy on the outside, fudgy on the inside.
ADVERTISEMENT - CONTINUE READING BELOW
Chuck's Grub Fish & Chips has branches at 2/F Food Choices, TriNoma Mall, Quezon City; and Power Plant Mall, Makati City.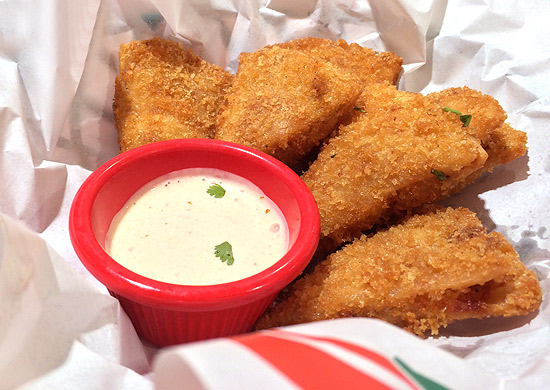 3. Deep-fried Quesadillas (P375) from Chili's
We paraphrase the words of Carrie Bradshaw: chicken and cheese quesadillas? Tired! Chicken and cheese quesadillas enveloped in crispy brown flakes? Fresh! This isn't to say that we'll stop ordering the traditional ones, but the crunch around these little triangle-filled chips are a welcome innovation. These bread crumb-crusted filled tortillas are only seasonal, but their continued success keeps prompting Chili's to extend their availability. Just keep it on the menu permanently already!
ADVERTISEMENT - CONTINUE READING BELOW
Click here for a list of Chili's branches.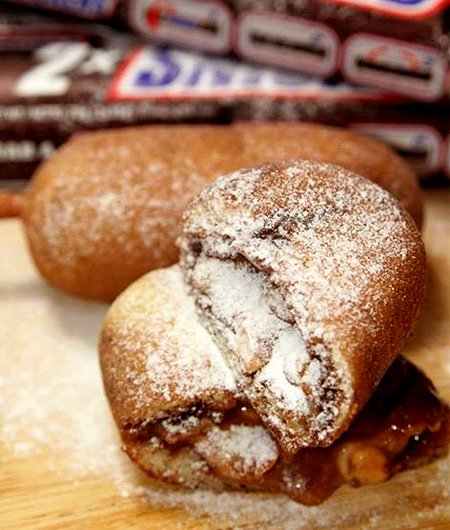 4. Deep-fried Snickers (P65) from The Cheese Steak Shop
It's amazing what cake batter can do to a candy bar. We've never had a problem with our roll of chocolate, nougat, caramel, and nuts, but that's not enough for other people-and this discontentment has a perfectly good piece of candy outfitting itself in cake's clothing. It's wearing makeup made of confectioner's sugar that takes this sugar high to overdrive.
ADVERTISEMENT - CONTINUE READING BELOW
The Cheese Steak Shop is at Philsteel Building, 140 Amorsolo Street, Legazpi Village, Makati City.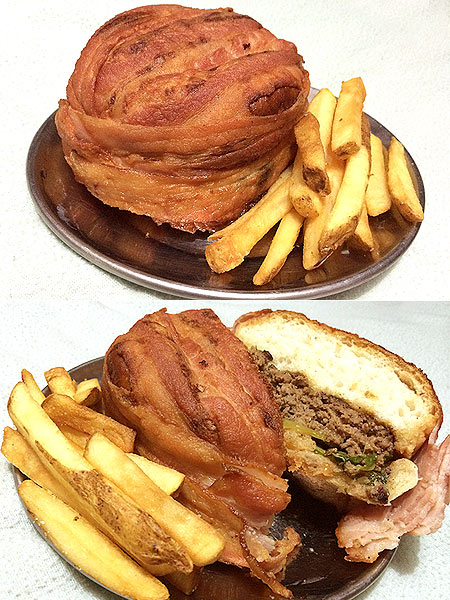 5. Deep-fried Bacon Burger (P240) from Zark's
The menu dares you to order this burger. The description simply says: "Eat at your own risk," so of course, we had to rise up to the challenge. What arrives at your table is a sight more jaw-dropping than the joint's signature Jawbreaker. For Zark's, the best way to present a customer with a burger is to wrap it tightly in lean (gee, thanks!) bacon. Break open the bandage of bacon strips! There's a burger trying to get out! Underneath that meaty cage is a relatively normal-looking burger with a juicy and flavorful beef patty and a layer of vegetables weakly trying to counter the effects of this deep-fried...monument.
ADVERTISEMENT - CONTINUE READING BELOW
By the way, Zark's also has Deep-fried Snickers and Deep-fried Mars bars for P125 each.
Zark's Burgers has branches at Katipunan Avenue, Quezon City; Venice Piazza, Taguig City; Eastwood Mall, Quezon City; BF Homes, Parañaque City; and Taft Avenue, Manila.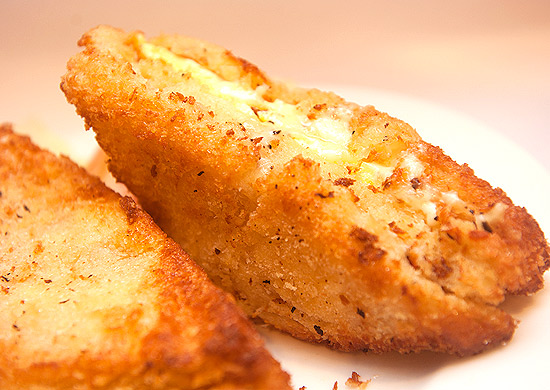 6. The Cliffhanger (P299) from UCC
ADVERTISEMENT - CONTINUE READING BELOW
This is, in essence, a clubhouse sandwich: ham, eggs, cheese, sliced buttered bread uprated with the help of a deep fryer. The triple-decker sandwich is dipped in beaten eggs, crumbed, then dunked into fresh, piping-hot oil. UCC uses panko, a type of Japanese bread crumb ideal for katsu and tempura, that doesn't absorb too much oil. The flaky topcoat is crisp but breaks apart as you bite into it to expose that fluffy bread and delicious filling.
Click here for a list of UCC branches.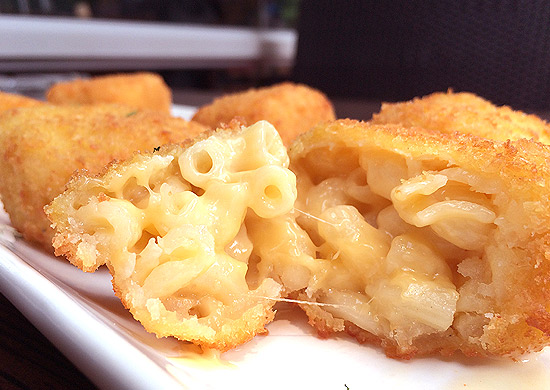 ADVERTISEMENT - CONTINUE READING BELOW
7. Fried Mac 'n' Cheese (P295) from T.G.I. Friday's
Take little balls of this cheesy comfort, roll them over some fresh bread crumbs, drop them into hot oil, and somehow, macaroni and cheese is interesting again. Mac 'n' cheese is always a reliable meal, but the mushy texture makes it a challenge to finish. The gorgeous brown coat that it's wrapped in gives a necessary crunch that sustains our palate's interest. It's a pretty smart move, if you ask us.
Click here for a list of T.G.I. Friday's branches.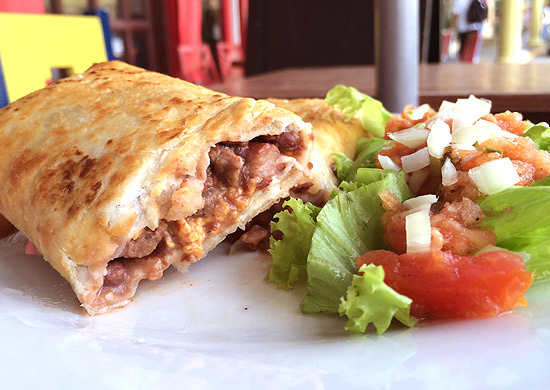 ADVERTISEMENT - CONTINUE READING BELOW
8. Chimichangas (P175 to P308) from Mexicali
You're allowed to choose how you like your burrito, but stick to Mexicali's Mexican and Southwestern US roots. Frying this tortilla wrap is tradition in California, and it adds a nice, toasty crunch to what's already a packed burrito. It actually makes it tighter and more managable to eat. Only the Pollo Asado and Carne Asado burritos can be deep-fried.
Click here for a list of Mexicali branches.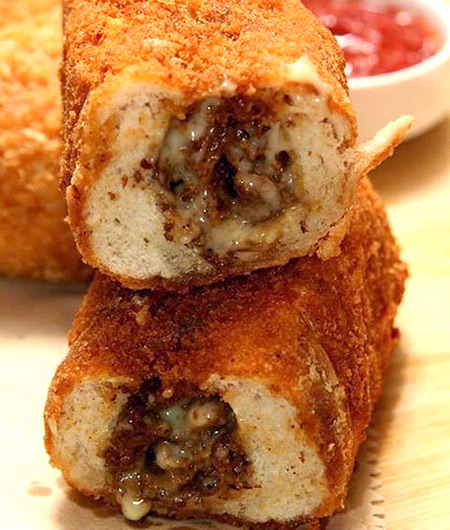 ADVERTISEMENT - CONTINUE READING BELOW
9. Deep-fried Cheesesteak (P320/seven inches; P520/10 inches; P850/15 inches) from The Cheese Steak Shop
The most dangerous part about this sandwich is how good it is-so good that you're likely to ignore what it went through to taste this wonderful. Their original cheesesteak is lathered in batter, swathed in bread crumbs, then submerged in incredibly hot oil for a few seconds until it gets that mouthwatering tan. If you like the traditional combination of gooey cheese, onions, and grilled steak, then you'll love this more extravagant version.
The Cheese Steak Shop is at Philsteel Building, 140 Amorsolo Street, Legazpi Village, Makati City.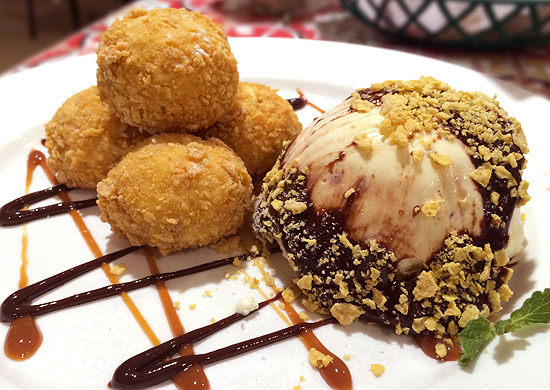 ADVERTISEMENT - CONTINUE READING BELOW
10. Fried Cheesecake (P360) from Chili's
When this ball of cheesecake rolled over crushed cornflakes and dove into a piping hot pool of oil, it didn't know that it would become the amalgamation of everything good in life. That there are four on the plate served with ice cream and chocolate syrup is a reminder that when things get rough, we will always find happiness with this simple dessert. The cheesecake is California-style, silky cream cheese with a dab of sour cream-rich but light, and delightfully creamy. It's traditionally sitting in a cookie crumb crust, but the cornflakes do a wonderful job of keeping the sweetness balanced.
Click here for a list of Chili's branches.
Photos by Jason Mariposa (UCC), Sasha Lim Uy (Zark's, Chili's, Chubby Chicken, Mexicali); and from the official Facebook pages of The Cheese Steak Shop and Chuck's Grub.
Share this story with your friends!
---
Help us make Spot.ph better!
Take the short survey
Load More Stories