Christmas Food Flavors and Special Treats to Put You in a Holiday Mood
Get a taste of Christmas from these limited-edition goodies from fastfood favorites, coffee places, restaurants, and more!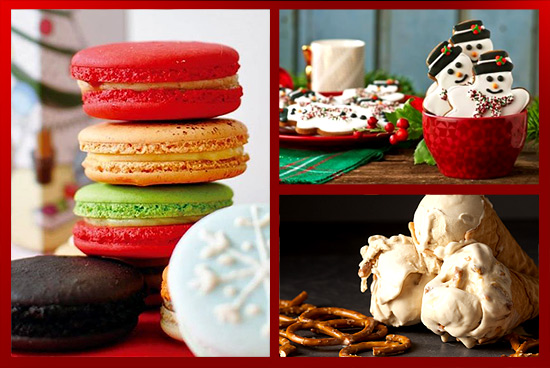 (SPOT.ph) Hazelnut, gingerbread, peppermint, butterbeer, cinnamon-these are only some of the flavors of Christmas. Who decides what goes into this roster, we're not entirely sure, but your taste buds know that when they're enjoying that first sweet and peppery sip, Christmas is just around the corner. So, whether you're aiming for a coveted planner or you're just looking for a special something this merry season, here are some of the establishments that are helping your palate enjoy the joys of Christmas.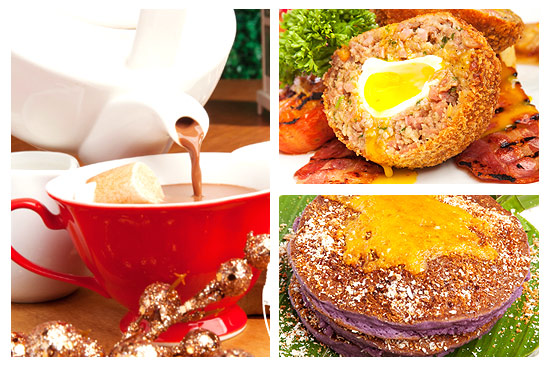 Early Bird Breakfast Club's Holiday Specials
Always at the forefront of innovation is Early Bird Breakfast Club who turns every Christmas into a gustatory mission of galactic proportions. Early Bird has an entire Christmas spread planned out: The kitchen has prepared cranberry-infused Piglets (P395), Holiday Ginger Tea (P165), Chocolate Hazelnut Purses (P285), Christmas Ham Mac and Cheese (P495), Puto Bumbong Pancakes (P325), exceptionally colorful Sapin-sapin (P285), Bacon and Pineapple Scotch eggs (P315), S'mores in a Jar (P275), and, of course, Belgian Hot Chocolate (P185).
ADVERTISEMENT - CONTINUE READING BELOW
Early Bird Breakfast Club has branches at the Fort Strip, Bonifacio Global City; G/F Century City Mall, Kalayaan Avenue corner Salamanca Street, Makati City; and Eastwood Mall, Libis, Quezon City.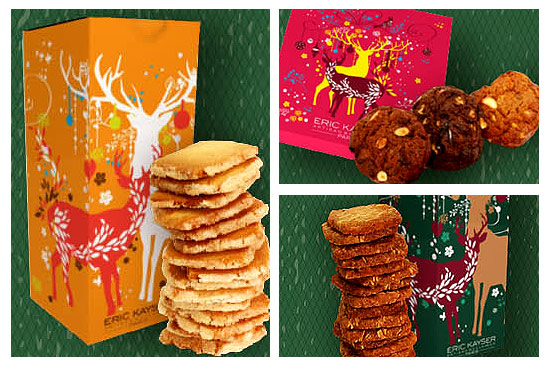 CONTINUE READING BELOW
Recommended Videos
Eric Kayser's Cookie Giftboxes
'Tis the season of giving. Share Eric Kayser's amazing baked goods in these holiday-themed gift boxes, ranging from P180 to P600. Bring it to a party or send off a sweet message to your relatives and friends. Remember, the more the merrier: Ordering 30 boxes or more gets you a 15 percent discount.
Eric Kayser has branches at G/F New Promenade, Greenhills, San Juan; Power Plant Mall, Makati City; and Rustan's, Makati City.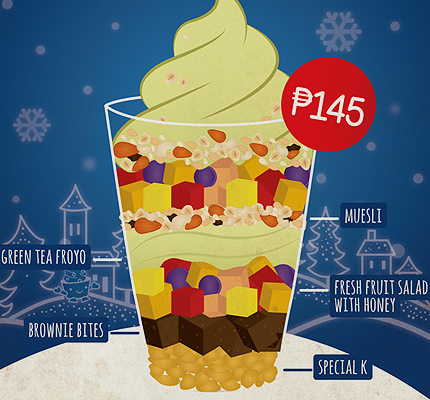 ADVERTISEMENT - CONTINUE READING BELOW
Red Mango's Limited Edition Holiday Parfait
If you ask us, it actually looks a bit like a Christmas tree. Red Mango's P145 limited edition cool treat is a merry spectacle of green-tea froyo ornamented with muesli, fresh fruits and honey, brownie bites, and Special K.
Click here for a list of Red Mango branches.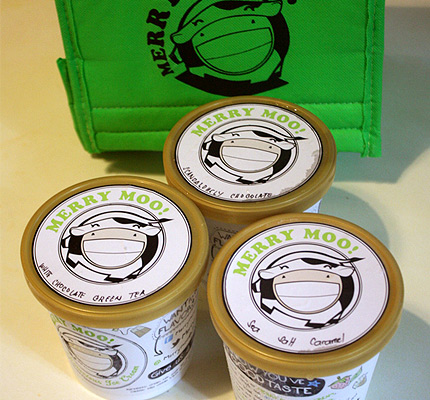 Merry Moo's Holiday Flavors
For his cast of ice cream flavors, Kelvin Ngo has come up with festive new characters based on classics that will no doubt stay long after Christmas is over. There's the Scandalously Chocolate and White Choco Green Tea-both P420/pint. The former is the result of their partnership with Malagos Chocolate Farms in Davao while the latter is their take on the extremely popular Kit-Kat flavor. If you're not one for trendy things, Merry Moo's bestselling Sea Salt Caramel (P310) is still your best bet.
Merry Moo has branches at SM Aura, Bonifacio Global City; SM Mall of Asia, Pasay City; and SM Megamall, Mandaluyong City. It's also available in weekend markets (Mercato, Salcedo, and Legazpi).
ADVERTISEMENT - CONTINUE READING BELOW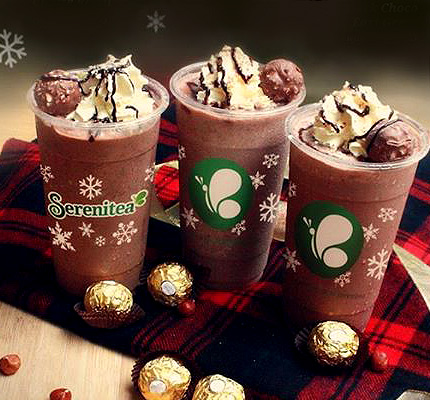 Serenitea's Golden Holiday Collection
What could be more festive than these golden chocolate baubles? We'd hang pieces of Ferrero Rocher on our tree if we could, but Serenitea chooses to mix in these chocolate-hazelnut treats with their signature milk teas. The result? Make that three-heavenly concotions of Chaffe Royal, Banana Choco, and Dark Choco Earl Grey- P180 each and all topped with whipped cream and, of course, a nutty chocolate ornament.
Click here for a list of Serenitea branches.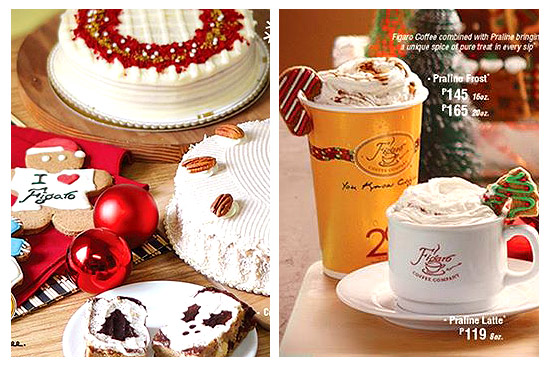 ADVERTISEMENT - CONTINUE READING BELOW
Figaro Coffee Company's Yuletide Sweets and Drinks
Figaro's kitchen had a fun time coming up with Yuletide-inspired treats this year: Not only do they have a vast array of sugar cookies (P85) in the shape of Christmas characters, they also have Red Velvet Cakes (P119/slice), Cranberry White Dream Bars (P70), Hummingbird Cake (P115), and even Prune Cake (P70). Wash everything down with Speculoos- and Praline-infused drinks for P119 to P165.
Click here for a list of Figaro branches.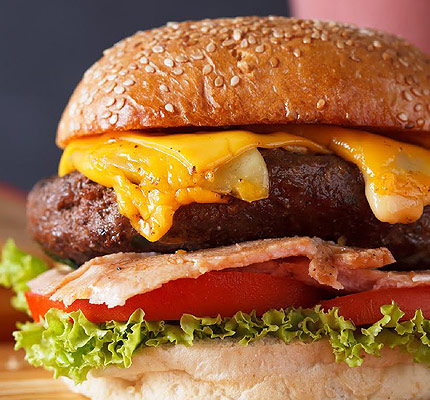 8 Cuts' Three Kings
Three kinds of cheese represent the three kings according to this burger sensation: Gouda, yellow cheddar, and queso de bola. What's more, 8 Cuts is stuffing as much as they can of the holiday spirit in between bread with an extra blessing: smoked Christmas ham complemented by a slap of honey mustard and fresh tomatoes. Prices range from P340 to P390.
Click here for a list of 8 Cuts branches. Three Kings is also available at Burger Bar, 2/F Greenbelt 2, Makati City.
ADVERTISEMENT - CONTINUE READING BELOW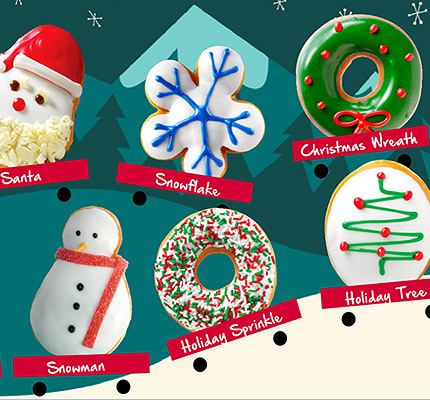 Krispy Kreme Holiday Donuts
Wouldn't you want to open a box and see the spirit of Christmas inside? There's one full of green and red sprinkles, there's one with Santa's face, there's one that's like a wreath, there's another with snowflake patterns and a Christmas tree, there's even a snowman. A box of six is P270; a dozen is P395.
Click here for a list of Krispy Kreme branches.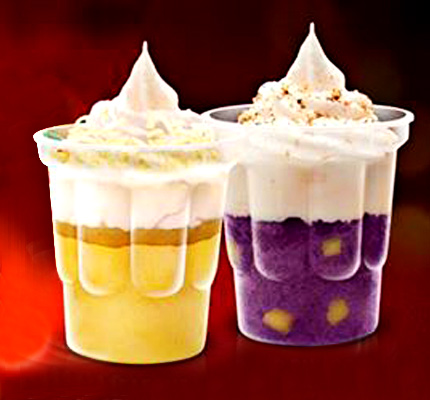 ADVERTISEMENT - CONTINUE READING BELOW
Manang's Christmas Cupcake Sundaes
Enjoy the flavors of a traditional Filipino flavors-in a cup! The Puto Bumbong (vanilla ice over puto bumbong cupcakes and sprinkled with muscovado sugar and coconut) is making a comeback, but the Yema de Leche, with gooey custard and grated cheese, is a new addition. The cupcakes are P49.
Click here for a list of Manang's branches.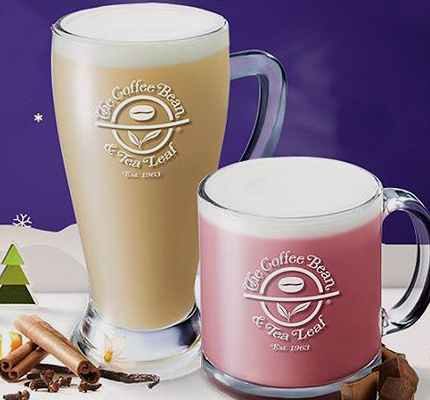 The Coffee Bean and Tea Leaf's Holiday Classics
CBTL is celebrating with a pair of frothy beverages. There's the Winter Dream Latte, with spices, tea, French Deluxe Manila, and steamed milk, as well as the Red Velvet Hot Cocoa, which is a chocolatey red velvet.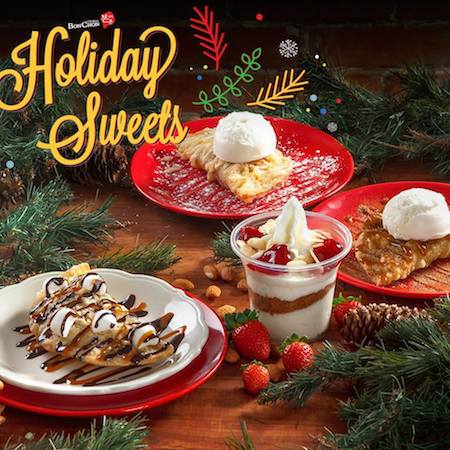 ADVERTISEMENT - CONTINUE READING BELOW
BonChon's Holiday Sweets
After the spicy chicken you just ate, cool down with BonChon's interpretation of Christmas flavors: S'mores Crispy Crepe (P60), Strawberry Almond Tart Ko-Yo (P75), and Crispy Crepe Ko-Yo Ala Mode (P80).
Click here for a list of BonChon branches.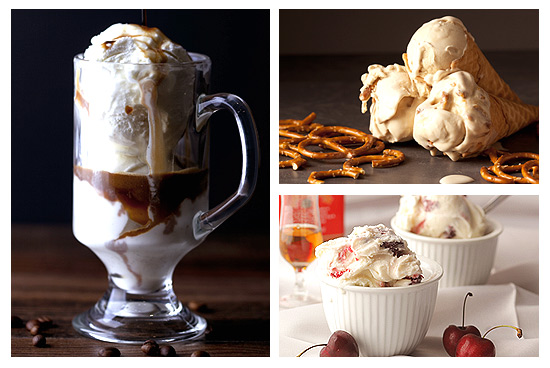 BONO Gelato's Holiday Line
We don't know when J.K. Rowling's butterbeer became a thing of Christmas (didn't the Hogwarts kids drink them all year round?), but we're not complaining. Caramel does taste so much better in December for some reason. This season, the ice cream artisans of BONO Gelato are pushing three holiday flavors: the aforementioned Butterbeer (P150); the limited edition cherry and amaretto-liqueur-spiked Amarena (P180); and the warm and cool Affogato (P200).
BONO Gelato has branches at SM Aura, Bonifacio Global City; SM Mega Fashion Hall, Mandaluyong City; The Podium, Mandaluyong City; and SM Mall of Asia, Pasay City.
ADVERTISEMENT - CONTINUE READING BELOW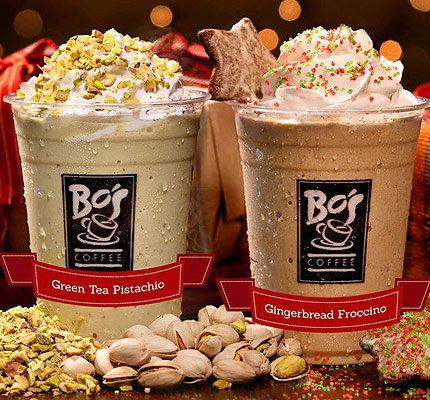 Bo's Homegrown Christmas Drinks
This coffee shop has always been student-friendly, but in the last few months, it decided to take on another mission: by supporting local. For Christmas, Bo's is peddling a four-drink-strong menu consisting of Gingerbread Froccino, Green Tea Pistachio Freeze, Nutty Choco Peppermint Froccino, and Nutty Choco Peppermint Latte.
Click here for a list of Bo's branches.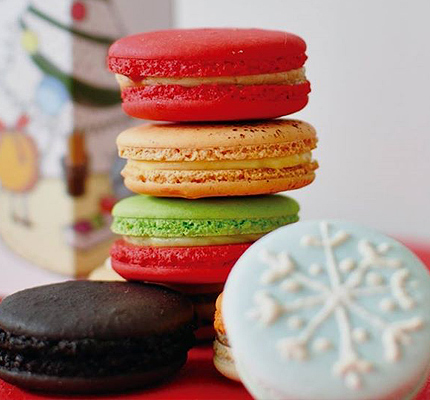 ADVERTISEMENT - CONTINUE READING BELOW
Chez Karine's Christmas Collection
It's definitely a colorful Christmas for Chez Karine. More Yuletide yummies are being added to Chef Karen Yang's macaron line-up including Caramel Apple, Passionfruit, Gingerbread Cream Cheese, Cookies and Cream, Peppermint Snowflake, Coffee and Candied Orange, and Pistachio and Raspberry. A box of seven is P385.
Chez Karine is at Serendra, Bonifacio Global City.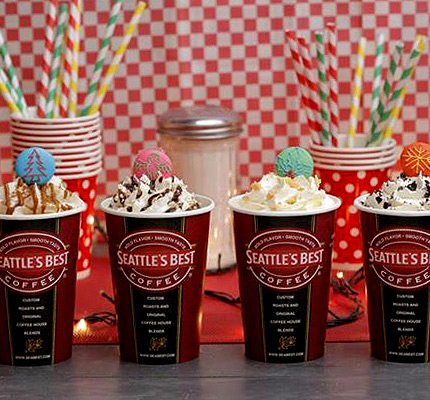 Seattle's Best Coffee's Holiday Favorites
If New Year is a time for resolutions, then Christmas is that opportunity to sink back and cozy up to old favorites: SBC's tried and tested coffee set of Caramel Apple, Salted Almond Truffle, Coffee Hazelnut, and Coffee and Mint.
Click here for a list of SBC branches.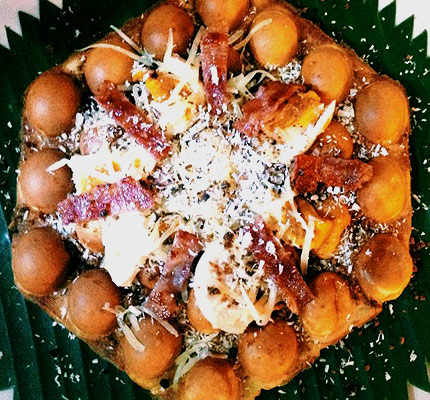 ADVERTISEMENT - CONTINUE READING BELOW
Egg-it's Special Bibingka Waffle
This hole-in-the-wall is showing off local flavors with their new bibingka flavor topped with salted egg, grated cheese, and crispy bacon strips. It's good enough to share-because really, you're supposed to this Christmas-and for only P159.
Egg-it is at 6F San Rafael Street corner Sta. Rosa, West Kapitolyo, Pasig City.
Kenny Rogers' Buttermilk Christmas Feast
If you ever dreamt about a Kenny Rogers' Christmas, it's just come true. The whole holiday deal comes with buttermilk roast chicken, a bowl of rice, four regular sides, four puffins, and a pitcher of soda.
Click here for a list of Kenny Rogers branches.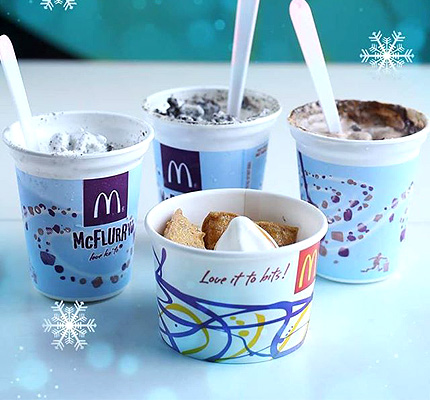 ADVERTISEMENT - CONTINUE READING BELOW
McDonald's Holiday McFlurry
Three new types of ice cream are joining the holiday party: a Mudpie McFlurry with Oreo, a White Chocolate McFlurry with Oreo, and an Apple Pie Ala Mode, with yummy pieces of crust. Prices start at P45.
Click here for a list of McDonald's branches.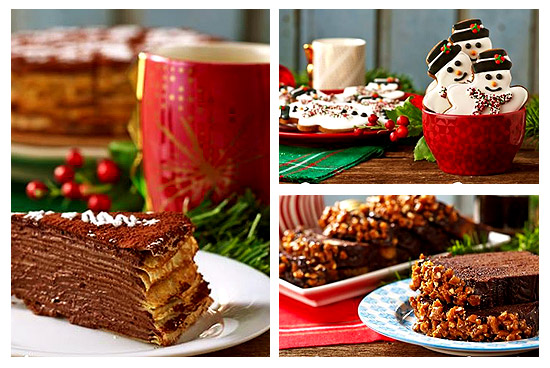 Starbucks
You're probably halfway done with your Starbucks planner cards, enjoying your once-a-year indulgence on the Peppermint Mocha, Toffee Nut Latte (which now has a new espresso caramel whipped cream), and the latest in the lineup, the Christmas Cookie Latte, but don't forget that their seasonal Christmas treats have made a comeback as well. We're already enjoying our Chocolate Crepe Cake, Chocolate Toffee Nut Loaf, Peppermint Brownie, and Gingerbread Cookie.
Click here for a list of Starbucks branches.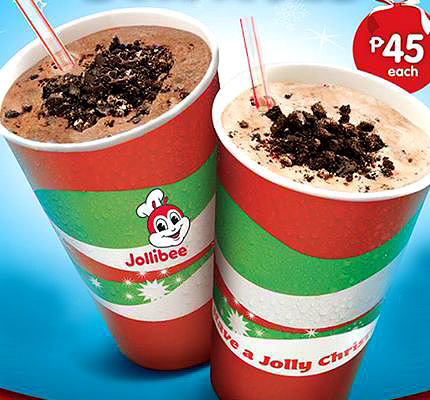 ADVERTISEMENT - CONTINUE READING BELOW
Jollibee's Christmas Creamy Shakes
We may benefit from having a warm Christmas after all. How else can we enjoy all these cold treats? Jollibee is peddling two kinds of shakes for P45 each: Mocha Cookie and Chocolate Cookie.
Click here for a list of Jollibee branches.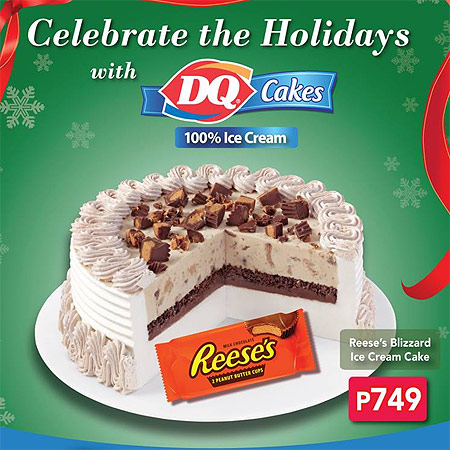 Reese's at Dairy Queen
These chocolate and peanut-butter cups are invading Dairy Queen's freezers, almost like a blizzard. In fact, the Reese's flavor is available in both Blizzard (P59)-in chocolate, vanilla, and strawberry-and Blizzard Ice Cream Cake (P749).
Click here for a list of Dairy Queen branches.
Share this story with your friends!
---
Help us make Spot.ph better!
Take the short survey
Load More Stories