New Restaurant Alert: 22 Jupiter at Jupiter Street, Makati City
Chef Marco Legasto of Prime 101 found a new culinary showcase in this bistro.
22 Jupiter
22 Jupiter Street, Makati City
Contact: 485-1253
Open daily from 11 a.m. to 2 p.m. and 5 p.m. onwards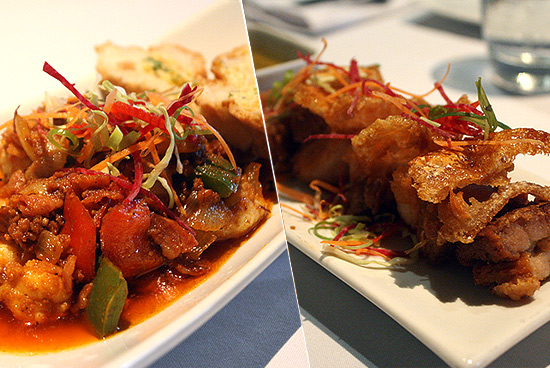 (SPOT.ph) We hesitate to recommend 22 Jupiter as a date place. It's the right amount of intimate: dimmer than usual and with a menu that easily transitions from lunch to dinner, and all the way till after-dinner. But Chef Marco Legasto only offers three pieces of his scallops, and to divide it between two might require complicated negotiation.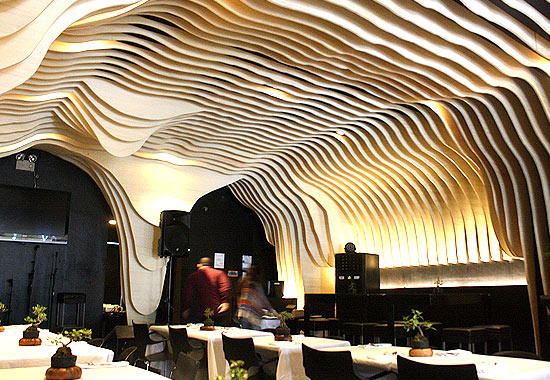 ADVERTISEMENT - CONTINUE READING BELOW
22 Jupiter replaces Cova Tapas Y Sangria.
The solution is simple. Order two. You'll want as much as you can get of the Scallops with Foie Gras and Mushroom (P550): a trio of big, juicy scallops, cooked with just enough color to give flavor while keeping it soft and unresisting, topped with liver-spiked, truffle mushroom blend. Each white medallion, a mouthful of luxury, is where brine and earthiness collide, only to explode in flavor.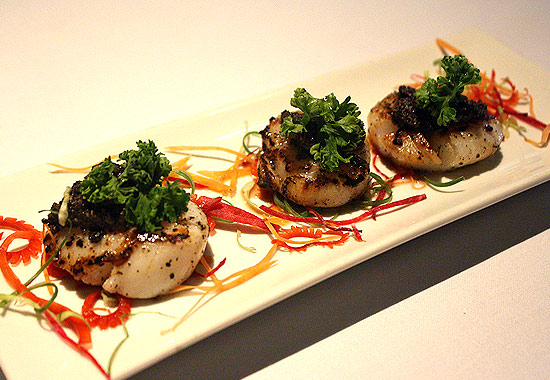 CONTINUE READING BELOW
Recommended Videos
Scallops with Foie Gras and Mushroom
In fact, the only thing that may be stopping you from eating an ocean's worth of his scallops is because Chef Marco, who's created a fine reputation for himself with the now-defunct Purple Feet and steak stalwart Prime 101, has so many other tricks under his apron that are worth trying. The steaks, of course, are reliable options for those who are familiar with his work, but slightly scaled down. "22 Jupiter is a bistro version of Prime 101," says co-owner Vince Tanjutco.
ADVERTISEMENT - CONTINUE READING BELOW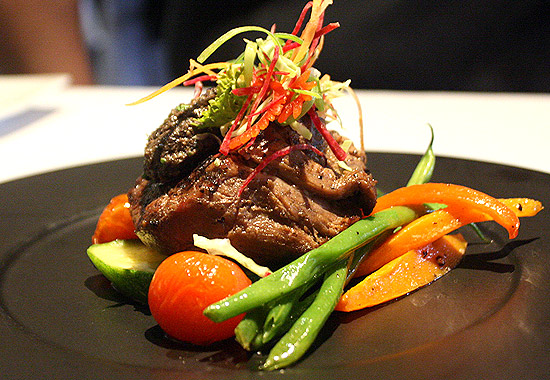 Tenderloin Steak
Chef Marco has a tenderloin steak (P730) crowned with that same foie gras mushroom and a side of greens. And apart from a colorful spatter of beets and carrots, there's no other garnish that distracts the eyes and taste buds from the thick fillet cooked to a juicy medium rare. The chef knows his beef so well that he's confident to let it do most of the work, with a little help from that earthy dollop of a "sauce."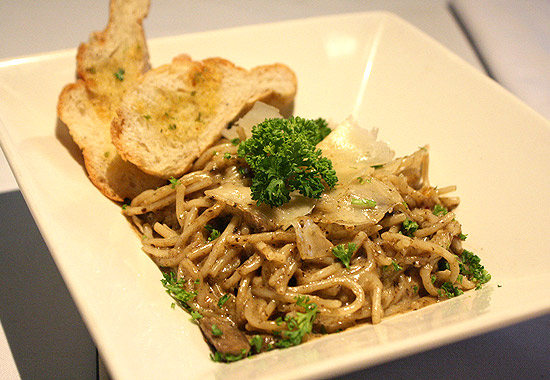 ADVERTISEMENT - CONTINUE READING BELOW
Wild Mushroom Truffle Pasta (P420)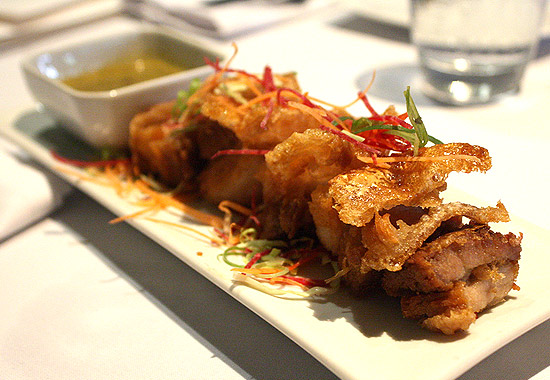 Bagnet
But for co-owner Vince Tanjutco, 22 Jupiter's piece de resistance is the Bagnet (P400). It's a slab of pork belly fried to get that crisp, golden coat. It's still remarkably tender, with laces of fat keeping it nice and moist. The clincher is in the kicky Thai sauce that Chef Marco reveals is made with kaffir limes, fish paste, and "secrets." The zesty notes and rounded saltiness brightens each hearty forkful-you'll actually believe that you're eating something much lighter than, well, bagnet.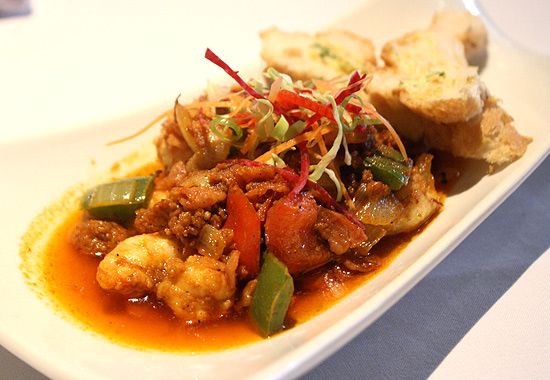 ADVERTISEMENT - CONTINUE READING BELOW
Saffron Shrimp Gambas
There's effort towards a more careful kind of cooking though. Like the sauce, almost everything is made in-house and from scratch, including the chorizo. Skinless and more smoky than salty-Spanish style-it's exceptionally demonstrated in his Gambas (P350), which is composed of saffron-spiced shrimp. Chef Marco makes his own hot sauce using local peppers, and it paints a distinct layer of heat over the shrimps.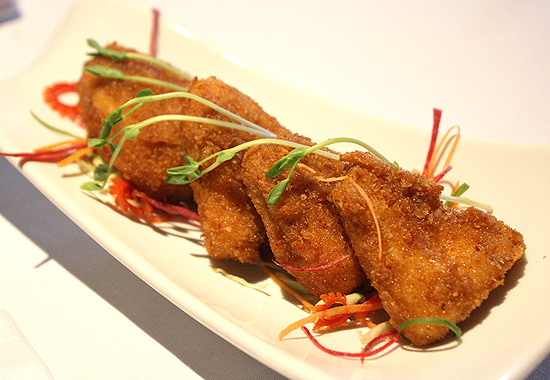 Croquetas
22 Jupiter's croquettes have no potatoes, as per Spanish tradition. Instead, four kinds of cheese share space in the Croquetas (P300). It's an example of Chef Marco's restraint and sense of accuracy: blue cheese, Parmesan, sharp cheddar, and cream cheese balancing each other out. No one ingredient tries to do more than its share, and bechamel, in exchange for starch, ties everything together.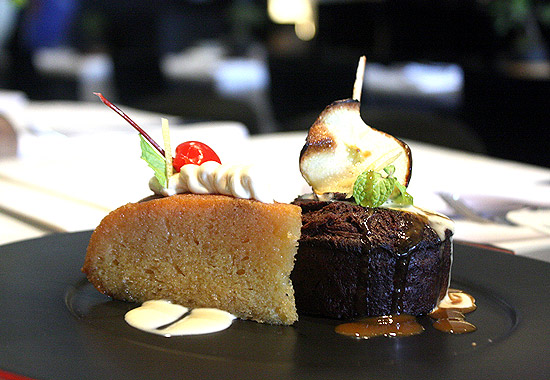 ADVERTISEMENT - CONTINUE READING BELOW
There are times when dessert doesn't even have to matter: when the mains are enough to make a lasting impact, and you can leave it at that. It's probably why the kitchen puts extra vigor in their desserts. The Rum Cake with Butter Dulce Gatas Sauce (P230) is nothing short of intense. The rum is there, bittersweet and pronounced-almost as if the alcohol hasn't totally burned off in the oven-and soaking buttery, soft sponge. The Molten Chocolate Cake with Salted Caramel Sauce (P250) has a bit more bite from its crumbly chocolate exterior, but the inside is as moist and decadent as they come.
There are no wooden panels or brick walls in 22 Jupiter. Drinks are served on regular glasses instead of Mason jars and the menu is a few printed sheets in leather cases. This restaurant is resilient to trends. Chef Marco doesn't waste innovation on the superficial; he lets his creativity reign in the kitchen instead. If we had a freethinking chef like that, we'd be confident about doing our own thing, too.
Share this story with your friends!
---
Help us make Spot.ph better!
Take the short survey
Load More Stories