New on the Menu: Azuthai's 7 Noodle Bowls
Noodles from all around Asia, done Thai-style
Azuthai
Milkyway Building, 900 Arnaiz Avenue (Pasay Road) corner Paseo de Roxas, Makati City
Contact: 817-6252, 813-0671
Open daily from 11:30 a.m. to 2:30 p.m. and 5:30 p.m. to 10 p.m.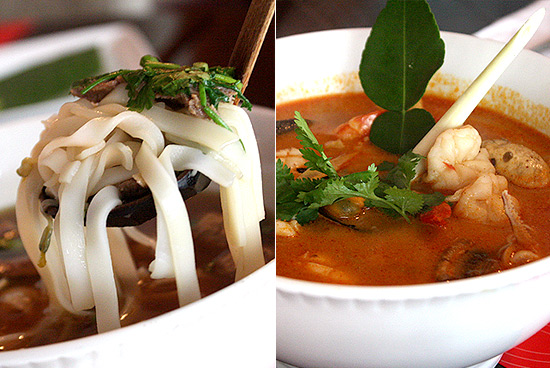 (SPOT.ph) There's nothing more comforting than a huge, piping-hot bowl of noodle soup. From the type of noodle used (texture matters!) to the taste of savory, zesty, or spicy broth-the ultimate satisfaction you get from slurping up slippery noodles is pretty spectacular.
Azuthai, with its seven new varieties of Thai noodles, puts together that kind of comfort with flavors that assault the palate with flavor. Executive chef and co-owner J Gamboa keeps his Thai food authentic by leaving the kitchen in the hands of actual Thai chef Mali Intaramolee. She's come up with flavors inspired by different Asian cuisines, which, according to Chef J, are all done Thai-style.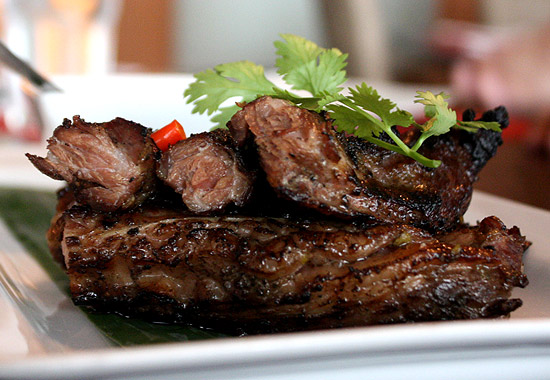 ADVERTISEMENT - CONTINUE READING BELOW
Barbecued Beef Ribs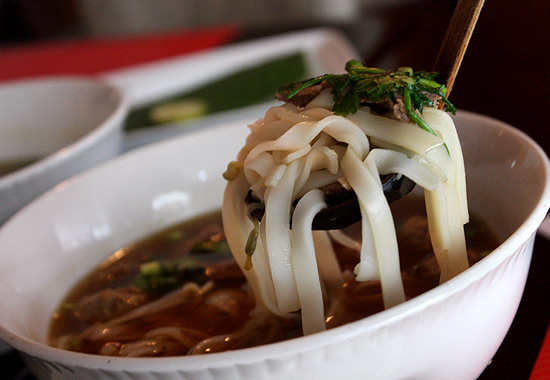 CONTINUE READING BELOW
Recommended Videos
There's the Chinese-inspired Ba Mee Pad Yang (P475). Bouncy egg noodles swimming in chicken broth, tender roasted duck (baked for three hours by Chef Mali herself), toasted garlic, and cilantro paired with a small plate of bean sprouts, basil, and Thai limes make the perfect combination. Bursting with flavor, you'll want to wipe that bowl clean.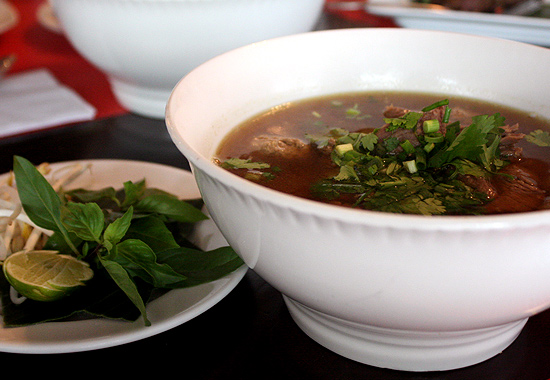 ADVERTISEMENT - CONTINUE READING BELOW
The Vietnamese-inspired Guoi Tiao (P445) has all the elements of traditional pho-rice noodles, beef, bean sprouts, and cilantro. Thrown into the mix are toasted garlic, star anise, and cinnamon, which add extra zing to the soup's refreshing flavor.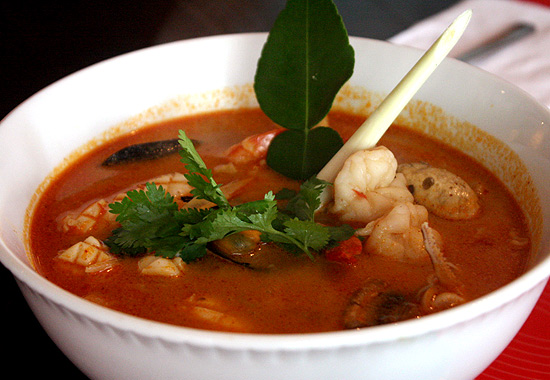 Anyone familiar with Thai flavors will recognize the next noodle soup: Tom Yum Nam Kohn (P480). The traditional Thai tom yum enters new territory with the addition of egg noodles in spicy seafood soup with shrimp, mushrooms, tomatoes, lemongrass, galangal, kaffir lime leaves, and evaporated milk. With a smooth blend of citrus and piquant flavors, you'll be wondering why this classic broth isn't ordinarily eaten with noodles.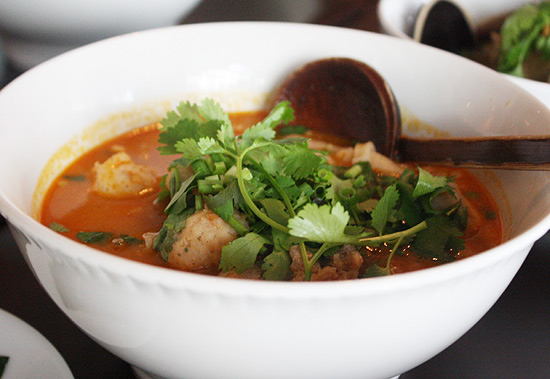 ADVERTISEMENT - CONTINUE READING BELOW
Then there's the Tom Yum Nam Say (P445). Reminiscent of the Japanese tan tan men, this bowl of rice noodles with minced pork, prawn balls, and ground peanuts isn't as spicy as its Japanese version. The nuttiness is extremely apparent, while the tasty prawn balls make this dish seem more Bangkok-street-food than Tokyo-ramen-house.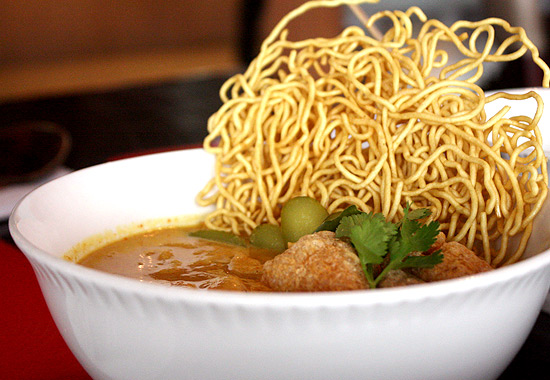 The visually enticing bowl of Khao Soi (P475) is a Chiang Mai-inspired dish made up of egg noodles wading in a thick, savory yellow curry broth. It's got chicken, pickles, cilantro, Thai limes, and a side of addictively crispy noodles. We'll have our chicken curry with a side of crispy noodles any day!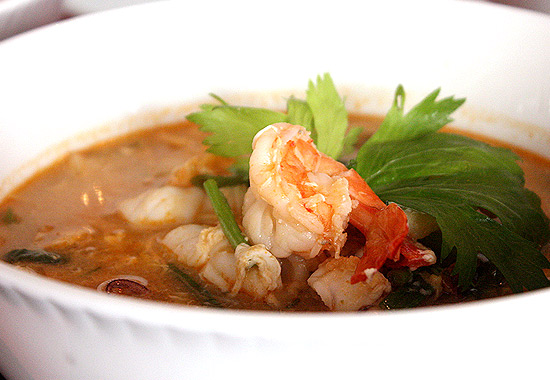 ADVERTISEMENT - CONTINUE READING BELOW
Another noodle dish inspired by the Japanese, the Thai Suki (P480), which is a Thai-style sukiyaki. Glass noodles, prawns, squid, mussels, morning glory, napa cabbage, celery, egg, and spring onions make up this glorious noodle dish. Not as sweet as regular sukiyaki, this dish has citrus flavors that immediately make you think of Thai food instead of Japanese fare.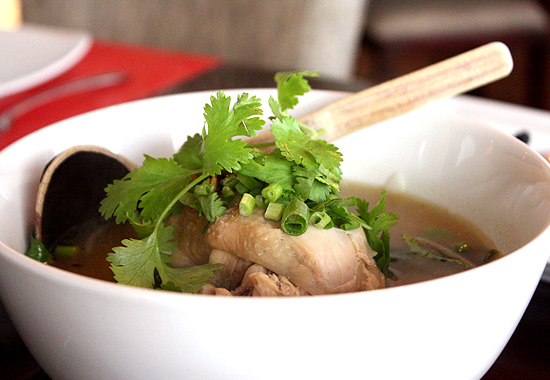 The Guao Tiao Mara (P445) is Thai-style pho with a Filipino twist. This noodle dish has rice noodles with chicken and ampalaya. The ampalaya might completely throw you off, but it's not as bitter as you'd expect it to be. It's unexpectedly soft with a hint of bitterness, elevating the dish instead of overpowering it.

There is much to be said about Azuthai's noodle soup specials: creative, distinct, experimental. These noodle bowls take what you think you know about noodle dishes and turn it completely around thanks to Chef Mali's magical touch and strong stance on sticking to authentic Thai flavors. One thing's for sure-trying all seven bowls would definitely be worth it.
ADVERTISEMENT - CONTINUE READING BELOW
Share this story with your friends!
---
Help us make Spot.ph better!
Take the short survey
Load More Stories