Top 10 Potato Dishes That are Worth the Carbs
This is a no-fries list of the best taters you'll find in Metro Manila.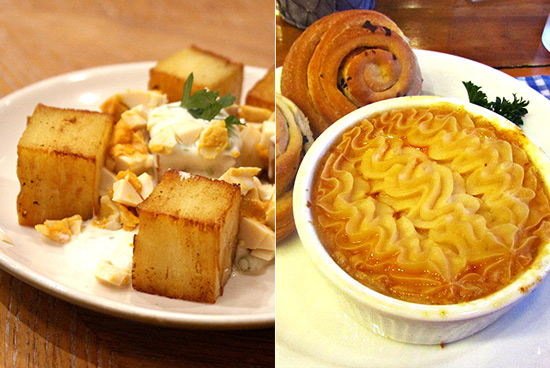 (SPOT.ph) The potato has long been relegated to the sidelines doing backstage work and playing second fiddle to a host of mostly meat-based dishes. Admit it, you used it as ulam for rice at some point, too.
And the only time we'd even acknowledge the existence of this poor root crop is when it's fried in a vat of oil. (Seriously, how would you feel being stereotyped like that?) However, its versatility as an ingredient can actually produce a wide variety of dishes stretching beyond the common fast food fare. As Samwise Gamgee from The Lord of the Rings would say, "PO-TA-TO-boil 'em, mash 'em, stick 'em in a stew."
Today, we pay tribute to the humble, hardworking starch, putting it in the spotlight. We list down the best dishes that greatly utilize this totally tubular crop to its utmost potential as a dish that can be eaten on its own. (Spoiler alert: No fries here!)
This list is ranked according to calorie-worthiness. Hit the comments section for your favorite non-fries potato dishes!
Also read:
Top 10 Truffle Fries in Manila
SPOT.ph Round-Up: 10 Unique French Fries in Manila
10 Funniest Princess Sarah Memes
All SPOT.ph Top 10 lists are researched, paid for, tested, and selected by the writers and editors. They are discreetly conducted without any notice made to the restaurants or their owners.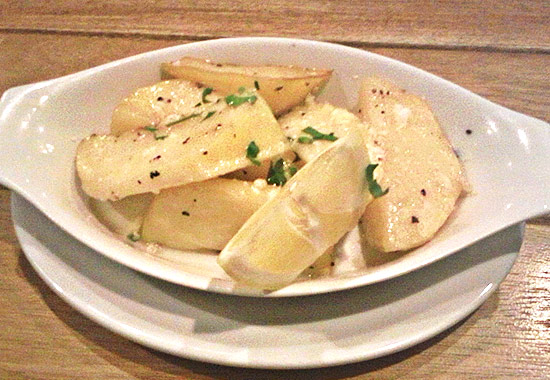 ADVERTISEMENT - CONTINUE READING BELOW
10. CYMA's Patates Fournou (P180)
These big slices of Greek roasted potatoes topped with Parmigiano Reggiano may look plain, but they pack quite a starchy punch for your tastebuds. This dish is proof that skilled seasoning, in this case a blend of oregano, lemon, garlic, and extra virgin olive oil, can make a big difference-one that you can certainly taste.
CYMA has branches at 6/F Shangri-La Plaza, Mandaluyong City (637-3090); G/F Greenbelt 2, Esperanza Street, Ayala Center, Makati City (986-4594); 2/F Eastwood Mall Veranda, E. Rodriguez Jr. Avenue, Quezon City (709-1955); 2/F Robinsons Place Manila, Adriatico Street, Ermita, Manila (354-3909).
CONTINUE READING BELOW
Recommended Videos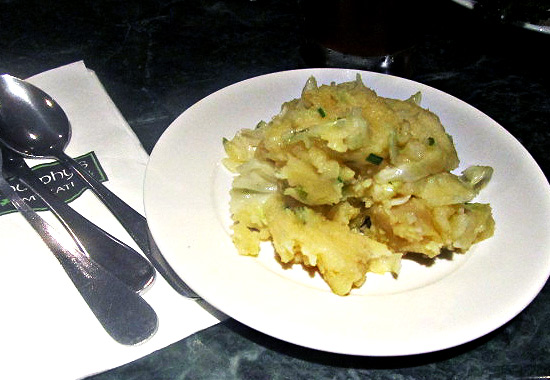 9. Murphy's Baked Potato (P460)
Where else can you go for straightforward spud grub than an Irish pub? While baked potato is pretty common, Murphy's version is legit and one of the best out there. A well-baked potato with fluffy insides that's almost falling apart with creamy melted cheese, then topped with a dollop of sour cream, a sprinkle of chives, and a heart-stopping amount of bacon. The best part: You can customize your dish and spruce it up with other toppings, or what the heck, dump in more bacon.
ADVERTISEMENT - CONTINUE READING BELOW
Murphy's is at Cityland Condo III Building, 105 V.A. Rufino Street, Legazpi Village, Makati City (894-1884).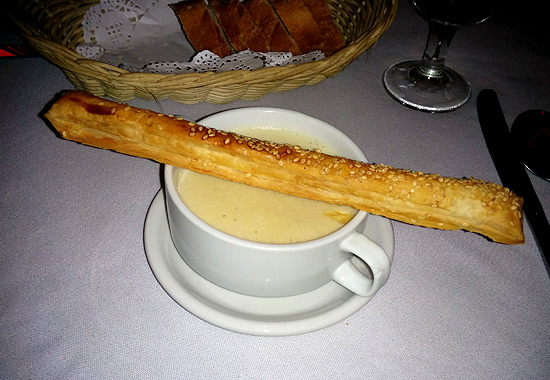 8. Nuvo's Potato Soup (P250.54)
The soup is thick, creamy, savory, and not to mention, filling enough to keep your tummy satisfied. Pro Tater Tip: If you don't see it anywhere on the menu, don't panic. It's sort of a secret item on the list, which you have to specifically request from the waiter. Just ask for potato soup, and you're good to go.
Nuvo is at G/F Greenbelt 2, Esperanza Street, Ayala Center, Makati City (757-3699).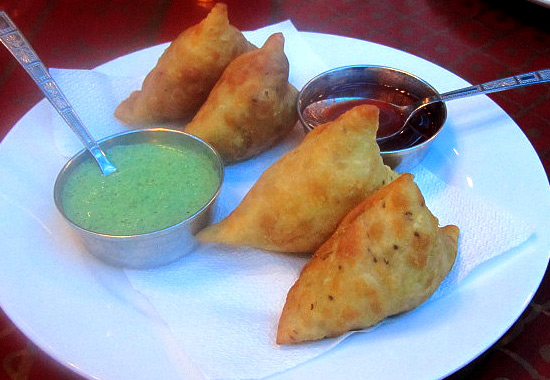 ADVERTISEMENT - CONTINUE READING BELOW
7. New Bombay's Vegetarian Samosa (P165)
You definitely won't miss meat once you take a chomp out of this dish. These samosas consist of mashed potatoes and peas seasoned with several types of Indian spices that tingle and linger in your mouth, housed in a deep-fried crispy shell. They go great with the mint sauce dip, which counteracts the heat.
New Bombay has branches at G/F Glorietta 3, North Drive, Ayala Center, Makati City (986-8622); 5/F The Podium, ADB Avenue, Ortigas Center, Mandaluyong City (637-4367).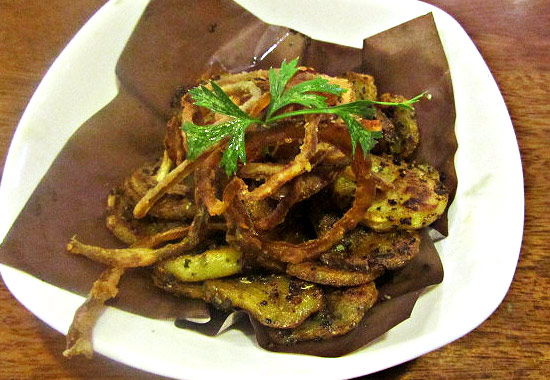 6. Brotzeit's Schupfnudeln or Bavarian Potato Dumpling and Spinach (P440)
The components of this dish go together very well: potato dumpling, spinach, mushrooms, semi-dried tomatoes, German cheese shavings, plus an added kick of acidity from the balsamic vinegar. There's a complementary balance between hard and soft textures, which makes a great accompaniment to the large pint of beer you're about to chug. Make sure to get every component in each bite.
ADVERTISEMENT - CONTINUE READING BELOW
Brotzeit is at Shangri-La Plaza, Mandaluyong City (631-1489).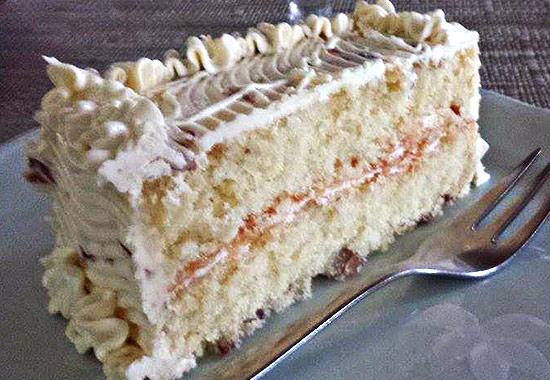 5. Becky's Kitchen's Potato Almond Crunch  (P69/slice, P300/half a box, P570/whole box)
Yep, you read that right. If potato bread is real, then of course potato cake exists! There may be a generous amount of the rootcrop mixed into this dessert but this is far from a savory treat. It actually lends a smooth buttery taste and texture to the cake, contrasting against the crumbly layers provided by the almonds. So if you're sick of the usual chocolate or vanilla for dessert and are hankering for something unconventional, this is definitely your best bet.
Becky's Kitchen has branches at Suha Street, Pasig City (671-7606); Singalong, 1601 P. Ocampo Street, San Andres, Manila (525-1648).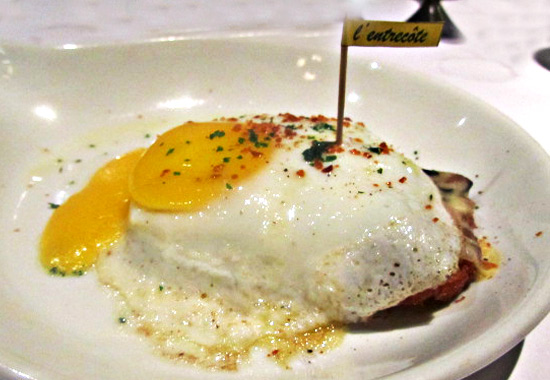 ADVERTISEMENT - CONTINUE READING BELOW
4. L'Entrecote's Rosti Tower (P445)
L'Entrecote has great unlimited fries, but we're not talking about that here. Instead, consider the Rosti Tower. Dig into several layers of crunchy hash brown, savory ham, earthy mushrooms, and stringy raclette cheese that's topped off with a fried egg and drizzled with truffle oil.
L'Entrecote is at Unit A Forbes Town Center, Bellagio 2, Forbestown Road, Burgos Circle, Bonifacio Global City (856-4858).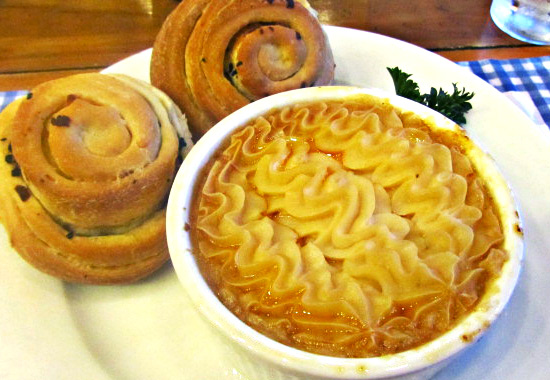 3. Mom & Tina's Shepherd's Pie (P195)
Presenting the ultimate comfort food: a pot pie filled with ground beef, mushrooms, peppercorn, and creamy mashed potatoes. We're not going to waste words describing it because it's just simply good. We can see why it's Mom & Tina's signature dish. It's like wrapping a warm carbo-laden blanket around you.
Click here for a list of Mom & Tina's branches.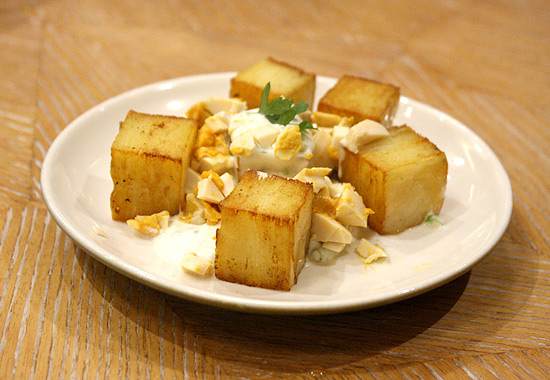 ADVERTISEMENT - CONTINUE READING BELOW
2. Duck & Buvette's Crispy Potato Pavé and Salty Duck Egg (P175)
Your boring ol' potato has now been elevated into an art form-and by that we mean, it's the kind of cubist installation we'd see at a gallery. You will feel compelled to stare at it in awe while pondering life's greatest mysteries before taking an actual bite of this offbeat dish. However, it's not only pleasing to the eyes but to the taste buds as well. The crispy potato, duck egg, and crème fraiche, when combined, form a flavorful, cohesive meal.
Duck & Buvette is at 2/F Shangri-La Plaza, Mandaluyong City (631-0675).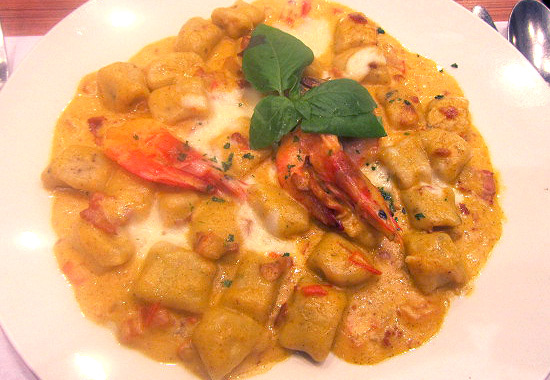 1. Va Bene Pasta Deli's Gnocchi a la Michele (P430)
The final stop in our tubular journey: potato nirvana.
We've got sauteed prawns, bacon, pumpkin sauce, mozzarella cheese, and the star of the show: potato gnocchi. We can assure you that every bite is like a starchy carb party with free-flowing drinks, a highly paid DJ, and strobe lights featuring you as the VIP guest. The pillowy-soft gnocchi does a good job of soaking up the nutty pumpkin sauce and it's simply bursting with flavor. The prawns and bacon, on the other hand, provide enough variety of flavors and textures to prevent it from becoming a one-note dish (and avoid the dreaded umay feeling). What else can we say? We just want to lie down on that bed of glorious gnocchi, tuck ourselves in, and call it a day.
ADVERTISEMENT - CONTINUE READING BELOW
Va Bene has branches at 3/F Bonifacio High Street Central, 7th Avenue, Bonifacio Global City (216-8979); 2/F Petron Gas Station, EDSA Dasmarinas Village North, Makati City (556-9442).
Also read:
Top 10 Truffle Fries in Manila
SPOT.ph Round-Up: 10 Unique French Fries in Manila
10 Funniest Princess Sarah Memes
Share this story with your friends!
---
Help us make Spot.ph better!
Take the short survey
Load More Stories