CHECK IT OUT: Diva dela Cuisine's Dinner at Tiffany's Degustacion
Pepita's Kitchen has a new brand and a new kind of degustacion.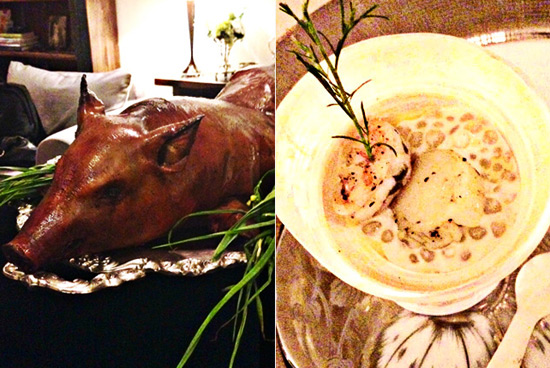 (SPOT.ph) A summons to dinner at Dedet de la Fuente's house for the launch of a new degustacion menu is the adult equivalent to receiving Willy Wonka's golden ticket. Legendary for her stuffed lechon de leche-with their crisp, burnished skins and innovative, sumptuous fillings-Dedet has made a name for herself and her Pepita's Kitchen as the ultimate must-try for both serious local food lovers and adventurous yet discerning travelers.
What was Dedet's well-appointed dining room was transformed into a posh Park Avenue boudoir, with gleaming silverware, as well as dainty white flowers and pastel-colored meringue. The theme of the new menu, after all, was Dinner at Tiffany's-inspired by the Audrey Hepburn film with roughly the same name. It was an eight-course degustacion dinner that sparkled and enthralled just like the movie that inspired it. Holly Golightly would have felt right at home in this set-up.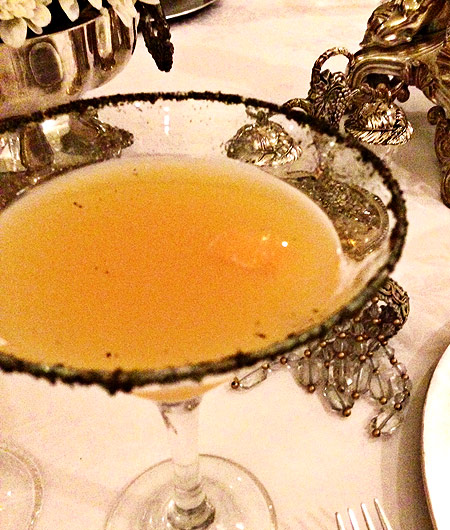 ADVERTISEMENT - CONTINUE READING BELOW
Things started with the Ube Pandan Cosmopolitan. The sweet, cold beverage was spiked with lambanog. Enjoy, yet approach with caution.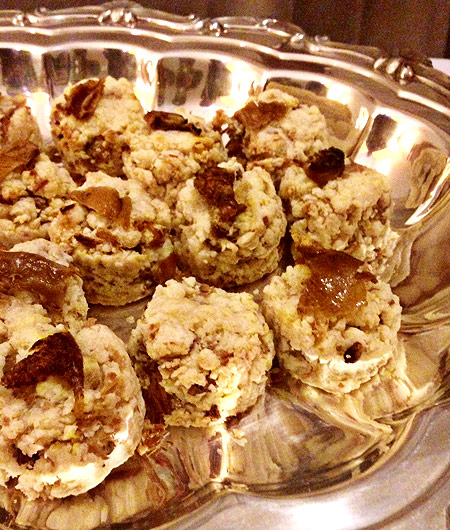 CONTINUE READING BELOW
Recommended Videos
The actual first course-Lechon Scone with Mr. Thomas Butter-was inspired by the de la Fuente girls' love for the English tea time staple. Flecks of crisp pork skin imparted texture and subtle flavor to the crumbly pastry, while the sweetish and fluffy butter took on the role of a slighty savory clotted cream.
ADVERTISEMENT - CONTINUE READING BELOW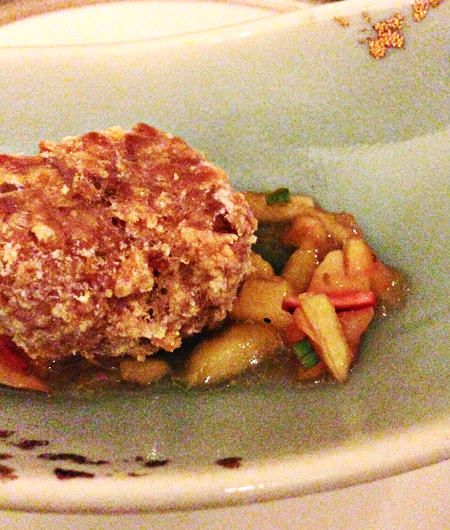 Pure indulgence ensued in the form of the seemingly unassuming course Dedet called Tendoncini with Mango Atchara Dressing. What looked like a risotto ball is actually gooey beef tendon encrusted with powdered chicharon bituka then deep-fried. The richness of the tendoncini was perfectly complemented by the fruity crunch of the pickles.
ADVERTISEMENT - CONTINUE READING BELOW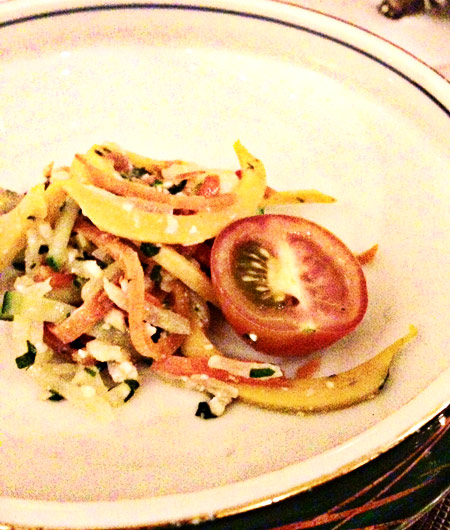 Nothing could possibly follow that bombshell, and they did not try. Dedet showed restraint with the Farmers Pasta-fine strings of squash, zucchini, and carrots, adorned with cherry tomatoes and nuts. It was obviously meant to lessen the guilt and prepare the palate for more sinful things to come.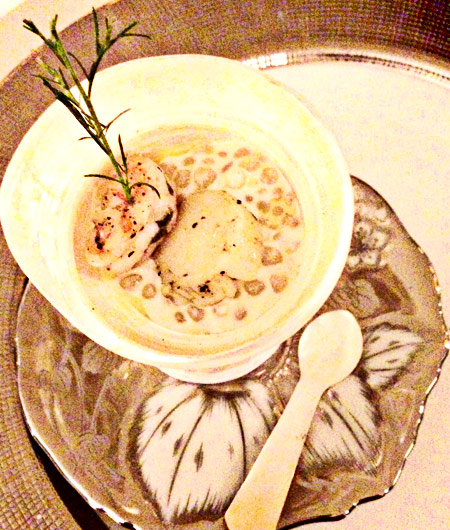 ADVERTISEMENT - CONTINUE READING BELOW
The delicate South Sea and Pearls seafood dish needed a tighter shot, but how do you do that when it was incased in this beautiful mother-of-pearl cup from Jewelmer? Still, it did not distract from the sago pearls in a rich, spicy coconut milk topped with shrimp and prawns.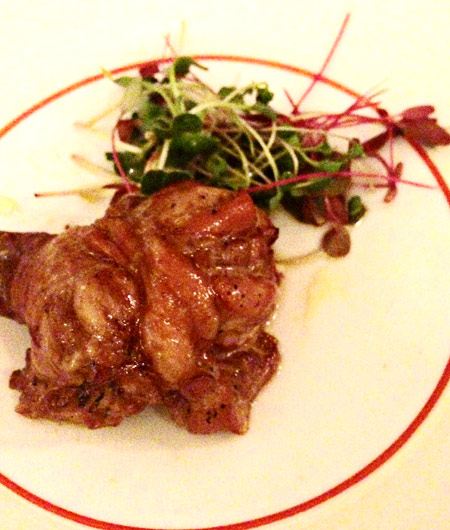 The Lechon Manok, which was actually a lightly glazed chicken wing, felt out of place in this lineup at first, but slice into the moist flesh for that a whiff of the truffle essence, then it began to make sense. The foie gras inside sealed the deal, and micro-arugula gave just the right texture and spice it needed.
ADVERTISEMENT - CONTINUE READING BELOW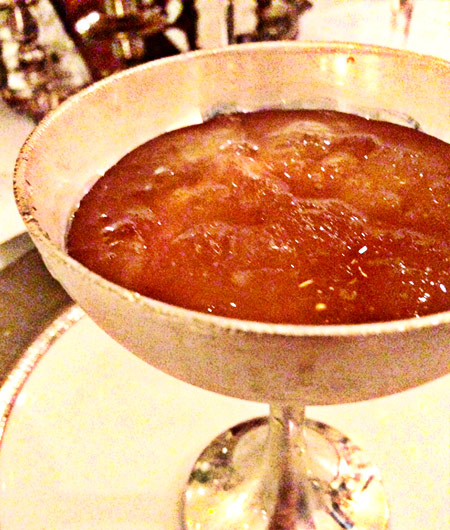 Palates were given a much-needed refresh with the KKK, a cold kundol (wintermelon) beverage served in pretty silver goblets. How can you go back to crystal flutes after this?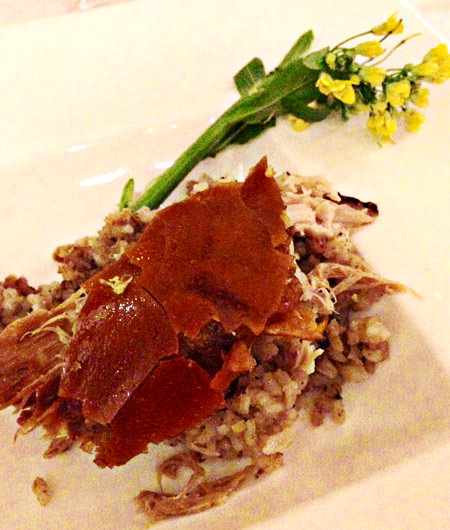 ADVERTISEMENT - CONTINUE READING BELOW
After a brief introduction from Dedet describing the first of two (yes, two!) lechon de leches for the evening, her daughter carved the scrumptious beast like a boss. What was revealed was the stuffing of her Ultimate Lechon-truffle and foie gras rice.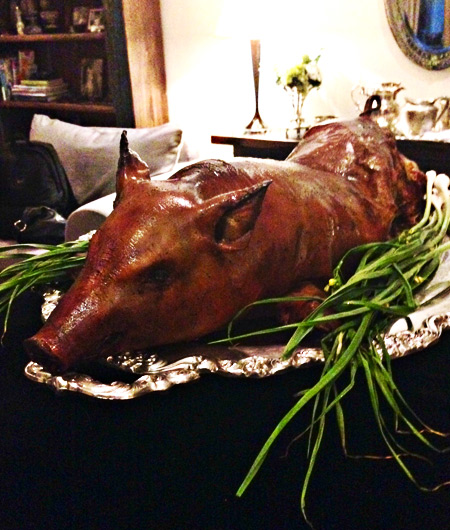 The second lechon was flanked by lengthy strands of scallions, giving us an inkling of its Asian flavors. True enough, Dedet divulged that it was her Eight Treasures Lechon-stuffed with a machang-like filling dotted with mushrooms, Chinese chorizo, and chestnuts.
ADVERTISEMENT - CONTINUE READING BELOW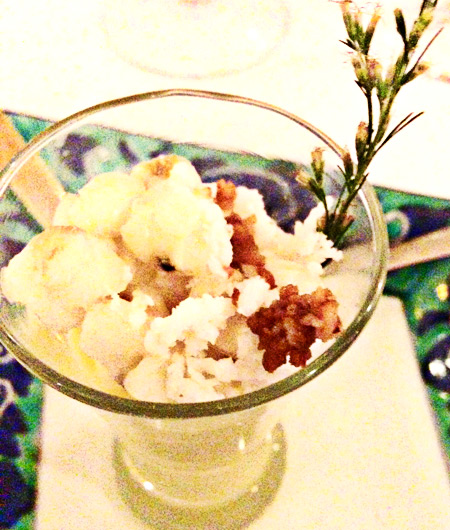 Stuffed and beyond content, we found room for the Binatog Panna Cotta. The thick, buttery Italian custard was topped by a nostalgic local corn snack, a playful nod to buttered popcorn and the clincher to the dinner's cinematic theme.
Dedet's degustacion menus seem to be getting more and more well-conceptualized and sophisticated, a testament to her natural talent and creativity. Her trademark humility allows her to grow as a chef and encourages the foodie community's all-out support for her home-based operation. The launch of her Dinner at Tiffany's menu is a must-do this holiday season and all seasons to come. Good news to Makati and BGC dwellers-Pepitas Kitchen will be bringing their degustacion dinners to your homes starting next year. This is definitely something to get excited about.
ADVERTISEMENT - CONTINUE READING BELOW
For inquiries about Diva dela Cuisine's Dinner at Tiffany's Degustacion (by Pepita's Kitchen), contact 0917-886-0662, 425-4605; pepitaskitchen@gmail.com.
Share this story with your friends!
---
Help us make Spot.ph better!
Take the short survey
Load More Stories