Best of Manila 2014: Eat + Drink
50 Things to Eat, Drink, Do, See, Buy, and Try in Manila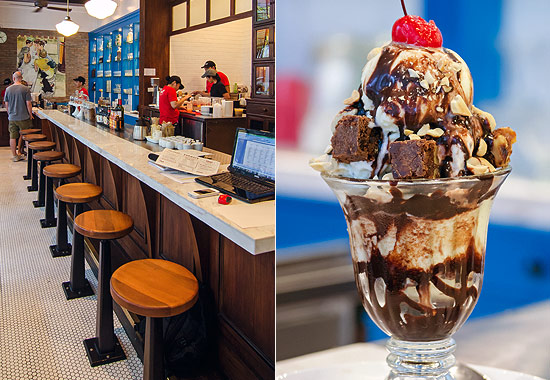 Ice cream finds new relevance
Ice cream is a basic need in a country with yearlong summers, but 2014 has seen a growth in the number of stores that focus solely on this icy treat. Forget your old-fashioned ice-cream parlor and your default flavors. Instead, think of Ian Carandang releasing a wild Bicol Express for Sebastian's and Sweet Spot's intimidating Crocodile Ice Cream.
Dojo Dairy is finally making their Hokkaido-milk-based ice cream available in SM Mega Fashion Hall's food court and Up in the Clouds, which the Potted Potter cast deemed best interpretation of butterbeer, are serving their treats solo in weekend markets.
After three branches of Wildflour, the owners have come up with something entirely new: Farmacy, an old-fashioned ice cream and soda fountain where sweet cravings never go out of style. It's a place where childhood favorites have grown up (read: booze), mingling with flavors that will never grow old.
ADVERTISEMENT - CONTINUE READING BELOW
Zagat Survey's 2012 Best Ice Cream winner has also arrived in Manila. Rita's Ice Custard is where you can get the best permutations of the creamiest custard and incredibly fine Italian ice.
But if you're one for theatrics, liquid nitrogen ice cream has taken over the arena this year with The Iscreamist, Kool Kidz, and Winter Garden Desserts.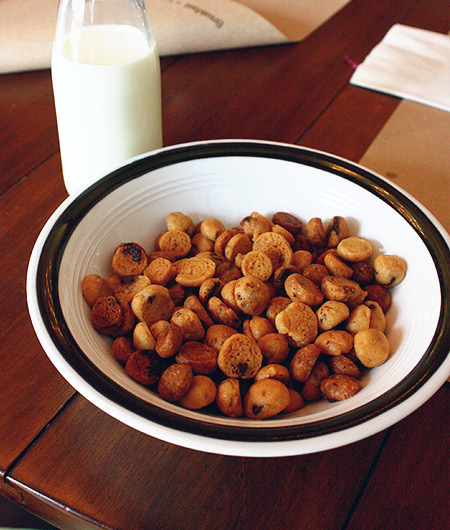 CONTINUE READING BELOW
Recommended Videos
ADVERTISEMENT - CONTINUE READING BELOW
Cookie Craze
And when it comes to classics, there's no beating the deliciousness of cookies. Dominique Ansel's cookie shot glasses with milk has spiraled out into a new cottage industry of edible cookie-ware, starting with Cookie Bar Manila's own version. Then, there are the cookies that just keep giving: doubled stuffed-a cookie within a cookie. Cariza's, an ever-prolific home-based brand, loves doubling the goodness.
Award-winning Chef Miko Aspiras has his own version of a stuffed cookie, The Inception: Actually, he has an entire line of cookies. Scout's Honor presents Girl Scout classics as they would be if they were made by artisan chefs. He takes the experience further by letting customers craft their own preferences. Chef Cuit Kaufman, famous for his Cookies and Milk in The Borough, has created his own version of Cookie Crisps cereal, as well as an a la mode version of his Borough staple, for The Bowery.
ADVERTISEMENT - CONTINUE READING BELOW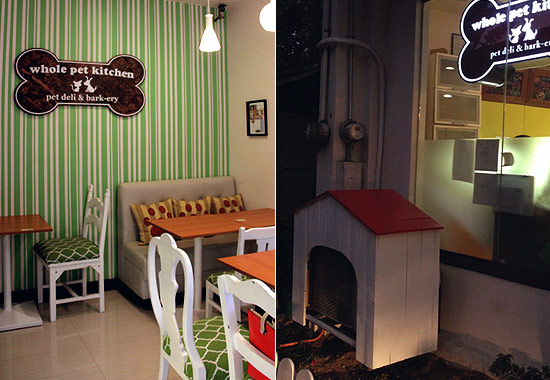 Pet cafes
If pets are truly part of the family, then why shouldn't they have a place at the table? Whole Pet Kitchen Deli invites you and your pooch to enjoy a leisurely meal together. It's the only menu that lets dog-friendly meals mingle with human food. On Katipunan Avenue, Barkin' Blends is the perfect place for the pet-less who wants the therapeutic company of adorable puppies. We notice that 2014 is slightly dog-centric. Sorry kittens, maybe next year.
ADVERTISEMENT - CONTINUE READING BELOW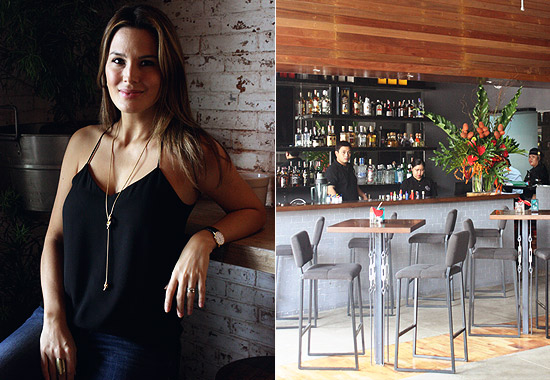 Celebrity-owned restaurants
Remember when Randy Santiago owned Ratsky and how it was such a big deal back then? More celebrities are joining the growing restaurant industry. Kris Aquino now owns a Chowking. Paolo Bediones has been opening restaurants left and right: first, with his South American hub Puñta, then another with Grace Lee called Hoolala. The Heussaffs continue to develop their franchise with their latest, Crisp on 28th, while Bianca Araneta Elizalde is following in her restaurateur husband's footsteps with her own The Wholesome Table. Restaurateur and chef Marvin Agustin has invited other celebrities to join him, like Liz Uy for Alqueria, and Anne Curtis and Raymond Gutierrez for Banzai. The self-proclaimed Queen of Social Media also said that she is opening two more eateries, Sabaw and Sprout.
ADVERTISEMENT - CONTINUE READING BELOW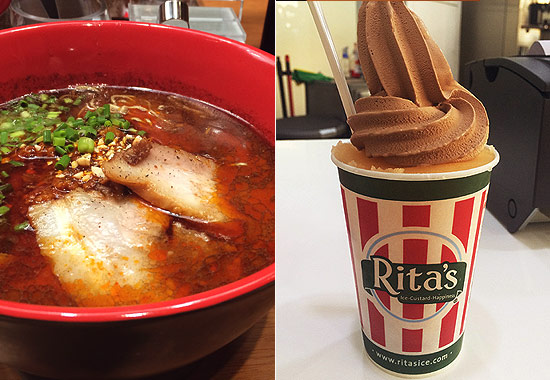 More international restaurants find their way to the Philippines
2014 continues the lineup of international restaurants heading this way. While North American and European brands like Todd English Food Hall, Rita's Ice Custard, Purple Yam, Eric Kayser, and the soon-to-open Nobu have entered our shores, there's also been an influx in restaurants from neighboring Asian countries. The Moment Group has brought in a taste of Italy by way of Hong Kong with Linguini Fini, and France by way of Singapore with Bistro Du Vin.
ADVERTISEMENT - CONTINUE READING BELOW
Hong Kong's Ippudo is finally open; Michelin-starred Tim Ho Wan is still generating long lines; and Japan's St. Marc Café is a quick treat to satisfy cravings. Global Culinary Concepts has recently opened award-winning Ramen Iroha and they're also set to bring in family-friendly comfort go-to, Applebee's.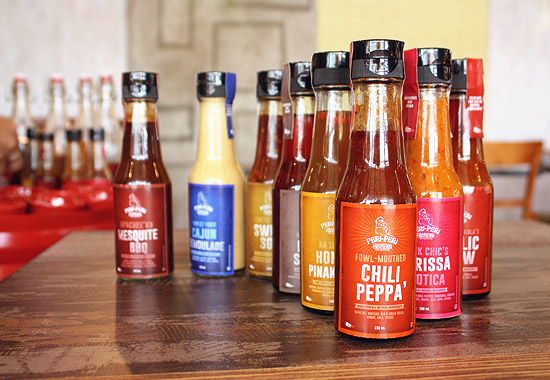 Brand expansions
Along with the increasing number of restaurants comes the further expansion of restaurant brands. No longer are restaurateurs content with simply feeding customers, it's now all about that expanded experience that doesn't end when you leave the premises. The Bistro Group (Village Tavern, Krazy Garlik, TGI Friday's) has made lunch delivery available, and so has gourmet comfort-food destination, 2nd's.
ADVERTISEMENT - CONTINUE READING BELOW
Chef Aileen Anastacio already offers most of her materials and ingredients for sale in Marmalade Kitchen, and restaurants like Peri-Peri Charcoal Kitchen and Linguini Fini sell their popular sauces for when you crave their flavor in your own kitchen. EDSA BDG's beautifully packaged blends can be purchased to take home. Even Korean barbecue Yoree peddles their addictive mango kimchi for P250.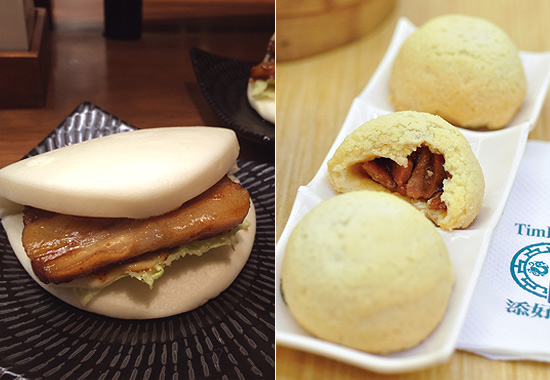 ADVERTISEMENT - CONTINUE READING BELOW
Pork in your buns
From classy asado siopao to fancier baked versions with golden crusts, it seems that the "It" dish to have on your Instagram accounts is pork buns. Though already a staple dim sum in most Chinese restaurants, the arrival of Tim Ho Wan gave it newfound significance, with more and more eateries pushing their own interpretations and highlighting it on their menu. Tuan Tuan has snowy buns with a coat that resembles broas; Marco Polo's Lung Hin has tan, flaky ones with smoky barbecued pork.
Other restaurants go for a simpler approach that nonetheless pack a punch with impact: Ippudo's mantou pockets stuffed with glossy barbecued belly, Locavore's lechon-filled sandwiches; Andy's Good Eats' version of Momofuku's famous pork buns. Nowadays, it's all about a porcine bun.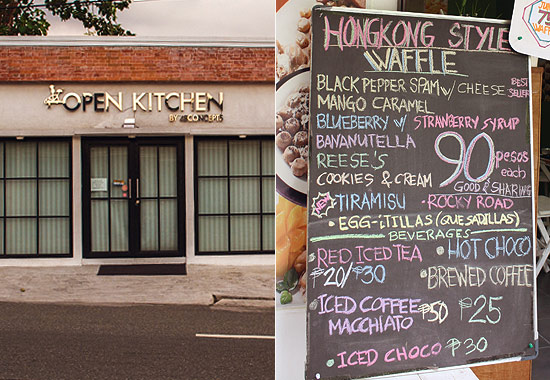 ADVERTISEMENT - CONTINUE READING BELOW
Hidden Gems
Malls have been upping their game in terms of dining choices, but on the opposite end of the spectrum are quiet neighborhood haunts that attract a huge following. Neighborhood destinations that market themselves only as far as exhibiting confidence in their flavors-the kind customers just have to tell their friends about-are becoming a more and more cultish thing.
There's The Girl + The Bull and Blé on Aguirre Avenue, Parañaque; Egg-it and Open Kitchen 48 in Kapitolyo, Pasig; Your Local, Local Edition, and Bistro Pamana in Legazpi Village, Makati; The Baker's Table and Empire Steak in UP Village, Quezon City...the list continues. There's something so appealing about being a hidden gem, and it's cheaper too!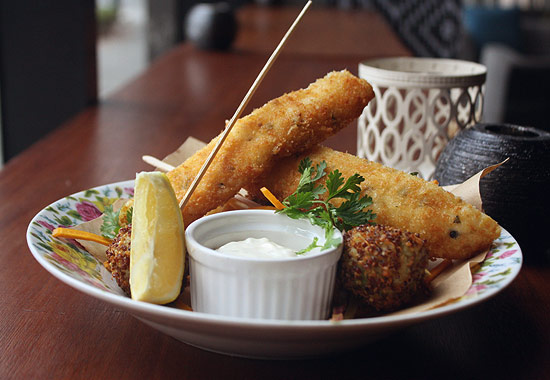 ADVERTISEMENT - CONTINUE READING BELOW
Never-ending specials!
Food and relationships are quite similar-except that the former is much more reliable, always available when you need it. Not anymore. Nowadays, it's hard to get attached to a favorite dish because chefs are no longer putting a cap on their creativity.
It started with the likes of Chef Chele Gonzalez who frequently revises his offerings at VASK. Then, there's Chef Pepe Llopez of Rambla who recently changed more than half of his menu. Artist-turned-chef Gab Bustos of The Girl + The Bull and 12/10 also edits his gastronomic gallery every so often.
Amy Besa and Romy Dorotan's Filipino haunt, Purple Yam, uses only the freshest ingredients which makes their menu pretty much unpredictable, and so does culinary prodigy Bruce Ricketts for his Mecha Uma. Even Patricio's Cevicheria likes to alter their seafood base to keep things fresh.
Other restaurants try to find some balance between comforting defaults and new items to sustain curiosity. Crisp on 28th has a separate menu for specials and so does The Black Pig-though the latter also changed nearly their entire menu recently.
ADVERTISEMENT - CONTINUE READING BELOW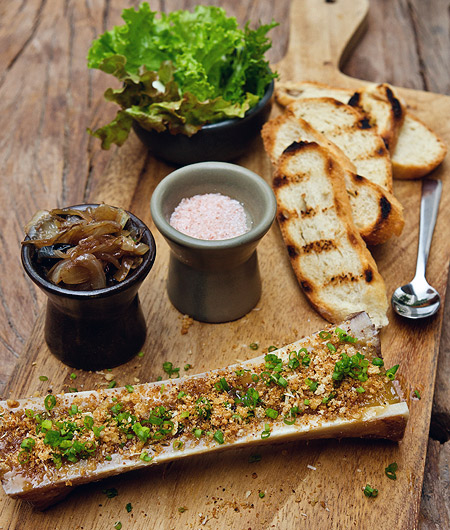 Bone Marrow
Bone marrow is proof that the inside is what always counts. These buttery fillings have been around-bulalo, anyone?-for a while, but just this past year, they've found renewed interest with a more artisan approach. The Black Pig puts potato in the bone bowls of marrow; Kettle crusts theirs with herbs.
ADVERTISEMENT - CONTINUE READING BELOW
Then you see the likes of 22 Jupiter which puts it in a burger; Bistro Pamana bakes it and serves with adobo pate; Green Pastures puts it with fusilli and octopus.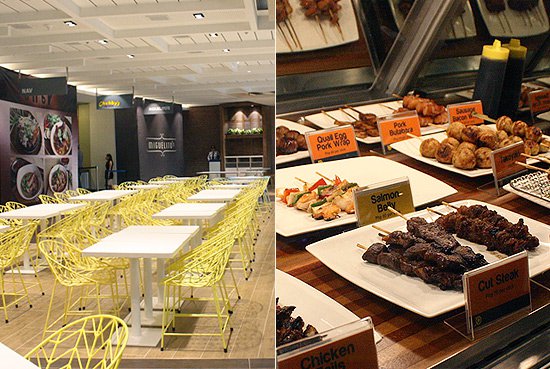 Fancy food courts and markets
This year, we've seen a handful of food courts and markets that upped the ante, with eager diners flocking to try something new and different. Robinsons Selection is a new high-end supermarket at the heart of bustling Burgos Circle, Bonifacio Global City. Get your fill of scrumptious, ready-made meals with their Food to Go section, or peruse their neat shelves for brightly packaged snacks rarely seen in the metro. Upscale grocery store chain Dean & DeLuca is also set to open its doors this month, with its branch at Rockwell's Edades Tower and Garden Villas promising the same comprehensive lineup.
ADVERTISEMENT - CONTINUE READING BELOW
Over at Century City Mall, check out Hole in the Wall, their upscale version of a "food court" with a motley of culinary gems, from Chef Miko Aspiras' Scout's Honor (Cookie Inception, anyone?) to filling sandwiches from Mister Delicious. SM Megamall is also stepping up to the plate with SM Mega Food Hall, with fare that ranges from the famous New York food cart Halal Guys to amazing tea blends at Sweetea's by da.u.de.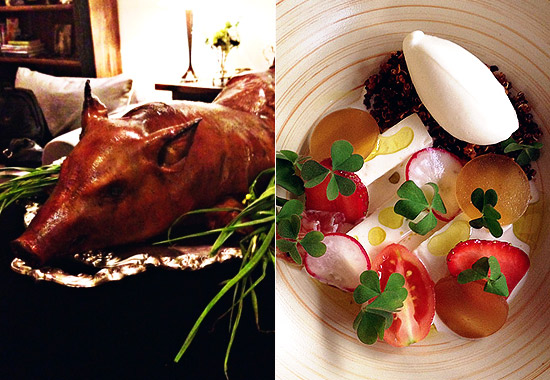 ADVERTISEMENT - CONTINUE READING BELOW
Tasting menus

It seems like these days, people decide on their favorite restaurants not just for the food, but also for that unmatched experience. This year we saw chefs telling their stories a bit further, delving deeper into flavors and emotions, and offering a different side to how to best enjoy every meal.
Dedet de la Fuente, made famous for her stuffed lechon de leche, continued to impress with an eight-course degustacion dinner (featuring not just one, but two kinds of lechon). It's still a home-based operation for now but Makati and BGC residents will be treated to something great when her dinners become available to the area come next year.
Bruce Ricketts' Mecha Uma has only 30 seats, 10 of which are at the chef's table where guests get the pleasure of hearing it from the chef himself-how each one is meticulously prepared to get to your plate.
Japanese food, at least the very good kind, can hardly ever be considered cheap, but Marufuku's 10-course meal which goes for P1,500, proved to be a lesson in value for money.
ADVERTISEMENT - CONTINUE READING BELOW
Meanwhile, it was culture and history that brought Chef Rob Pengson to create his eight-course Rizal menu at The Goose Station. The result is a creative retelling of our national hero's life, as told through exquisitely prepared dishes.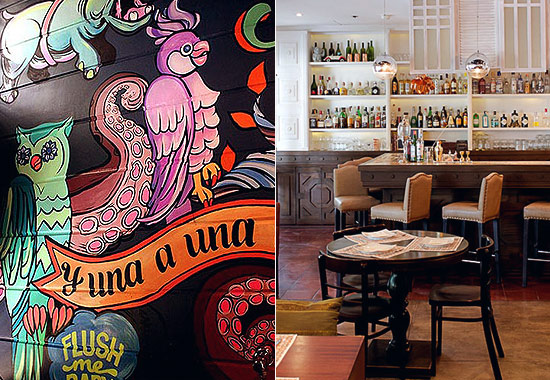 Eye-catching restaurant interiors
While flavors are always top priority in the restaurant scene, this year we saw a bunch of establishments working a bit more for ambiance (at some point, we even caught them going for the same elements). Whether to set the mood or build on a signature style, these places gave us the opportunity to take a second look and appreciate the scene around us while we eat, rather than just going for a quick fix. We again ranked the most beautiful among them, a mix of old and new favorites. We also found some interesting murals to look at which gave us all the more reason to make our next meals worth the trip.
ADVERTISEMENT - CONTINUE READING BELOW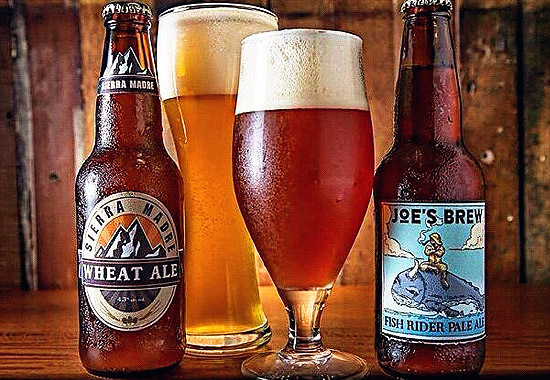 Local craft beers
Drinking beer has always been a habit in Manila, and it was a particularly good year to try out one of our own. Local, independent breweries stood out for their curious techniques and the range of flavors they were able to produce. And while Jim Araneta's Global Beer Exchange has been around for some time now, we happily turned local for a couple of pints in the many establishments in the city that now have craft beer on hand (The Perfect Pint at Bonifacio Global City being one of them). Bar chow and drinking has become all the more fun for it.
ADVERTISEMENT - CONTINUE READING BELOW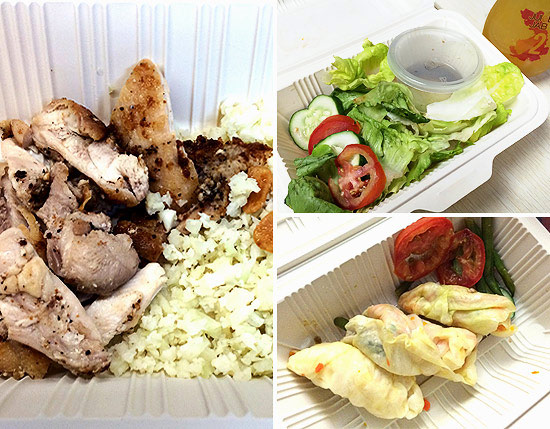 Healthy eating

To go all organic and sustainable was still on trend this year, with the added bonus of convenience. We rounded up some diet delivery programs including Chef Jam Melchor's Healthy Eats, a food delivery service offering meals that don't scrimp on flavors.
You or someone you know probably went on a juice cleanse this year, maybe even tried a few on our list to see which one was the best fit (and hopefully didn't make you too grumpy). On the list was Juice Jab, which later on introduced us to carefully-portioned meals that make sure you've got all the necessary nutrients covered.
ADVERTISEMENT - CONTINUE READING BELOW
In the restaurant scene, we became instant fans of the Buddha Bowl at The Wholesome Table, a Mongolian-rice inspired dish which demonstrates owner Bianca Araneta Elizalde's interpretation of healthy eating ("no toxins," just "real food").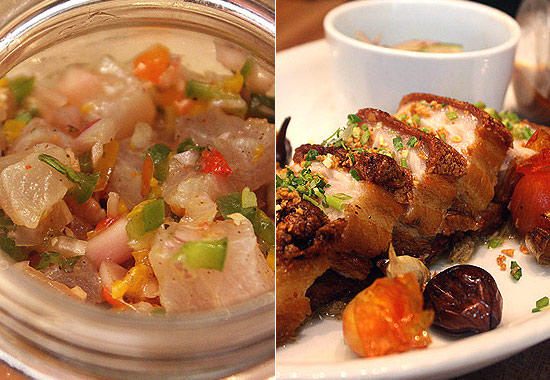 Going local
Local cuisine continues to draw chefs and foodies alike, so much that it's become cool again to harness flavors and resources that hit much closer to home.
ADVERTISEMENT - CONTINUE READING BELOW
Local Edition Coffee and Tea in Makati gets their beans from Kape Maria and they also have their own signature blend called Perea, named after the street on which the café stands.
With a gastropub setup, Kapitolyo newcomer Locavore thrilled us with their take on Sizzling Sinigang, Aklan Oysters, and Turon, among other Filipino dishes made a bit more memorable.
Internationally renowned chef Julieta Caruso paid a visit to Manila in July, where she produced a 10 course degustacion dinner with friend and former co-worker (and VASK's head chef) J. Luis "Chele" Gonzalez. VASK Gallery's Kulinarya dinner series highlighted the best of local produce and the many resources available in the country to create good food.
Although it's entirely French, Singapore-born Bistro Du Vin prides itself with promoting local ingredients alongside those sourced from France.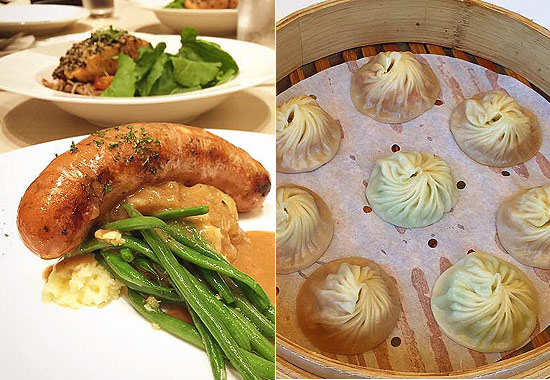 ADVERTISEMENT - CONTINUE READING BELOW
Photos from JJ Yulo's Instagram account
Food crawls
At first there was just the food in Binondo to educate us on the best ones to try out there. But then sprouted other means by which to enjoy food in the metro. Last year, JJ Yulo's BGC Eats was a big success that it came back again this year. Most recently, the food blogger also took groups around SM Aura to sample some of the mall highlights. TriNoma and Estancia in Capitol Commons also went on the bandwagon to encourage shoppers to get a taste for every cuisine imaginable in their establishments.
Check out:
Share this story with your friends!
---
Help us make Spot.ph better!
Take the short survey
Load More Stories