(SPOT.ph) The way people have been eating chocolate—Bloomberg reveals Asian consumption may reach European levels "relatively soon"-we may have to prepare for a future without it.
According to a similar report by the The Washington Post, chocolate manufacturers are warning that the demand for these decadent treats may exceed the cacao supply by the end of the decade. (By the way, Ferrero Rocher has stated that there's also a shortage of nuts this year, but that's a different story.) The news freaked us out-a lot. Much like anxious panic buyers, we scrounged up various chocolate desserts around the Metro to savor the taste while it lasts. The criteria? The most indulgent servings of rich, mouthwatering, and all-around satisfying chocolate goodies that we can find.
This list is not ranked.
Also read:
Top 10 Chocolate Cakes in Manila (2014 Edition)
10 Best Things That Happened to Chocolate
Top 10 Chocolate Lava Cakes
Top 10 Local Gourmet Chocolates
ADVERTISEMENT - CONTINUE READING BELOW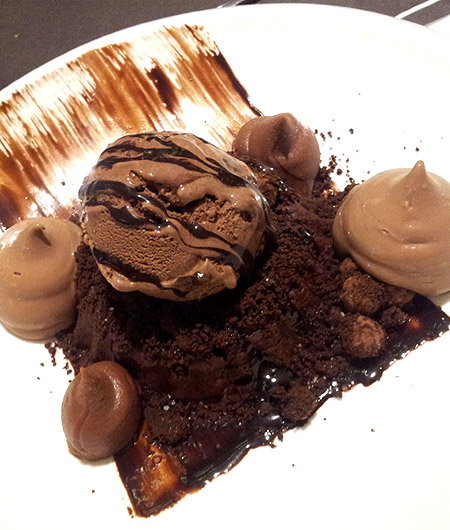 Todd English's OMG Cake (P420)
This signature dessert will make you exclaim in satisfaction: silky pudding, Milo cereal crumble, chocolate gelato, and sea salt together on one enticing plate. The mix of delicious textures and flavors are so delightful that no adjective can quite capture it-only an exclamation of "Oh my God!" could somehow sum up the feeling. The heart of this dessert lies in the pudding, a soft and crumbly blend of chocolate goodness with a gooey fudge center. The sweet and tangy ice cream and gelato offer a cool contrast to the warm chocolate. Then, just when you think you'll reach the ultimate sugar rush, brine bursts out from the sea salt, balancing out the entire thing.
ADVERTISEMENT - CONTINUE READING BELOW
Recommended Videos
Todd English Food Hall is at Skypark, 5/F SM Aura Premier, Bonifacio Global City.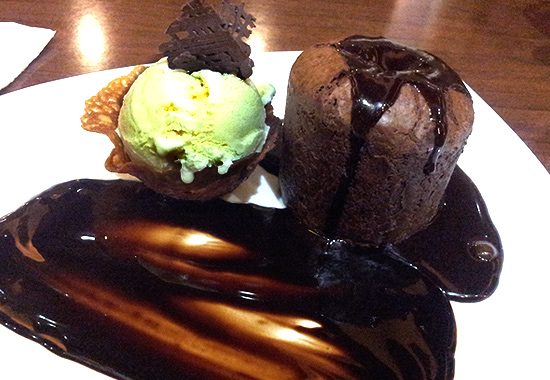 Maitre Chocolatier's Sweet Revenge (P195)
This unassuming location is known for its chocolate-infused dishes, so it's no surprise that it doesn't hold back when creating desserts. It's a boutique that sells gourmet chocolate, and their kitchen shows you exactly how to use them with a menu of luxurious chocolatey desserts. Sweet Revenge, for instance, is a dark chocolate molten lava cake made with the 70% Cocoa Lindt Excellence Bar. Served with vanilla ice cream, it stands out for the spicy surprise that oozes out once you break into the soft chocolate cake. Infused with chili chocolate, the warm, sticky ganache inside the dessert is hot, cool, and mouthwatering all at once.
ADVERTISEMENT - CONTINUE READING BELOW
Maitre Chocolatier is at 28 Jupiter Street, Bel-Air, Makati City.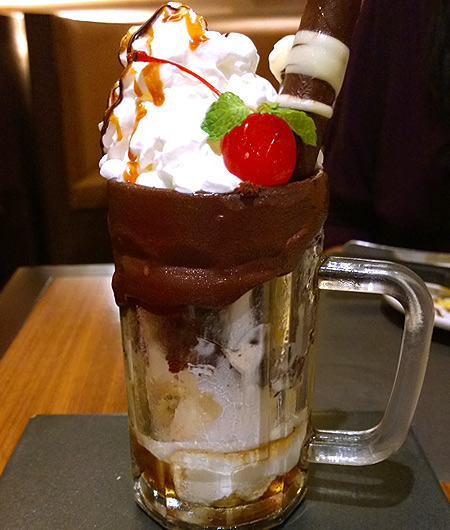 CHOPS' Root Beer Cake (P245)
We all know what a root beer float tastes like, but what about a root beer cake? Don't write off this steak place just yet because their kitchen is pretty handy with the sweets. CHOPS Steakhouse upgrades the soda staple by including warm chocolate lava cake to the mix. Served in a beer mug lined with frozen fudge for visual authenticity, the cake is accompanied by dark chocolate ganache and sarsaparilla essence, then topped with vanilla ice cream and whipped cream. Mix them together with the chocolate wafer "straw" and voila! You've got a milky, chewy, and sweet dessert with a mild fizzy taste. It's like your usual soda float, but way, way better.
ADVERTISEMENT - CONTINUE READING BELOW
CHOPS Chicago Steakhouse is at 4/F Greenbelt 5, Makati City; Shangri-La Plaza East Wing, Mandaluyong City.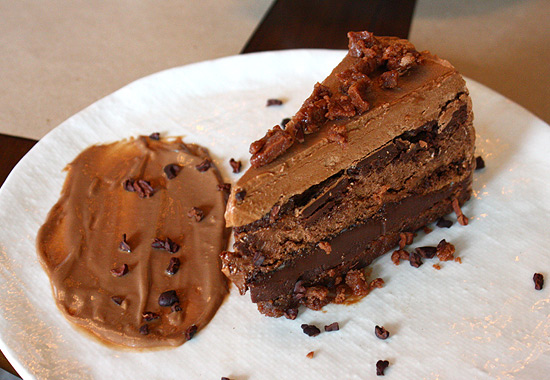 The Bowery's Death by Chocolate (P340)
"Death by Chocolate" desserts are a dime a dozen in these sweets-loving parts, so we've decided to feature two of the more interesting ones. Chef Cuit Kaufman's interpretation of this dessert is seven distinct chocolate components, including chocolate mousse, chocolate meringue, fudge brownie, and chocolate truffle. The plate is garnished with a swath of chocolate Crème Anglaise on the side and topped with cocoa nibs. A bite into the rich chocolate is somewhat hypnotizing, with all seven different tastes and textures making you feel lightheaded from the overall flavor. A truly intense experience, you might actually feel like dying when it's all gone. But what a way to go.
ADVERTISEMENT - CONTINUE READING BELOW
The Bowery is at Forbeswood Heights, Burgos Circle, Bonifacio Global City.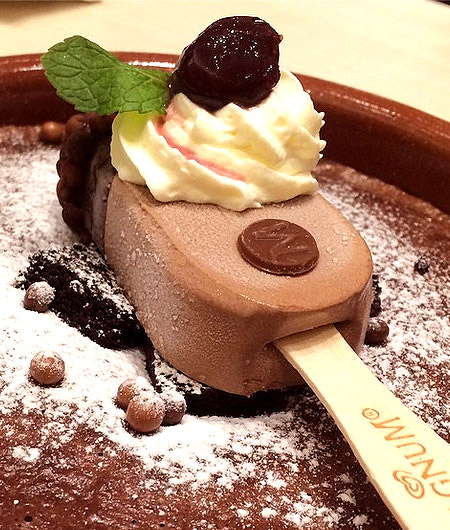 Magnum's Death by Chocolate (P312.50 + tax)
While the previous cake banked on the power of eating multiple kinds of chocolate at once, Magnum's version of a chocolatey death is a luxurious combination of both richness and beauty on one sizzling plate. You better hurry up with that Instagram shot. The deep, dark chocolate lava cake is topped by Magnum's Chocolate Truffle bar, served over brownie chunks and sprinkled with chocolate crispearls. The server would advise you to pour the vanilla cream as soon as possible while the plate's still hot, but the dessert stands on its own, with or without cream. The warm cake is extremely soft, making you feel like you're slicing into a cloud despite the gooey goodness of the molten center. This makes a delicious contrast with the cool ice cream bar and vanilla drizzle, which offers a moist, crunchy texture that is fun to eat.
ADVERTISEMENT - CONTINUE READING BELOW
Magnum Manila is located at the Skypark, 5/F SM Aura Premier, Bonifacio Global City.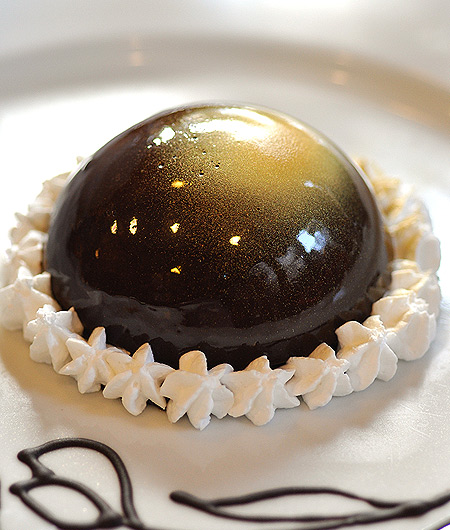 Mateo's Chocolate Mousse Dome (P150)
For those who prefer their chocolate on the bittersweet side, Mateo's Chocolate Mousse Dome is worth a try. The punch is in the presentation, a loud visual treat belying the quiet flavors of the plate. A gorgeous half-sphere of thick dark-chocolate fudge speckled with edible gold is covering a smooth chocolate mousse cake with a crunchy wafer crust. Trimming the edges of the dome is a silky white chocolate frosting that holds a mild hint of sweetness.
ADVERTISEMENT - CONTINUE READING BELOW
Mateo's Restaurant Café is at 54 N. Domingo Avenue, Barangay Horseshoe, Quezon City.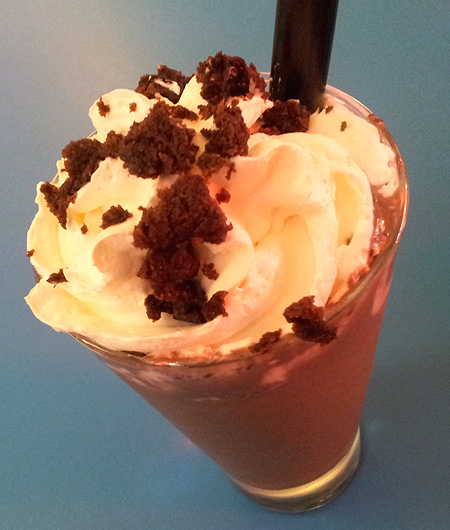 8 Cuts Chocolate Truffle Caked Shake (P215)
Imagine your favorite chocolate milkshake topped with thick whipped cream. Good, right? Now, imagine all that chocolate goodness smothered with chocolate truffle cake. 8 Cuts Burger Blends' caked shakes (it also comes in Red Velvet) are an awesome hybrid drink-dessert. It takes more than a sip to get the full experience-you have to spoon it out to get the cool, creamy, and chunky taste. You're pretty much eating chocolate cake, chocolate ice cream, and chocolate milkshake melded together in a tall glass. Now isn't that a dream come true?
ADVERTISEMENT - CONTINUE READING BELOW
8 Cuts Burger Blends has branches in Power Plant Mall, Makati City; Serendra, Bonifacio Global City; SM Megamall, Mandaluyong City; UP Town Center, Quezon City; and Trinoma, Quezon City.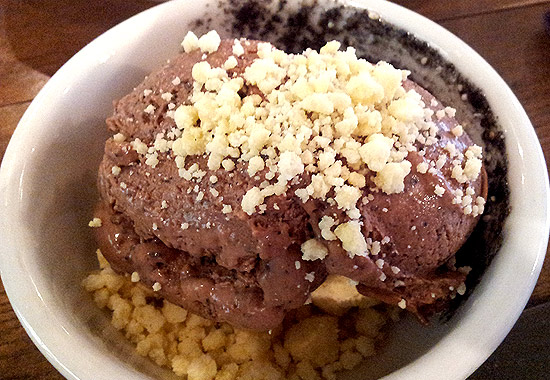 Your Local's Dark Chocolate Earl Grey Cheesecake Ice Cream (P150)
If you can't decide whether to have cake, tea, or ice cream, Your Local suggests you try all three. This hidden gem in Makati has a Dark Chocolate Earl Grey Cheesecake Ice Cream that is a quirky and unique dessert. It offers a fresh taste and a variety of textures for your palate. Rough Earl Grey leaves offer a citrusy bergamot essence, while the cheesecake bits serve up a chunky salty flavor. Beneath all this is the dark chocolate, whose smooth, creamy and mild sweetness holds the whole dessert together.
ADVERTISEMENT - CONTINUE READING BELOW
Your Local is at Universal LMS Building, 106 Esteban Street, Legazpi Village, Makati City.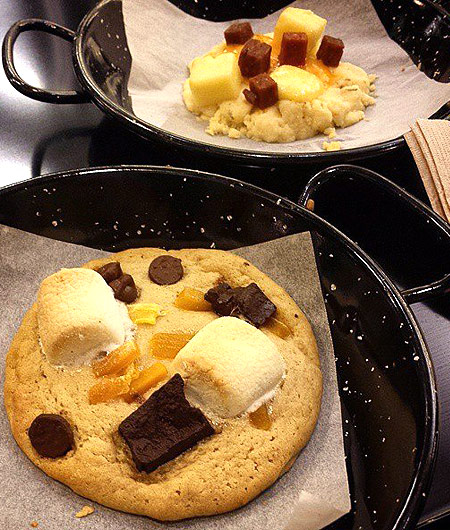 Custom-made and Artisan Cookies (starts at P75) at Scout's Honor
Craft cookie shop Scout's Honor lets every sweet tooth go nuts with its custom cookie bar. Customers can make theirs as chocolate-y as they want with the shop's wide selection of chocolate chunks, chips, and even vegan counterpart (we're not touching that). They can also choose to put long-time favorites like Oreos, Reese's Peanut Butter cups, or KitKat bars. We're leaving it up to the experts though with their ready-made, freshly cooked Classic Scout cookies. Items like Thin Mints (double chocolate fudge cookie sandwich with mint buttercream filling) and S'Mores Tag-Alongs (double shortbread cookie with milk chocolate layers topped with marshmallows and graham crumble) prove that Chefs Miko Aspiras and Kristine Lotilla know their chocolate-and cookies-well. Soft, chewy and all-around delicious.
ADVERTISEMENT - CONTINUE READING BELOW
Scout's Honor is at Hole in the Wall, 4/F Century City Mall, Kalayaan Avenue corner Salamanca Street, Makati City.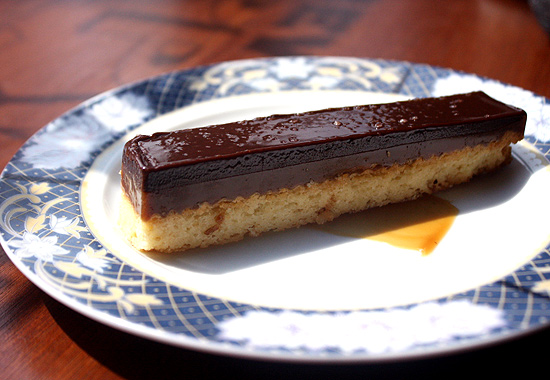 Chocolate Caramel Cookie Bars a.k.a. Faux Twix
We've all seen the homemade "Twix" bar-the crunchy cookie crust wrapped in rich chocolate, usually topped by sea salt, is fast becoming a cult favorite. And why not? The chewy mix of sweet and salty is highly addicting. The Girl + The Bull offers a chocolate version and a green tea version (P160), while newly opened Crisp on 28th at BGC makes their version with a dark chocolate twist (P75). If you can't get enough of this delicious childhood classic, online bakeshop The Cake Shack has a giant version that will need more than your pocket to hold it. If this humongous cookie bar wrapped in fake Twix foil doesn't fill your craving, nothing will.
ADVERTISEMENT - CONTINUE READING BELOW
Also read:
Top 10 Chocolate Cakes in Manila (2014 Edition)
10 Best Things That Happened to Chocolate
Top 10 Chocolate Lava Cakes
Top 10 Local Gourmet Chocolates
Share this story with your friends!
---
Help us make Spot.ph better!
Take the short survey
Load More Stories