New Restaurant Alert: Bistro du Vin at Rockwell Edades, Makati
The Moment Group is taking Manila to France.
Bistro du Vin
G/F Edades Tower and Villas, Rockwell Center, Makati City
Contact: 958-6712 
Open daily from 11:30 a.m. to 2:30 p.m. and 5:30 p.m. to 10:30 p.m.
Also read: What to Expect from Bistro du Vin at Rockwell Edades, Makati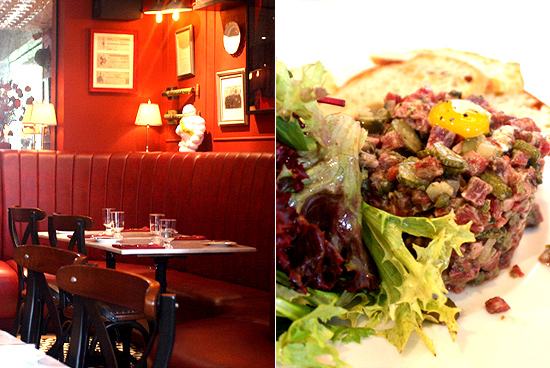 (SPOT.ph) Lunch at Bistro du Vin is as bubbly as the champagne they serve: voices on top of each other, flatware clinking against silverware, laughter-lots of it-and the hum of music from the sound system. There are men in suits sitting alone contentedly with steak; groups of women chitchatting in between bites; a round of hugs from a table that could possibly be celebrating a reunion. During dinner service, the previous chatter lowers to a dull buzz, like the day has worn down the loudness and conversations are nightcap-induced.
ADVERTISEMENT - CONTINUE READING BELOW
The recently opened restaurant across Power Plant Mall is an open invitation to a different kind of French grub-fine dining, yes, but only in the sense that the food is of the finest quality.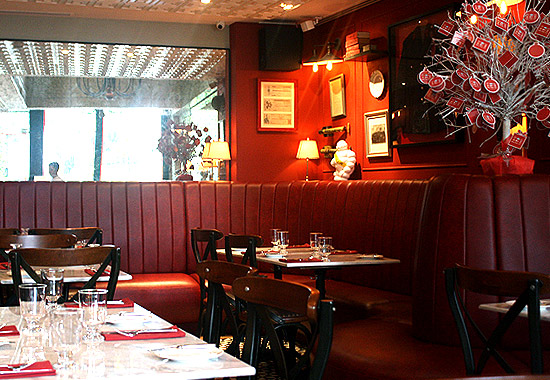 CONTINUE READING BELOW
Recommended Videos
Find the Michelin man.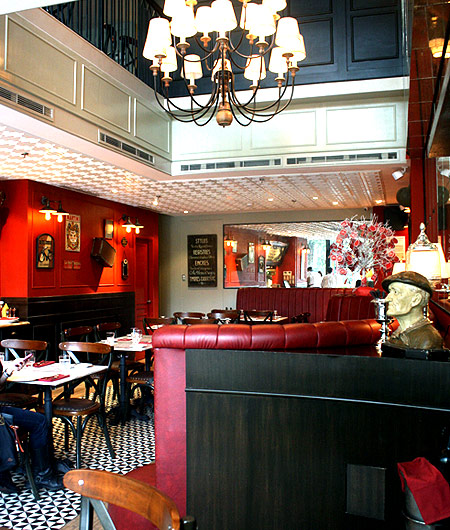 ADVERTISEMENT - CONTINUE READING BELOW
Bistro du Vin is originally a concept by Singapore's Les Amis Group, and locally developed by The Moment Group. PHAT Pho, Burger Bar, 8 Cuts, 'Cue Modern Barbecue, Mecha Uma, Manam, Linguini Fini-they're known for their hip interpretations of traditional feel-good food, and their latest project channels that same trendy energy.
The high ceiling gives it elegance, but a predominantly red hue counters it with warmth. Philippe Pau, Bistro du Vin's director, fills it with various vintage French memorabilia that mingles with a statue of the Michelin man-a contribution by Moment's Abba Napa. Old-school cool, they call it. A "neo bistro."
Tasked to translate that philosophy onto a plate are chefs de cuisine Joanne Javier and Mark Zaragosa. The main menu is straight from Singapore, full of classics like Coq au Vin (P795), Bouillabaisse (P995), Chevre Chaud (P595). The Le Confit de Carde (P995), translated as duck leg confit, is gorgeously cooked: a deep brown shade that hints at the carefully achieved crispiness of the skin. Underneath, bubbles of soft, succulent, salty fat over soft, succulent meat.
ADVERTISEMENT - CONTINUE READING BELOW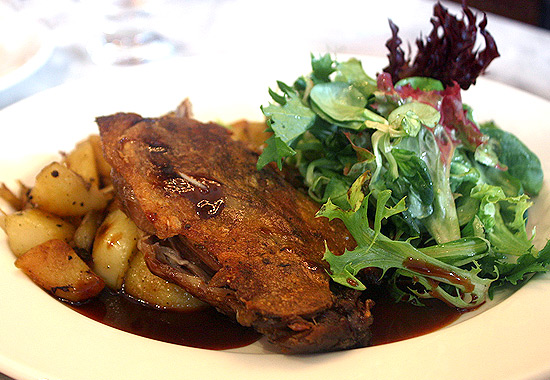 Le Confit de Carde. Bistro du Vin sources some ingredients from France, but they also promote local ingredients whenever they can.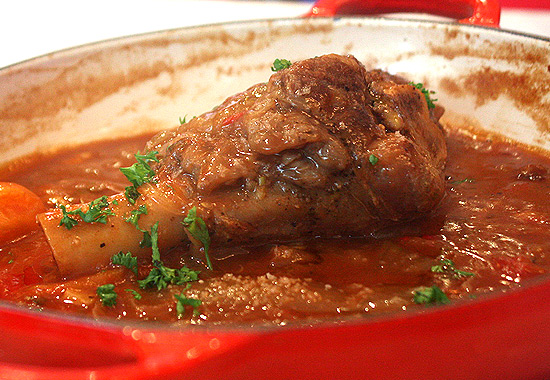 ADVERTISEMENT - CONTINUE READING BELOW
Jarret d'Agneau Braise. The French names make the dishes sound intimidating, but the food is actually very familiar.
The Jarret d'Agneau Braise (P965), or lamb shank, is as unresisting. Chef Joanne braises the leg the old-fashioned way-patiently waiting for that tenderness to develop instead of inducing it with more modern techniques. Then, they serve it bathing in a pool of tomatoes, white onions, and red wine. On the side, potatoes cooked in duck fat.
But divert your attention from the menu to the board over the semi-open kitchen. It's still straight-up French food, but it's also where the chefs can exercise some creativity. "We change it every two weeks," says Chef Joanne, "Or when something new is in the kitchen."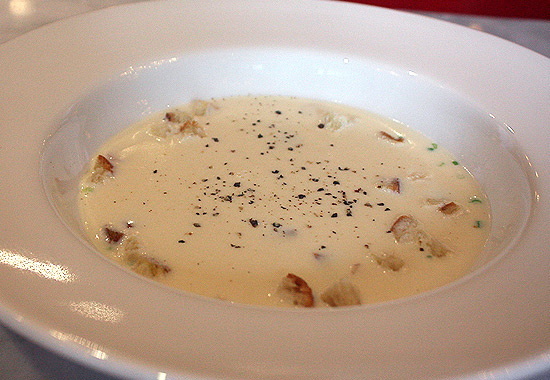 ADVERTISEMENT - CONTINUE READING BELOW
This Parmesan Soup is prepared tableside.
The irony of the chalkboard menu is that these are the dishes that will stick with you the most. The Parmesan Soup (P395), a demonstration of subtle but clear flavor balanced by a sumptuous and creamy texture, has a lasting effect. You'll crave the whirling interaction of milk, cream, and crunchy bread. It's a simple seasoning of spring onions, double-smoked bacon, and cheese, but with an impact that knocks you off your feet.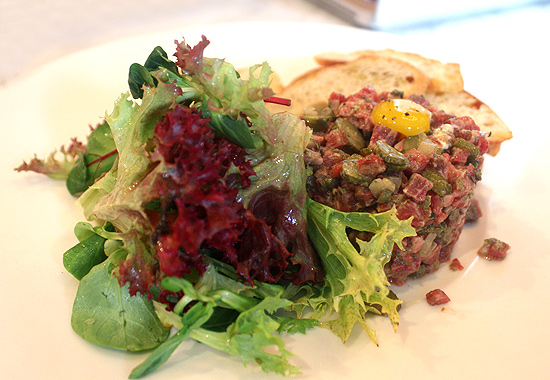 ADVERTISEMENT - CONTINUE READING BELOW
The very tempting Mayura Wagyu Steak Tartare
Another of the week's special, the Mayura Wagyu Steak Tartare (P795), is one that can easily have you wolfing down the thick chunks of beef so premium, the chefs are comfortable to present it as is-raw and highlighted only by cornichons, capers, and a creamy quail yolk. (Don't worry, this isn't a fine dining restaurant so scoop it up using the crispbread with gusto.) The flavors are so bright-an exchange of salt and tang-that it can trick you into thinking it's lighter than it actually is.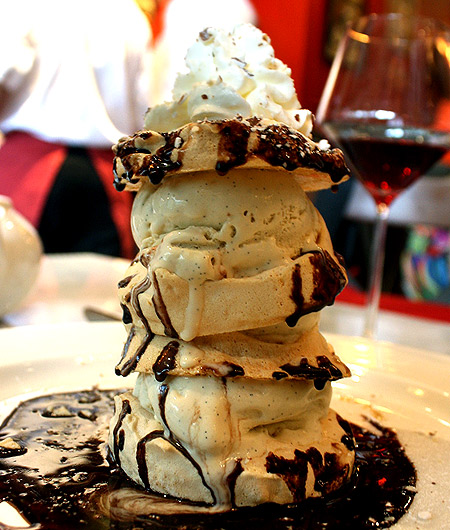 ADVERTISEMENT - CONTINUE READING BELOW
This skyscraper of a dessert: Le Vacherin
Control the temptation because you'll regret it when you see the dessert: the Le Vacherin (P495). It's a mountain that you can easily conquer: alternating discs of crisp but fluffy meringue, velvety vanilla ice cream, cognac syrup, whipped cream, chocolate, white almond dragees, with a citrus element that contrasts against the luscious confection. It's funny. For a restaurant that describes itself as "down to earth" French food, Bistro du Vin sure knows how to end on a high note.
Share this story with your friends!
---
Help us make Spot.ph better!
Take the short survey
Load More Stories