New Restaurant Alert: Tambai Yakitori Snackhouse at Felipe Street, Makati
Felipe Street is fast becoming a favorite hangout destination.
Tambai Yakitori Snackhouse
5779 Felipe Street, Barangay Poblacion, Makati City
Contact: 0917-842-3725
Open daily from 5 p.m. to 12 a.m.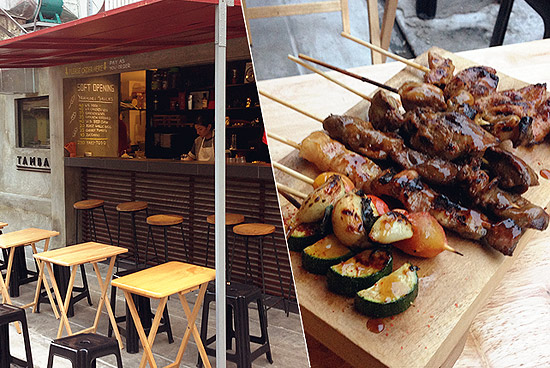 (SPOT.ph) The Philippines has a vibrant street food scene. There's nothing like the smell of food on the grill or fryer that can make you stop in your tracks, your stomach suddenly rumbling, your mouth beginning to water. Isaw, barbecue, and innards: These are the flavors of the street-providing fuel and nutrients, staving off hunger, an alcoholic accompaniment, a quick and delicious snack. This is the tradition that Tambai Yakitori Snackhouse draws from; this and the Japanese yakitori, tiny grilled skewered meat and veg, meant to be eaten several sticks at a time.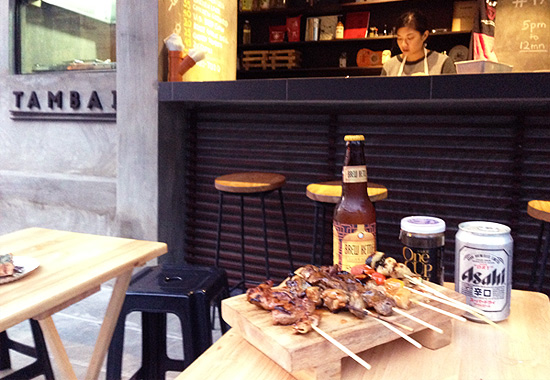 ADVERTISEMENT - CONTINUE READING BELOW
It's a street party!
Tambai is located along Felipe street in Barangay Poblacion, the same street which also houses street taco place El Chupacabra and biker bar H&J. It attracts the same crowd: hungry, noisy, and fun, which makes sense, considering the idea to open a snack house was conceived while its owners were drinking. "We drank here all the time, and we said that we should put something up because this area is going to be big, and we wanted to be a part of it," says Franco Ocampo, who, with Melvin Viceral and Jerome Valencia (who is also Executive Chef), owns the snack house.
CONTINUE READING BELOW
Recommended Videos
The restaurant is tiny, an outdoor affair composed of a counter and some tables and stools; an ambiance that lets diners make the most of the street's party vibe. The menu is small and straightforward; a list of skewered favorites, from pork, chicken, and beef to innards, vegetables, and seafood. There's also a selection of alcohol that includes local and Japanese beer and one shot sake.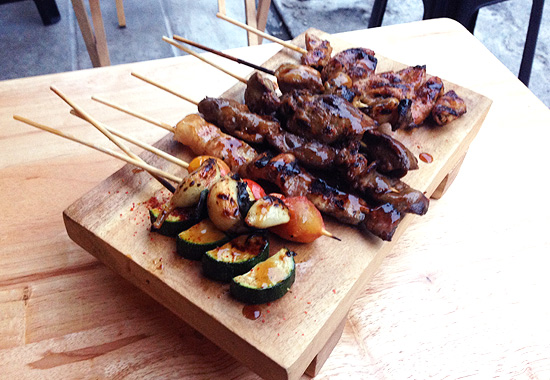 ADVERTISEMENT - CONTINUE READING BELOW
Veggies and meat happily sharing space together
If you're looking for hardcore pulutan, the U.S. Beef Isaw (P40) has a smoky flavor, chewy, slight gizzard taste. The Chicken Liver (P35) goes great with beer, while the Chicken Gizzard (P35) is surprisingly neutral-tasting and meaty.
Tambai also has more conventional barbecues. The U.S. Chicken Leg (P40) is covered in a sweet glaze, its dark base calling to mind Japanese yakitori. The U.S. Pork (P40), meanwhile, will be one of the best pork barbecues you will ever taste. It is sweet and savory, with tender meat that ends in fat, as is tradition. If there was a contest for the perfect fusion dish, this should be in the running.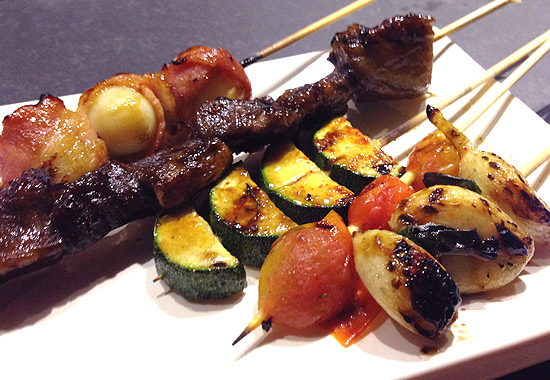 A closer look at the gorgeous grilling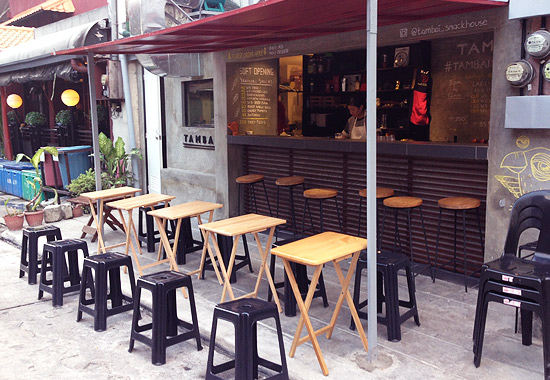 ADVERTISEMENT - CONTINUE READING BELOW
Plenty of seats to go around
There is also the Soft Shell Crab on a Stick (P180), with crisp skin that gives way to soft, warm, slightly crunchy crab, the whole thing drizzled with sweet, slightly spicy sauce-just the thing to whet your appetite. A must-try is the quail egg and bacon (P50), the bacon attaining a deep flavor, its fat infusing the egg, which remains soft.
Tambai's vegetarian selection is not to be overlooked. The Roast Garlic Basil (P20) is composed of soft garlic infused with the taste of the grill, retaining just a hint of tang, the cloves interspersed with individual basil leaves coated in sweet sauce. A surprising favorite is the Cherry Tomato (P25), its skins beautifully puckered, the grilling process releasing soft meat and sweet juices; a mini explosion in the mouth. The Zucchini (P45) is sweet and firm, the vegetable's natural flavor hiding underneath the smoke and spice.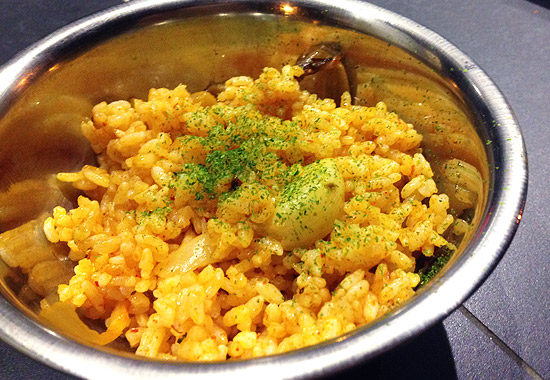 ADVERTISEMENT - CONTINUE READING BELOW
Kimchi Fried Rice
Tambai isn't all about finger food; it's possible to have light meals here as well. Order a 'laki-tori,' basically a souped-up version of the regular skewer and a bowl of rice and you're good to go. The U.S. Beef Rib Finger (P180) is sweet, hearty, strong yet delicate, and sells out fast. It goes well with the Kimchi Fried Rice (P60). Vegetarians can opt to pair the latter with the Tofuyaki (P70), crispy tofu drizzled with a mixture of teriyaki sauce, togarashi, seaweed, and Japanese mayo.
Tambai is the kind of restaurant you'll want to go to as a group-the more the merrier, its menu and ambiance encouraging you to eat, drink, and talk. It's a small operation, which means that you'll find at least one of the proprietors there on any given night, something which adds to the air of camaraderie that permeates the place. It's best to drop by early, as the lines tend to get long as the night wears on. But if you do find yourself falling in line, you'll find that the wait is worth it.
Share this story with your friends!
---
Help us make Spot.ph better!
Take the short survey
Load More Stories