10 Awesome Cake Artists in Manila to Try for Your Next Celebration
Their cakes are more like masterpieces.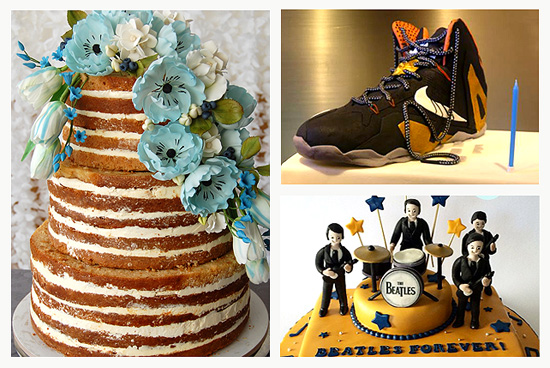 (SPOT.ph) Let us be the first to tell you that there are more than 10 artists in Manila whose talent with cakes are absolutely jaw-dropping. There's the little shop in White Plains whose window displays are every child's delight. Dexter's Bakeshop and Coffee Shop has a long 44-year history that only seems to be getting sweeter as they improve their techniques. Then, there are the renowned pastry magicians like Heny Sison and Penk Ching. Their cakey creations have long been the eye candy of many festivities.
Yet there are more. Cakes have long been the center of attention at any celebration, and whether it's a wedding, a birthday party, or just a fancy dinner, here are 10 terrific cake artists of varying styles who can help you come up with a showpiece that guests will remember for a long time.
This list is not ranked.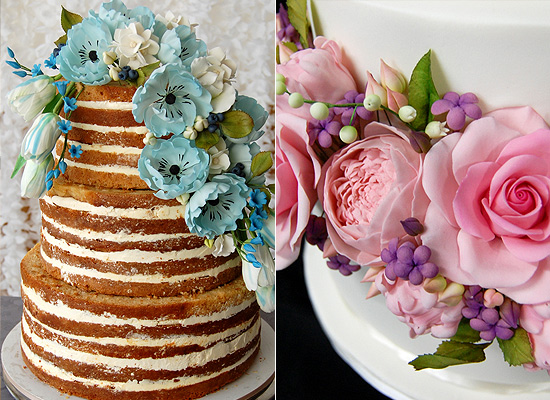 ADVERTISEMENT - CONTINUE READING BELOW
1. Piece of Cake by Yumi Castrillo
Size isn't Yumi Castrillo's specialty. Her biggest cakes are only up to 14 inches, but she makes sure that underneath the frosting and fondant are cakes that are delicious and moist. The hands-on baker is especially impressive with gorgeous handcrafted sugar flowers on elegant designs, making your cake double as the centerpiece for your celebration.
Recommended Flavors: Deep Dark Chocolate, Bailey's, White Chocolate Walnut, and Almond Orange-all filled with Swiss meringue buttercream and coated with 52% imported dark-chocolate ganache.
Price Range: Two-tier wedding cakes start at P6,000.
Contact: pieceofcakebyyumicastrillo@gmail.com; 0917-805-4063; pieceofcakebyyumicastrillo.com; @yummiyumi (Instagram)
CONTINUE READING BELOW
Recommended Videos
Lead Time: At least one week. Bigger cakes require booking months in advance. Piece of Cake only takes two wedding cake orders per week.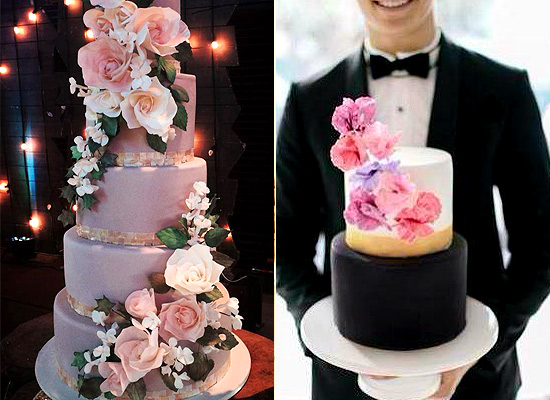 2. The Delightful Miss Joyce
You don't need a party to enjoy Joyce Urieta's skills. Her famous Manchego Cheesecake is a cause for celebration in itself, and many have been hooked to its smooth decadence. Her signature is served as is-like any cheesecake should-but you should know that this cake artist is talented with creating sugar flowers so lifelike that they could've come from a garden. Seriously, we'd like a bouquet of those blooms. The Delightful Miss Joyce has a minimalist style that results in a profoundly chic impact. Apart from large cakes, she also offers cakelets, bijou cakes, and Belgian chocolate lace cookies.
ADVERTISEMENT - CONTINUE READING BELOW
Recommended Flavors: Chocolate Cappuccino, Chocolate Strawberry, Chocolate Vanilla, Chocolate with Salted Caramel, Lemon Blueberry, Vanilla Berry Melange, Coconut Lime, Raspberry Lime, Lemon Strawberry, Red Velvet, Pistachio
Price Range: Available upon request
Contact: thedelightfulmissjoyce@gmail.com
Lead Time: Ideally a month or more ahead. Orders are on a first-come-first-served basis.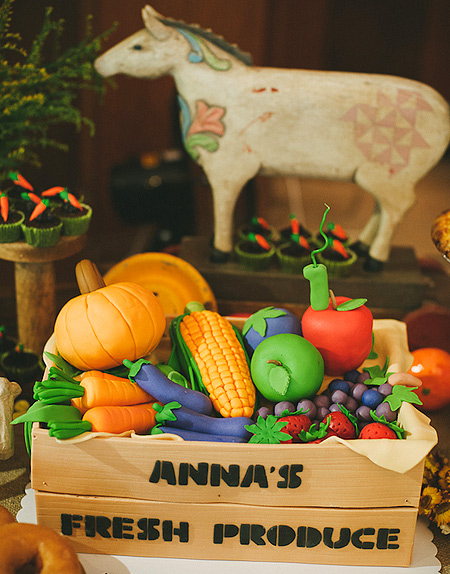 3. Cake Shack
The purveyors of the rainbow cake definitely have some of the happiest creations around. Baking honcho Genine Garcia likes her cakes lively and vibrant-she describes it as "cartoony." Whether it's a cupcake or a full-sized cake, there's a playful and child-like touch to their masterpieces, which makes them perfect for children's parties or quirky celebrations.
Recommended Flavors: Big Gay Rainbow Cake, Chocolate Truffle, Chocolate Yema, Red Velvet, Mocha, Moist Carrot Cake, Peanut Butter Chocolate and Bacon, Apple Caramel Walnut, Milk Tea Latte, Honey Banana Walnut
Price Range: Single tier cakes start at P5,000; tiered cakes go from P10,000 to P12,000
ADVERTISEMENT - CONTINUE READING BELOW
Contact: cakeshackcakery@gmail.com; www.thecakeshack.com.ph
Lead Time: Two to three weeks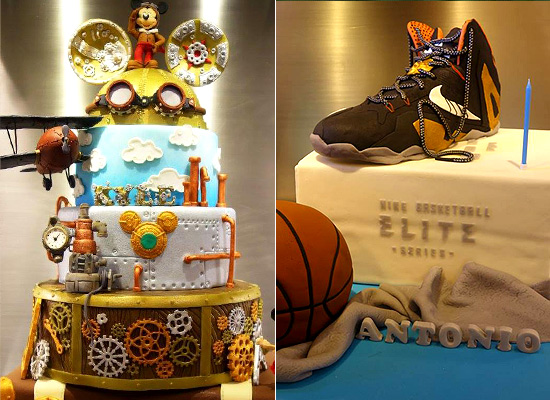 4. OC's Kitchen
Ana Ocampo Sarmiento's impeccable fondant work has been making rounds in social media for years. Her attention to detail and intricate executions are nothing short of jaw-dropping, and while she could probably get away with just her gravity-defying designs, the actual cake underneath all the sugar is also delicious. She's an architect by profession, which probably explains her sculptured masterpieces. She may have done several Frozen and Lalaloopsy cakes, but Ana doesn't like repeating designs and no two OC cakes are ever alike.
Recommended Flavors: (cake) Chocolate Mud, Cream Cheese Pound Cake; (cupcake) Chocolate, Red Velvet, Banana Chocolate Chip
Price Range: One-layer cakes start at P5,800; two-layer at P7,800; three-layer P10,800; cupcakes are P175 each (minimum of a dozen orders); cupcake tower is P9,800 (complete with an eight-inch cake and 30 cupcakes)
Contact: littlemissoc@yahoo.com
Lead Time: Two weeks to one month
ADVERTISEMENT - CONTINUE READING BELOW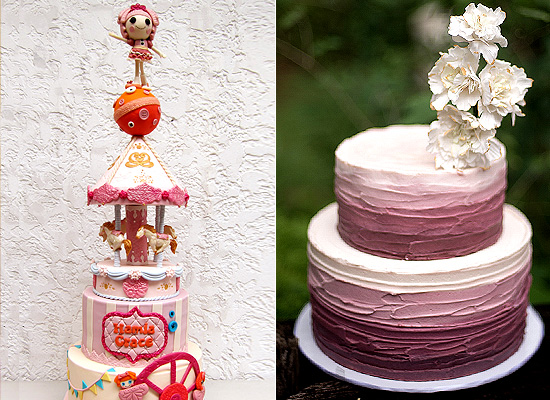 5. Lovelots Cakes
We love how Melissa Pedreña is just as good with buttercream as she is with fondant (if you've seen her lechon cake, large, glistening, and "roasted" in all the right parts, then you know what we're talking about). She does a variety of desserts, but it's her simple but gorgeous designs that speak volumes about her style. Take her ombre cake, for instance. It's understated in embellishment yet incredibly sophisticated. Melissa likes to collaborate with her clients in crafting the design to make each cake truly personal.
Recommended Flavors: Red Velvet with Dark Chocolate Truffle and Chocolate Fudge with Salted Caramel. Clients are allowed to mix and match their cakes to the frosting.
Price Range: Celebration Cakes start at P2,000 (6x5-inch round), more intricate sculpted cakes can go for P20,000+. Check their pricing here.
Contact: mel@lovelotscakes.com; www.lovelotscakes.com; @lovelotscakes (Instagram)
Lead Time: A month, at least, but Melissa accommodates a shorter working span if the schedule allows it
ADVERTISEMENT - CONTINUE READING BELOW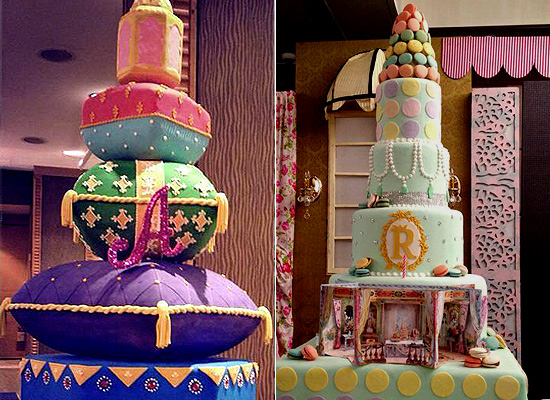 6. Sugar Box
Emily Uy injects fun into her enormous cakes. Cartoon characters are a common feature, as well as vivid and bright color palettes. Enter the room and her works will immediately catch your attention. She can make anything from cake pops to cupcakes to eight-layered cakes. Fondant and sugar not enough? Ask Sugar Box to deck your cake out with lights, beadwork, fringe, and other embellishments. In case you're wondering, she can even motorize them.
Recommended Flavors: Chocolate Mud Cake, Carrot Walnut, Apple Rum, Banana Chocolate Chip, Vanilla Butter Pound Cake
Price Range: P15,000 to P35,000
Contact: asksugarbox@yahoo.com; 0917-534-8074
Lead Time: Three to four months for bigger cakes, or at least two weeks for smaller ones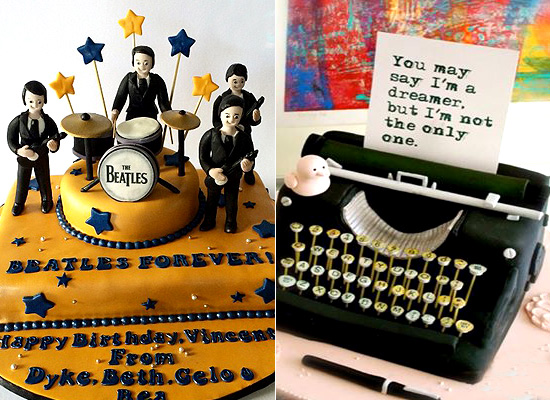 ADVERTISEMENT - CONTINUE READING BELOW
7. Swell Sweets
Gel Colet famously made Patty Laurel-Filart's immaculate wedding cake, but her fondant work can go from clean elegance to intricate detailing. A favorite for birthdays, Swell Sweets has some of the most expressive cakes around, conveying themes and personalities through icing which she can mold into everything, from shoes to bags to whatever other item the client can think of. Her wedding creations are awe-inspiring, but we love her one-tier pieces that serve as a stage for sceneries and characters (yes, all sugar). Gel is also a pro when making cupcakes, cookies, cake pops, and other decor-worthy desserts.
Recommended Flavors: Chocolate, Butter, Chocolate Marble, Red Velvet, Coffee, Chococcino,
Price Range: Single-tier from P350 (three inches) to P8,800 (double height, 9x13 inches); Multi-tier from P6,200 (two-tier, eight inches) to P44,000 (three-tier, 20 inches). Click here for a more comprehensive price list.
Contact: swellsweets@gmail.com; 0917-536-7827; 358-8712; swellsweets.net; @swellsweets (Instagram)
Lead Time: At least two weeks
ADVERTISEMENT - CONTINUE READING BELOW
8. The Bunny Baker Cake Studio
Some things are better seen up close and in person-as in the case of The Bunny Baker. They have a showroom-slash-cafe where they meticulously craft their cakes. They have a penchant for adorable designs (because...bunny), but give them a challenge and they can make true-to-life creations as well. They specialize is fondant, but Bunny Boss Aila Yonzon says that as long as you can imagine it, they can most likely make it. Their eye for detail is so sharp that even their cake pops and cupcakes are sculpted.
Recommended Flavors: Chocolate, Vanilla, Red Velvet, Banana, Carrot, Mocha; (frosting) Nutella, Matcha, Speculoos, Peanut Butter, Mocha Buttercream
Price Range: Small two-tier cakes (eight inches) start at P8,000
Contact: cakes@thebunnybaker.com; 650-4153; The Bunny Baker Cafe and Cake Studio is at Unit 301, Doña Hemady corner E. Rodriguez Sr. Avenue, Quezon City.
Lead Time: Two weeks for small orders and at least one month for complex cakes and bigger orders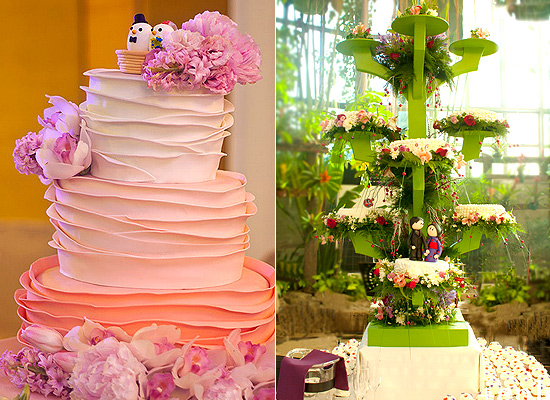 ADVERTISEMENT - CONTINUE READING BELOW
9. Joy San Gabriel Cakes
The talented Ms. Joy San Gabriel-Young describes her cake philosophy with three words: simplicity, elegance, and taste. Underneath all that great fondant work is a wonderfully tasty cake through and through-she doesn't forget that a cake, no matter how artistic, is still cake. Her style range is exceptionally broad-going for cutesy sugar figurines to incredibly intricate and elegant icing work. Almost 18 years in the industry, Joy is unparalleled in her piping skills and she makes sure each cake has a personal touch.
Recommended Flavors: Carrot Cake, Oreo Cheesecake, Mango Cheesecake, Blueberry Cheesecake, Strawberry Cheesecake, Mini Brazo de Mercedes, Coffee Caramel, Moist Chocolate Cake
Price Range: Three-tier cakes start at P13,000; round cakes start at P490; sheet cakes start at P1,600; mini cakes start at P132; cupcakes start at P88
Contact: sangabriel.joy@gmail.com; 743-9306; 211-4820; 0917-527-8837
Lead Time: For big cakes, clients should reserve based on the day of event (reservation fee is P1,000); small cakes should be ordered at least two weeks ahead of time.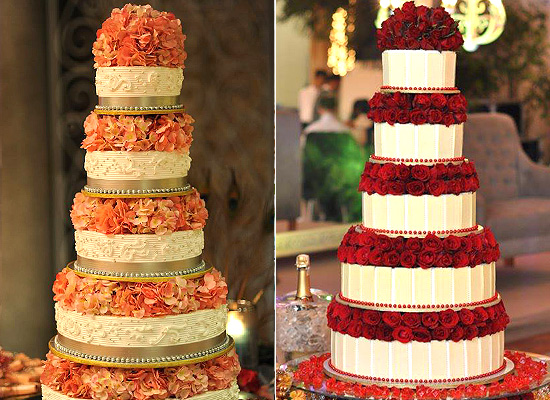 ADVERTISEMENT - CONTINUE READING BELOW
10. Alex Franco Cakes
Husband-and-wife team, Alex and Rosan Franco, work closely with their clients to design the best possible cake for the occasion. Their work with fondant, buttercream, and other cake elements is impeccable, and these two make sure that their cakes take everyone's breath away with either showstopping architecture, eye-catching color combinations, and refreshing style. What's more impressive is that for the height that their cakes can go, every layer is edible, refrigerated, and ready to eat. There's your dessert right there. The Francos assign staff to slice the cake to be served during the event, and they even come prepared with boxes for takeaways.
Recommended Flavors: Prune, Chocolate, Apple Walnut, Apple Cinnamon, Walnut Caramel, Pecan Caramel, Carrot
Price Range: Three-tier cakes start at P22,000; four tiers at P22,500; and five tiers at P23,000; more layers cost extra
Contact: alexfrancocakes@gmail.com; 0917-276-9003; 533-1450; www.alexfrancocakes.webs.com
Lead Time: At least one month
Photos courtesy of cake artists, official Facebook pages (with permission); and by Toto Villaruel for Bride and Breakfast (The Delightful Miss Joyce) and Sugarpuff Photography (Cake Shack).
Share this story with your friends!
---
Help us make Spot.ph better!
Take the short survey
Load More Stories