10 Life Lessons You Can Get from a Fried Chicken
Not just crispy, meaty and juicy lessons.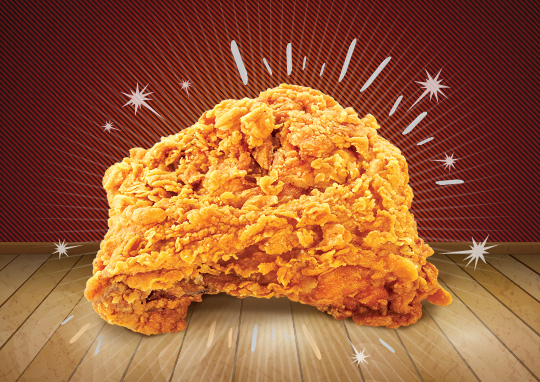 There are times wherein life just seems to suck for no particular reason. Times wherein you felt that the universe has done you an injustice and that you absolutely have no idea what you've done to deserve it. And you feel that you yourself deserve a reward to counter the universe's unfair wrath.
The perfect reward to counter cosmic rage is, of all things, a fried chicken. C'mon, the whole world (minus Vegans, of course) will agree that once you get a hefty chunk of fried chicken in your mouth, life becomes more colorful, tastier, juicier and well, perfect. However, behind the incredibly crispy skin and juicy meat, one can even find relevant lessons that can be applied to every day life.
Wondering what those lessons are? Here's a crispy and juicy list:
1.  Stuff life with lemongrass and green onions
These spices make the chicken meat tastier and steaming with aroma. Life is stressful, that's given. But we shouldn't forget that there are simple things in life that gives us priceless joy.
We can find our seasonings in life without too much effort, time and money. Go play with your pet, chat with friends and family to know the latest craze and gags, cook dinner for your date. These are the simple things to stuff our lives to let off steam.
2.  Marinade your chances and have no regrets
Marinating your chicken improves its flavors and makes the skin crispy. During cooking, some of the moisture that comes out from the chicken pieces is absorbed by the coating of flour, thus creating a flavorful crust. That is how marinating your life with chances is. Taking opportunities small or big improves your chances of getting what you want and improving your situation.
ADVERTISEMENT - CONTINUE READING BELOW
Life is full of possibilities. Success and failures are wrapped in these chances. Don't regret the chances you take because even if these chances give you bad situations they only add flavor to your life to prepare you for your next great adventure.
3.  Cut your problems into quarters and deep-fry in batches
A whole fried chicken served in a garnished tray is really mouth-watering. But a fried chicken that is already cut into its four main parts - breast, leg, thigh and wing, while also mouth-watering is easier to eat.

Sometimes, you didn't know that there's only one major problem and that the other problems that you have sprung from that same big problem. Once we spot this biggest thing that disturbs us and we break it down, we deep-fry it at 350⁰F. The batches of our tiny problems that go with it are now fragments we can easily chew and digest.
CONTINUE READING BELOW
Recommended Videos
4.  Serve your people with gravy or ketchup on the side
With an old-school dish like fried chicken, there is no better partner for it than the old-school and original gravy and ketchup. But nowadays, you can enjoy extra dips like sweet chilli sauce and mayonnaise dip.
This is the same when reaching out to our fellows. We want to go past that extra mile and we really can. With timeless virtues like fairness, humility and honesty, serving others with these characters on the side indeed is the original measure of genuineness.
5.  Get rich or die frying
ADVERTISEMENT - CONTINUE READING BELOW
When it comes to chicken, seasoning plays a major role to the taste but it's the frying that really tells the quality of the whole package. A delicious fried chicken is a well-fried chicken. And frying chicken is no simple task. The same thing with life.
We try and do things to reach goals and strive for excellence and success. Trying is not enough without passion, the drive to succeed, to overcome and to outlast. Consider yourself a fry cook who sets everything perfect before dropping the chicken on the pan.
6.  Great flavor is not something readymade. It comes from your own actions
You yourself are responsible for the taste of happiness and satisfaction in your life. You wouldn't find it or just let it happen. Instead, you have to make it happen. Next time you say you ran out of choices to be happy, think again. Because you do have a choice, your first step is not to find it but make it.
7.  Hope for the best, plan for the worst
There are those times wherein the taste, crispiness and juiciness of the chicken just doesn't suit you. Maybe it's your mood, the ambiance of the place where you eat or the chicken itself. But you can always make the most out of it.
This is where innovation and resourcefulness comes in. When you have back-up plans and you know how to innovate, chances of getting back on your feet are limitless.
8.  Fried chicken is a dish best served hot
ADVERTISEMENT - CONTINUE READING BELOW
If revenge is a dish best served cold, fried chicken on the other hand is best served hot. What's it to do with your fried chicken lesson? It spells passion and if you're sick of the word or doesn't want the way it's running, then change it. Or at least, try your best doing that. The same thing with life.
The right time to accomplish our works and activities to get flying colors is when we give it our best shot. If you want to be at the top, don't just leap, fly. If you want to fill your bucket with water, don't fetch from the river, dig a well.
9. Follow your soul. Follow your bliss
Once a fried chicken lover, forever a fried chicken lover. This might make you really happy or mad depending on the situation and you know, deep down, you really can't let go of it. Which is, again, the same with living. Don't let go of what truly makes you happy. Follow your soul, they say. Things in life will run smoothly if you love what you do. Life will always show you a way to chase your dreams. Once it does, grab it with both hands.
10.  That this fried chicken will never taste this good again is what makes it better
That this moment will never come again is what makes life so sweet. Having said this, while you have time and resources to find and taste the best fried chicken in town go and indulge. Savor the crunchiness and have that juicy meat fill your mouth with satisfaction. Do the things you love and make the most out of life.
ADVERTISEMENT - CONTINUE READING BELOW
---
Yes, life will always be unfair. Yes, the universe will always conspire against you especially on Monday mornings and Friday nights. And yes, these instances will be totally out of your control...but then, like these life lessons gleaned from your favorite fried chicken, you can always make a choice not to let your day (or night) be ruined by such setbacks.
One such choice is to head to the nearest Wendy's and try their big and meaty fried chicken. Life definitely gets better with every juicy bite. C'mon, we all know that contemplating life is always best while munching on a drumstick.
And the best thing about making the world, our world, a better place by rewarding yourself with the big and meaty Wendy's fried chicken is that deep down, we know that we deserve this.
Share this story with your friends!
---
Help us make Spot.ph better!
Take the short survey
Load More Stories