New Restaurant Alert: Fireside by Kettle at SM Mega Fashion Hall, Mandaluyong
Its chicken may just give Kettle's some competition.
Fireside by Kettle
3/F SM Mega Fashion Hall, Mandaluyong City
Contact: 532-1807 
Open daily from 10 a.m. to 10 p.m.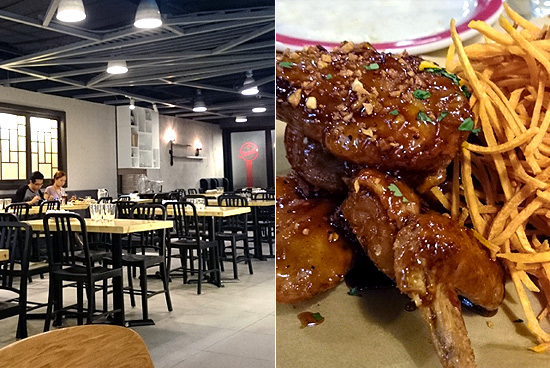 (SPOT.ph) The chicken was the obvious order. It feels like Fireside, and we can't forget the "By Kettle" that follows the name, dares us to.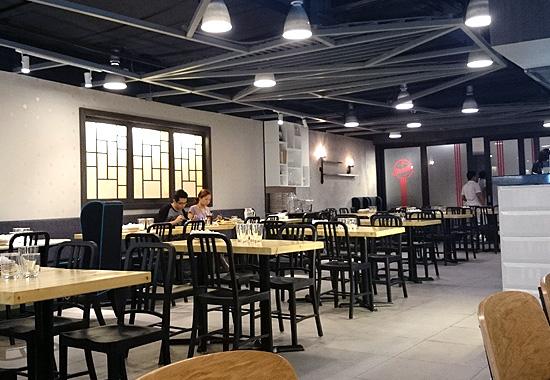 ADVERTISEMENT - CONTINUE READING BELOW
Bare bones interior
For all its successes in country comfort cooking, Kettle in Shangri-La (and now also SM Aura Premier) is primarily famous for two things: the parmesan-spiked bale of crunchy shoestring potatoes and crispy pork belly, and the buttermilk fried chicken paired with honey-glazed cornbread. The chicken consists of two enormous boneless pieces, marinated in buttermilk for 24 hours, and fried with a golden spice-heavy breading that covers the tasty meat in an intense coat of salt, pepper, and just a perfect smidgen of heat.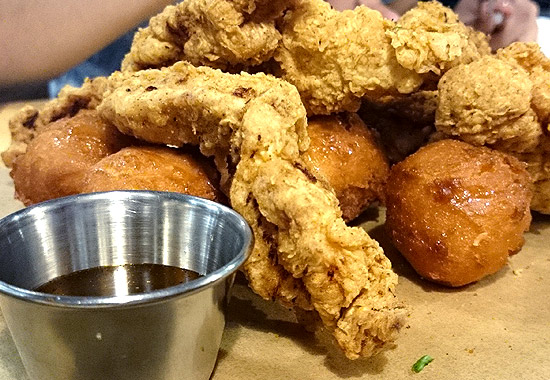 ADVERTISEMENT - CONTINUE READING BELOW
Buttermilk Fried Chicken Tenders
The Buttermilk Fried Chicken Fingers (P489) resemble Kettle's in terms of style: boneless fried chicken-but in large strips-and cornbread donuts. Unlike the way the kitchen at Kettle shocks and awes with its presentation, Fireside is noticeably meeker in its approach, opting for a subtler but nonetheless substantial satisfaction. Between the flakes of incredibly crisp cracker breading sneaks a subtle smokiness from Cajun. The donuts are denser than the spongy, buttery, zesty cakes in Kettle, but the flavors are tamer and ultimately more addictive. Get them on their own for P109 (five pieces).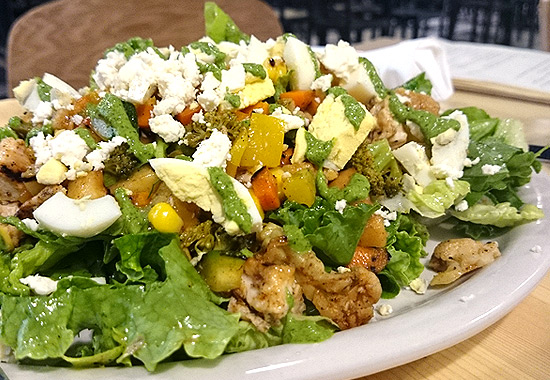 ADVERTISEMENT - CONTINUE READING BELOW
Grilled Chop House Salad
With the chicken in the room out of the way, Fireside's own talents come out. The Grilled Chop House Salad (P189/bowl; P389/platter) is an entire market on a plate: the customary greens, kale, and zucchini boding well against the sweetness from apple, richness from eggs, texture from roast chicken, and salty creaminess from feta. The medley is lightly tossed in honey lemon dressing, but it's the pineapple, buried somewhere in there, offering pops of brightness that really make this salad stand out.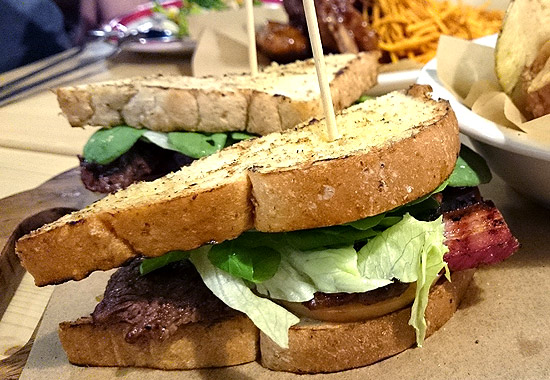 ADVERTISEMENT - CONTINUE READING BELOW
Steak BLT
As far as sandwiches go, the Steak BLT (P389) is a more affordable indulgence. The U.S. top blade is sliced thinly (but thick enough to matter), salty, meaty, perfectly in tune with the smokiness of the bacon slab. There's thankfully a good proportion of tomatoes and lettuce to even things out.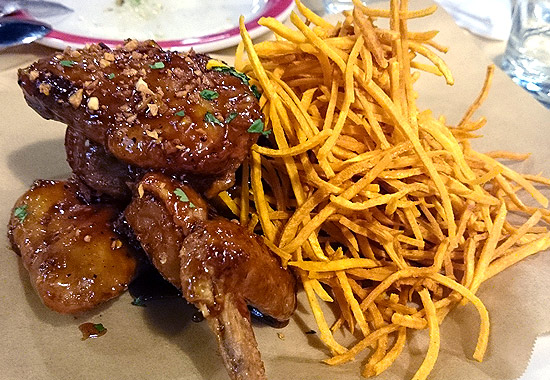 ADVERTISEMENT - CONTINUE READING BELOW
Really hot wings!
The kitchen knows more than one way to cook chicken. The Sweet, Spicy, and Salty Wings (P249/three pieces; P409/five pieces) are loud and bold-spicy choosing to stand out, with sweet and salty contented in the background. It comes with a mountain of shoestring sweet potatoes (very evocative of the Pork and Potato Strips) that were kept simple and mild, like an antidote to the wings' seasoning.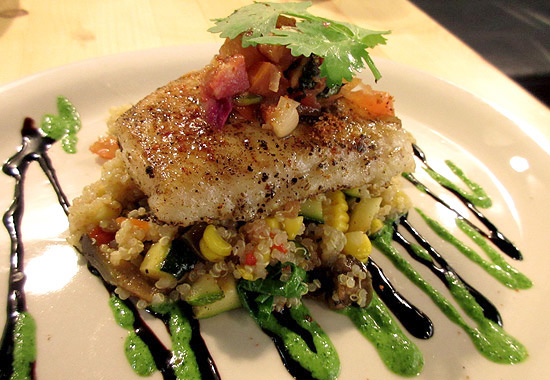 ADVERTISEMENT - CONTINUE READING BELOW
If you're feeling a little overwhelmed by the generous serving sizes, go for the Grilled Halibut with Bacon, Vinaigrette and Quinoa Salad (P399). The smoke and crunch of the light char perfectly complements the tenderness of the fresh fish, with the subtle saltiness and tang of the quinoa adding just the right kick.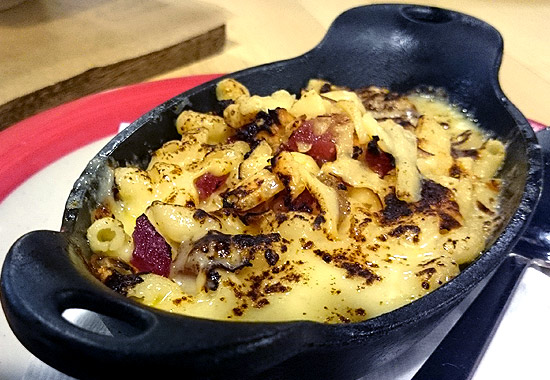 ADVERTISEMENT - CONTINUE READING BELOW
A classic macaroni and cheese
But amid the usually large serving sizes in Fireside, the Smoked Mac and Cheese (P209) feels awkwardly small. It's rich and deeply flavorful, with more of that smoky bacon this time chopped into chunks. The cheeses aren't sharp or particularly brazen, but there's enough flavor in there to justify that size.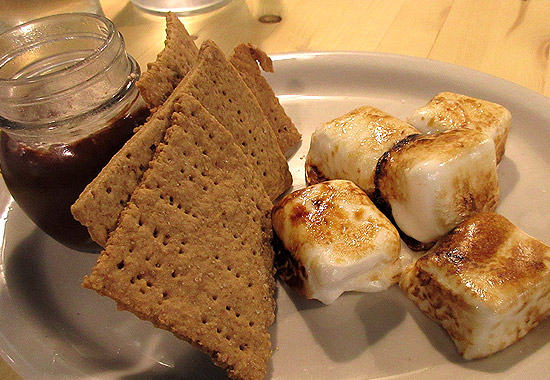 ADVERTISEMENT - CONTINUE READING BELOW
For dessert, share the Homemade S'mores (P139)-the large, perfectly toasted marshmallows sandwiched by gooey chocolate and graham crackers that look like they came fresh from Mom's oven make a great ending for a hearty meal.
Fireside may never escape the shadow of its predecessor (we're not entirely sure if it wants to), but here's the main difference. If Kettle is your reward after a tough day, Fireside is something you can have no matter what mood you're in.
Load More Stories