New Restaurant Alert: Nostalgia Dining Lounge at Oakwood Joy Nostalg Center, Pasig
A reimagined Oakroom retains its flavors.
Nostalgia Dining Lounge
6/F Oakwood Premier, Joy Nostalg Center, Ortigas Center, Pasig City
Contact: 637-7888 ext. 8603
Open daily from 6 a.m. to 11 p.m.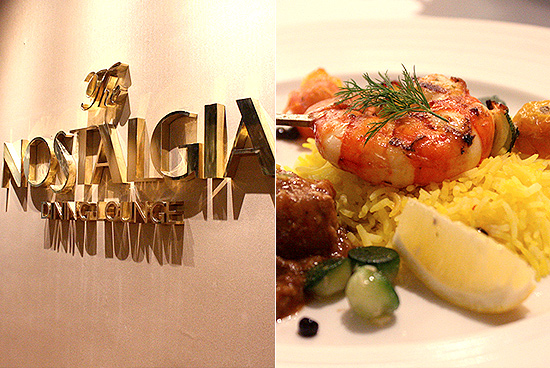 (SPOT.ph) However you might feel about change, sometimes it can be a good thing. Just ask the folks behind Nostalgia Dining Lounge, who have reimagined the former Oakroom Restaurant with a new name and approach.
ADVERTISEMENT - CONTINUE READING BELOW
The setting is still the same-elegant but relaxed interiors with earthy hues, plush seating, and warm lighting that invites diners to sit and stay awhile. There is more than enough space for a family get-together, a business meeting, or, if you're in need of a little privacy, they have you covered as well. The Nostalgia Dining Lounge houses three function rooms, each with a distinct theme that reflects the menu's international cuisine.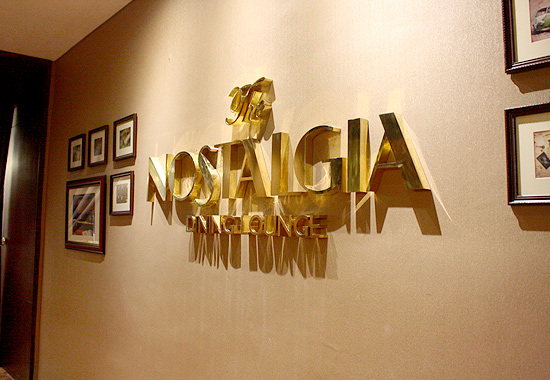 ADVERTISEMENT - CONTINUE READING BELOW
A gold sign welcomes diners
The new restaurant revolves around the concept of sentimentality, with signature dishes that draw inspiration from French executive chef, Jerome Cartailler's childhood. The updated menu is a mix of the familiar and not-so, a collection of the best dishes and its elements from Oakwood's previous roster that regular diners have come to love over the past five years.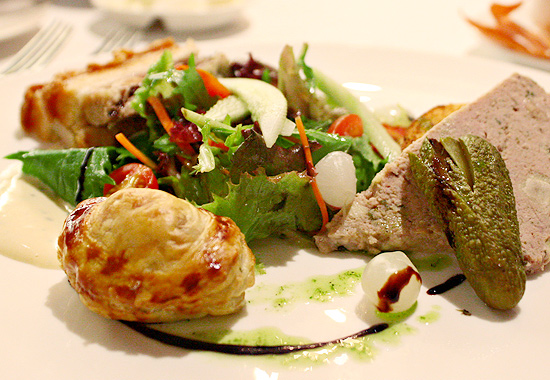 ADVERTISEMENT - CONTINUE READING BELOW
A trio of appetizers: Chef's Terrine, Escargots in Puff Pastry, and Crispy Pork Belly with Mesclun Salad
Take, for instance, the Chef's Terrine (P429), a recipe lovingly created by Chef Jerome's grandmother. The painstaking preparation is evident in the pork and veal loaf, marinated with Cognac then slow-baked for a balance of flavors. If you haven't already tried the Escargots in Puff Pastry (P530), now is the best time to start. Sink your teeth into crisp and flakey pastry, bursting with baked snails, garlic herb butter, and mushrooms. If you're feeling less adventurous, however, the unbelievably tender Crispy Pork Belly paired with fresh Mesclun Salad (P425) would be right up your alley.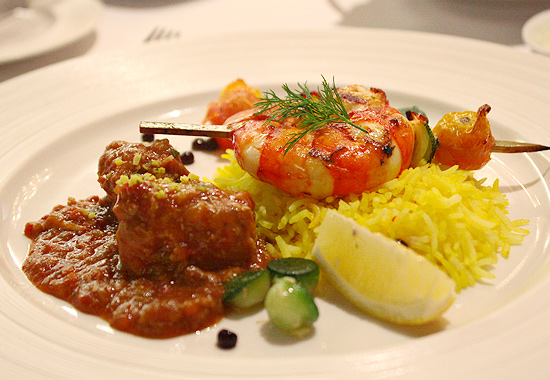 ADVERTISEMENT - CONTINUE READING BELOW
Berkshire Pork "Milanese" and Prawn Kebab
For the entrées, zero in on the Berkshire Pork "Milanese" (P615), a reworked recipe based on Chef Jerome's favorite Italian dish, the Osso Bucco. The finest pork cuts are braised in a blend of white wine, orange, saffron, and tomato, then garnished with the traditional gremolata. On the seafood side, the Prawn Kebab (P870) is a visual medley of bright colors, from the plump, perfectly cooked prawn to the bed of fragrant saffron rice, and embellished with grilled tomato.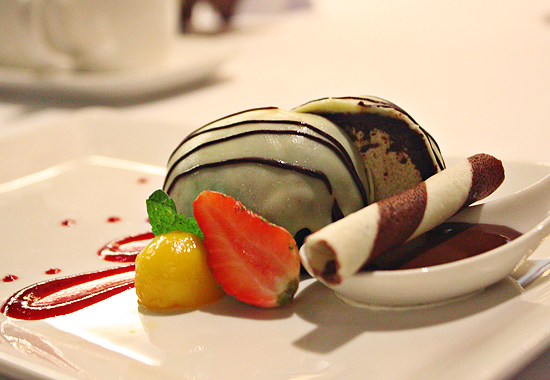 ADVERTISEMENT - CONTINUE READING BELOW
Tartufo
Finally, cap off a filling meal with Chef Jerome's signature Tartufo (P325), coffee-infused mousse served with subtly sweet ganache. The seasonal berry coulis is a welcome flavor, cutting through the richness of the chocolate.
The Nostalgia Dining Lounge promises a venue perfect for reminiscing and creating new memories, and if their opening day is any indication-February 14-you might want to start making plans soon.
Load More Stories