Now Open: Ba Noi's at Estancia, Pasig
Plus, there's Ba Noi's Ca Phe in Kapitolyo
Ba Noi's
LG/F Estancia Mall, Capitol Commons, Meralco Avenue, Pasig City
Open daily from 10 a.m. to 10 p.m.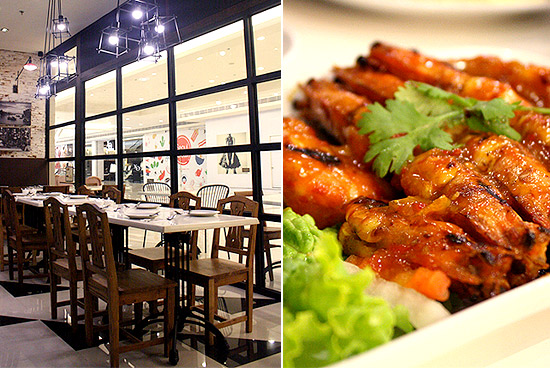 (SPOT.ph) It's safe to say that in the past years, a couple of relocations and a few more branches later, Ba Noi's has managed to maintain the quality that made the then "hidden gem" one of the go-to places for a good bowl of pho.
ADVERTISEMENT - CONTINUE READING BELOW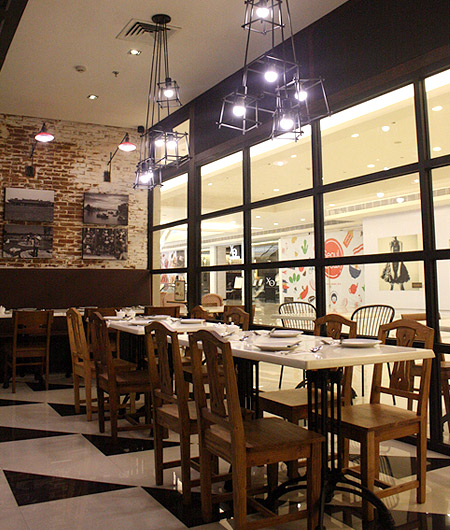 We're loving the lighting fixtures.
Other Vietnamese places have opened up since, and Ba Noi's has grown-its former charm as a hole-in-the-wall transformed into family-friendly, commercially rooted convenience. And still it's evolving. The latest branch in Estancia, for instance, feels like a breath of fresh air compared to another mall-based location like the one in UP Town Center. The previously traditional and fuss-free interiors have shifted to something edgier, brighter, like one of those yuppie cafes in Ho Chi Minh.
ADVERTISEMENT - CONTINUE READING BELOW
It could be the ever affable and tireless co-owner, Dodjie Violago. Three years ago, at the old Makati branch, he was eager about the dishes, the ingredients, the prices. Now, a few days into their new look and their Estancia branch, he's still showing the same amount of enthusiasm, maybe more.
There's so much to be excited about, though, so his excitement is pretty contagious. The outlet in East Capitol Drive, Kapitolyo, has been turned into Ba Noi's Ca Phe, which focuses on banh mi, and coffee. "Simple grab-and-go, cheaper price points," explains Dodjie. And the food, despite the expansion and branding changes, remains just as delicious.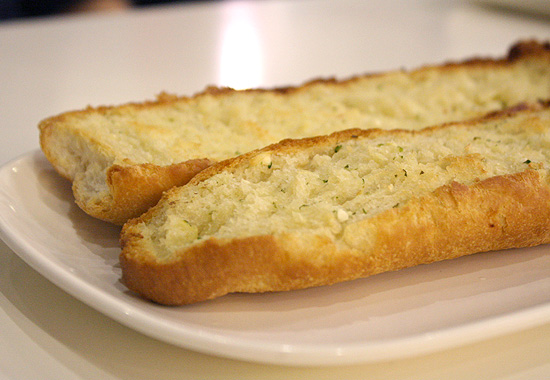 ADVERTISEMENT - CONTINUE READING BELOW
Baguettes
The new menu, designed by Dodjie's wife, Monica, is much easier to decipher-pristine page upon pristine page of Vietnamese dishes. The Banh Mi isn't available in this branch, but if it's true that the base of any good sandwich is good bread, then you can get a taste of it from their baguettes (P30 to P40), available in plain, garlic, or butter. The bread itself is soft, spongy, but hugged by a crust that crackles like an exceptionally thin biscuit. It's probably better with filling, but there's no shame in eating several empty loaves of it in just one sitting.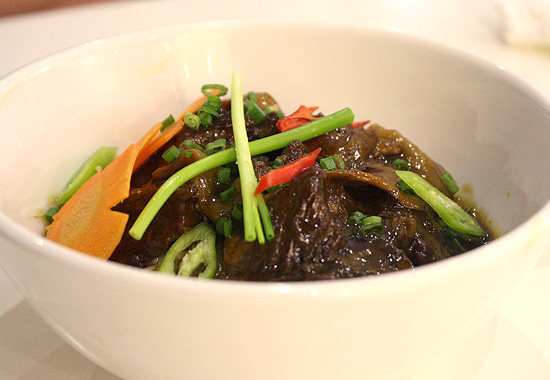 ADVERTISEMENT - CONTINUE READING BELOW
Bun Bo Kho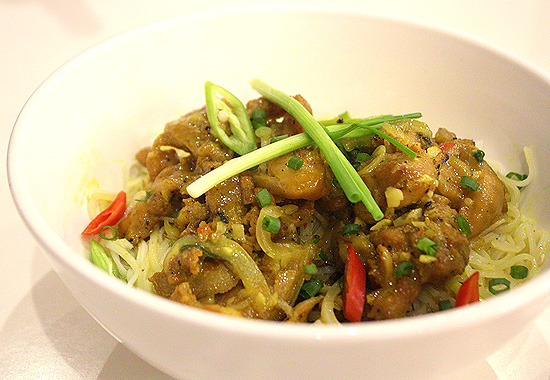 Bun Ca Ri Ga (P250 to P370) or chicken curry over rice noodles
The Bun Bo Kho (P260 to P410) is an easy favorite, if you've already been acquainted with their habit-forming Pho Bo (P260 to P410) and spectacular Bo Luc Lac (P350). You know this is a place that does beef justice. Bun is made up of dry rice noodles and a specific topping which, in this case, is beef stew (also offered separately as the Thit Bo Kho, P350). It flaunts the most tender and saucy meat, which doesn't dissolve the way the stir-fried beef does, but gives the dish a good bite nonetheless. The sauce on the side gives it a touch of bright sweetness, but there's enough flavor in it to begin with.
ADVERTISEMENT - CONTINUE READING BELOW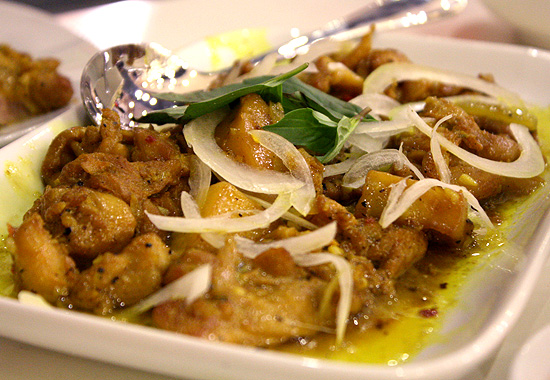 Chicken in curry and lemongrass (P250)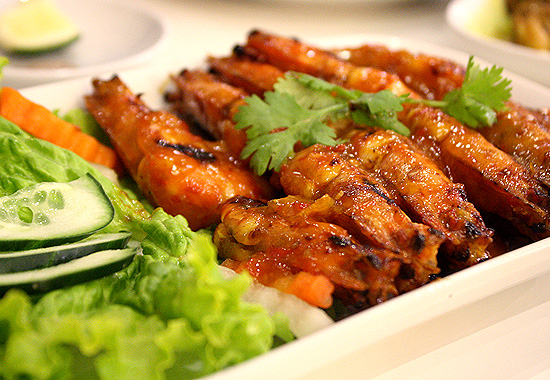 ADVERTISEMENT - CONTINUE READING BELOW
Tom Nuong (P340)
The Tom Nuong (P340) is a rare case of reality beating expectations. Instead of the small pile of prawns shown on the menu, the actual plate comes with several pieces arranged in two rows and looking gorgeous with dark grill marks over the glistening rub of sauce. The smoky flavor seeps well past the shell, wrapping that extra flavor around the sweet and spicy profile. It comes with a saucer of salt, pepper, and lime that really diverts that bold heat into something zingier and more complex.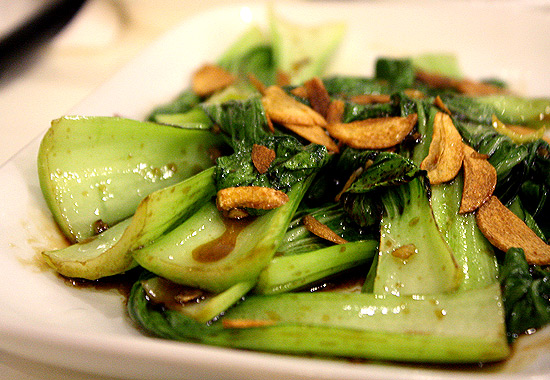 ADVERTISEMENT - CONTINUE READING BELOW
Cai Thia Xao Dau Hau (P115) or bokchoy in oyster sauce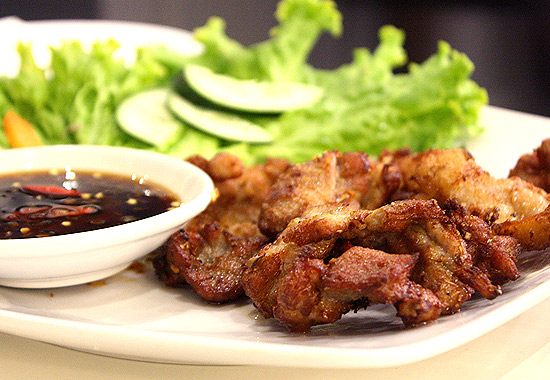 Suon Nuong Xa
When the plate of Suon Nuong Xa (P275) arrived, it looked mouthwatering in the way only fried pork could look. Beneath that deeply golden hue are riblets that are much more moist than they appear, with a rich flavor bolstered only by the soy chili sauce. Dodjie, who hasn't tried the dish in a while, was amazed at how good it tasted. His reaction is almost like a testament to how the quality hasn't wavered.
ADVERTISEMENT - CONTINUE READING BELOW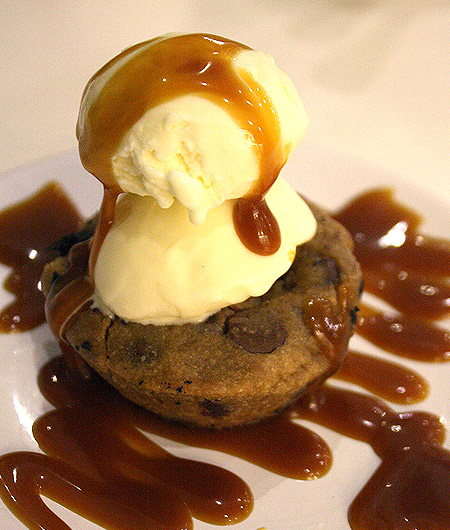 A Vietnamese take on molten chocolate cake
The Ca Phe Lava (P135) is admittedly not the most Southeast Asian of desserts. It's a thick cookie with a bittersweet molten center that's tinged with their famous coffee, and then topped with two small scoops of ice cream. It was Dodjie's way of highlighting their Vietnamese brews more, but if that were the case, we'll also have their new Specialty Blends (P120), perfect medleys of deep and bold Vietnamese coffee.
ADVERTISEMENT - CONTINUE READING BELOW
Ba Noi's also has branches at UP Town Center, Katipunan Avenue, Quezon City; and Perea Street, Makati City (843-4770, 0923-374-0548). Ba Noi's Ca Phe is at East Capitol Drive, Kapitolyo, Pasig City (477-9761, 0923-515-8242).
Load More Stories