New Restaurant Alert: Kissako Uji Matcha Café at Pioneer Center, Pasig
Green tea lovers, this could be your new haven.
Kissako Uji Matcha Café
Pioneer Center, Pioneer Street corner Brixton Street, United Avenue, Pasig City
Contact: 730-3356
Open daily from 10 a.m. to 10 p.m.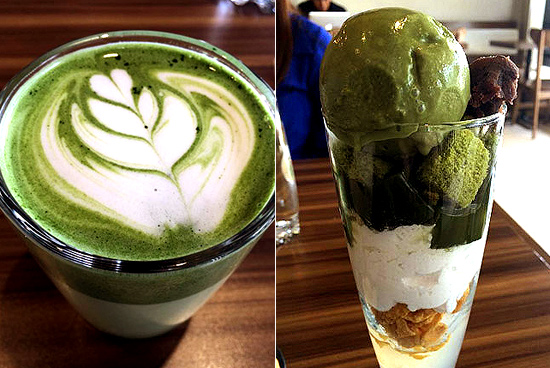 (SPOT.ph) The Zen-inspired green-tea cafe located in a humble corner at Pioneer Center doesn't think about competing with other cafes. Kissako Uji Matcha Café only aims to give their customers the best service along with the best quality in their products.
ADVERTISEMENT - CONTINUE READING BELOW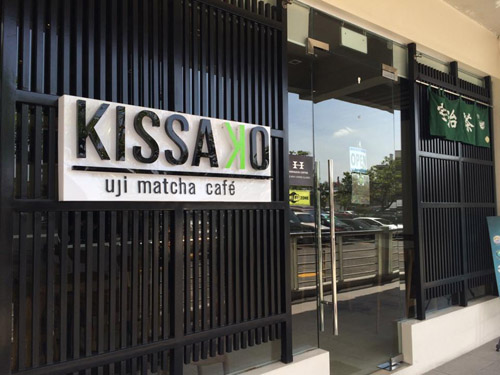 Kissa means "café" in Japanese, and Uji is a city in Kyoto that is famous for high-end teas. Kissako Uji Matcha Café opened just last October 2014 and has so far built an impressive number of regular customers who have found a home in the taste of their rich matcha green tea delectables. They take pride in bringing only the best tea and coffee to the Philippines, and making customers happy by serving them only the freshest green tea products (they dispose of anything older than two months).
ADVERTISEMENT - CONTINUE READING BELOW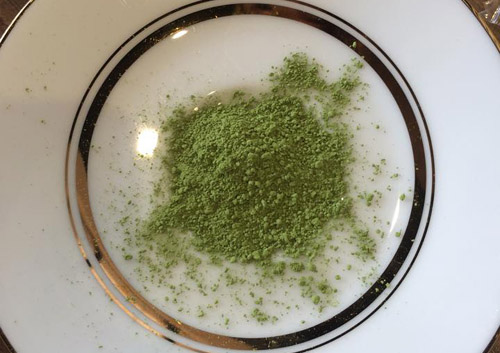 Matcha is finely milled powder from green tea leaves-well, certain green tea leaves. There's a common misconception that once green tea leaves are turned into powder, it's already matcha but don't be fooled. Kissako wants to introduce real matcha and real Japanese coffee to Filipinos.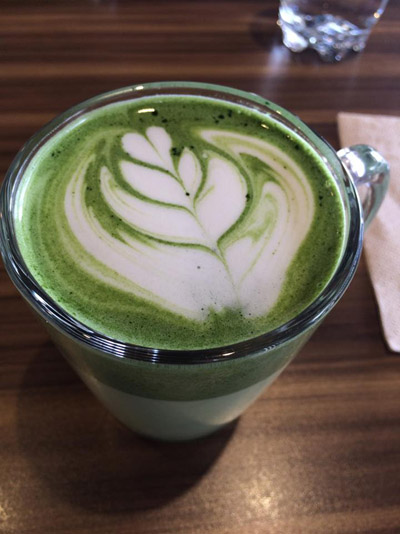 ADVERTISEMENT - CONTINUE READING BELOW
One of their best-selling drinks is their Matcha Latte (P150) and just with the first sip, we could tell (or taste) why. Unlike other matcha-based drinks, this hot beverage is the perfect kind of bittersweet-to the point that flavors of bitterness and sweetness are almost indistinguishable because they blend together so seamlessly. Thick and foamy, the drink soothes all your senses with the earthy matcha flavor mixed with organic milk. Their Iced Matcha Latte (P130/medium; P160/large) is just as pleasing.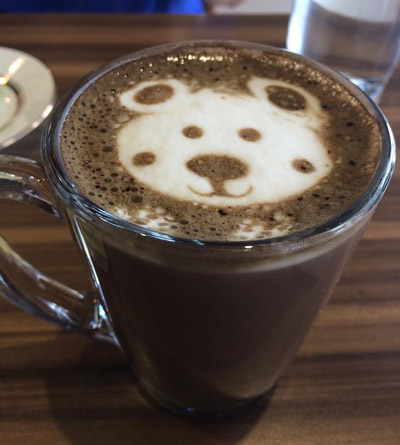 ADVERTISEMENT - CONTINUE READING BELOW
The Choco-Hojicha Latte (P150) is their best-selling drink for children. This hot beverage is a mix of roasted green tea and dark chocolate-it doesn't sound very child-friendly, but it does taste (and look) like it. There is zero bitterness despite the mix of dark chocolate and green tea, but there is an earthy undertone to it-kind of like thick, healthy-tasting hot chocolate.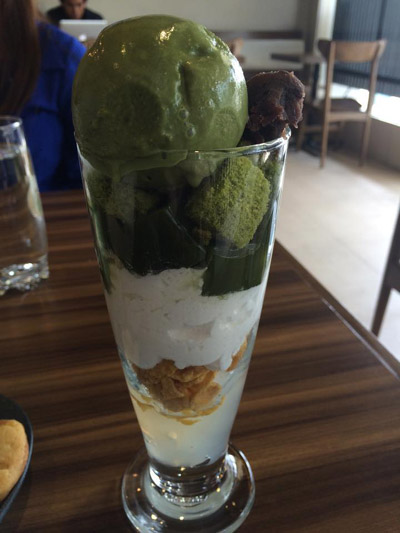 ADVERTISEMENT - CONTINUE READING BELOW
The Matcha Parfait (P195) is an eight-layer dessert that consists of green tea ice cream, sticky shiratama (imported rice cake), earthy anko (imported red bean), matcha sponge cake, matcha jelly, whipped cream, corn flakes for that crunch, and sweet nata-to add a Filipino twist.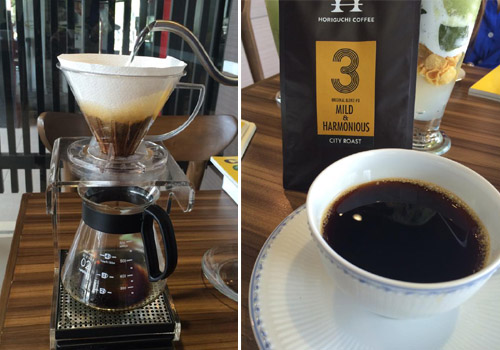 Although they are a matcha café, what most people don't know is that they serve coffee-really rich, and authentic Japanese coffee, to be exact. Kissako is the first to bring Horiguchi Coffee to the Philippines-one of Tokyo's high-end coffee products. The Horiguchi Blend 3 (P130) was prepared before our eyes, using the Japanese pour-over method. The Japanese are known for their attention to detail and precision, and this applies to their coffee and tea making as well. They use this method to avoid the bitter parts from dropping into the brew. The coffee may look intimidating, but you can be assured you can drink it without adding cream or sugar-this one is subtle in bitterness, and tastes more like tea.
ADVERTISEMENT - CONTINUE READING BELOW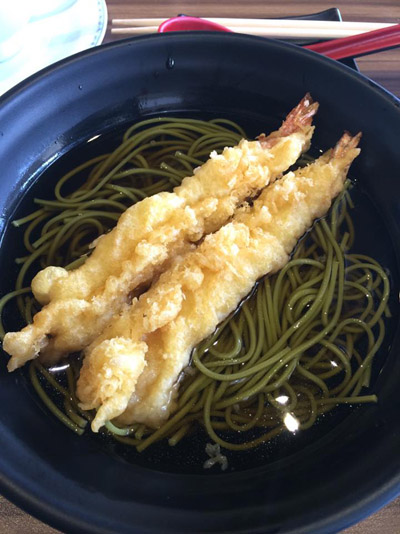 They let us in exclusively on their Matcha Soba Japanese style noodles, which they're hoping to be available by March. The presentation is very simple-noodles and soup, topped with two pieces of tempura. No frills, no fuss, but the taste is absolutely delightful. The organic green tea noodles and tasty soup steal the show. The soup is fish-based mixed with seaweed, which gives a briny tang to an otherwise plain noodle soup.
ADVERTISEMENT - CONTINUE READING BELOW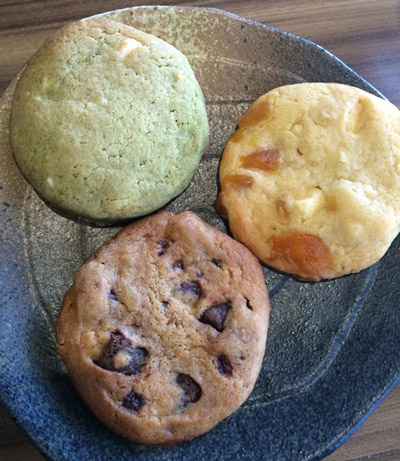 They also serve Mango, Banana, and Matcha cookies (P40/piece), Strawberry Shortcake (P170), Matcha Shortcake (P170), among their other desserts. All of them are made with organic milk and egg, with no artificial flavors. Their Soft Serve Matcha (P120) will be available by the end of February.
Kissako Uji Matcha Café isn't thinking about expanding anytime soon as they are focusing on keeping their customers happy by serving them the best-by making them feel they're in Japan as they indulge in high-quality green tea and coffee.
ADVERTISEMENT - CONTINUE READING BELOW
Load More Stories