New Restaurant Alert: The Bunny Baker Cafe and Cake Studio at Hemady Square, Quezon City
Find out why we like hopping away to this sweet restaurant.
The Bunny Baker Cafe and Cake Studio
301 Hemady Square, Hemady Street corner E. Rodriguez Sr. Avenue, Quezon City
Contact: 650-4153 
Open daily from 7 a.m. to 12 a.m.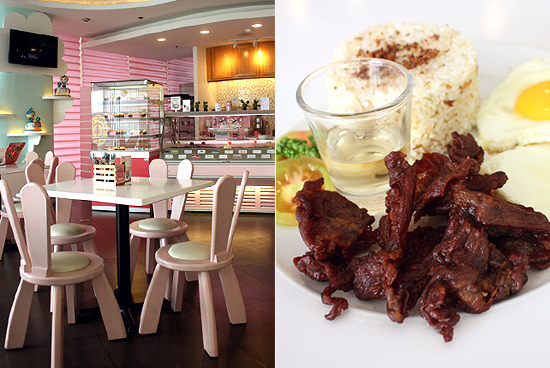 (SPOT.ph) Adorable is the most appropriate shorthand for a place like The Bunny Baker. Pale pink bunny-shaped chairs, carnation paper origami chandeliers, white clouds on the counters (more on the walls), a star-filled lavender dome on the ceiling, teal everywhere, the smell of something sweet baking. This is a little girl's dream come true, a place that turns women back into little girls, and a space for men who just enjoy good food, good coffee, good dessert, and quiet afternoons.
ADVERTISEMENT - CONTINUE READING BELOW
Zach and Aila Yonzon have been crafting impressive cakes since 2010, home-based and primarily online. "People would always ask us where they could see our cakes," says Aila. "But if we were going to open something, I didn't want it to be just a cake gallery."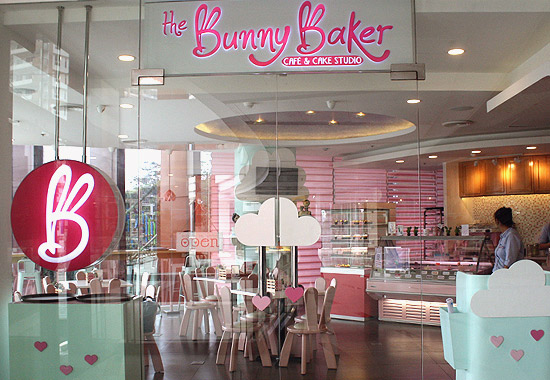 Don't forget the hearts!
ADVERTISEMENT - CONTINUE READING BELOW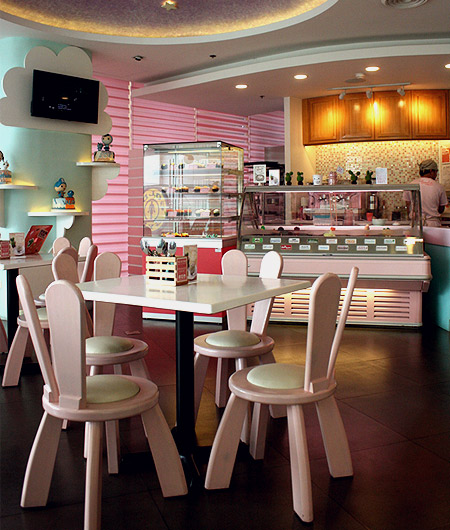 Sweet custom-made chairs
Thus, The Bunny Baker Cafe and Cake Studio hopped into existence on December 13, 2014. The bunny-themed restaurant is as "fluffy" as you can get, but without the actual fluff. Aila and Zach pushed for all-day dining in a relaxed, whimsical setting. The goal was never for that optimum cutesy effect, she says, (their social media hashtag is, incidentally, #cutestcafe), but it's a difficult description to avoid with the fluffle they've unleashed in the space.
ADVERTISEMENT - CONTINUE READING BELOW
Aila and Zach are like a pair of Energizer bunnies themselves, going from this table to that, meeting with clients and suppliers, entertaining some children who are mesmerized by the cake artists working fondant magic behind a glass. When Aila told us that they were hands-on, she meant it. She even opened the door for a customer.
"We're foodies," she explains. "We know what we like in a restaurant, and that's everything you see here." Accommodating service, WiFi, outlets by the bar area, coffee, a mix of savory and sweet fare-these are the considerations when setting up a place that's just as conducive for fun group meals as it is for hanging out.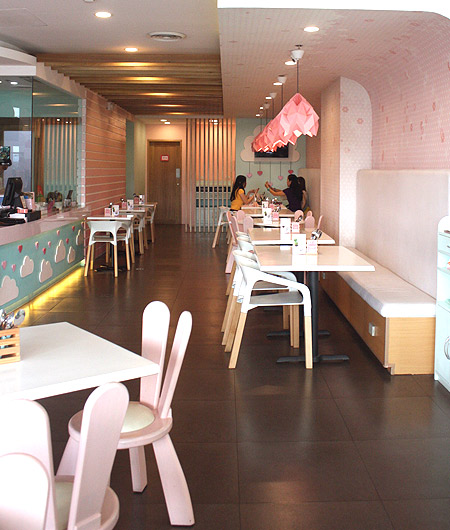 ADVERTISEMENT - CONTINUE READING BELOW
The paper lanterns she ordered online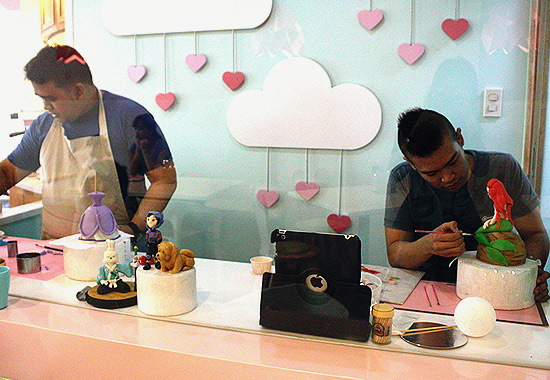 Art in the making
For now, afternoons are the busiest times at The Bunny Baker: long and stretched out periods that can be systematically divided into a rice meal, sandwich, and snack, with a good book on hand.
The Beer Blackened Pork Chops (P295/single; P475/double) is Zach's own recipe. A piece is a large slab, with enough laces of fat running through to unleash extra juiciness, that flaunts mouthwatering grill marks. Its sweetish glaze is perked up by the accompanying grilled fresh tomatoes and garlic rice. The Beef Tapa (P295) is sliced so thin that we can almost pretend that they're strips of bacon. The side of vinegar is custom, but it's the pair of heart-shaped fried eggs that paints a prettier picture of breakfast. Neither dish needs it, but we felt utterly compelled to sprinkle it with some condiment-if only to use their bunny-shaped salt and pepper shakers.
ADVERTISEMENT - CONTINUE READING BELOW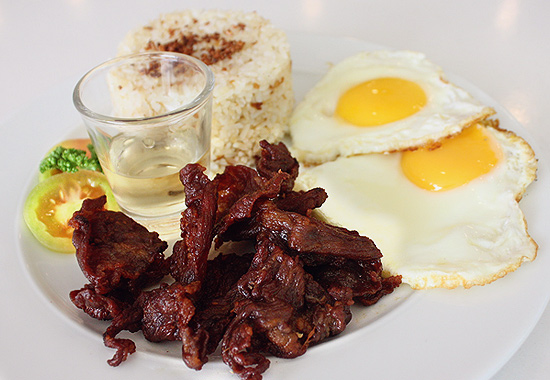 Beef Tapa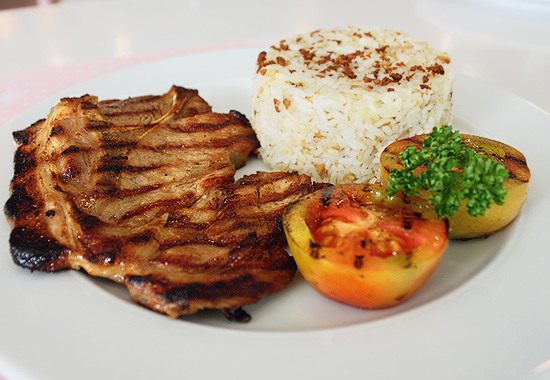 ADVERTISEMENT - CONTINUE READING BELOW
Beer Blackened Pork Chop
A more compatible mid-afternoon snack is the Bunny Cristo (P220), which is their deference to the iconic Monte Cristo sandwich (the American throwback to the French's Croque Monsieur). As classic as it looks, and completed with a tradition of raspberry preserves and a light smattering of powdered sugar, this one is on the milder side, filling the pocket of French-toast style bread with ham and the more subdued mozzarella. It's rich, nonetheless, a sandwich that will carry you through at least five chapters in your book.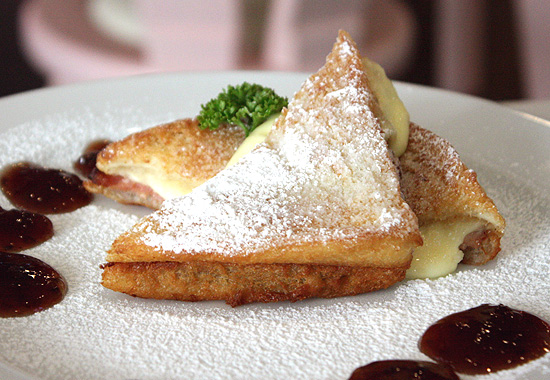 ADVERTISEMENT - CONTINUE READING BELOW
Bunny Cristo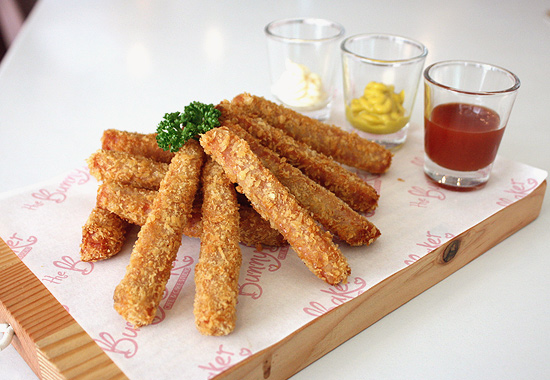 Spam Fries
One of their bestsellers is the Spam Fries (P235), sticks of Spam coated in bread crumbs and deep-fried in piping hot oil. The panko they use absorbs less oil, which makes chomping on these salty, crunchy batons all the more addictive. The Bunny Baker also offers them using the spicy version of the packed meat-for those who need a little heat amid the sweetness of this setting.
ADVERTISEMENT - CONTINUE READING BELOW
Both Aila and Zach are self-taught, and they had to dig deep into their strengths and interests to develop and eventually run their restaurant. But despite their achievements in savory fare, the cakes are still their proverbial bread and butter. Spread around the restaurants are display cases and shelves for their fondant masterpieces. "We're selling more than cakes. We're selling art," she explains, which is why they don't sell any on hand. Orders need to be placed at least three days in advance.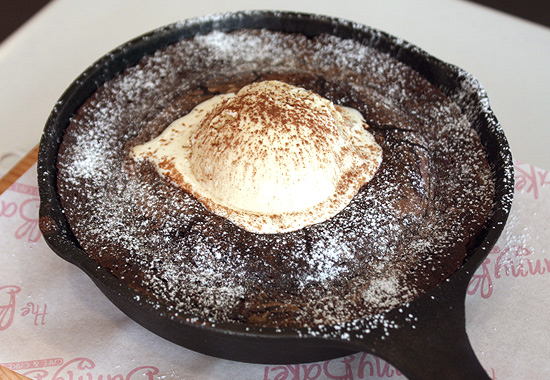 ADVERTISEMENT - CONTINUE READING BELOW
Ooey Gooey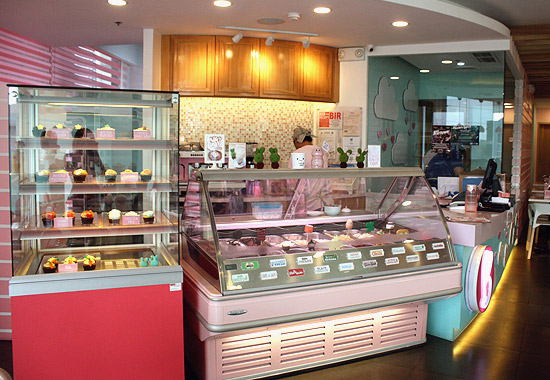 Your eyes automatically go to this display.
But for a closer encounter with those prized edible works of art, she has cupcakes (all adorably adorned with fondant, P85 to P105) and the mother of all molten chocolate cakes, The Ooey Gooey (P285), the desserts are Aila's contribution to the menu. The plate-sized cake, served in a sizzling skillet, is mostly deep, dark chocolate lava underneath the softest and almost negligible crust of cake. It's almost like chocolate cream soup topped with a scoop of their homemade ice cream.
ADVERTISEMENT - CONTINUE READING BELOW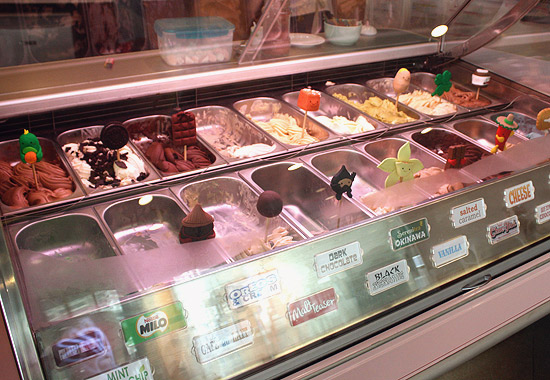 Freshly churned gelato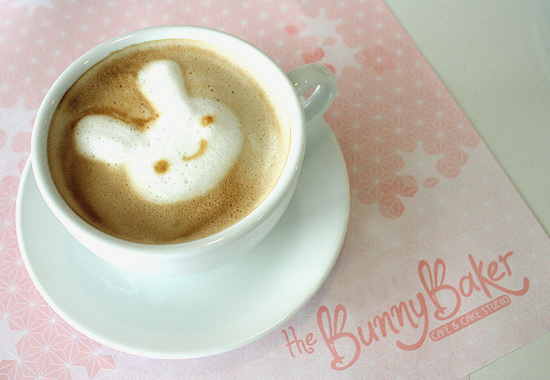 ADVERTISEMENT - CONTINUE READING BELOW
Bunny latte art (they can also do much more intricate work)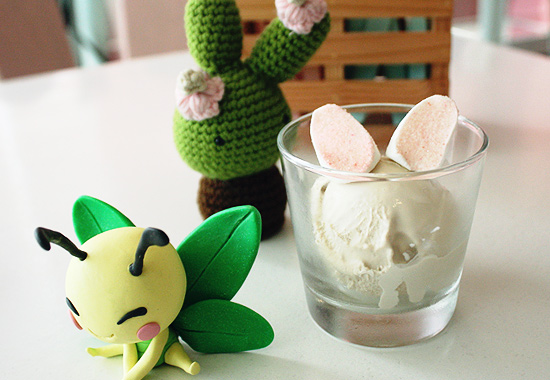 Bunny-lato
For all their intentions and customization (nearly everything in the cafe is made specifically for them), some items are inadvertent accomplishments, like how an impulse Cuisinart purchase led them to create their own line of gelato, or as The Bunny Baker puts it, "Bunny-lato" (P110 to P190). The ice cream, served with a pair of marshmallow bunny ears, is wonderfully creamy, like cool velvet gliding against your tongue. The Okinawa, which developed from Serenitea's (a friend) bestselling milk tea, perfectly captures the nutty flavor of toasted brown sugar and black tea. Together with a frothy bunny-decorated cup of cappuccino (P125), we imagine that this is what great afternoons are made of. Or...a cup of the affogato (P145), please.
ADVERTISEMENT - CONTINUE READING BELOW
Recommended Videos
Load More Stories