Popcorn macarons exist in Manila!
It's the delicious marriage of two favorite snacks.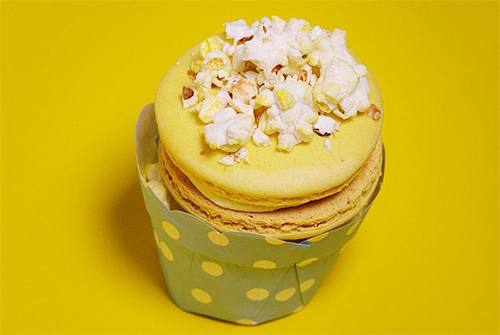 (SPOT.ph) The latest in Anna Achacoso-Graham's line-up of quirky macaron flavors takes inspiration from a movie-night favorite: Bright golden yellow cookies inside a little polka-dotted paper basket and topped with a tell-tale kernel. They're buttered popcorn classed up with caramel spiked with salt.
The flavor, which is palm-sized and larger than your average French tidbit, will be available only tomorrow, February 14. Valentine's Day, if you haven't guessed it already. Mrs. Grahams, Anna's own dessert cafe, will be hosting a Movie Date at their recently acquired second floor where romantic films will be played throughout the day of love. A ticket is a macaron and a macaron, built for sharing, is P140.
ADVERTISEMENT - CONTINUE READING BELOW
In case they run out by the time you arrive, console yourself with their Ensaymada flavor. It's good, too. Another limited-edition Rose flavor is available for Valentine's Day.
Mrs. Graham's is at 51C Scout Rallos Street, Quezon City. Read about it here.
Photo from Anna Graham's Instagram page
Recommended Videos
Load More Stories